You may have seen the coat I thrifted earlier in the season to replace a long-gone, much-loved staple:
What you probably don't know is that I unintentionally thrifted my kiddo a matching coat to brave the wilds of the frozen Midwest: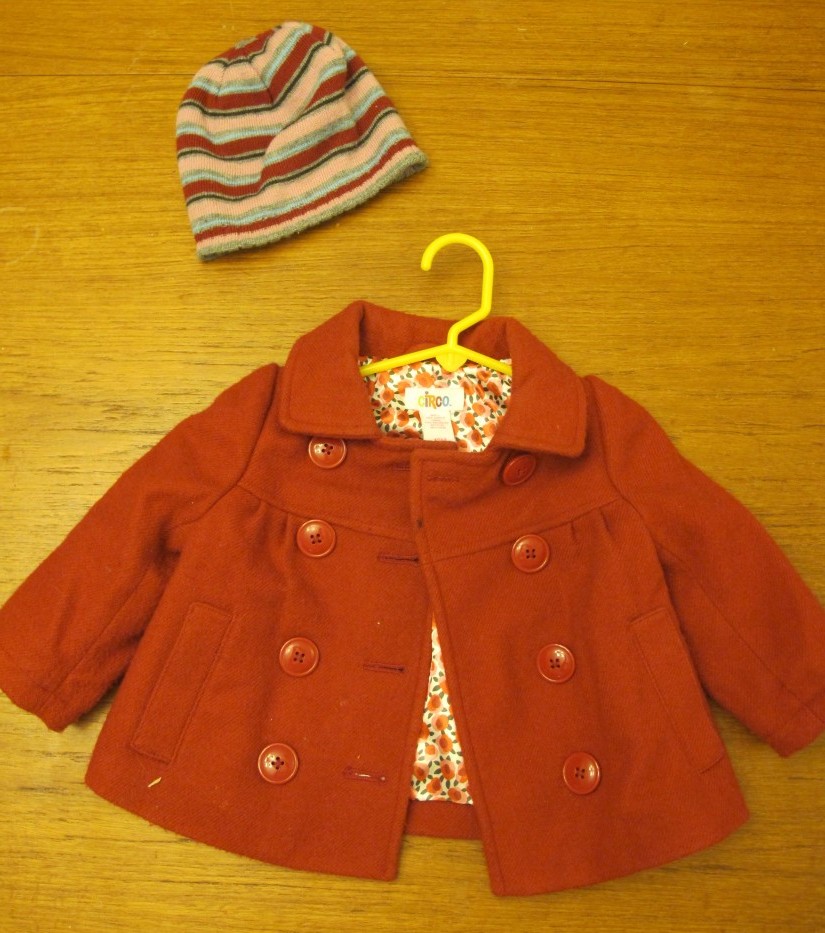 With that little thrifted hat, awwww.
And over the holidays, my spouse, whose one true winter coat lives in New England (see this post about leaving your heavy-duty cold-weather clothes at your family's house), thrifted a decent winter coat to leave at—you guessed it—my parents' house.  Alas, I didn't snap a picture before we left, but it pretty much looks like this:
It's a cashmere blend made in Bulgaria of Italian fabric…just typing that makes me feel cozy.  He scored it for $20 at the charity shop benefitting the local hospital in my parents' town.  (I also picked up a brand-new Wubba Nub for $1.00—!!!—for a friend's baby shower, airplane earrings for The Sister, and a beading book for my mom-in-law.  Y'know, getting a jump on next Christmas' shopping list.)
Tips for Thrifting a Winter Coat
If you live someplace warm but occasionally need a winter coat to visit relatives or for business trips, try thrifting at your destination.  It's much more likely that they'll have what you need—although coats 1 & 2 in this post were thrifted in Atlanta.  Just sayin'.
If you need to combat seriously low temps, look for wool, cashmere, or down and good quality—in tact lining, pockets, reinforced buttonholes, etc.
Find out how your local thrift shop does seasonal wear and shop accordingly: some places put clothes out at the very beginning of the season and they get snapped up, some keep them all through the season but then put them away, and some keep everything out all year (which allows you to take your time shopping for the perfect winter coat because neither Jack Frost nor other coat shoppers are breathing down your neck in July).
Have you thrifted a winter coat before?  Any good finds or good tips?  Scroll down to share!