I sometimes imagine that when I'm writing about my winter capsule wardrobe, all of you north of the Mason Dixon line are silently rolling your eyes.  "What does she know about winter down there in Georgia?!"
Well, you'd be right—these days I don't have to think twice about real cold weather wear.  (Watch me eat my words though if we have a properly chilly winter.)  But my family lives up North and you better believe I dress appropriately when visiting the Midwest or New England.  I've spent far too many frozen months in both of those places not to know better.
Thus, I give you Thrifted Style for Legitimately Cold Weather, and an amusingly lip-less photo taken by The Sister: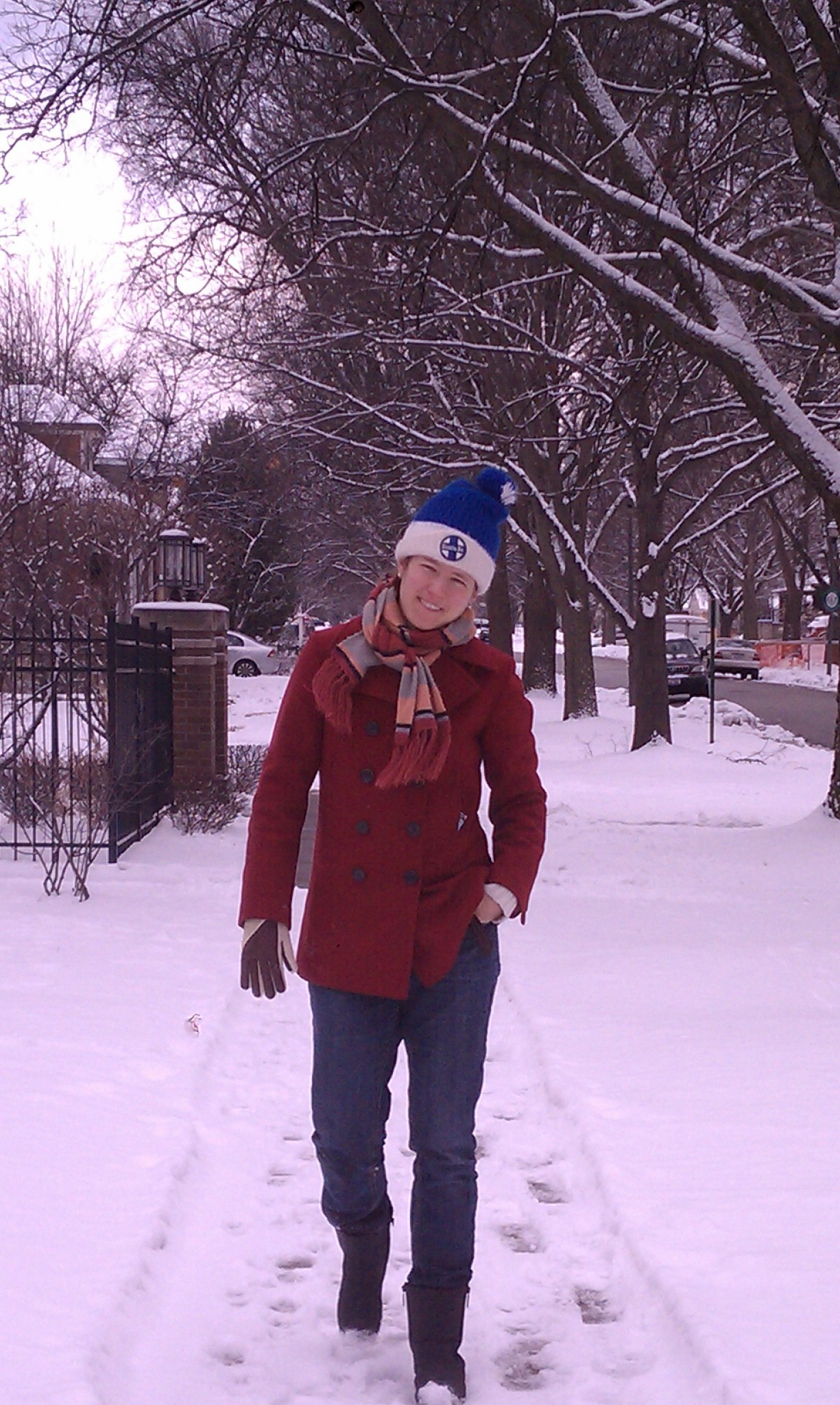 Coat: J. Crew, thrifted
Gloves: thrifted
Jeans over leggings: thrifted F21 over gifted American Apparel leggings
Snow boots: From highschool
Scarf, bobble hat: older than I am, family heirlooms you might say
What would I change about this outfit if I were into retail shopping?  One, I would buy myself a new pair of gloves because I lost the second glove on this trip home (cleverly disguised by my hand in my pocket, no?).  But last time I asked for new gloves for Christmas, I promptly lost one of those, too, so I figure I might as well be losing thrifted gloves and do the environment and my wallet a favor.
Also, I might get myself a new hat.  The bobble hats are all the rage these days among the college kids, but somehow I don't think my dad's old railroad hat qualifies as hip.  (It does qualify as warm, which is why I wore it.)  If I were a retail gal, I might get myself a Star Wars bobble hat; instead I'll probably just look for a decent, warm hat in the thrift store, because that's how I roll.  And my last thrifted hat—a chic, lacy-thin knit—ain't gonna cut it if we have a real winter.
And now, for all you Southerners/Californians/otherwise thin-blooded people:
Tips for cold weather dressing when you hail from someplace warm
If you regularly visit family in cold regions, say, for the holidays, thrift a big thick coat/scarf/boots/etc. and LEAVE THEM AT YOUR RELATIVES' HOUSE.  This saves so much packing room and your annoyance when you are stuck lugging a huge coat into an airplane and then sweating in mild temperatures on your trip home.
Note: you should probably ask first if you can leave stuff there.  (Whoops, sorry Mom & Dad!)
Also leave exercise clothes with family if you want to skip the bulk.  Saves space and agony when you realized you left behind a key workout piece or didn't adequately pack for the chill.
This time, I left a pair of shoes, fleece running tights, and a sports bra that was losing its stretch after many faithful years of service (the latter two both thrifted).  Slightly worn-out stuff is perfect if you're only going to use it a few times a year.
Wear leggings or tights under your pants.  This is an easy, low-bulk way to warm up your outfit and also provides you with workout/sleepwear/another outfit option.  For example, I rocked this outfit to dinner with friends and then wore the leggings to bed and under my jeans in the pic above.
Layer up top, too.  Bring some camisoles, tissue-thin t-shirts, and turtlenecks to layer under your plaid button up under your sweater.  The thinner layers can roll up and stuff into shoes so they don't take up extra room in your suitcase.
What are your tips for transitioning into cold weather when your blood is thin? Scroll down to share!
And now, your reward for making it to the bottom of this post—proof that that scarf, which I actually wear daily in winter, is oooooold: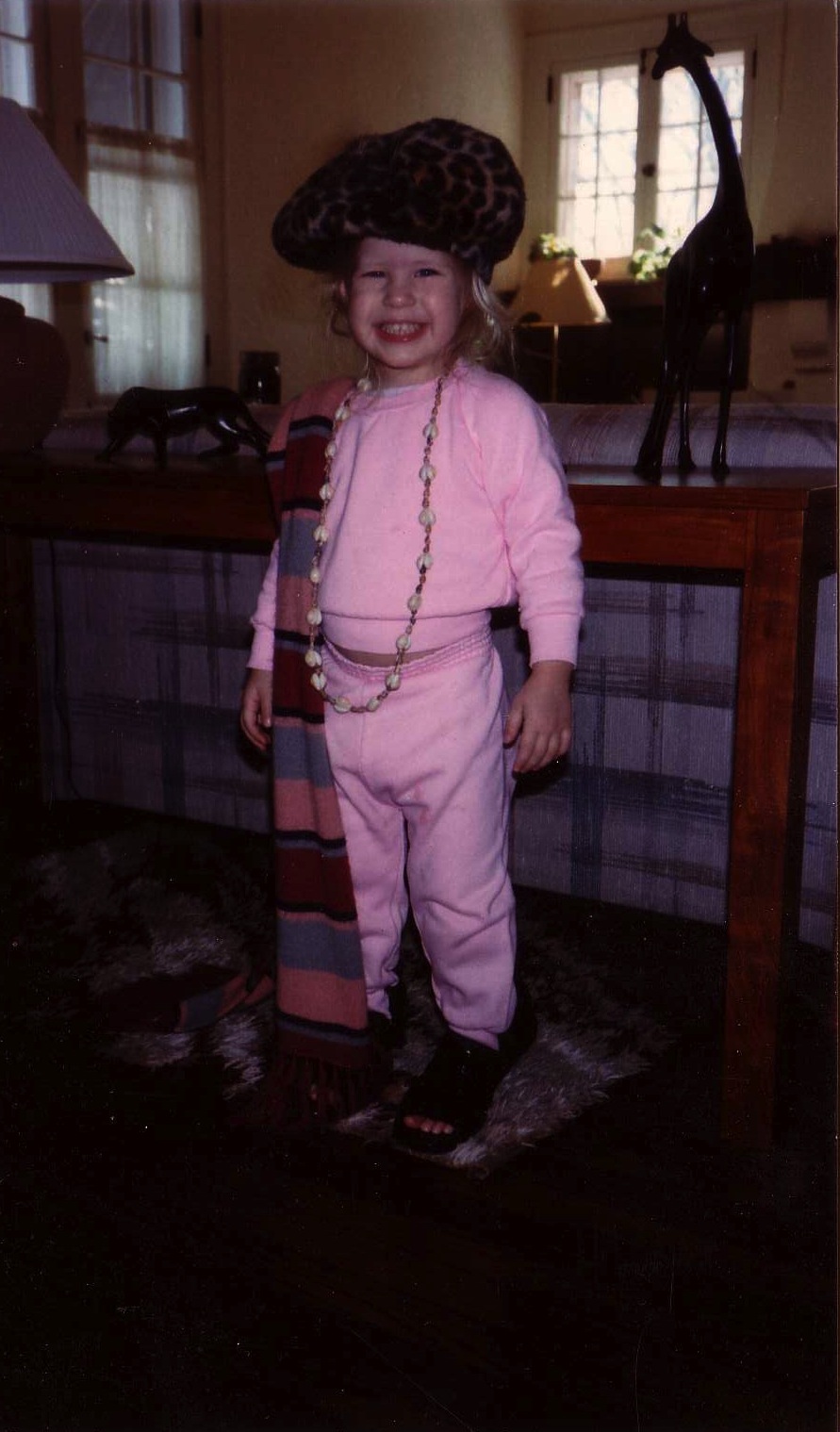 You're welcome.  And yes, my love of animal prints (and berets?) started young.
Scroll down to share your wintry weather dressing tips!