Over Thanksgiving I talked my spouse into a short stop at the Last Chance Thrift Store in Chamblee on our way home from cat sitting for a friend.  I promised a very short stop, which meant I had to be on my game.  I started with the "designer" racks and found some decent things, but nothing I wanted to try on.
Then I ran over to the kids' section to grab my kid a coat (pics coming soon).  My final stop was the dress section – usually I skip this when I have a time limit because taking home anything involves a trip to the dressing room.  But something pulled me over, and lo and behold, there was a haul of vintage dresses!  Don't ignore your spidey thrift sense when it strikes.
Someone must have cleaned out Grandma's closet:
A few of them were made in Hawai'i and there were some fabulous patterns.  (I would have gone for the first one – the spring green one with white trim – but it had pretty serious stains.  Wanh wannnnh.)
The one I tried on and bought, though, was solidly devoid of pattern: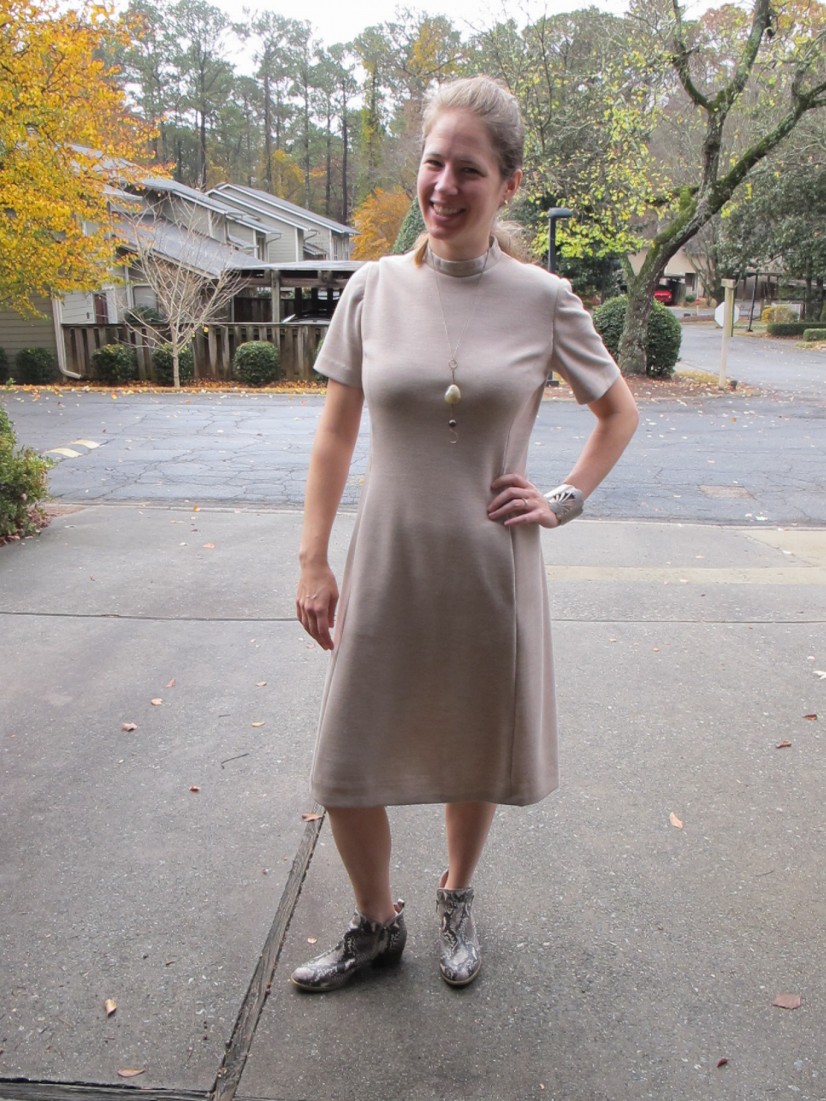 Well, there were pockets: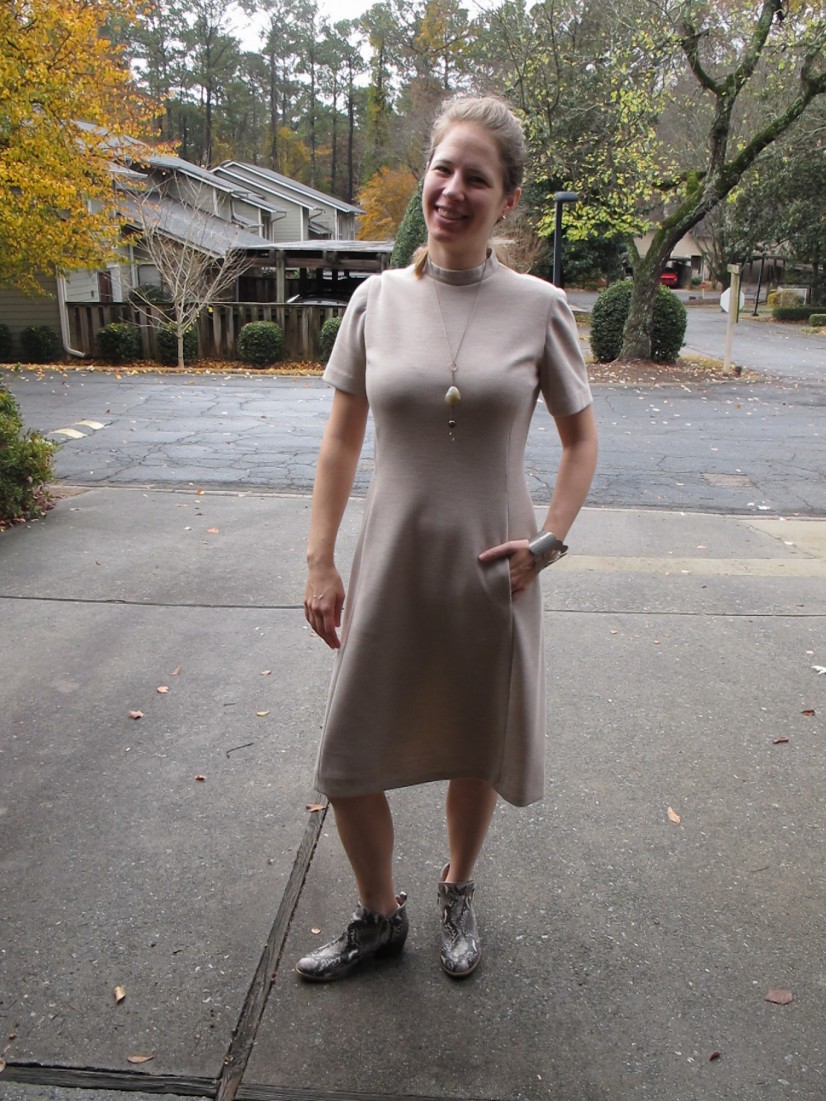 Look, y'all know I love me some pattern and print.  But in addition to the summery-ness of all the above dresses, their prints and colors limit the number of ways they can be styled.  This dress, on the other hand – although it's pretty boringly beige (thanks Spouse for pointing this out) – can be paired with a fantastic range of accessories.
My first choice?  This leopard-print ruana (basically a blanket with a big split down the middle so you can wrap it) passed on to me by my mom, which kept my arms nice and warm despite the dress' short sleeves: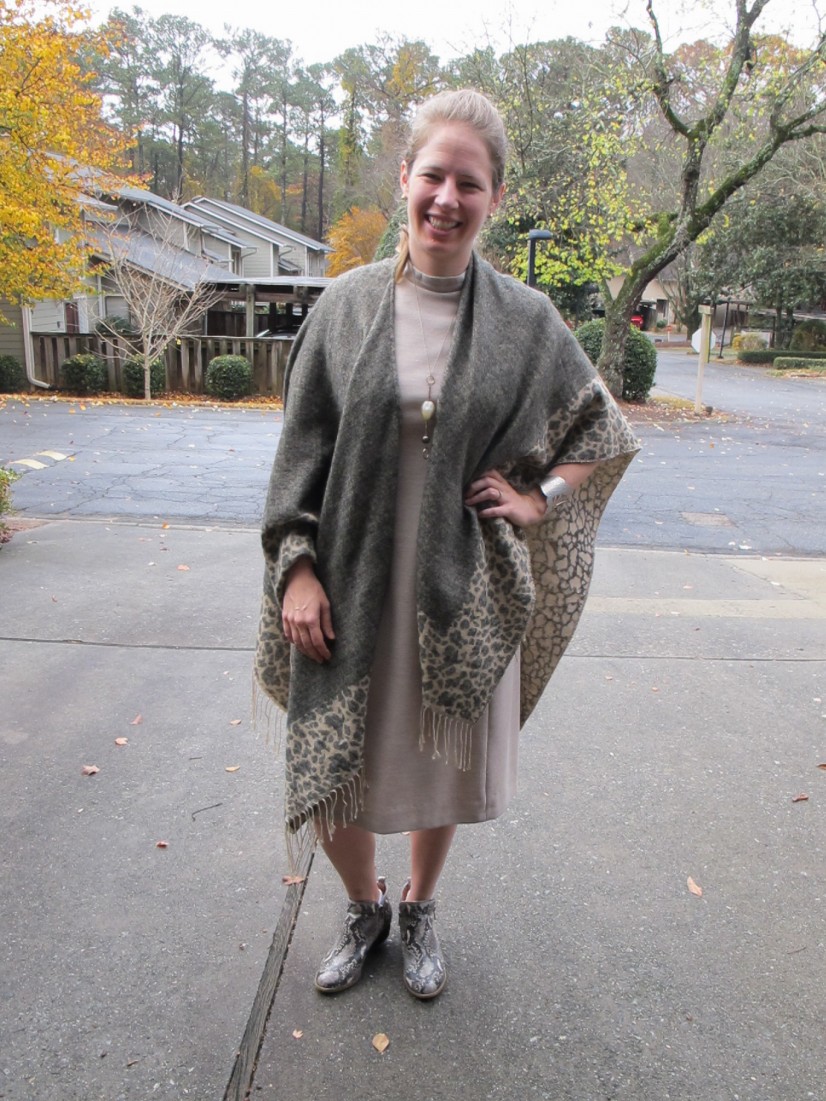 I added a DIY necklace to give it a focal point and some funk:
And capped it off with my snakeprint ankle boots.  (To be honest I think this would look best with riding boots, but since I have yet to thrift those, ankle boots it was.)
Other possibilities?  My snakeskin print blazer instead of the ruana; leggings on the bottom with my bronze snakeskin flats or champagne flats – like this:
My navy blazer and navy leggings  would also work great.
I can also put a shirt underneath the dress for chillier days – one of my many turtlenecks, or my leopard print blouse for some fun contrast.
Another great topper – this graphic cardigan:
And if I can thrift some nice cognac or dark brown riding boots, I'll have even more options.
Separates are, by definition, easier to mix and match than one broad swath of fabric (a dress) that is highly patterned.  This is why, as much as I love interesting details – and as much as I would love to be the person styling wild patterns and funky cuts – my most frequently worn dresses are ones that are a single, solid, neutral-ish color.  See, for example, the off-white and blue dresses in the IG pics above.
The color of this dress is about as neutral as is possible to be – and although the neck, the longer sleeves, the pockets, and the below-the-knee length actually give it an interesting almost mod 60s vibe (who knows; maybe it was made then), on its own you could argue it's kind of basic. But that's exactly why I'm excited to use it as a blank slate for styling it multiple ways throughout winter, and even into spring.  (I think it's a wool blend so it probably won't make it into summer.)
What's your take on blank, boring-ish slates that make it easier to accessorize vs. stuff with more personality that can be harder to style?  Scroll down to comment!