If you had asked me whether I would ever wear (let alone title a post with) something that could be called a crop top, I would have laughed – and bet money against you.  Although I wore some shortish things in my youth, as an adult I'm just not into exposing my midriff (my mother is sighing with relief – I'm sure from her perspective it was a near thing for awhile there).
Now, though, I guess I owe myself some theoretical money:
What is happening??
Sleeveless top: Dahlia – thrifted
Chrysanthemum skirt: no label – thrifted
Necklace: DIY from thrifted parts
Bracelet: Monet – thrifted
Sandals: Saltwater by Hoy – retail
But actually, theoretical me comes out on top because while this appears to be a crop top…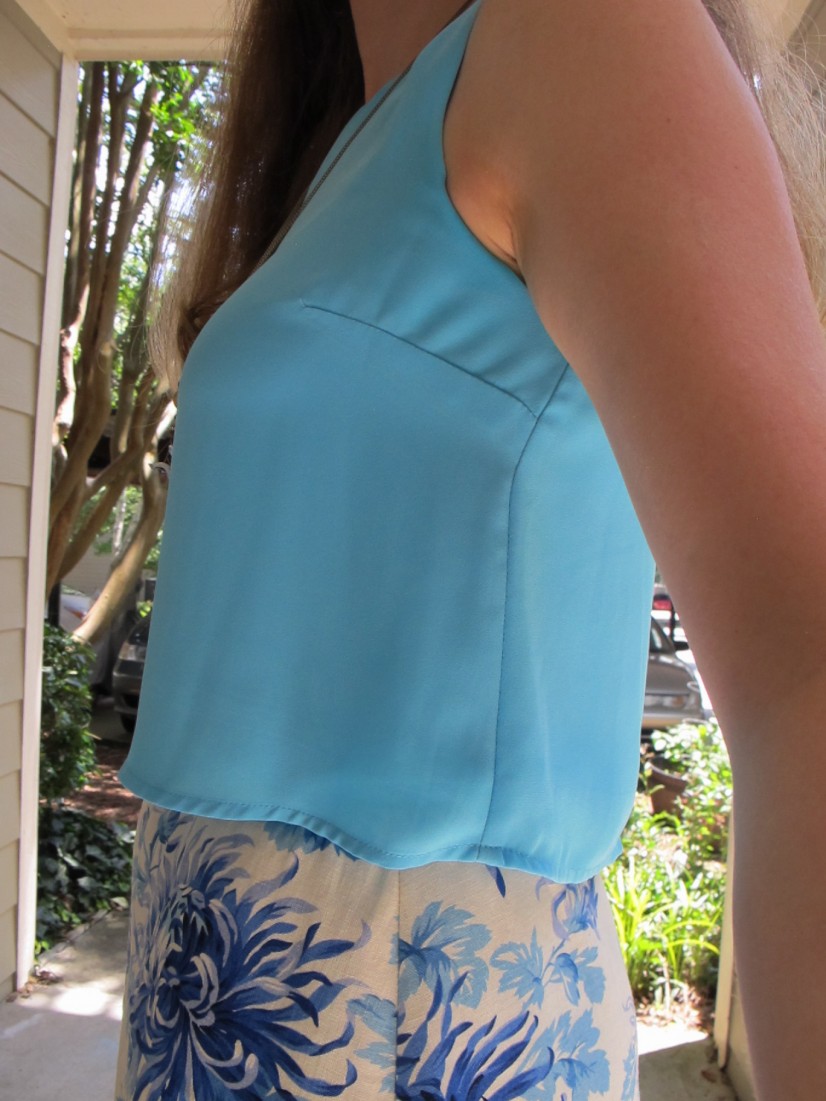 …it's actually a faux crop: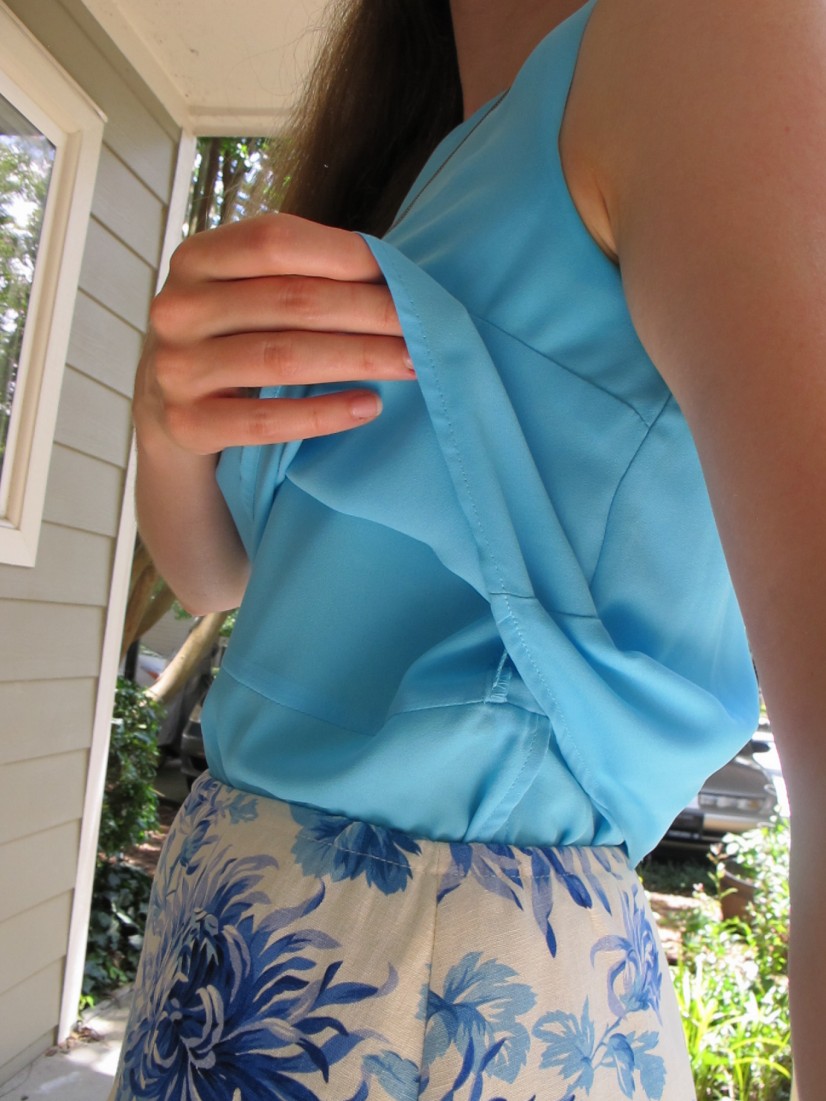 Secret under layer!
You may recognize this top in all its glory from my summer wardrobe: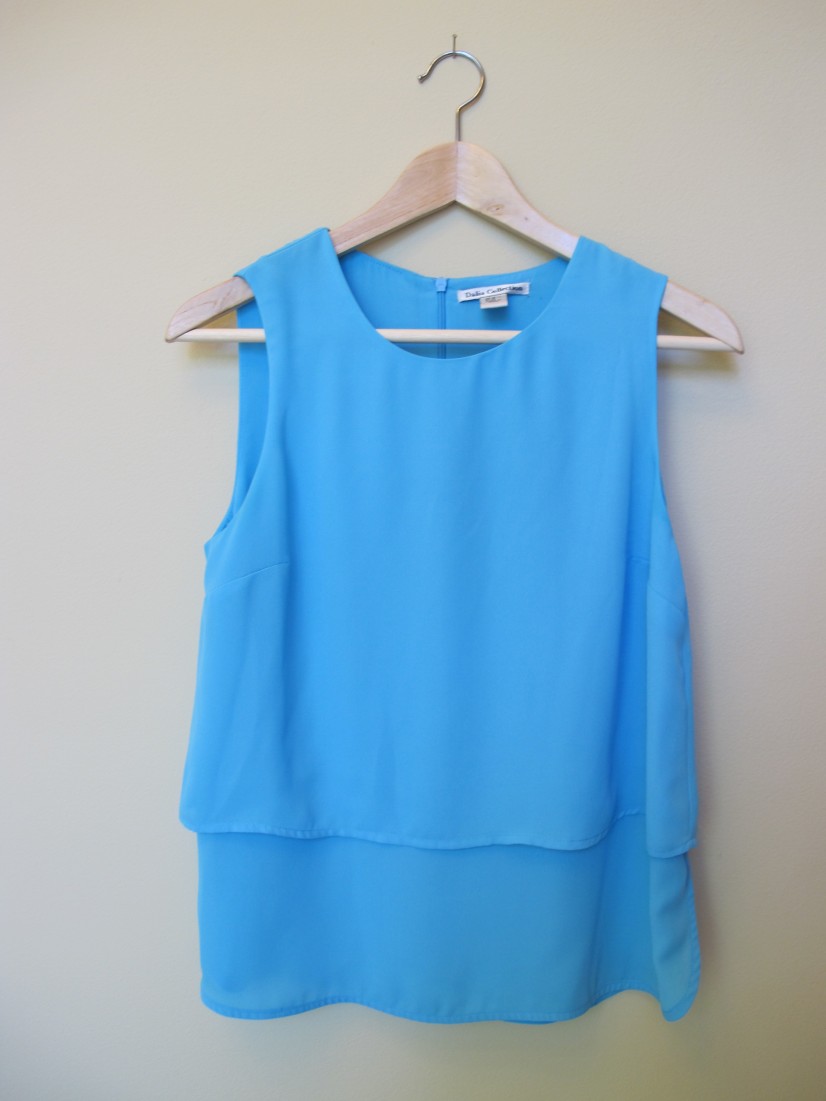 I paired it with a high-waisted skirt and simply tucked in the lower layer et voilà, an apparent crop top that gives me a whole new silhouette whose breezy floatiness pairs perfectly with hot summer weather: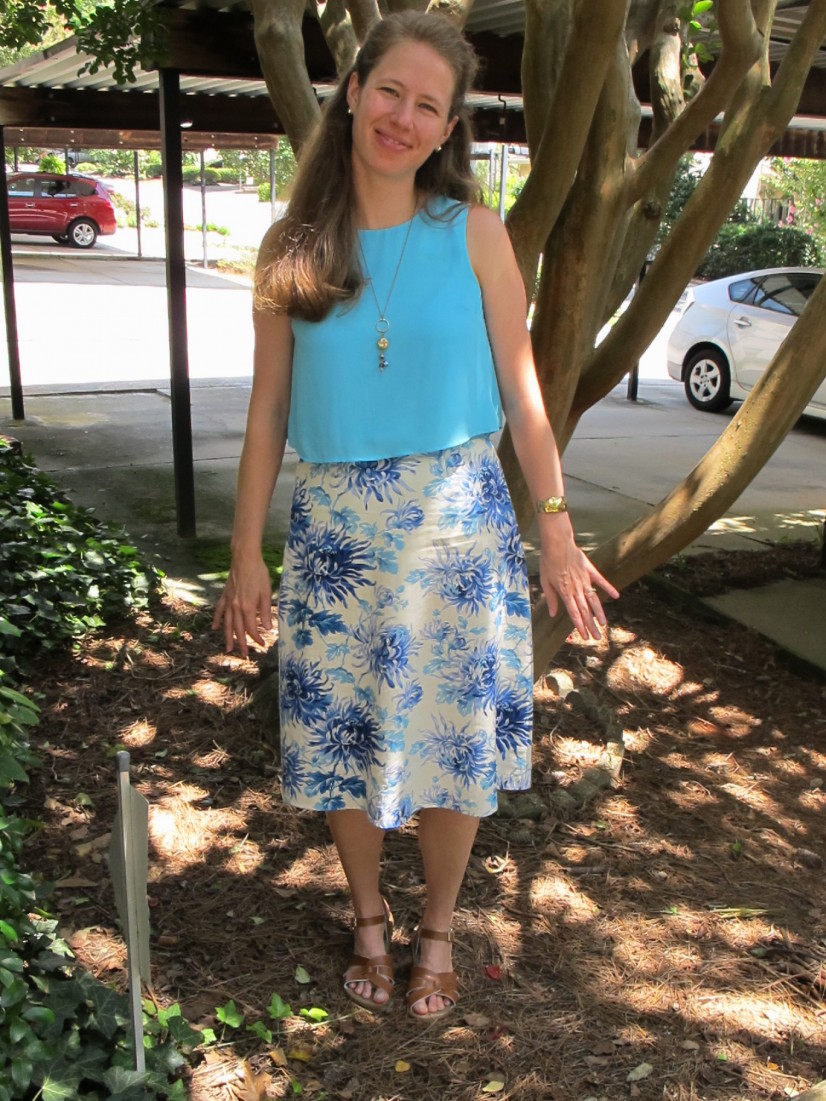 A little DIY necklace action:
That's a dolphin down there in case you can't tell.

Cuff closeup:
Closeup on that chrysanthemum pattern: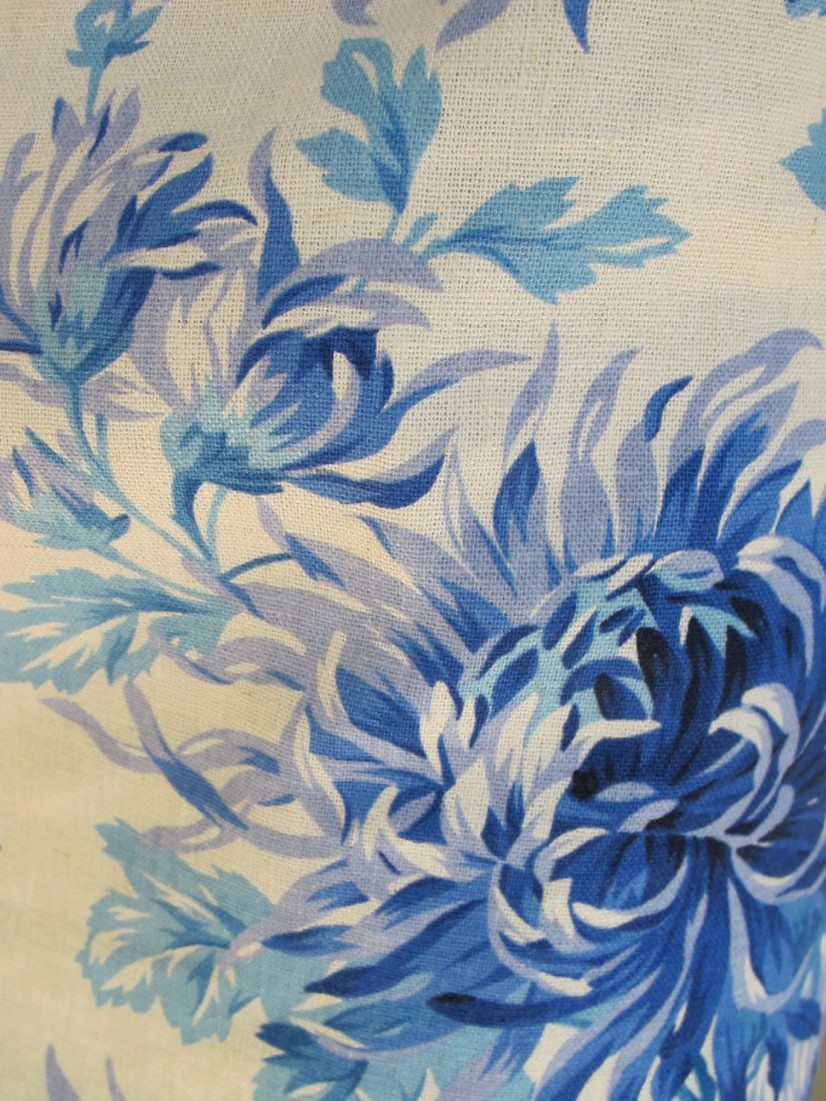 We're headed to a lake next week for a family reunion and I own no waterproof shoes.  My Clarks sandals were also starting to hurt one foot – they have pretty solid arch support but can't snug tight enough around my narrow feet to keep the arch in place. (My feet are also slightly different sizes, which means one foot was hurting but not the other. Go figure.)
So I decided to try out Saltwaters, a waterproof sandal that's also chic enough for work. Check out the lovely caramel color and gold buckle (and ignore my straggly toenail polish):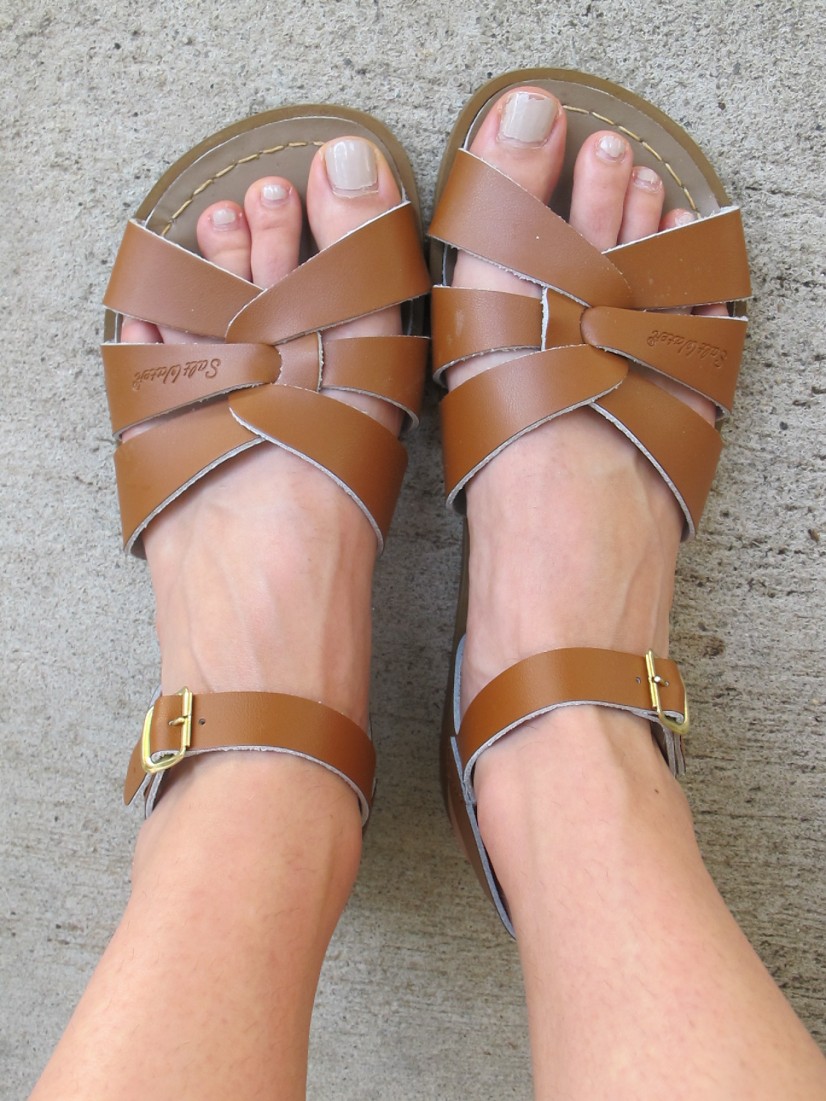 That chic ankle strap holds things in place enough that my super-narrow feet don't move around even though the footbed is wider than I need.  You will notice a few little spots on them – this is how they look after a trip to the playground unexpectedly turned into some delightfully muddy trail exploring. These babies did really well – a swipe with a damp cloth afterwards and they were like new.  I also wore them on the 4th to throw a football in a field in the rain (do we detect a pattern of weather-related adventures?) and then wore them to work the next day without any cleaning.  BAM.
They don't have any arch support but since I've been happily wearing sneakers without any arch, I figured maybe having no arch support at all was better than an arch support sticking me in the wrong place. A Google search confirmed I have normal arches and should be able to make no-support work.  We'll see long-term.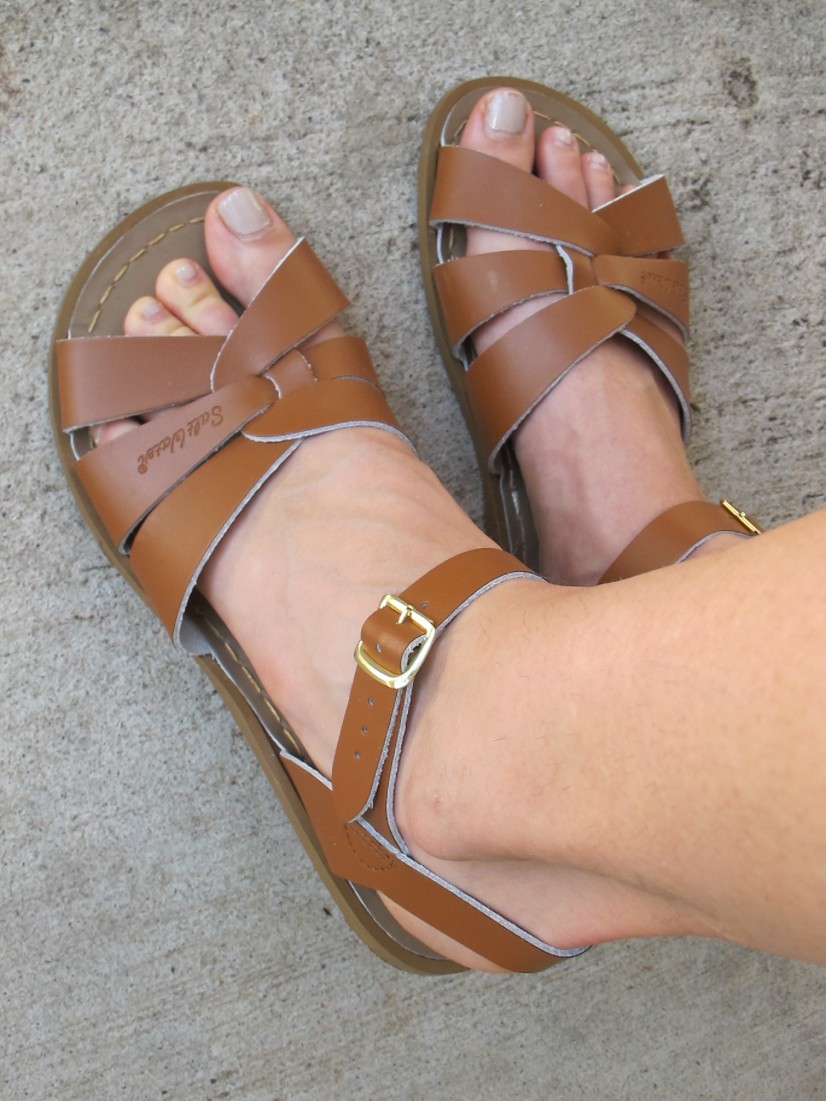 I bought mine online and paid about $50 – not unexpected for decent quality sandals. If you buy some, make sure to pay attention to the women's size, not the kid's size – mine run true to the women's size listed. (Apparently ModCloth lists the size differently than the rest of the internet, so shopper beware.) They're sometimes made in the USA (I can't tell from website whether my particular style was – I hope it was for labor conditions). Many reviews say to soak them in water first, then mold to your footbed – I haven't had time to try this out yet.
Have you tried Saltwaters? Would you wear a "crop" top – or an actual crop top?  Scroll down to share!