We make thrifting mistakes for all kinds of reasons: we're lured in by cheap price tags and seemingly irreplaceable deals; we buy it for our fantasy lives instead of our real lives; it fit in the store but wearing it for more than 5 minutes reveals that those pants ride down faster than a screaming teenager strapped into the Tower of Terror.
I've made all those and more; but my latest thrifting mistakes revolve around dressing for Instagram instead of for me.
I've written previously about how the neutral-happy IG aesthetic sucked my color-loving self in; this time, it wasn't color so much as style. I see something that looks amazing on Instagram, clothing that's of-the-moment – and looks really good on the person wearing them! – and I decide I should get one, too.
Like this excellent blue plaid double-breasted blazer on Signe of Use Less:
View this post on Instagram
I'd been eyeing the plaid/houndstooth double-breasted trend but all the renditions I'd seen were brown/black/red – colors outside my palette. But Signe's version was right up my alley – so I went looking for my own. Her Ganni blazer was secondhand but I couldn't find it secondhand in my size/price point.
This is where I learned about Depop – a clothing marketplace app that's visually like Instagram and home to a younger, more vintage-y crowd than, say, Poshmark. The perfect place to find a unique version of a trend:
Isn't it awesome? A custom made, completely unique plaid blazer secondhand for $35.
But…it was a little big – just a tad beyond oversized. And it looked funky unbuttoned – it's hard to see in that righthand photo, because I chose the shot where it was most disguised, but the big overlap of a double-breasted blazer almost gives you wings when it's unbuttoned. They kind of flop around or drape on themselves – notice where it's all bunched up near my left shoulder? Plus it had more yellow in the plaid than the Depop listing showed, making it more of an "autumn" color combo than a Light Summer one.
It might have looked better if it had been more fitted, but it might also just be that double-breasted blazers aren't for me and I got sucked into something that other people made look cool.
Here's Instagram-inspired mistake number two: a grandpa cardigan. Awesome on Orla Sheridan:
View this post on Instagram
Also awesome on me, in this pink Nordstrom version I got secondhand on Poshmark: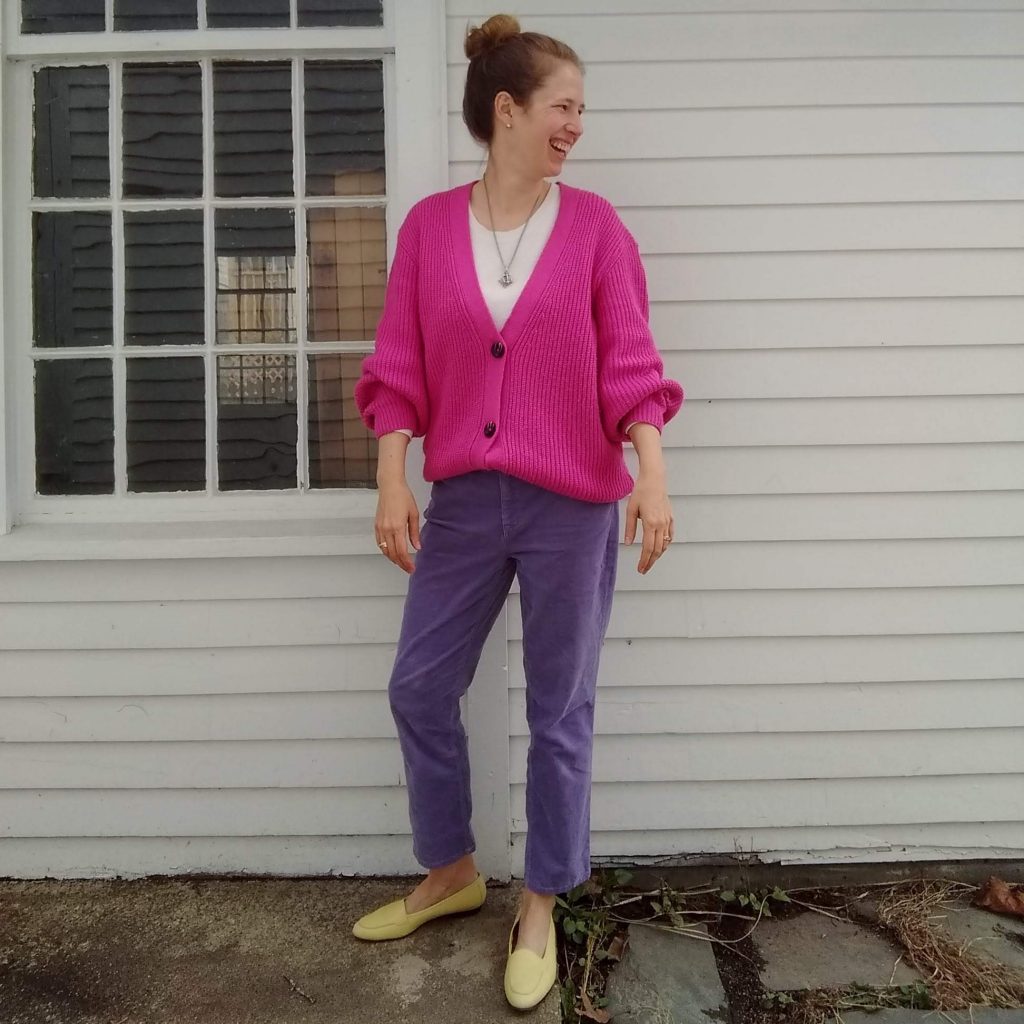 I actually really love how this looks, and it's super easy to throw on over whatever I have underneath. But it has two problems: despite how it looked on Poshmark, the color is more Bright Winter than Light Summer – a bright, slightly purplish pink that's outside my color palette and washes me out a bit. I did look up several pictures from various sellers and asked which showed the color most true-to-life to try to avoid that color mismatch, but when shopping online, sometimes it happens.
With the other problem I should've known better: it's 100% acrylic, which always feels artificial to me, and which started pilling not long after I got it. Boo.
It's still in my closet for now, because I haven't had much luck with cardigans lately and I'd like a layer to be able to throw on over lighter stuff when the weather gets cool. But I honestly don't reach for cardigans that often – I've had trouble finding the perfect one, plus I don't have many thin base layers and I hate trying to squeeze cardigan sleeves over sleeves that invariably scrunch up (that's something the balloon sleeves on this did a good job avoiding).
I'm thinking about just going a fall/winter without a cardigan at all, relying instead on my bajillion blazers and on sweaters with short-sleeve tees underneath. Anyone else already do this?
What thrifting or clothing mistakes have you made under the influence of what's trendy or what looked good on someone else?