As part of the Summer 10×10 remix (hosted by UnFancy and Style Bee), I'm attempting to post what I've been wearing each day as I live out of my suitcase on back-to-back family reunions. What's a 10×10 remix? 10 pieces of clothing, 10 outfits, 10 days. What you count as an item is up to you (I'm not counting shoes, workout gear, outerwear) since the point isn't following strict rules – it's using limitations to spark creativity. 
Day 7: Fishing and a Concert
I wore pretty much the exact same outfit as on Day 6, because I'd only worn it for a few hours the night before.  Plus, it was cold enough for pants and I only brought one pair.
Look Ma, I caught a fish!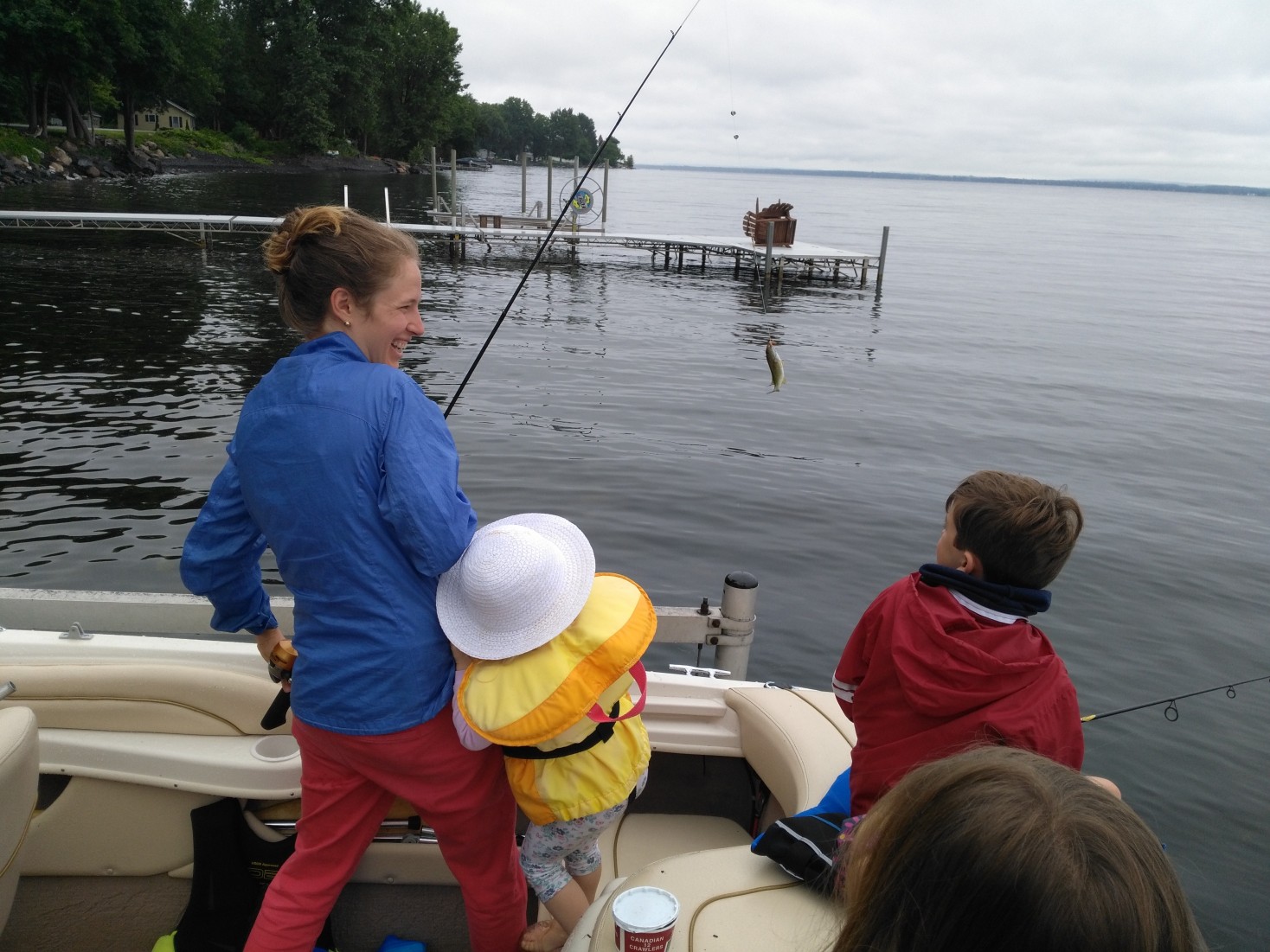 That night we headed to a concert at the Snow Farm Winery in South Hero with cooked-on-site pizza and locally made ice cream.  It was cooler with a bit of misty rain so I stuck with the same outfit pictured above.
Here's the band setting up: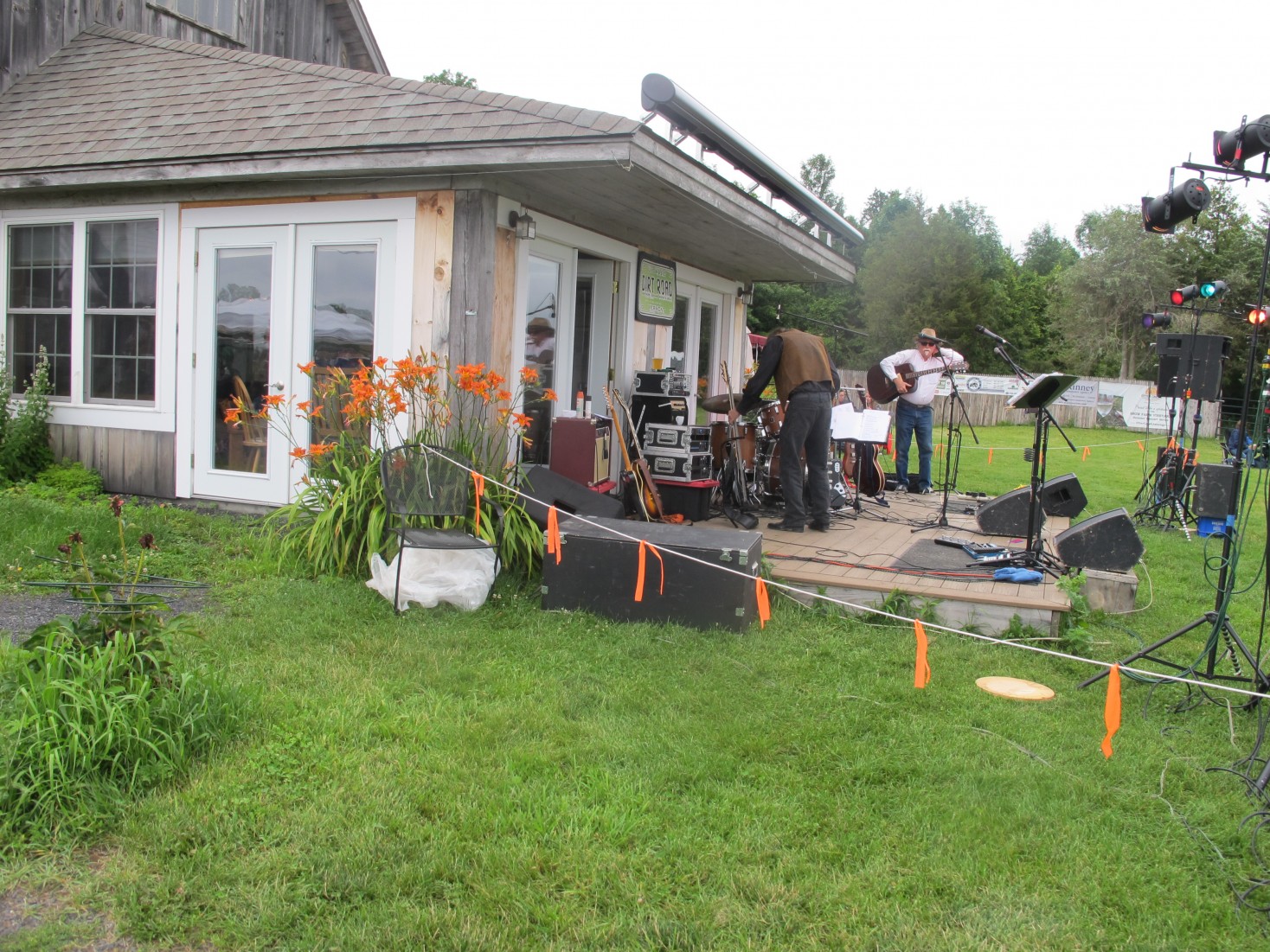 Since there wasn't much going on clothes-wise today, I figured I'd show you what's in my bag.  As you have probably noticed, I went with a muted red, blue, and white palette to keep everything mix-and-matchable:
Lace yoke top, Old Navy; embroidered 3/4 sleeve top, Lucky Brand; striped tee, Madewell; floral tee, Old Navy; sleep shirt, no label; halter swimsuit top, Ralph Lauren; swimsuit bottoms, Target (retail); striped 3/4 length tee, Gap; red shorts, Bebe; blue shorts, Bill Blass; red pants, Bandolino; striped dress, J. Crew; hat, unlabeled; sunglasses, Ray-Ban (retail); running tank & shorts, Champion; running shoes, Champion (retail); crossbody bag, Marco Avané; sandals, Saltwater (retail).  Everything thrifted unless noted otherwise. Not featured: pj shorts (thrifted), windbreaker (gift – pictured in first picture at top).
For those keeping score at home, the pieces for the Remix include: 2 3/4 sleeve tops, 2 tees, 1 sleeveless top, 2 pairs of shorts, 1 pair of pants, and a dress, for a total of 9 items (10 if you count the sandals). PJs, workout gear, and outerwear are not included.
All packed in this: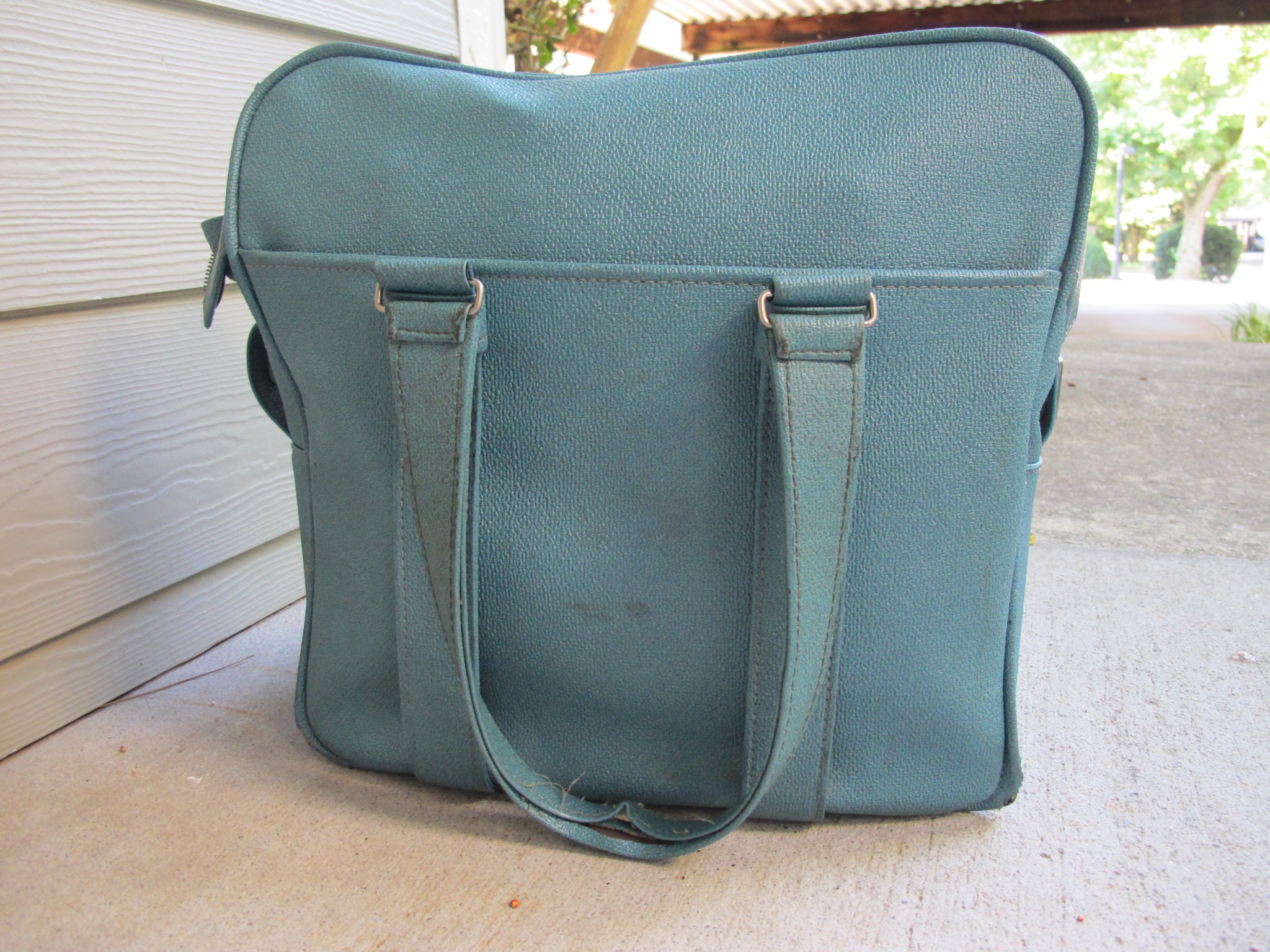 My trusty Samsonite tote inherited from my grandma. It's at least 40 years old, maybe more.
So far I've been pretty happy with this mix. With laundry in both places we've stayed, I could easily have gotten away with less, but it's been nice to have variety.  I haven't worn the lace yoke top yet; given the chilly temps here in Vermont, I probably should have swapped it for a lightweight sweatshirt. But my windbreaker over my longer-sleeved tees has done just fine in a pinch.
What's your approach to a travel wardrobe in a small amount of packing space?  Scroll down to share!