We're leaving on a jet plane for back-to-back family reunions – one in the Midwest, one on the East Coast – and one leg of our flight is on Spirit Airlines.  You know what that means – NO LUGGAGE.  Well, no luggage if you are thrifty (err, cheap?) like we are and don't want to pay upwards of $20/bag, since carry-ons and checked bags alike are considered "optional."  But the ticket price was right…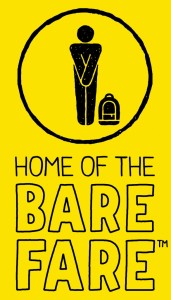 Eek!
…so now I'm packing into one "personal item" for a 10-day, 2-state trip that includes both the beach and family portraits.
Let the fun begin!
Disclaimer: this is not an endorsement of Spirit Airlines.  It's just the budget airline we happen to be using.
First, a word about bags.
Make the most of that one "personal item" you're allowed.  Bring a large tote or a decent-sized backpack (I'll post mine to Instagram when we leave).  Some folks go for a duffle bag, which, while pretty smushable, still has to fit in the luggage display at the gate or you get slapped with a $100 fee for a carry-on you didn't pay for in advance.  Yowch!
Pro tip: if you're traveling with a baby, milk (pun intended) that free diaper bag for all it's worth–all your baby's clothes and accessories/toys should go in that bad boy, and some of yours as well!
Note that on Spirit, umbrellas, books, food, coats, medical equipment, and cameras don't count as your personal item, so if taking those out of your bag makes more room for the rest of your stuff, go right on ahead and be the person with the umbrella on her wrist, the camera on her neck, a bag of food in her hand, books under her armpit, and a "personal item" over her shoulder.
I can imagine that will give some of you the heebie jeebies.  Fair enough!  Budget airlines are not for everyone.  But KEEP READING because there is valuable travel wardrobe advice for you, too, below.
How to strategize for your travel wardrobe
Even if you don't want to pack into what could otherwise be called a generously-sized fanny pack, at some time in your life you have probably experienced the dreaded Luggage Overload Syndrome where you packed too much and lived to regret it.  But with just a little bit of strategizing beforehand, you can learn to hit the travel wardrobe sweet spot and never again find yourself struggling to jack an overstuffed "carry-on" into the overhead luggage compartment while half the plane waits for you to clear the aisle.
Lots of blogs have advice on how to do this, including several I link to on the Resources page (A Pair & a Spare and Une femme d'un certain âge come to mind).  Here's my take on the main factors to consider when packing for a trip, namely:
-Length of trip,
-Weather/activities at your destination(s), including exercise, and
-Laundry facilities

Length plays a part in how much you bring–but not as much as you might think.  The old travel adage is true: lay out all the clothes and money you think you need; then halve the clothes and double the money.
Items that don't get sweaty/dirty are fair game for a second wearing, so depending on your sweat glands and your locale, you may be able to pack fewer than one top per day. Bottoms (shorts, pants, skirts) are also prime candidates for re-wear.  Don't rely heavily on one-pieces (dresses, jumpsuits) that can't mix and match, unless you plan to wear them with different accessories or you'll see different crowds.  Or if you just don't care!
Check the weather before you go and try to layer en route to save space.  Airplanes don't seem to be as ice cold as they once were (saving money?), but if you need warm layers, as noted above you can always stuff that coat or sweater in a luggage bin and retrieve at the end of your flight, or use it as a pillow/blanket.  Alternately, resolve to suck it up at one end of your travels to avoid having to pack for the one day you'll be in hot/cold weather – we do this by leaving thick down coats with my in-laws in the Northeast for winter visits and just shivering a bit on the way home if the weather in the South is uncharacteristically cold.
Be realistic about temperature–you love that new tank top but the temps in Boston just barely melted all of last winter's snow YESTERDAY, so other cute things with a little more warmth are a more rational bet.
For special events, factor in a piece that can dress up/down as necessary so you can leverage it for more than one wear.  Think about ways to borrow activity clothes (i.e. skiing outfit, wedding accessories) at your destination or plan to swing through a local thrift store to fill a wardrobe hole on location. (I once did this specifically to go ice skating in Miami in July).  Local thrift shops are also great for inexpensive and unique souvenirs or house-sitting gifts!
Working out: Workout clothes bulk up quickly.  Wear your trainers on the plane to free up luggage and keep your tootsies warm–this is a slight pain at security but is definitely worth the packing space and makes walking through big airports enjoyable. Alternately, pack 'em but roll your underwear or socks inside.  Look for natural fibre (wool, cotton) exercise clothes that won't hold odors after the first use so that you don't need to pack extras.  (Anyone found such wonders in a thrift store??  I'm still looking so for now it's synthetic for me.  Or maybe my mother-in-law will knit me one for Christmas…??)
If you can launder clothes at the home/hotel where you're staying, you're free to cut your packing list down even further – and not worry so much about the workout stink!  And no matter where you are, there's always the sink (or a stream) to tackle small stains or quick-dry items in need of a refresh.
And now, here's how all that applies to our upcoming trip.  Everything below is thrifted except bathing suits, accessories (gifts), and sandals: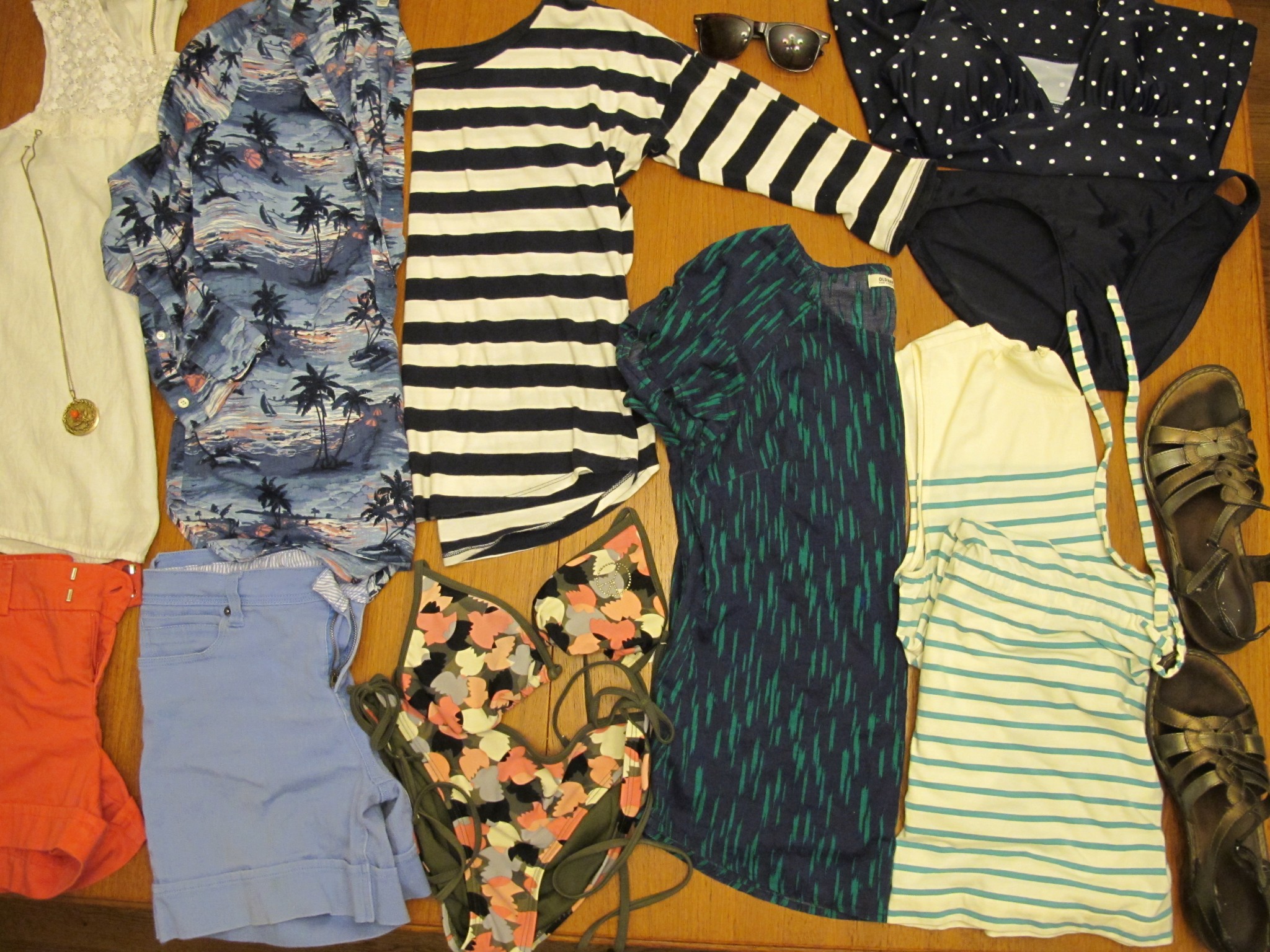 4 tops:

Off-white sleeveless cotton Loft blouse with lace detail (from this post) for family pictures, parade/wine festival – a bit more polished
Blue/green ikat Old Navy short sleeved cotton blouse for a day at the boardwalk – nice and cool for hot days but not sloppy
Long-sleeved cotton tropical popover from J. Crew; roll up sleeves for hot weather, cover up at the beach, or cooler evenings
3/4 sleeve Breton top from the Gap for cooler evenings and air-conditioned planes and cars

2 shorts:

Red shorts that go with all 4 tops
Blue shorts with delicious stretch from Bill Blass petites (yes, totally random) that go with all 4 tops

1 dress:

off white/light turqouise striped J. Crew drop waist/drawstring dress (yes this came home with me…) for most any activity + beach coverup

2 bathing suits (both from Target–but now I'm thinking of thrifting suits after seeing amazingness on the Internet!):

1 tankini/bottom in navy blue/polka dots
1 bikini in, uh, dove camouflage?
I figure we'll be at the beach twice a day for 4 days, hence 1 suit to wear + 1 suit to dry

Shoes:

1 pair metallic sandals from Clarks (gift from in-laws)
1 pair running shoes (not pictured) – bought new

Jewelry – all inherited

cuff (I wear this every day)
pendant necklace
earrings (2 pair – the large clear plastic backs are for one ear that has a stretchy hole too big for regular backs)

Not pictured:

underwear (4-5 pairs – bought at Costco, which treats employees well)
bra (1 – retail)
workout gear

athletic shorts (1 pair -thrifted)
sports bra (1 – thrifted)
athletic tank top (1 -thrifted)

t-shirt to sleep in (also thrifted)
I'll post outfits on Instagram every day so you can see how this works in person.
What's worked for you with travel wardrobes?  What packing tips/questions do you have?  Share in the comments!