So you may think that because I have a style blog in which I advocate for a closet full of nothin' but clothes you love to wear that I, myself, have a closet full of nothin' but clothes I love to wear.  You'd be logical to think so, but you'd be wrong.  Turns out, it's more aspirational than anything.  Did I really just use aspirational in a sentence?
Anyway.
Sometimes I buy and wear clothes I don't love!  A new find seems "practical," or I'm caught up in the moment and my thrift lust distorts my style conscience, or I buy something that *should* tick all my boxes but just doesn't work, for some reason. That's why, as I mentioned yesterday, at the end of a particular season I like to evaluate whether something really got worn with gusto or whether it sat in the closet feeling neglected and crying "Put me in, Coach!"  (Or kept silently begging to be benched even as I continued to wear it.  Since clothes talk and all.)
I should clarify something, though.  Because I like to give these items a good solid run-through and really make sure they're not for me before I donate them back (is that the clothes equivalent of catch-and-release?), or because it's practical and goes with my other clothes and everything else was dirty, I could very well have worn something half a dozen times and still not love it.  So my criteria isn't so much how often I've worn it, or does it go with the rest of my clothes, or *should* I keep it, but rather "How do I feel when I've decided I'm going to wear this for the day?  Mediocre?  Fine?  Not great?  or EXCITED?!"  In the end, the keepers are the ones that I keep trying to find excuses to wear even though they already flood my Instagram and others might be sick of seeing me in them.  Those pieces make me feel sunshiney when I put them on, and when part of your closet feels that good, you want ALL of your closet to feel that good.
With that in mind, I give you Closet Rehab, End* of Summer Edition, Part 1: Shirts.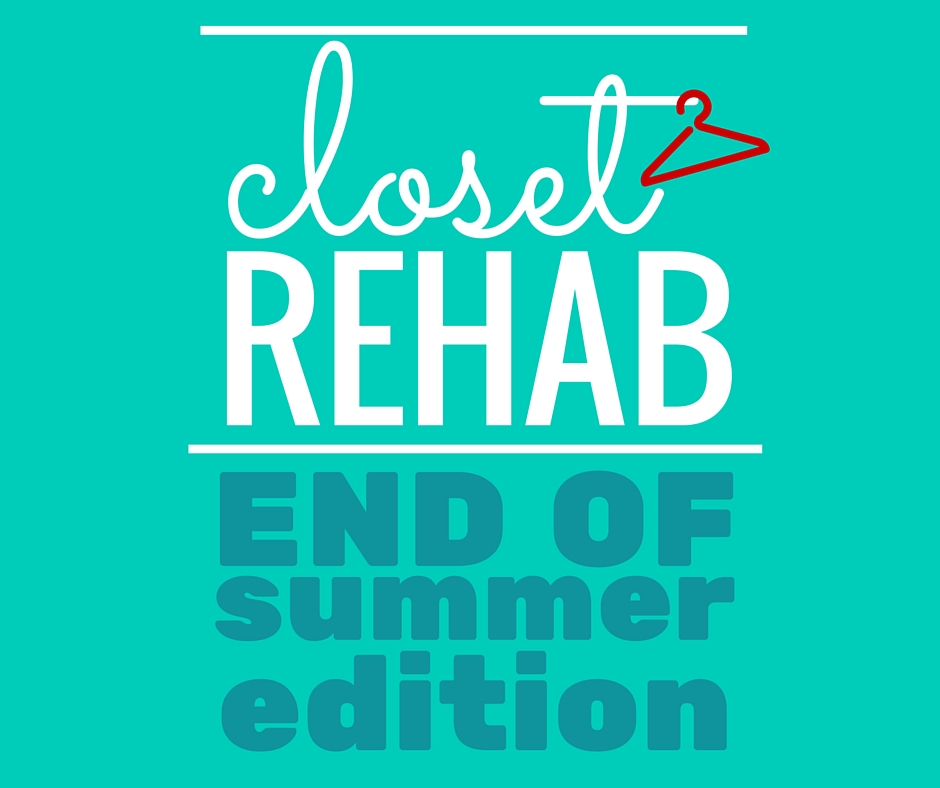 CUT: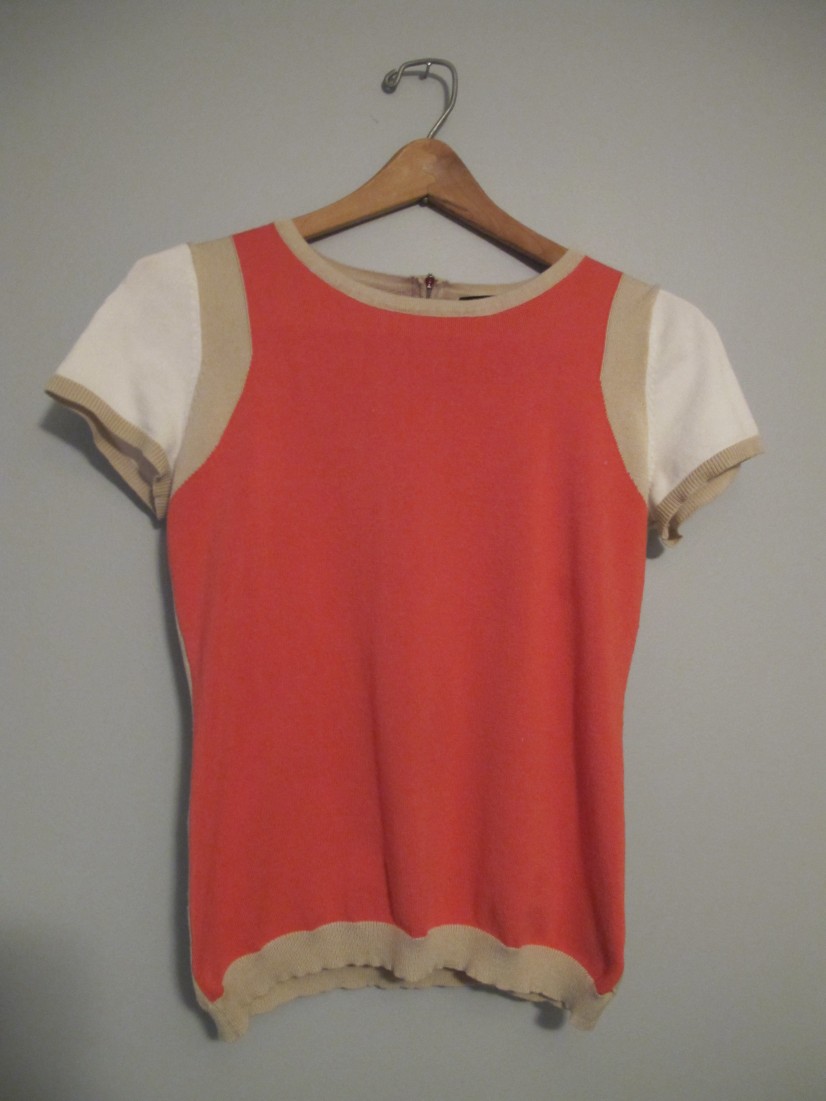 Limited color-block tee in white/coral/tan.  I feel like I *should* love this one–it's summery, it's in "my" colors–but wearing it alway felt like a duty, not a pleasure.  And once it was on, I felt more like a denizen of the country club, or a creepy 70s tennis instructor, than me:
CUT:
Crochet-esque coral "muscle tee" knit by The Limited.  Love the color, love the texture.  If I were a sewing gal I would attempt to fix the awkward bunchiness at the bottom–doesn't like to lay flat, too long to just skim the waistband.  But rather than potentially (no, probably, given my track record) butcher something that someone else might love just as it is, I'm gonna donate.  Because this is too cute to only be stuffed, uncomfortably, underneath my pants: 
CUT: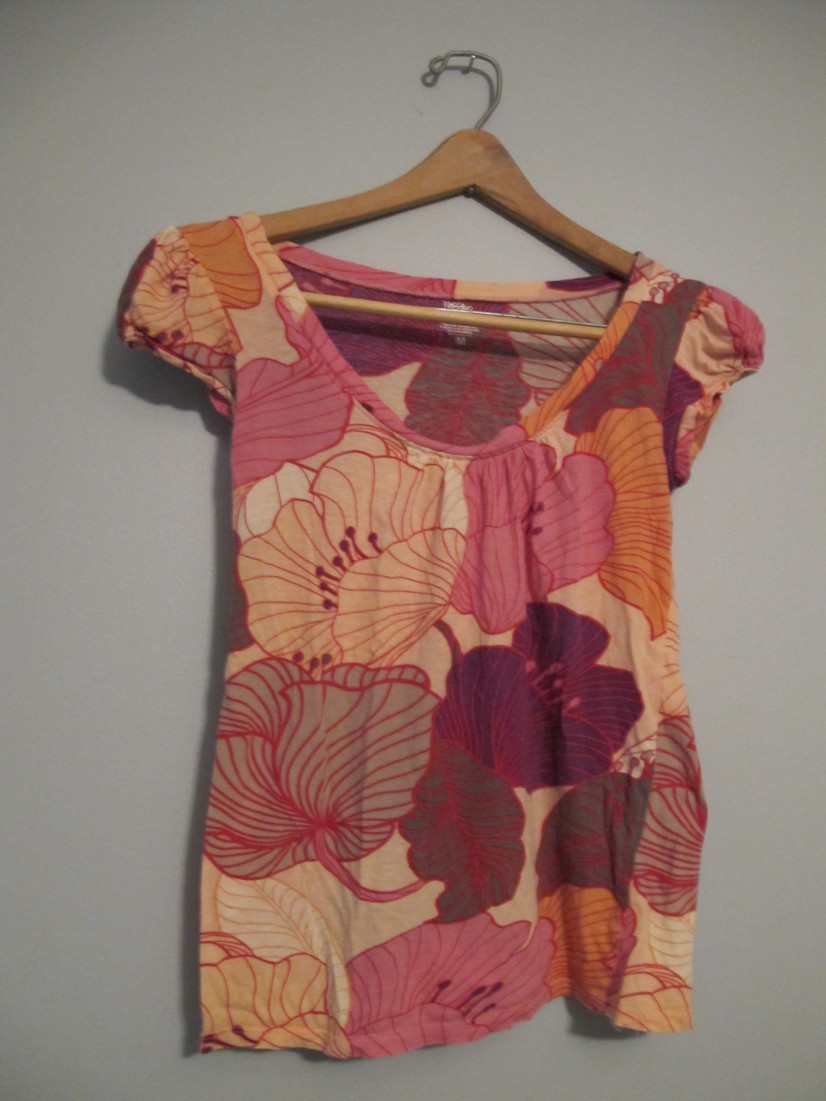 Mossimo tropical flower top.  I LOVE the color and pattern of this shirt and have worn it for yearssss.  It used to make me so happy every time I put it on.  But since my bust is a size or two larger (thank you child-bearing), the sweet scoop neckline is always exposing my bra straps and I feel like I'm always fussing with exposed lingerie when I wear it.  Plus you can see that the $$-saving technique of cutting fabric against the grain to get more garments out of a piece of material is starting to make the seam wrap weirdly around the front (lower right where the flowers don't match up).  When I see this shirt in my drawer, I have that awkward "we used to be best friends so I should probably invite you to my wedding/bat mitzvah/baby shower/birthday party out of respect for the past but we both know it's not what it used to be" feeling.  Ya dig?
CUT:
Forever 21 bird blouse: Once again, the bust created a problem here–gaps between buttons.  Also, too short to go with anything but high-waisted skirts; I need more versatility in a top. And while I love the crazy bird motif, it's pretty memorable and donating it makes room in my wardrobe for a fresh new motif: the crazy zebras print I saw at the thrift store the other day.  Not that you can't have both…
    STARS OF THE SUMMER: Old Navy floral blouse.  This one makes me feel summery and bright every time, and its drape is flowy without being frumpy.  Coral with a touch of yellow, yes please!
  Old Navy ikat cotton blouse.  When I bought this, I thought it might be a little too strong color-wise, but I love the way it plays with my faded red chinos and how it pops against white.  It's that same loose-but-not-lazy look and the colors actually charge me up.  Lots of fun with bright jewelry, too!
  Loft off-white blouse w/lace yolk.  This took me through vacation, work, church, family pictures, friends' birthday parties…and I'm still not sick of it.  Super comfortable, super chic.
  These didn't have quite the gravitational pull as the pieces above, but they made me smile when wearing them and were not frustrating to wear, so they stay 'til next year when I'll pull 'em back out and see how I feel about 'em. H&M sailor top:
LOGG by H&M Breton top: 
  Anti-blue "swimming pool" top:
Last but not least, a classic I shall never renounce: vintage polyester navy boxy top with shoulder pads and polka dots.  YAAASSSSS.  I even sewed a new shank button on this puppy to make it more wearable this year:
What have you loved this summer and what could you leave behind?  Do you disagree with any of my calls?  Scroll down to weigh in!
*Let's be clear, summer in Atlanta doesn't really end until mid-October.  But I'm already done with these babies.  Plus it was only 83 last week so that counts as near-fall weather in my book.