A quick What I Wore from our long weekend here in the states: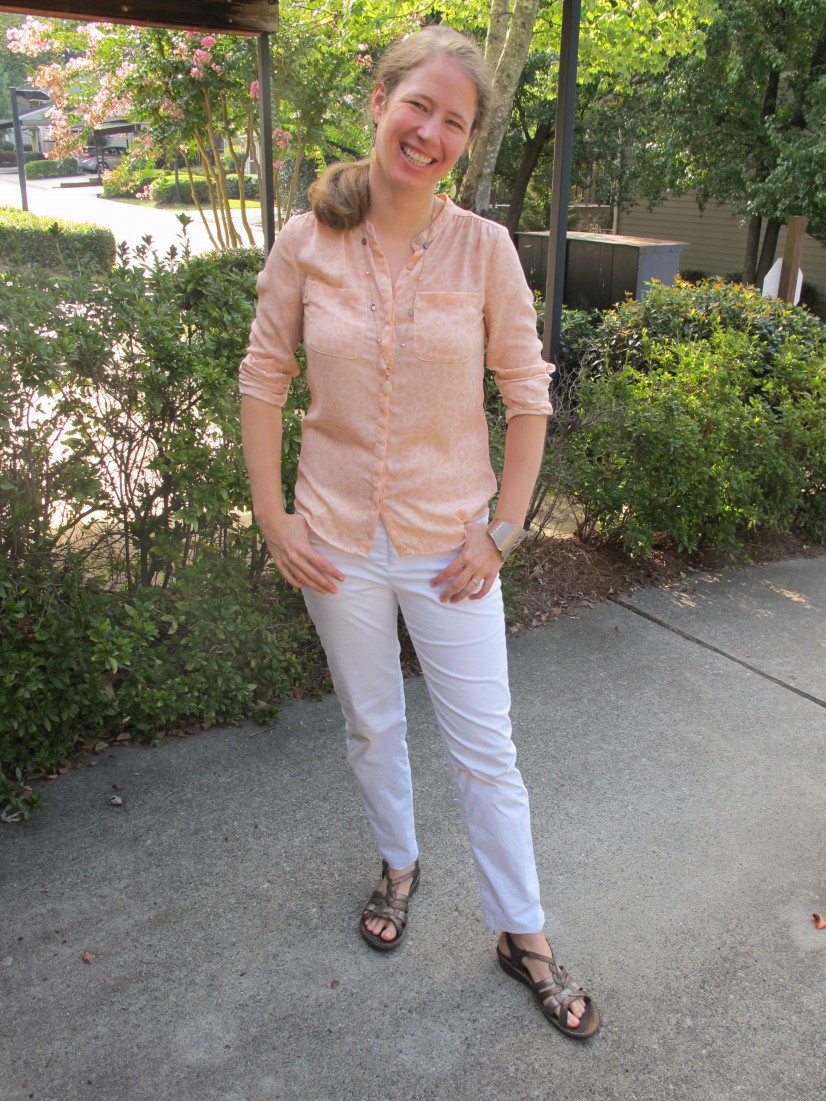 I don't typically wear necklaces over button-downs, but it seemed to work here – something about the delicate nature of the necklace and the way the leopard pattern broke up the strong lines of the shirt: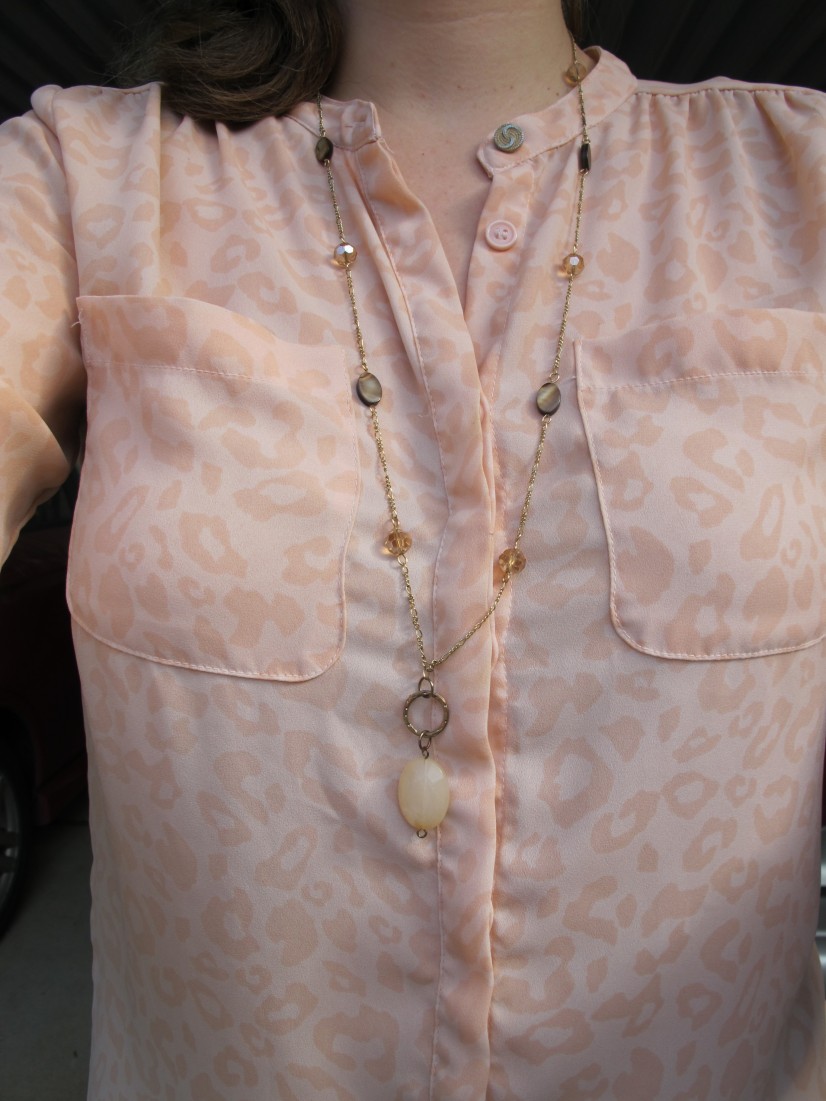 Speaking of leopard, turns out I do own a leopard-print top…but in such a subtle, almost gentle color combo that it still does not solve my leopard conundrum.  (More on this later in the month.)
Top: Forever 21, thrifted
Pants: Banana Republic, thrifted
Sandals: Clarks, gift from family
Necklace, earrings: DIYed from thrifted parts
And now, as advertised, my secret weapon for keeping my wardrobe in hand.

Now that I've transitioned from capsule wardrobes to a core/fringe model (there has got to be a sexier way to say that…although when you stop and think about it, "capsule" evokes some sort of pharmaceutical process…), my closet no longer has any official limits imposed on it. No more "this is what you will be wearing this season – period."
But at the same time that I'm clear about being ready to move on from a capsule model, I'm also clear that I want to keep the spirit of the thing alive. No ballooning closets or stuffed drawers for me, thanks.
My secret weapons for maintaining this trimmed up, focused, fabulous closet?
Hangers.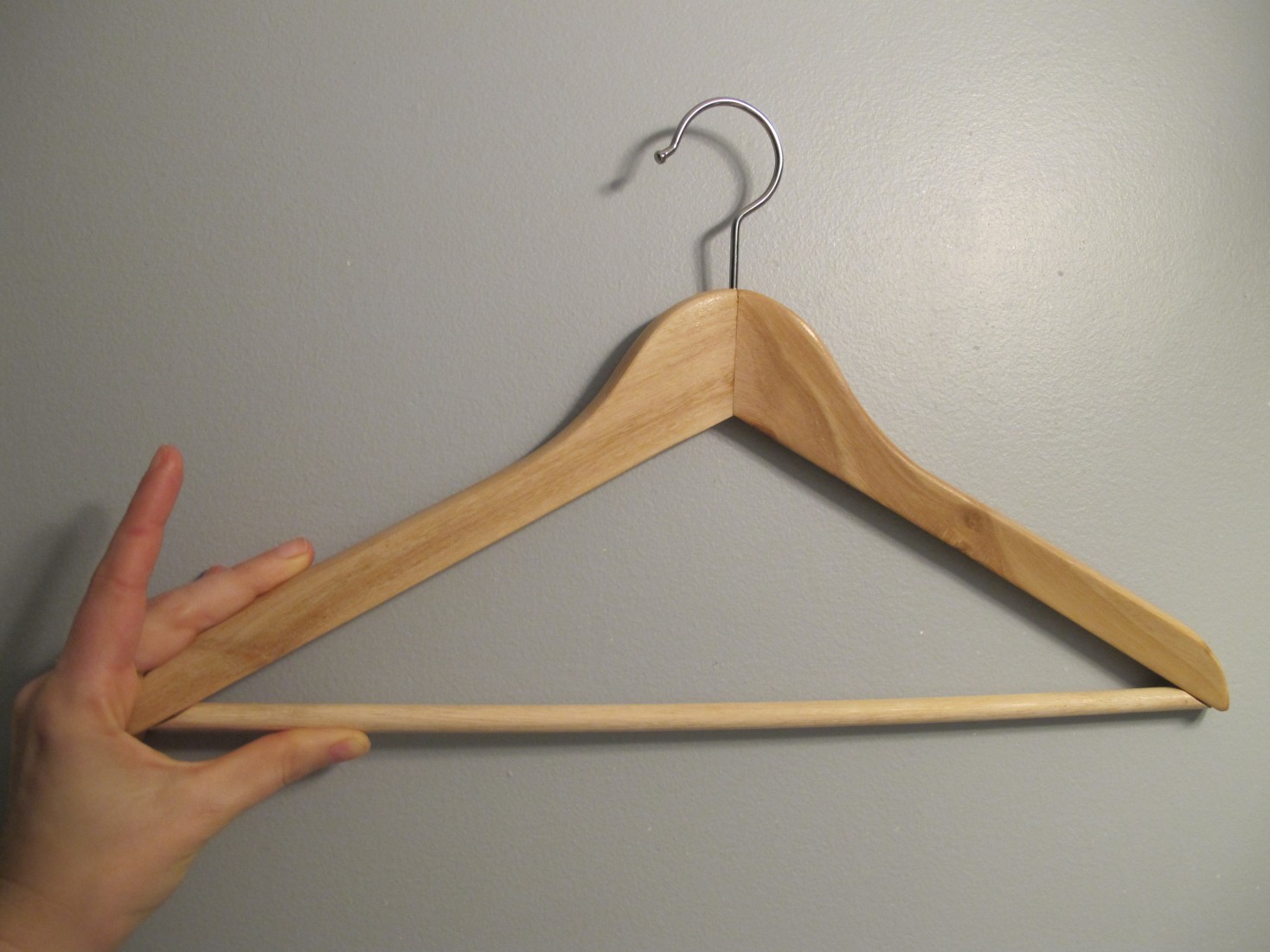 I've thrifted enough Ikea et al wooden hangers to hold all the clothes I currently have in my closet – my spring/summer capsule wardrobe of yore + some cardigans and warmer long-sleeved tees from winter: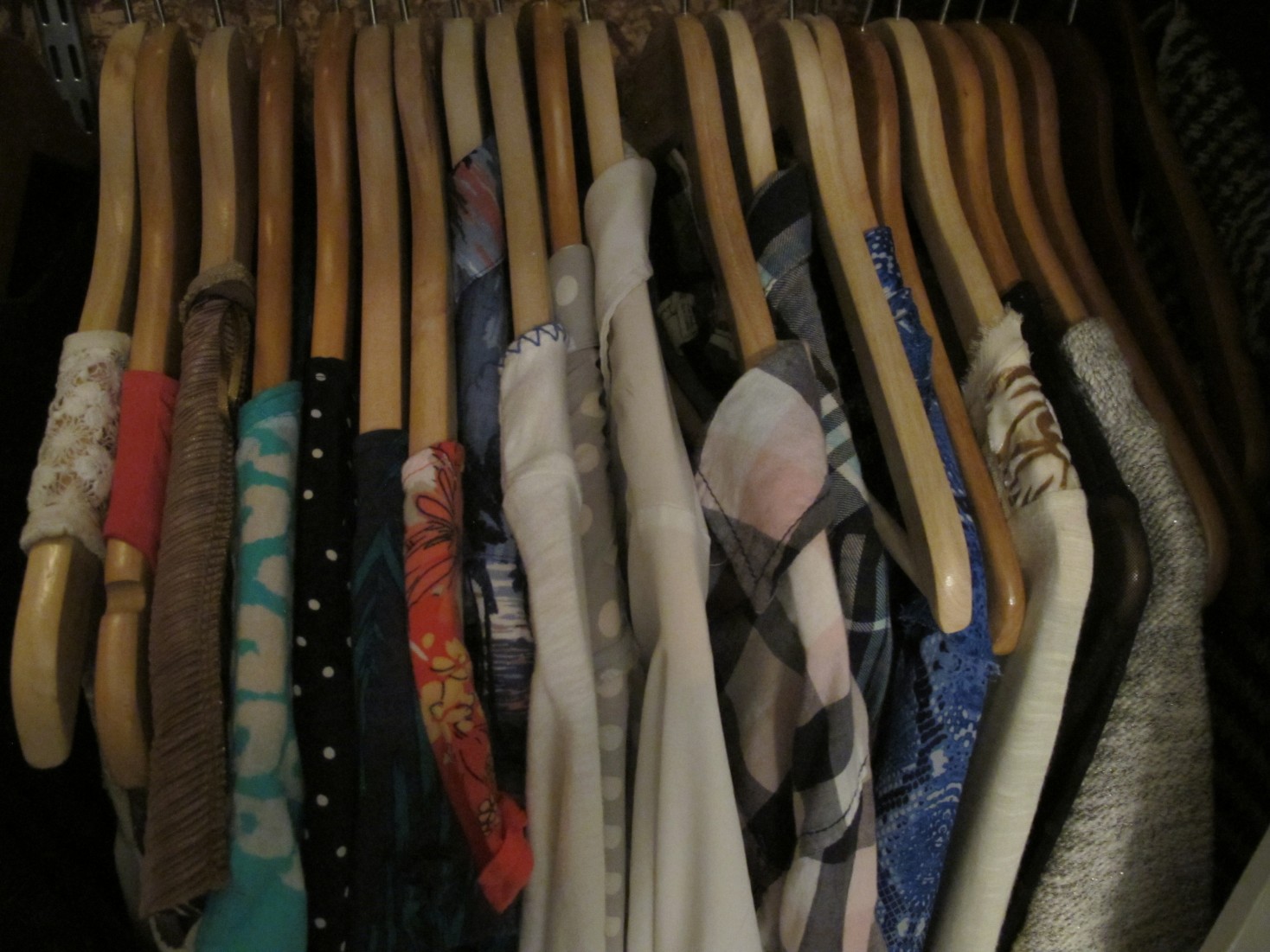 A few are empty with items in the laundry…you'll probably recognize some favorites in there.
Since I know that this number of hangers covers approximately a season's worth of hanging pieces, I simply stopped thrifting more hangers.  (Even though they are ALWAYS at the Goodwill…seriously, if you've been wanting to upgrade from plastic or wire, go check out your local thrift store.  I think as more people get into editing their closets they're donating their excess hangers for YOU to enjoy!)
So now, when there's a new piece I want, I try to figure out what I haven't been wearing as much in my current closet and what I could swap out for it.  Because I don't numerically need another dress, or another blouse. (This is often called the one-in, one-out rule in minimalist wardrobe circles.)
And you know, I've noticed that when I have more pieces than I need, I'm not as happy with my closet; one, some of the things I love don't get worn very often because they're relegated to the back reaches or I am trying to cycle through too many clothes.
And two, I'm more likely to buy things that aren't really in my sweet spot because I don't have a barrier  – what will I give up in order to say "yes" to this? – in place to make me evaluate whether it's really worth it.  ($6 dresses will do that to ya.)
Similar strategy for folded things: I Mari Kondo fold 'em and when the drawer is pleasantly full (not stuffed), it's time to stop acquiring or start swapping.
I should note that this works best when I'm in the habit of putting my clothes back where they belong after a day's wear (either back in the closet/drawer or through the laundry and then back in the closet/drawer).  When things are in their proper place, I can tell at a glance whether I have "enough" clothes or not, and I'm much less likely to experience the dreaded "I have nothing to wear!" syndrome.
What are your secret weapons – the unexpected, maybe unsexy tips and tricks you use to keep your clothing to a manageable scale?