Not long after I gave birth, I decided I wanted to recreate a favorite pre-pregnancy outfit formula: a white blouse under a blazer over slim pants. I was thrilled to be making my way back to some of my old standbys and knew that finding a white top that fit my postpartum chest (hello breastfeeding!) would allow me to wear blazers both old and newly thrifted, because who cares if they don't button? Worn over maternity pants (and eventually regular pants), this combo would slide me back into my style groove.
So I went thrifting and found this Uniqlo tunic-style top: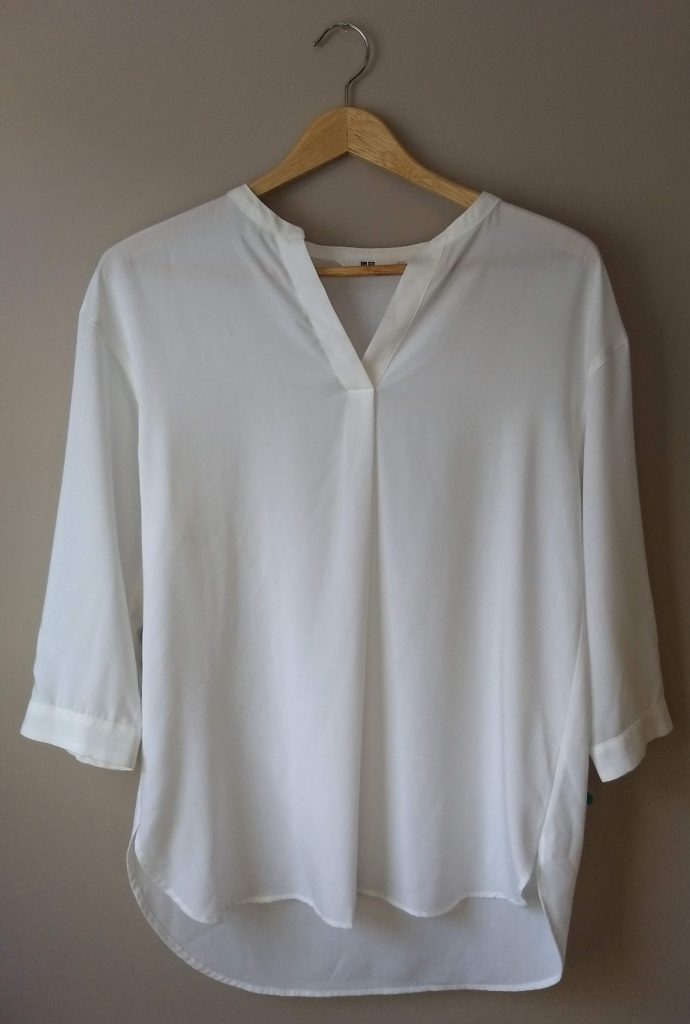 Lovely, yes? But then I got home and opened my drawers and realized that I could have created a very similar look using this long-sleeved white J. Jill tee from my maternity wardrobe: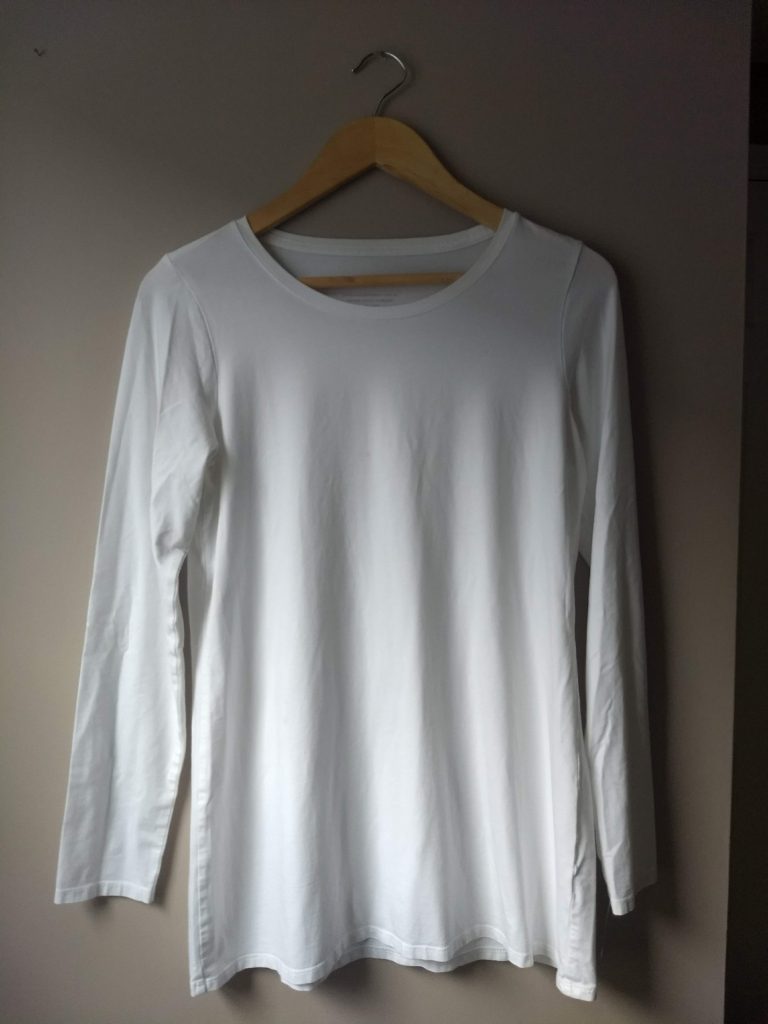 Sure, there would have been no interesting collar, but I planned to cover the collar up with a fun scarf anyway; same with the 3/4 length sleeves to be covered by the blazer. And yes, the split hem on the tunic had more personality than the tee's straight hem, but I could easily fake that by tucking in the front of the tee and letting the back hang out, like this:
This lightbulb moment has inspired me to take other looks I've been lusting after and recreate them with pieces already hanging in my closet instead of buying something new to make it happen – a particular temptation when following style influencers whose job, after all, is to try to get you to click on affiliate links. I'm scouring Poshmark or eBay instead of clicking retail links, of course, but I'd still rather get creative than consume. Because at its heart, that's what thrifting is all about.
So here's how I've been flexing the recreate-the-look-without-shopping muscle:
–Catalogue your inspiration. I do this in two places: Instagram, by saving images of IG outfits I love; and Pinterest, by saving images from the wider web to an inspiration board. This way I can easily refer back to a look without scratching my brain, trying to remember where I saw something or what I liked about it – or just obsessing about the one piece that stuck in my mind.
–Zoom out. Instead of finding out exactly where pieces are from and obsessively tracking them on online secondhand platforms (guilty…), I try to take a broader view and figure out the general strokes of the outfit – e.g. fitted sweater + loose pants + short boot, or long skirt + floral blouse tucked in – and brainstorm what I have that could fit those slots. (Scroll down for real-life examples.) Then…
-Zoom in. Maybe I don't need to replicate the entire look – maybe it's just a styling detail I love and can apply to items I already have. Rolling a cuff, tucking in a pocket square, inverting a collar, or pairing sneakers with an otherwise dressy outfit – any dressy outfit, not just the one in the photo I admire – can all transform an outfit's vibe.
Okay, let's see how this works in real life:
Look 1
This is the first look I really thought I could replicate; my success with it propelled me to try others.
Inspiration: Keila Tirado-Leist
View this post on Instagram
Zoom out:
Blue-and-white striped button down shirt + dark blue puffer vest + plaid blanket scarf
Zoom in:
While I have a dark blue puffer vest and I want a white-background plaid blanket scarf, I realized that what I'm really drawn to in this look is the white and medium blue stripes on the shirt. So often striped shirts are white and black or white and deep navy blue, both of which feel too stark for my color palette; this variety, though, is just luminous.
My Take: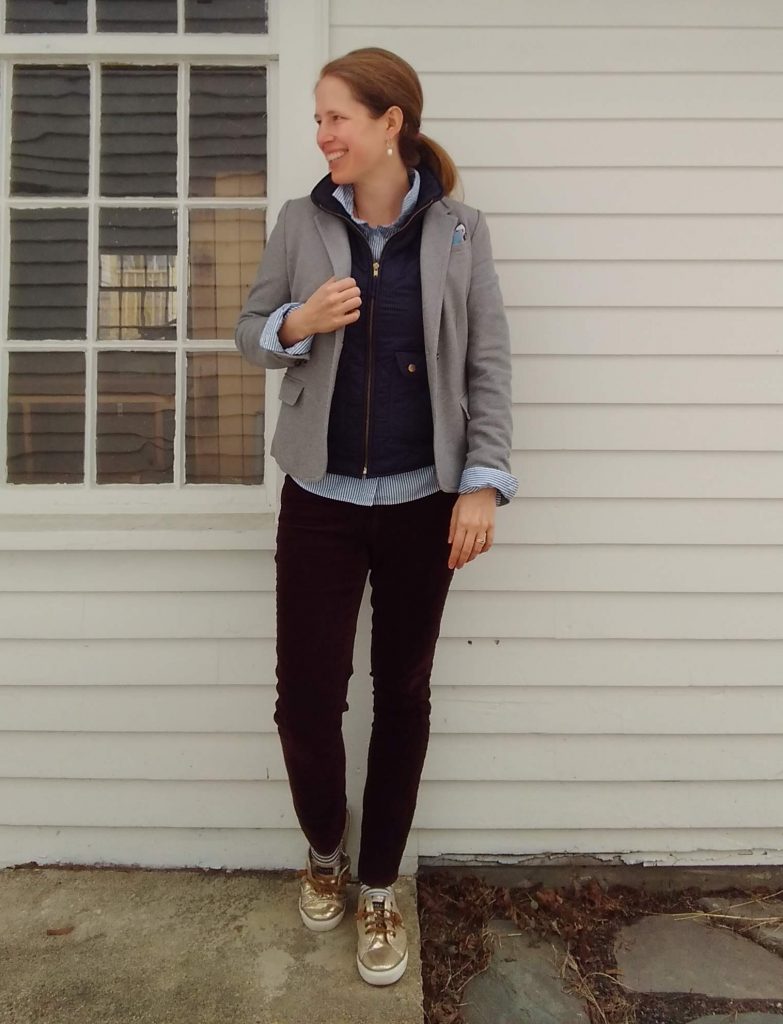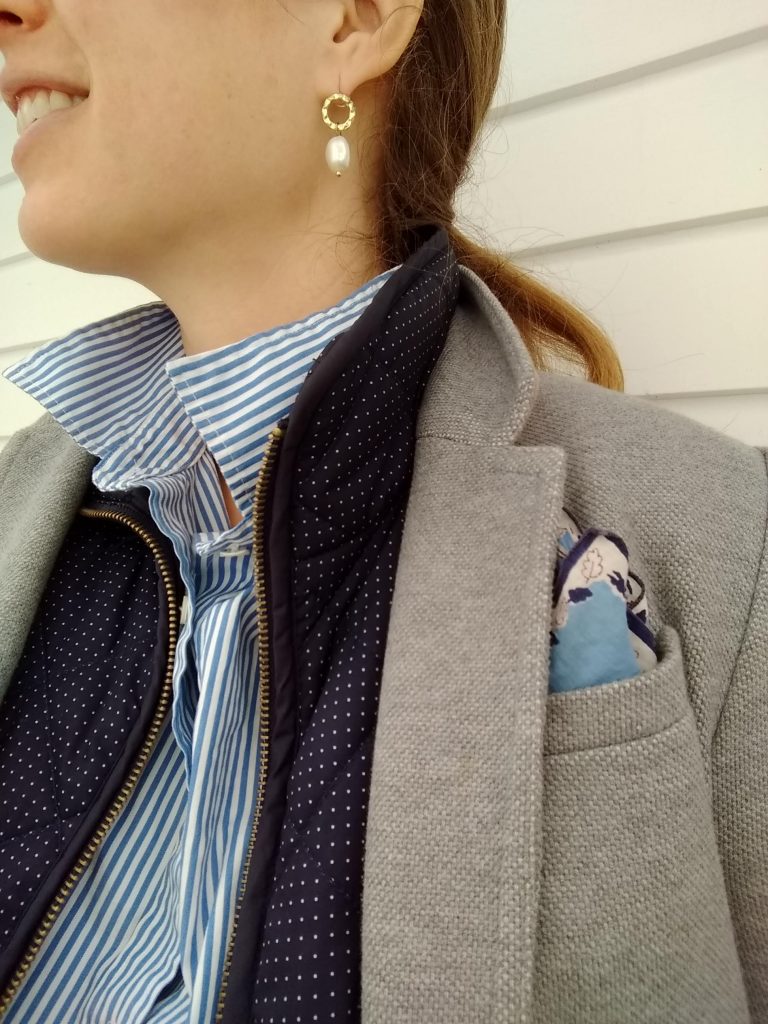 In the shirt slot, I could probably have used a solid, luminous medium-blue button down shirt I already own, but it doesn't fit my current chest (thanks breastfeeding!). So when I spotted a new-with-tags J. Crew version at the thrift store that did fit, I "cheated" a little and bought it, then paired it with the dark blue vest I already had. Success!
Look 2
The Inspiration:
Zoom out:
Colorful head wrap + light neutral blazer over light blue shirt + pocket square + sunglasses
Zoom in:
I do love a good head wrap (what is the right term for this??) but I think what really does it for me here is the dark pocket square in a light neutral blazer; it reminds me of the numerous well-dressed Southern men I encountered when living in Atlanta and how they embraced light neutral suits and played with color.
My take: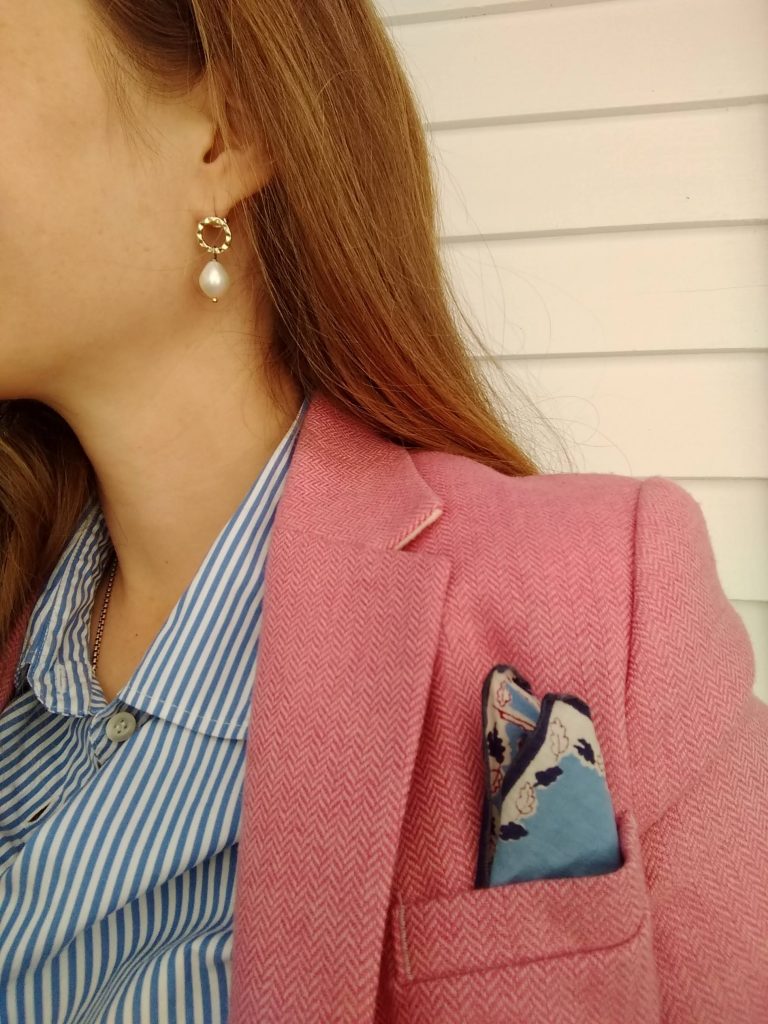 I grabbed one of my grandma's vintage handkerchiefs and folded it so the corners stuck up, then tucked it into the pocket of my blazer. I haven't been as drawn to my white blazer this year as I was last year (maybe because it got so much wear??), but I'm sure it will look just as good if I decide to try to replicate the inspiration photo more closely.
Look 3
Also in the scarf category – neckerchiefs!
The Inspiration: Adele from Simple Life Musings does this look on the regular:
View this post on Instagram
Zoom out:
White tee + scarf tied at the neck. It feels fresh and fun, and it's a great way to accessorize an otherwise plain shirt and vary your look using whatever scarves you already own.

Zoom in:
I love the monochromatic + red look on Adele, but don't like it for me. So I didn't particularly strive to replicate the color scheme/other details, although I did decide to go for a layering piece, swapping the cardigan for a blazer.
My take: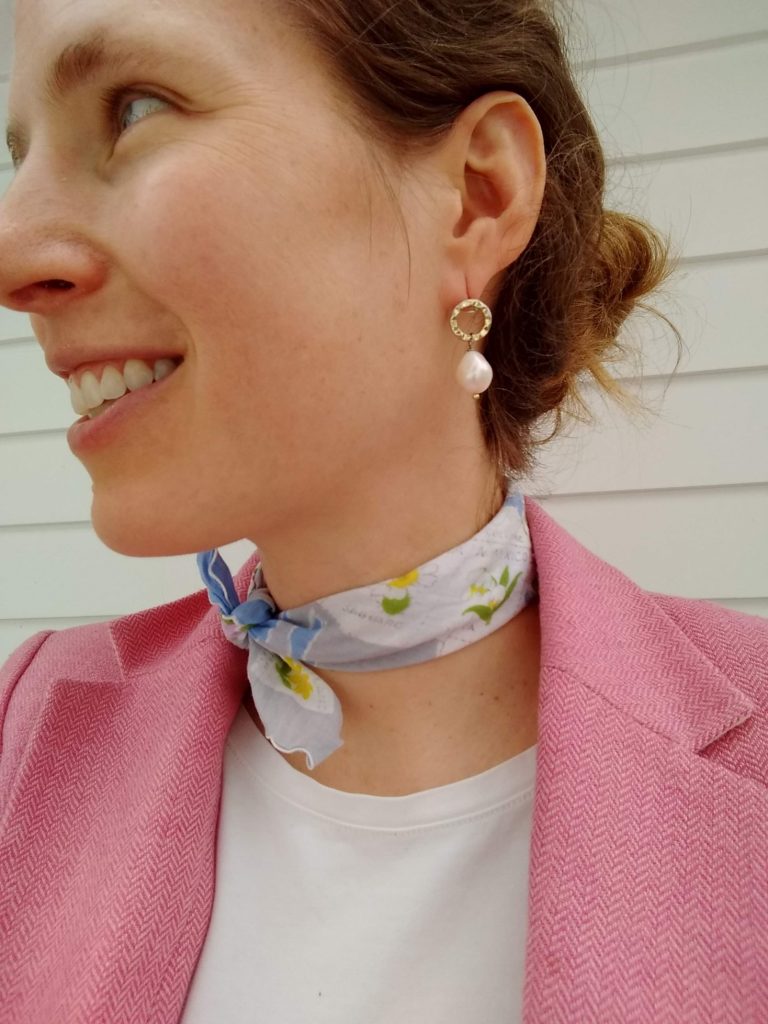 I rolled and tied another handkerchief from my grandma (this one's a map of the United States!) around my neck instead of using it as a pocket square. Since the scarf-at-the-neck thing is a big current trend, it's an instant update. Success!
Look 4
Inspiration: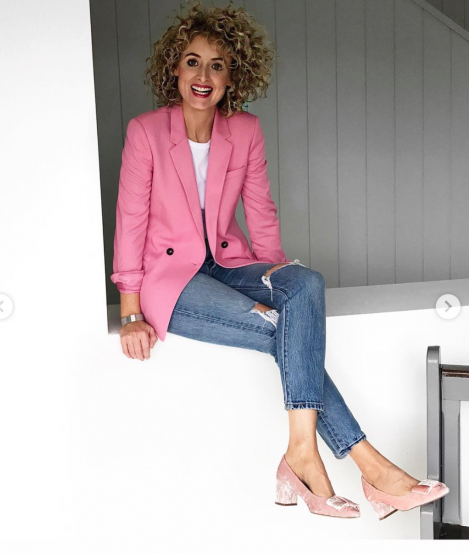 Orla Sheridan on Instagram (swipe to the 7th photo)
Zoom out:
Solid pink blazer over white tee + light blue jeans + pink velvet pumps
The shoes could be classed several ways for our purposes: pink shoes of any kind, particularly in a different shade from the blazer; velvet shoes of any kind for a pop of texture; heels of any kind as contrast to the casualness of the rest of the look, etc.
Zoom in:
I love the velvet heels and the monochromatic contrast – and could have recently snapped up pink Keds in my size at the Goodwill to fill the "pink shoes" slot – but I decided that what I really liked about this look was the combination of solid pink-white-blue up top and how the blazer elevated an otherwise casual look. Thus…
My take: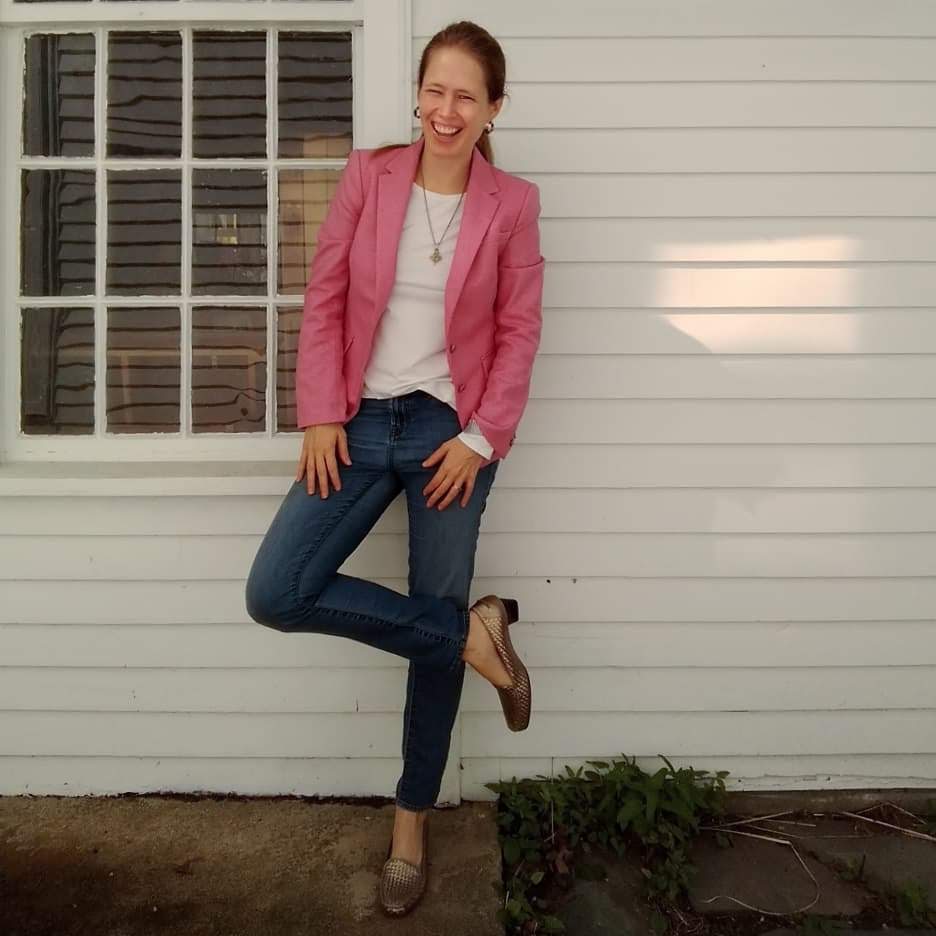 I used my existing pink blazer (hi, that's in almost every look here…), white tee mentioned at the beginning of the post, light blue jeans with a very similar cut, and block-heel shoes which, although not pink, added just as much interest thanks to their metallic weave. Bam!
Which look is your favorite? Are there any looks that inspire you and that you could recreate from things already in your closet?