The beginning or end of a season is a great time to clean out your clothes—you know what you haven't worn in last season's lineup and you have a fresh take on what you're excited to wear (or not) in the coming season.
In advance of (fingers crossed) Thursday's spring wardrobe capsule post, I give you my most recent cleanout: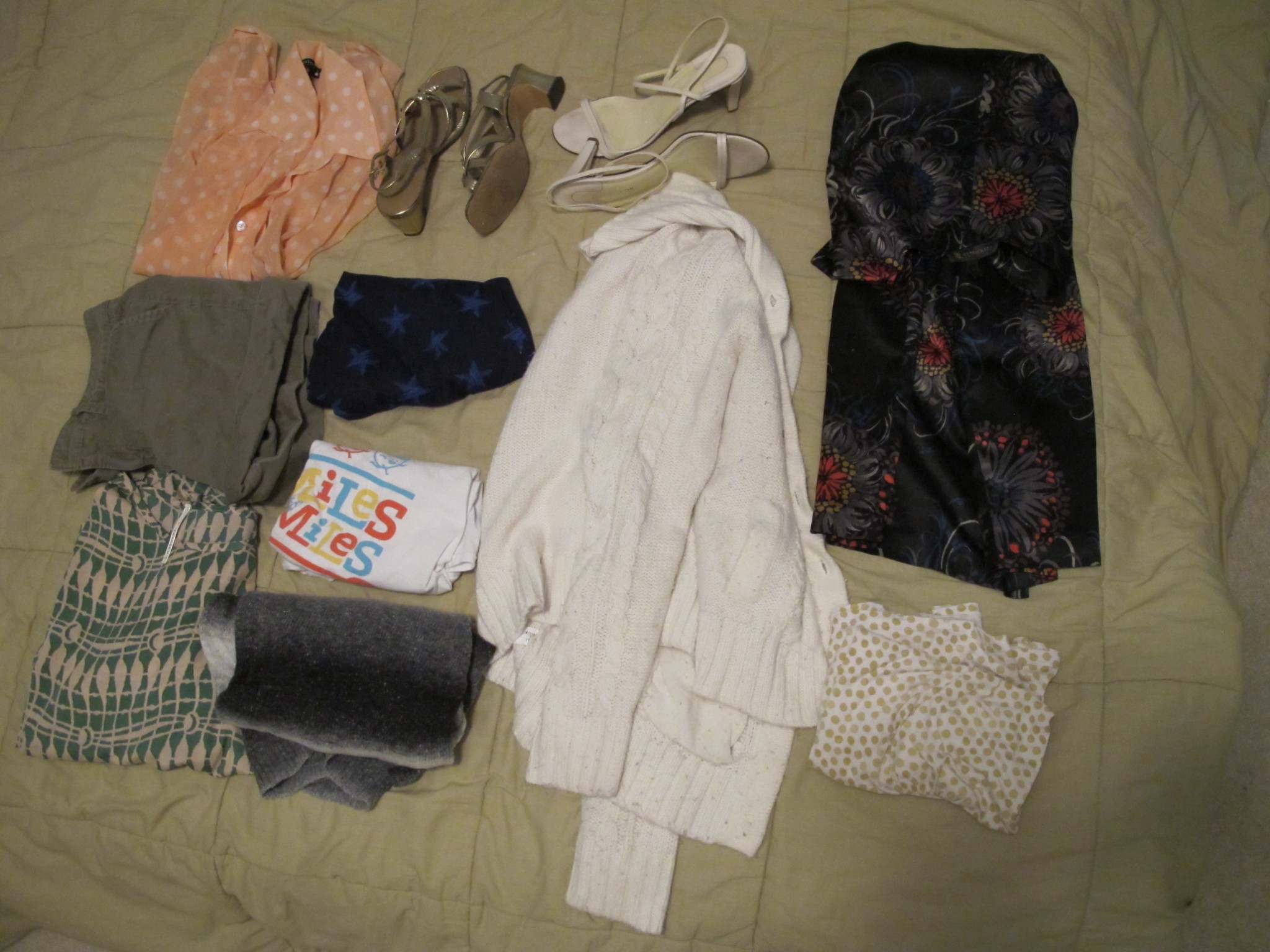 Top L to R:
Peach polka dot blouse: great color and pattern, but cheaply made, sheer, and a crepe texture I dislike.  When I found this thrift upgrade I was happy to let the old one go.
Gold strappy sandals: these were my Grandma's and as such are really hard to let go of.  But I think I've worn them a total of once in the 4.5 years I've owned them and I can just imagine them making someone else so happy.  Plus I have jewelry of hers I wear regularly and her art and portrait on my walls, all of which recall her memory to me more readily than a pair of sandals I had stuffed out of sight.
Strappy white Ann Taylor heels: these are so elegant and simple, but I can't remember the last time I wore them, because I just. do. not. wear. heels.  My gold snakeskin barely-heels from this wedding outfit will add more pizzazz and wear more practically than these high skinny ones; and again, I know they'll make someone else super happy.
Black floral dress: I've worn this to weddings, to funerals, and while pregnant.  It's definitely done right by me, but I have dark funeral dresses I love more and wear elsewhere, and the coloring is all wrong for me.  I hope someone nabs this who really enjoys the coloring!
Middle L to R:
Khaki shorts: I grabbed these last summer to go with the polka shirt in the bottom right and then wore them ambivalently off and on for the rest of the warm months.  I have 3 other pairs of shorts I like better, and no one who can't wear shorts to work needs that many shorts.
Blue star shirt: nabbed for Halloween; too dark for my taste, and the V-neck is weirdly small.
White sweater cardigan (aka The Yeti): Pilling, not my favorite length, and worn hard this winter.  Getting rid of it now means I have 6+ months to find something warm and cardiganly that I love.
Bottom L to R:
Pink/green blouse: A hole-filler from the end of last summer when I needed extra variety.  Don't love the pattern and its cheap construction won't last.  I found tunic blouses I love much better so it's buh-bye to this number.
Fundraiser 5k shirt: Soft but poorly made; starting to twist off-seam.  I have enough running shirts with much more sentimental value.
Grey ombre sweater: a friend recently passed this on to me but this post made me realize I have more than enough in the way of casual sweaters.
Polka dot shirt: See above; this wardrobe extender made me want to buy another pair of shorts and I don't love it.  I may also get rid of same shirt, different pattern, jus to have a looser silhouette this summer.
To be able to get rid of this many items at season's end tells me I still have too many clothes.  I love the beautiful simplicity of wardrobes like this one but not sure I could do without the variety.
Could you do a truly simple, minimalist wardrobe like the one I linked to?  When do you like to clean out your closet?  Any tips for letting go of pieces you don't wear but to which you are still attached?
(My number one tip, as showcased above: imagine how much someone else will love it once you've freed it for them to find!)
Scroll down to comment!