First up, I want to share with you all Nadia at Happy Malista's recap from her 10×10 challenge; she shared her outfits as well as outfits from a few other bloggers whose challenges she enjoyed, including yours truly! It's sometimes hard finding a style blogger whose style is close enough to your own to resonate but different enough to inspire you; Nadia's 10×10 hits that sweet spot for me. She's convinced me I need to replace the blazer I used to own that was kind of a spring take on moss green…
And now, on to my thrift finds from last month!  Starting with the NOs:
A great soft dark grey turtleneck with split hem, made of supima cotton, that was too baggy – sigh: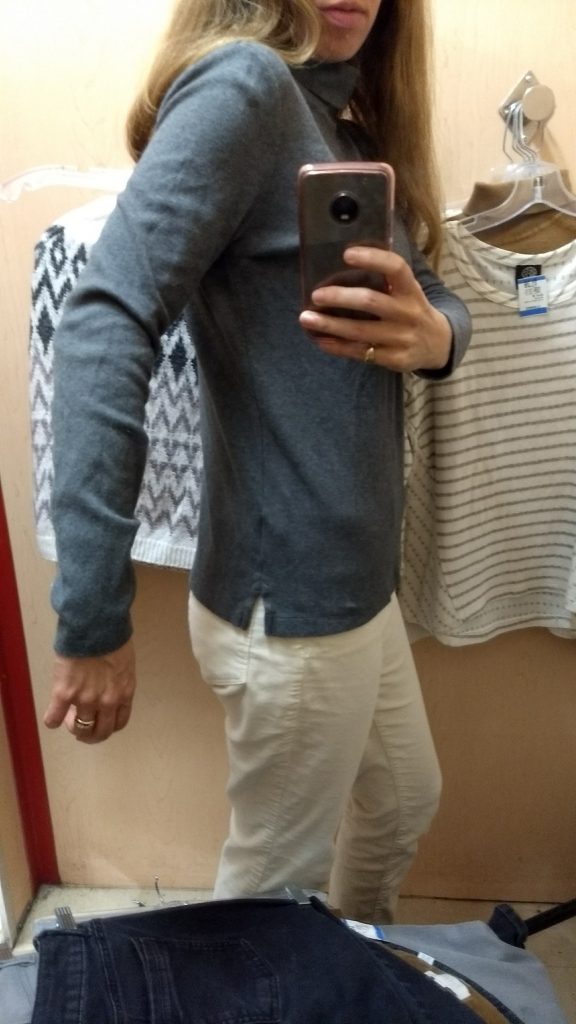 A Talbots sweater that made me feel like I live in a ski chalet – look at that great fringe!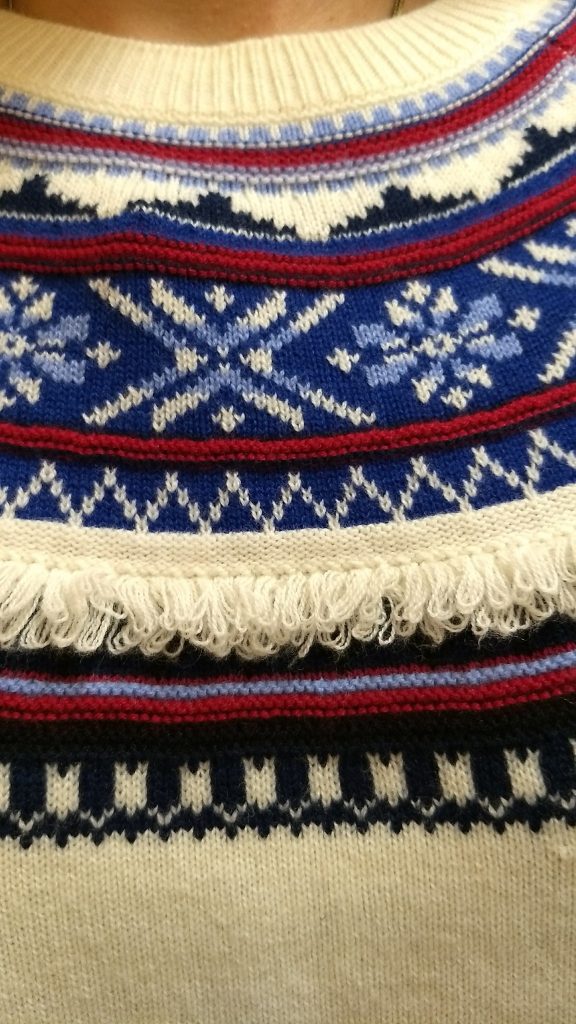 A wonky fit in the torso, though: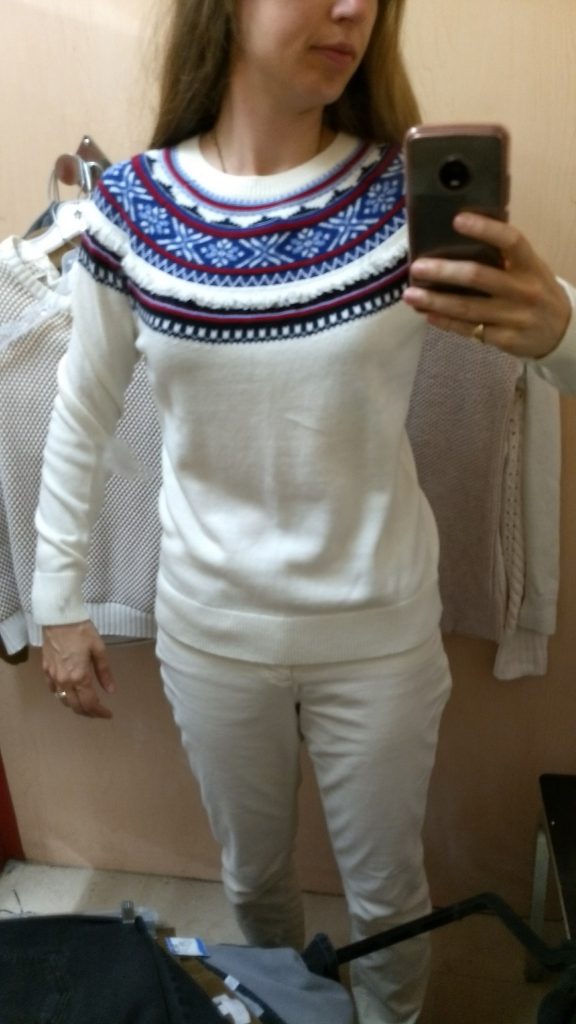 I'm on the hunt for a caramel-colored turtleneck but this one was giant in the armpits: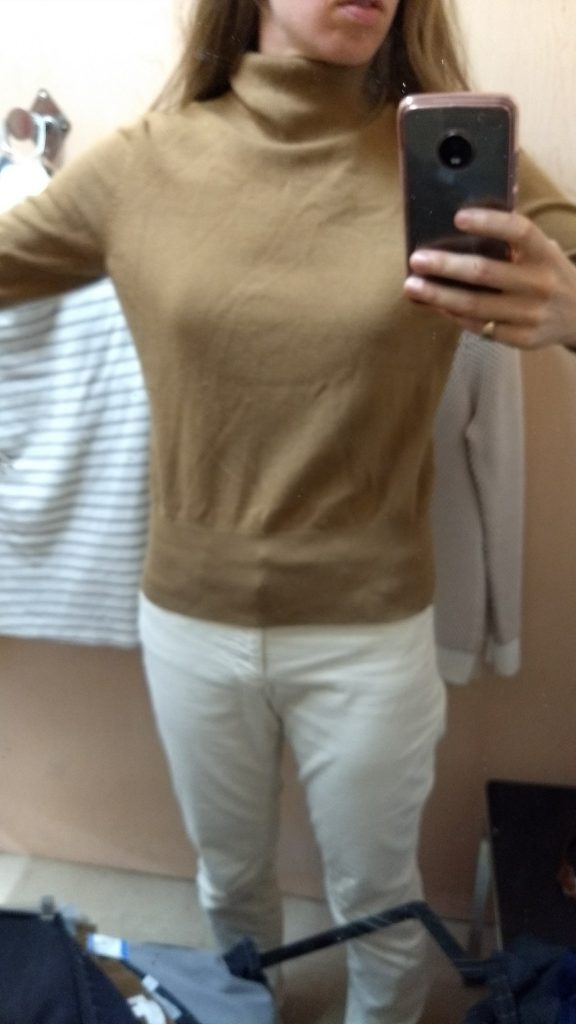 It hid its ginormous pits well, though: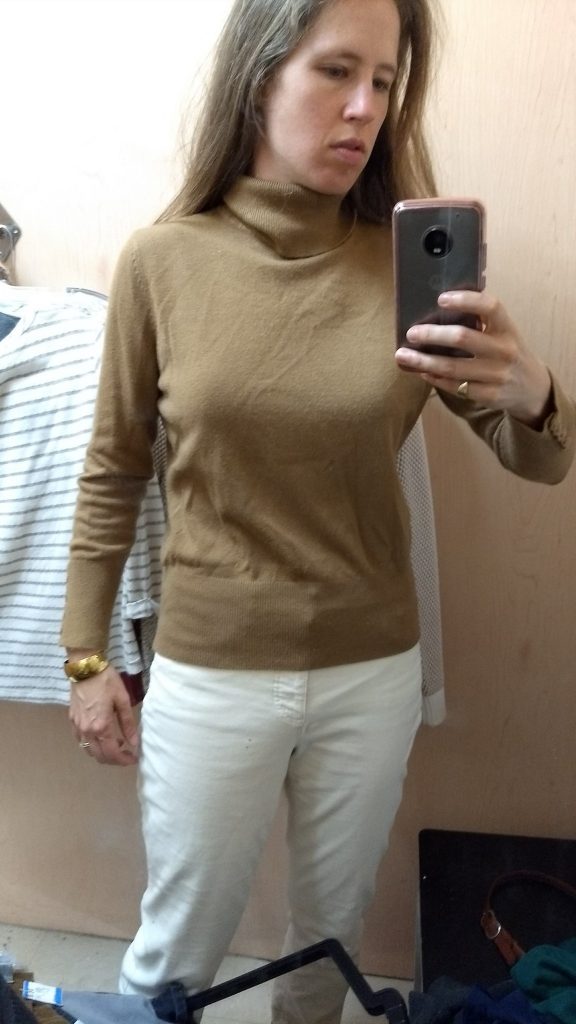 This dark cognac trench was a dream – 100% wool, and just had so much character:
It was a little TOO oversized on me, and the color a bit intense – see how it's the first thing your eye is drawn to in the picture, instead of my face? Sign of a tone mismatch.  Anyway, this would have fit my fantasy life (city dweller with a 20 minute walk across the Loop to get to my office) but not my real life (quick jog down the block to my office, then where do I stash this monster?), so I left it there.  Tear.
It's hard to tell, but this riding jacket by Ralph Lauren was too big on me. The cut is very equestrian; can't you see it paired with jodhpurs?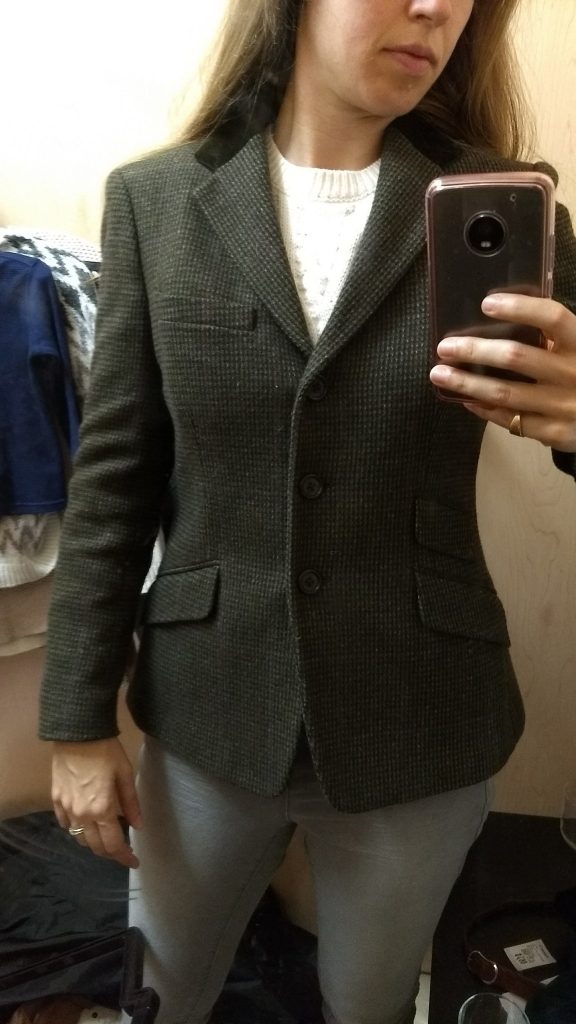 But here's where it shines – velvet collar and some purple woven in with that moss green. It's like heather in a blazer!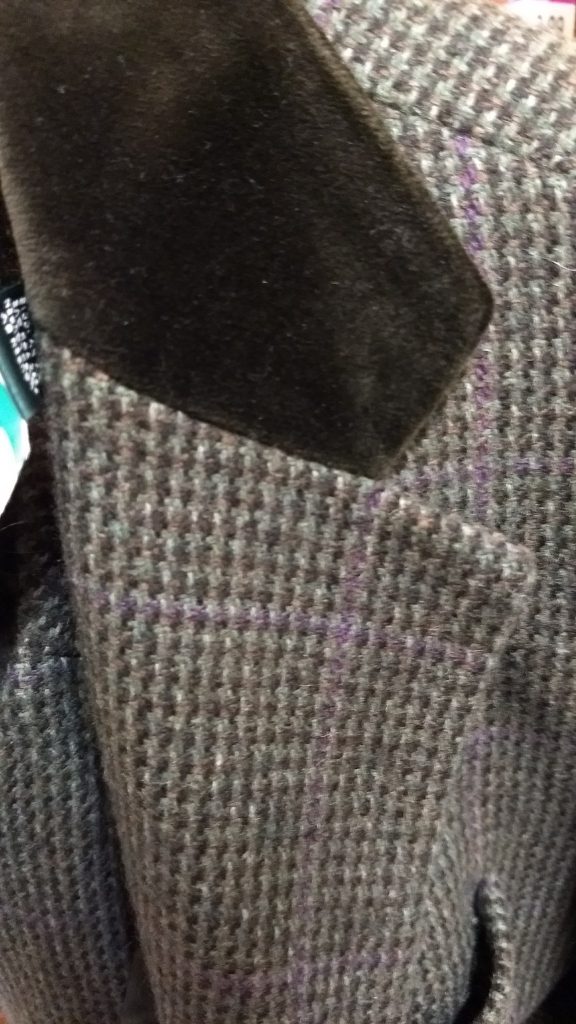 Various pants I tried out because I thought I needed grey jeans (probably not true):
Several sweaters that didn't make the cut, such as:
Loft – loved the diamond pattern but it was scratchy-atchy-atchy, as one of my kid's storybooks says:
Same with this Gap sweater – scratchy, and that neck plus those sleeves totally remind of the year 2000:
Too much blue in this green sweater by Land's End – but it fit perfectly! (Their tops are usually too wide in the torso for me):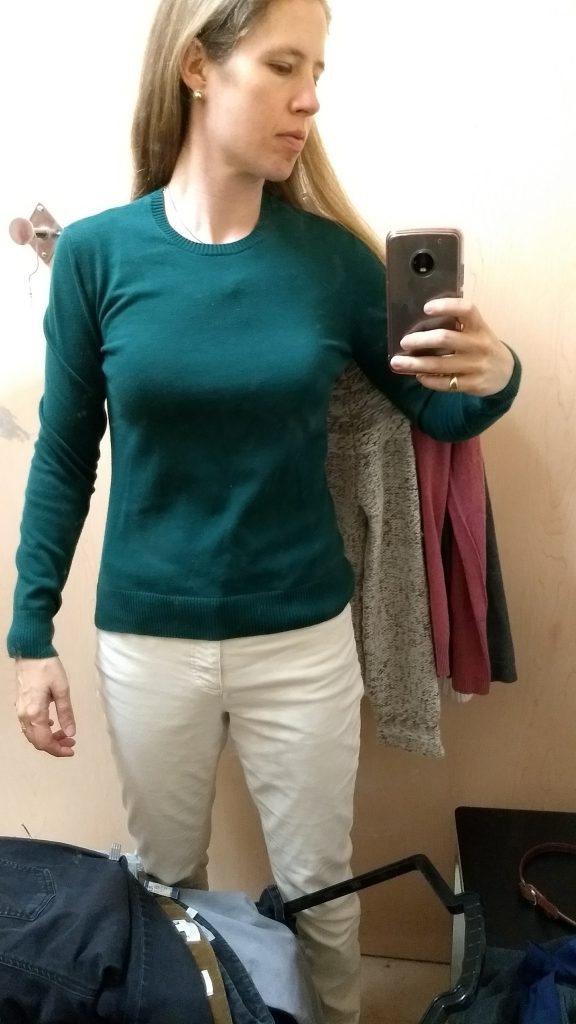 Italian wool from Banana Republic, too tight (that smudge is the mirror, not a sweater defect):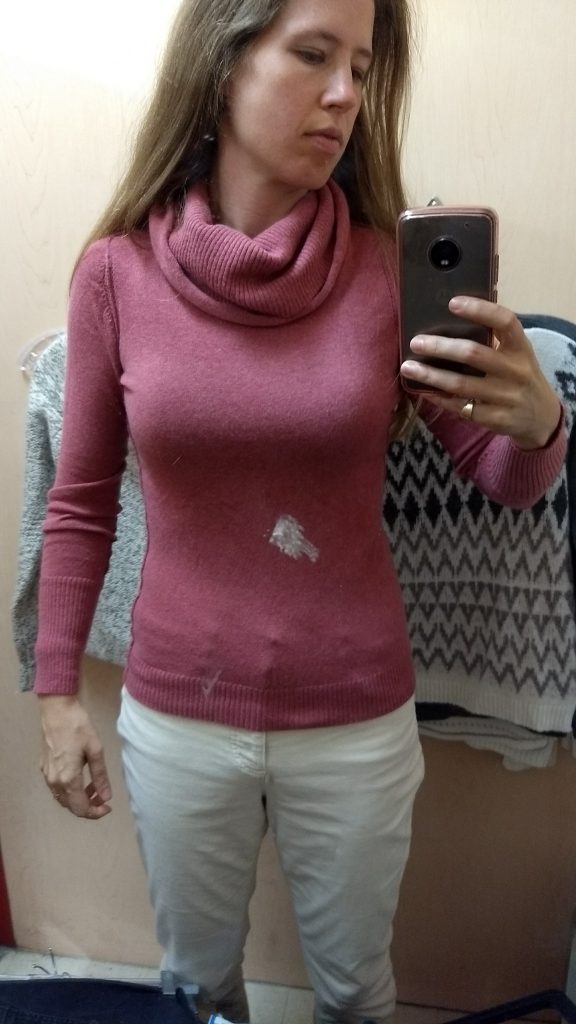 And a J. Crew dress that underwhelmed, I think mostly because it was short enough to need leggings, but lightweight enough to show any lumps and folds from underlayers: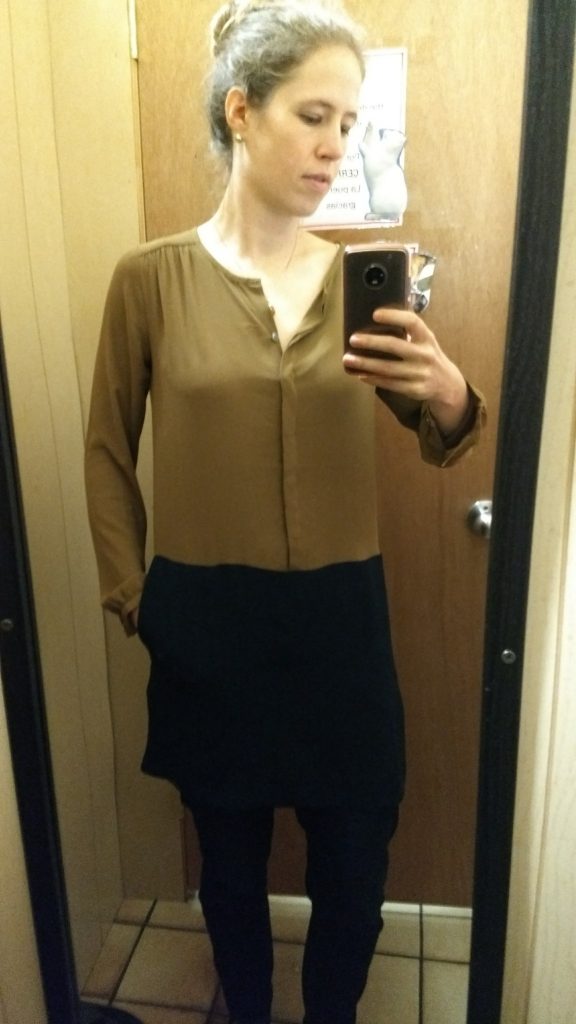 That bottom half is navy, despite its greenish tinge in this photo.
And now, for the winners!
You're familiar by now with my new cable knit sweater by Workshop by Andrea Jovine: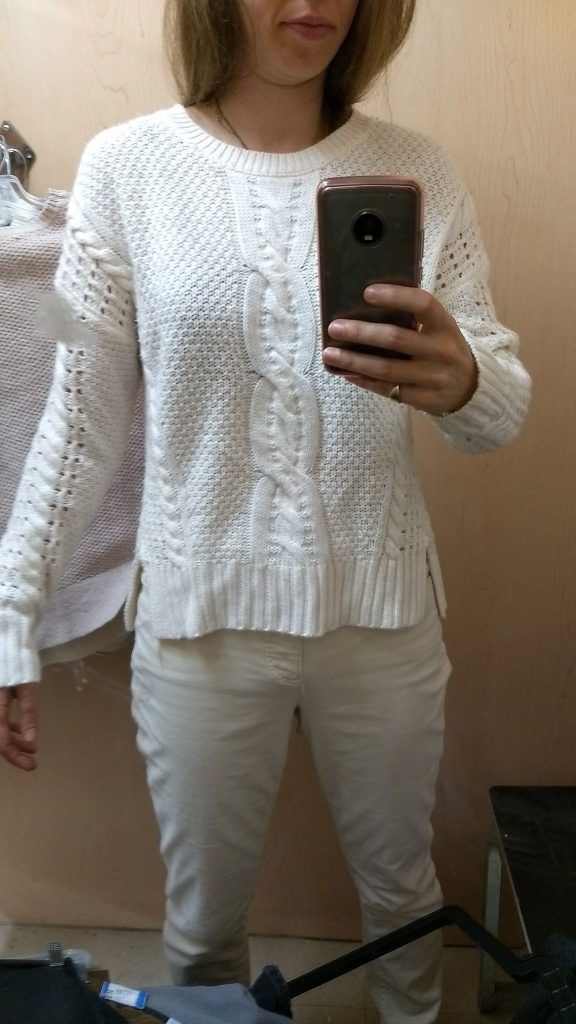 Here's my new goose down coat by Larry Levine; it retails for up to $200 but thrifted for $20. I may not be psychologically ready for the cold, but I will be sartorially ready for it!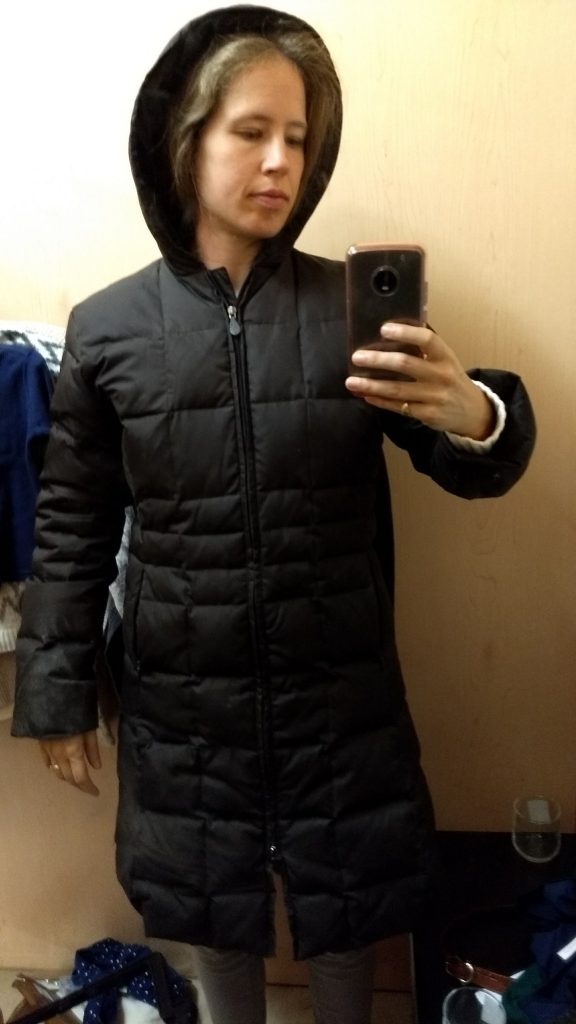 It's just this side of dark charcoal, so hopefully it will not wash me out quite as much as pure black. Honestly, though, if I'm warm and I paid 10% of MSRP, I don't care. Functional wins out over everything else in this case.
Here's my first Eileen Fisher find! A bright, orangey red that is sort of intensely bright – what a great fall color: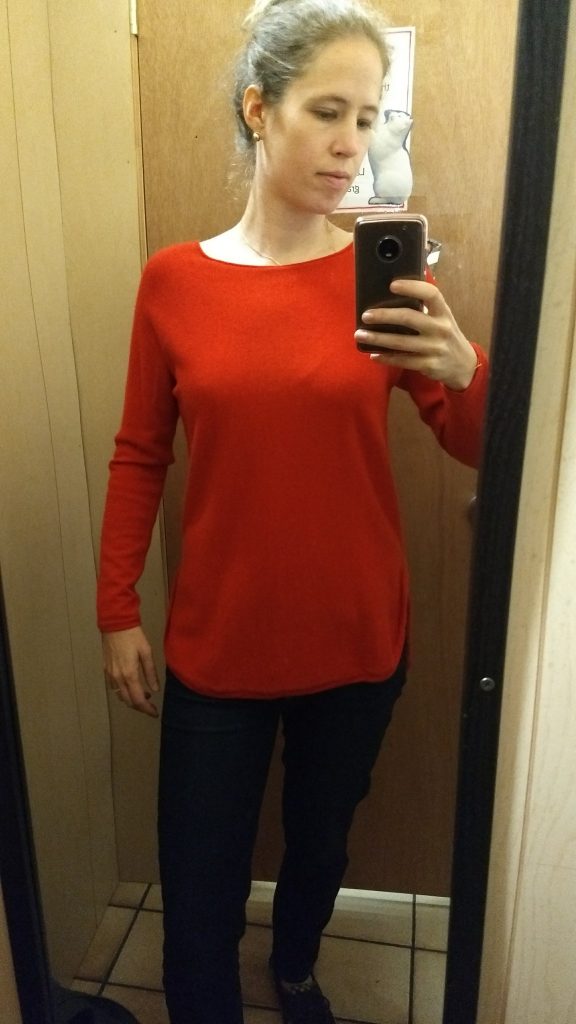 Check out that split hem!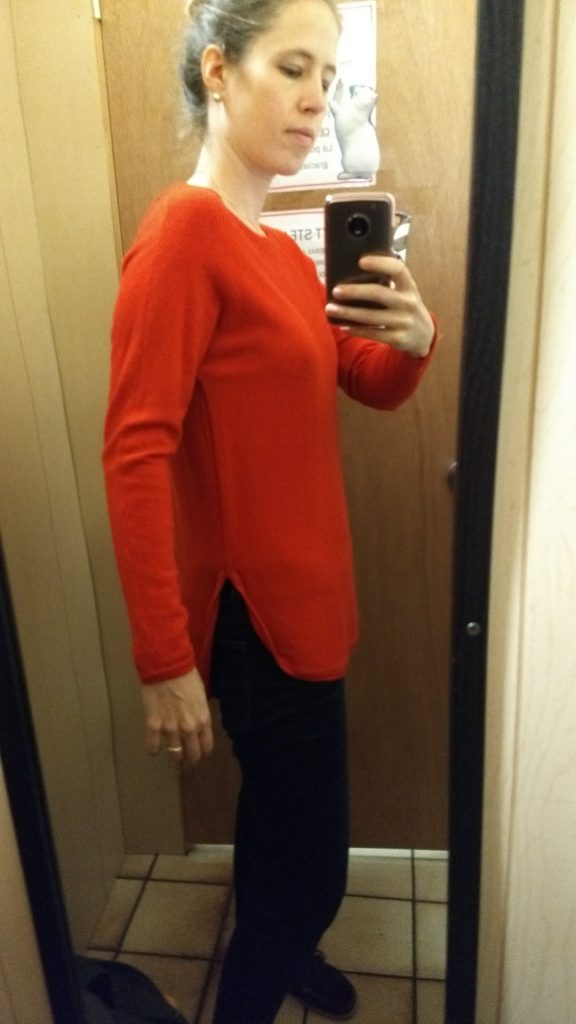 To wit, here it is styled:
And this tan/cream patterned sweater by L.L. Bean:

There's a cat balancing on my phone!
…with a fun hi-lo split hem: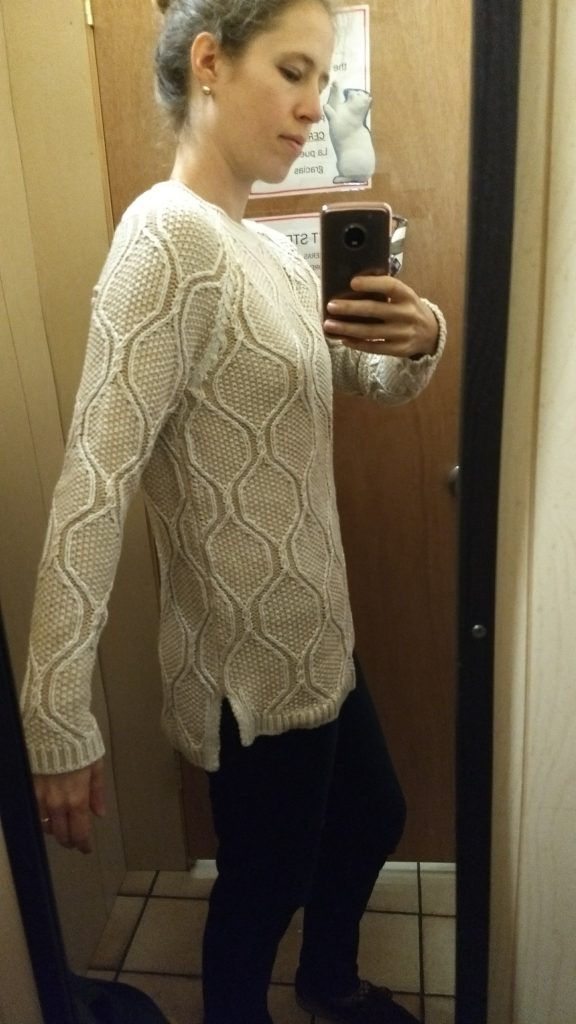 Here it is styled: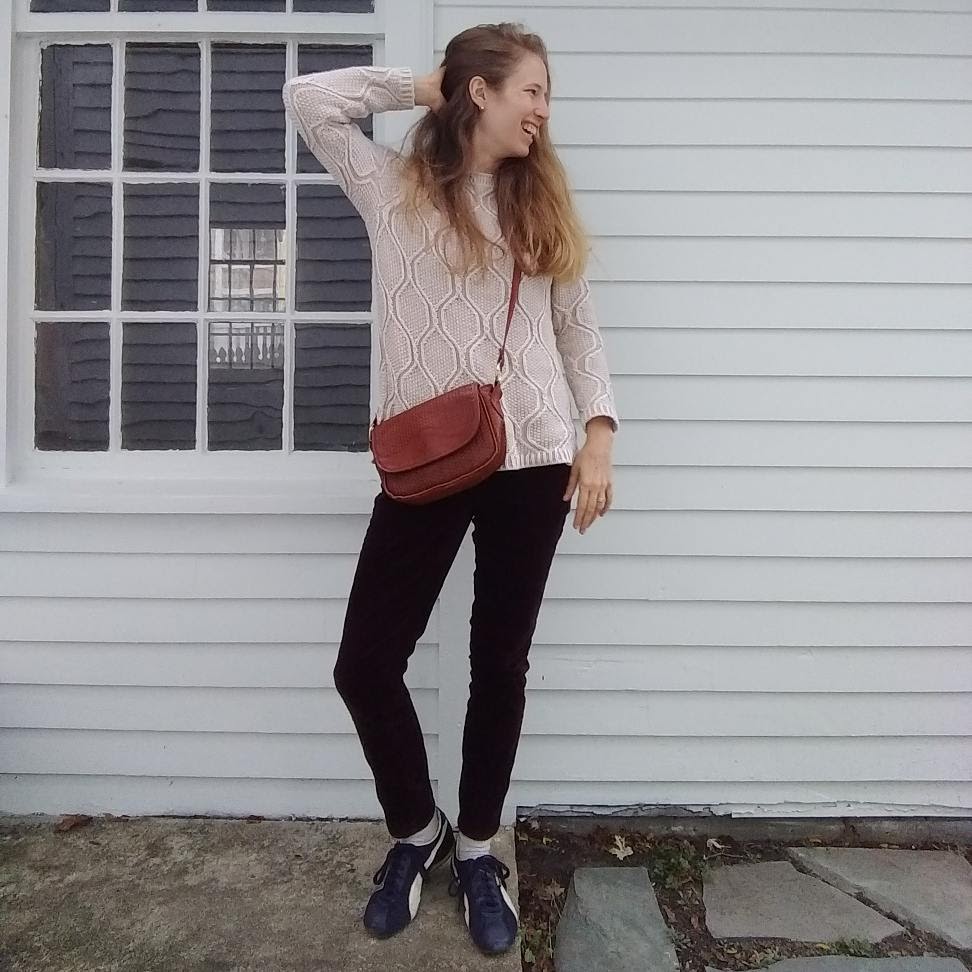 And last but not least, this merino wool plaid scarf in colors that complement my wardrobe in stellar fashion:
Overall, a pretty good month.  Onward to November!
Did anything in my finds catch your eye?  What did you thrift this past month?