Surprise! A weekend-related post for the weekend.
Though I can be fickle with my weekday wardrobe – thrift something one week, donate it the next – I am a creature of habit on the weekends. In spring, here is the shirt I reach for without a second thought every Saturday (and often after work or church):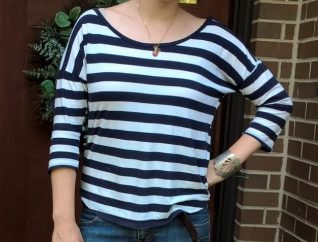 It's by Gap and made of incredibly soft, worn-in cotton.  It has my favorite width of stripes: not too thin or thick and evenly spaced so the shirt doesn't appear too white or too navy. The drop shoulders make it look a little more modern although I wouldn't care if they were normal shoulders. The wide neckline feels laidback as does the loose, but not sloppy, cut.
Most often than not I pair it with these cut-offs. They're Gap jeans I thrifted 10 years ago right after I stopped buying retail. They were already cut to this Bermuda-esque length, which is just right for breezy days when shorts would feel too chilly.  And although they've stretched out a leeetle too far for their own good, I can't give them up. They are perfectly worn in and just feel right. (I even wore them in one of my engagement photos lo these many years ago!)  I can roll up the edges for a neater look or let them go frayed when I'm feeling a little more free spirited.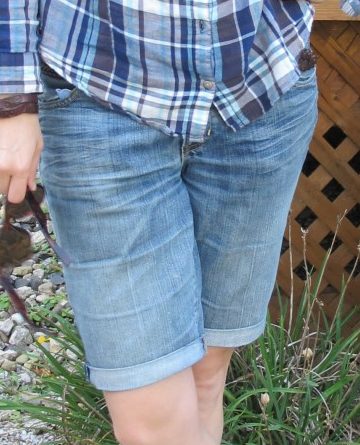 Both pics from this post.
That's it!  If you see me wearing something else on a Saturday, it's either unseasonably cold (and I'm in jeans) or someone forgot to do laundry.
Do you have a weekend "uniform"?  If so, scroll down to share.