I think I've mentioned the 10×10 Wardrobe Challenge before; it's the brainchild of Lee from Style Bee but I found out about it through Caroline at Un-Fancy. Starting on Monday they'll be teaming up for a spring 10×10 wardrobe remix and I'm playing along. You can, too!
What's a 10×10? Both of the links above explain in more detail (and have helpful tips and examples!), but basically you pick 10 pieces from your wardrobe and wear nothing but those items for 10 days.
There aren't super strict rules – you can count shoes in your 10 or not; you can do 10 straight days or two work weeks; if you have a special event during the 10 days you can leave your formal outfit out of the 10; etc. The point isn't rules for their own sake, but limitations that spark creativity. Creating 10 different outfits out of only 10 pieces will likely produce new combinations you've never thought of, give you new insights into your style preferences and wardrobe versatility, and assuage some of your "I have nothing to wear" and "I need to go shopping" feelings.
Today I'll share my goals for the challenge, the parameters I'm following, and the 10 pieces I'm including. Next week and the week after I'll feature shots of how I put them together as outfits. And I'll follow all that with a post on what I learned. Teaser: I may have had my biggest epiphany of the whole process before I've even started!
A tip before you get started: check the 10-day forecast and try to cover all eventualities with layering. My temps will (likely) run from the 50s to the 80s every day so I'm aiming for lightweight long sleeved blouses with a blazer/spring coat for early mornings and AC.
The Goals
I really like the general types of clothes in my closet (slim pants, pencil skirts, etc.) and feel like my wardrobe is already very mix-able, so I'm not looking to discover radically new combinations or silhouettes. What I would like to do is get over the hump with a few pieces I've been excited to try out but just haven't worn yet. Do you ever have that problem in your closet or, say, with a new recipe or a new book? You know you want to incorporate it into your life but until you put it on/cook it/crack it open for the first time, it feels easier to go with tried and true favorites. I'm gonna just go for it with some new pieces that have been sitting on the bench for too long and see how they do.
I also want to challenge myself to post legitimate outfit posts every day for two work weeks. So far I haven't found a camera set up/photo op time that consistently works for me, which means I haven't used my Lenten thrifting hiatus to share more outfits/how-I-styled-it posts with you like I wanted to. This challenge is a good excuse to change that.
The "Rules"
Like Caroline's, my remix will run next Monday through Friday and the Monday through Friday after that so I can focus on my work wardrobe. Although both Lee and Caroline count shoes in their 10, I won't because I only ever wear the same two or three pairs of warm-weather work shoes that go with everything (you can see them in my spring wardrobe; click the link below) and I don't think I'll learn anything new from including them.
Also, accessories definitely don't get counted in my 10. :)
The Players
All from my spring wardrobe.
Four blouses: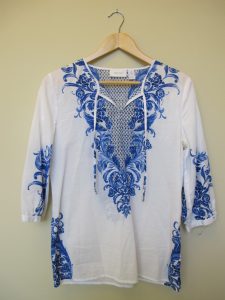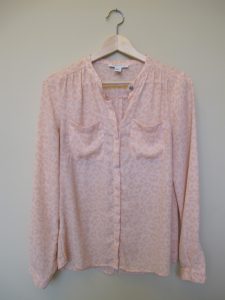 Banana Republic; Chico's; Forever 21; Banana Republic Heritage. 
I've only worn the muted red BR shirt once; including it will give me a few more test drives to figure out how to style it. I want to find out if the Chico's top feels too casual for work with its lovely light cotton and tie neck. And I broke the BR leopard print in during cooler weather so I want to deliberately pair it with skirts to get myself out of the mindset that its darker colors belong in fall/winter.
Two skirts: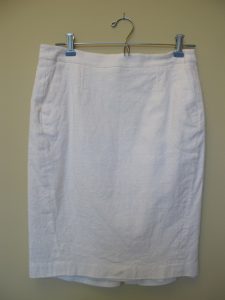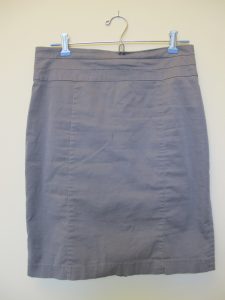 Ann Taylor; J. Crew
I haven't worn the white one yet at all since I tend to associate all-white clothes with hot weather, but I want to find out if it's a keeper. It's labeled two sizes larger than I normally wear but is actually tighter fitting than I'm used to; I'm guessing it shrunk in the dryer, which also explains why the lining is peeking out the bottom. I'm on the fence and need to give it a few good wears to decide.
One dress: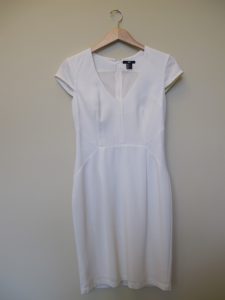 H&M

Haven't worn this puppy yet; it has interesting structural details I'm a little unsure about (aka weirdness in the chest), so I'm excited to see how I like wearing it.
Two finishing layers: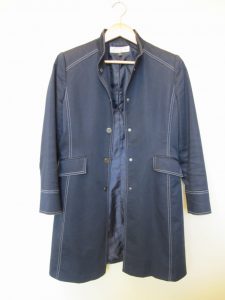 Arthur S. Levine; Merona
I definitely won't need these when it hits 80 outside, but my office runs cool and mornings will still be brisk.
Have you ever done a 10×10 (or similar) challenge?  Want to join in on the fun? Check Un-Fancy today for the hashtag to share your outfits on Instagram, or just document your challenge for yourself – you may be surprised by what you learn!