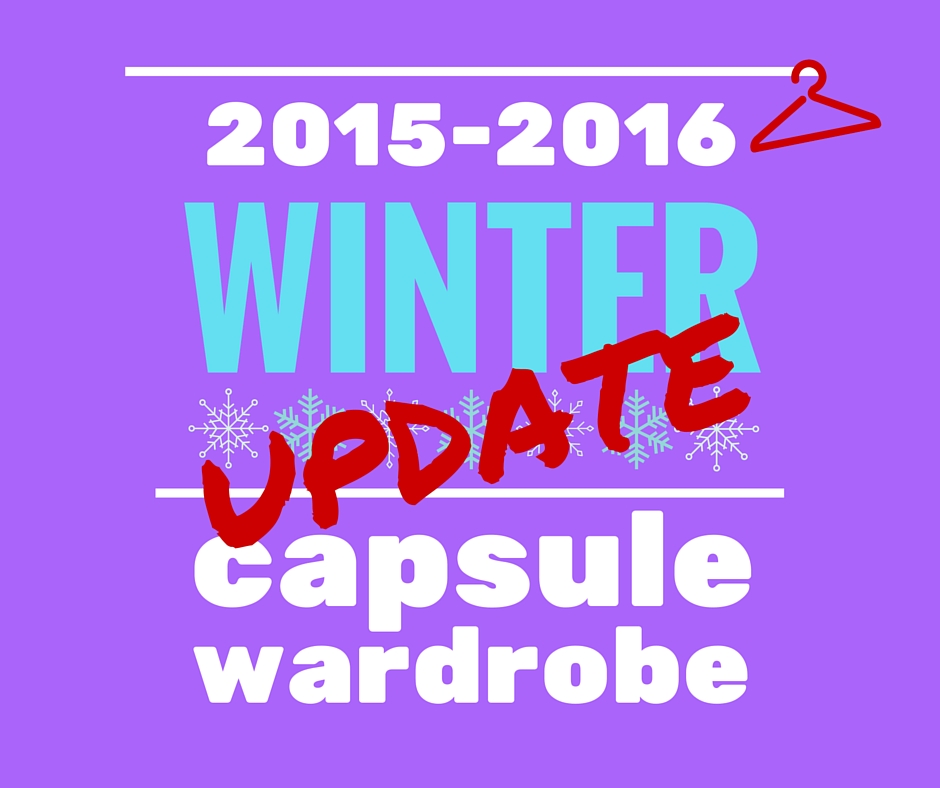 It's time for an update on my winter capsule wardrobe project. You may recall that in December (when it finally got cold here in the South) I set up a capsule wardrobe: a finite number of mix-and-match pieces I love, designed to get me through the season without shopping more or spending mornings in front of my closet groaning that I had nothing to wear.
So how am I doing in my quest to get more out of the clothing I already own?
Pretty well, with a few asterisks. (Seems like the plural should be asteriski, no?)
I haven't instagrammed all my outfits, mostly because I sometimes forget to bring my phone to work. (In a society obsessed with connectivity and posting every outfit, meal, and observation to social media, I consider this to be not mere absentmindedness, but rather a counter-cultural act of rebellion. Ahem.)
Although I didn't picture every outfit, true to my goal I haven't repeated any outfits other than the sweater dress/leggings pairings I knew would be favorites. And this part of the experiment accomplished what I hoped it would: presented with multiple new seasonally-appropriate combinations, I no longer felt the nagging urge to go thrifting just for novelty's sake.
What the capsule wardrobe has also revealed are the pieces I don't love. If you've limited yourself to under 40 items of clothing and, without repeating any outfits, you haven't even touched a couple of them, you know that those pieces were a better fit in theory than in real life.
Case in point? Skirts.
I have nothing against skirts and have, in fact, worn them with great regularity at various times in my life. But as much as these skirts created (theoretical) versatility for my capsule, and as much as I LOVE the fabric and color of my blue tweed skirt, and as long as I've kept the camel skirt (since college) thinking it was such a great neutral and I *should* love it…I just never found myself reaching for them.
They cut me off in the middle (physically and visually), and having to tuck cold-weather tops into thick, cold-weather skirt fabric over leggings just felt like wearing middle-pinching tights under jeans.  Or something.
And I didn't really dig the matronly, 1950s secretary vibe they were giving off.  Nothing against secretaries (since my day job is basically glorified secretary).  I just felt like I was supposed to be bringing in a tea tray with a pair of cat-eye glasses hanging around my neck.
In any case, when I looked at my skirt-clad self in the mirror, I thought "You successfully put together an outfit" instead of "DING DING DING!  THIS FEELS LIKE ME."
You know what I mean?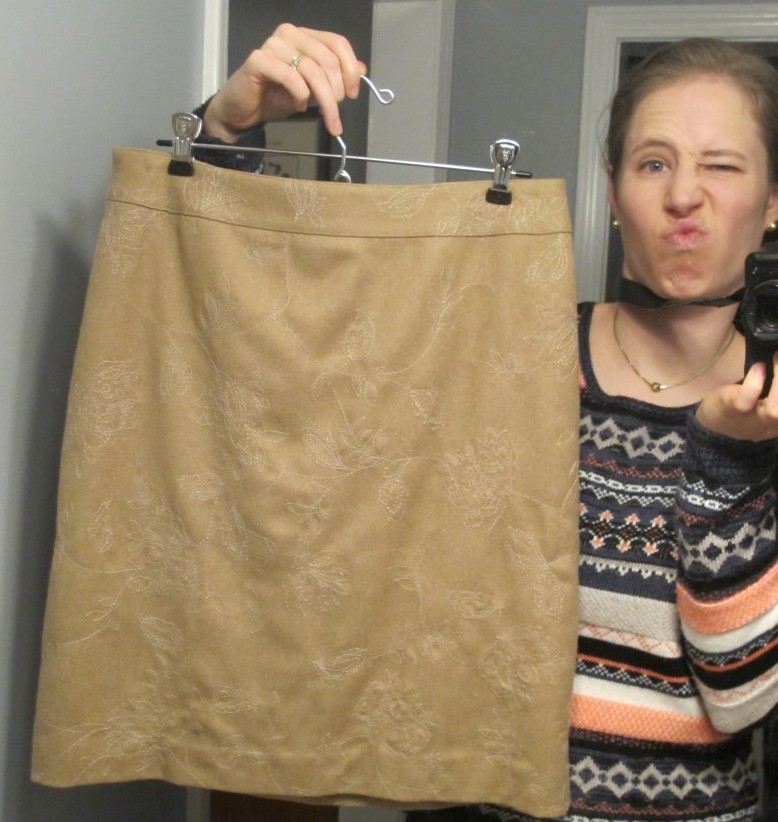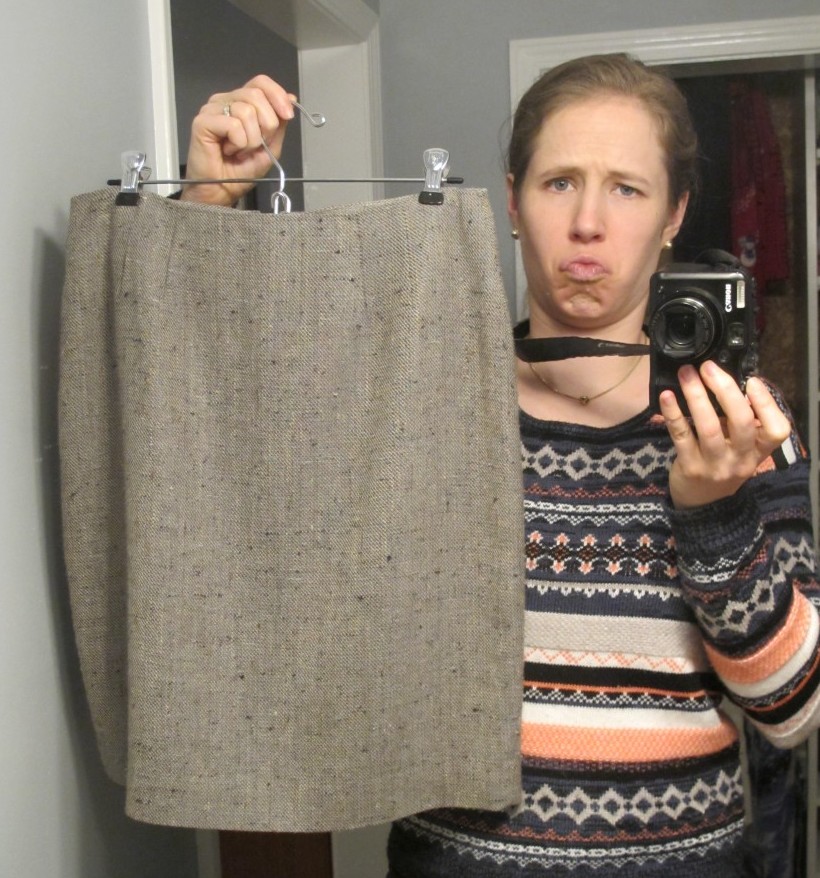 I'm so sad about saying goodbye to this beaut.  I may leave it hanging up in my closet for awhile just to keep enjoying the fabric/colors… (really not done justice in this photo, unfortunately).

This realization is going to give me permission to get rid of another skirt I *should* in theory love and wear but in reality never do.  Buh-bye, salmon-colored pencil skirt.  You've looked great hanging in my closet: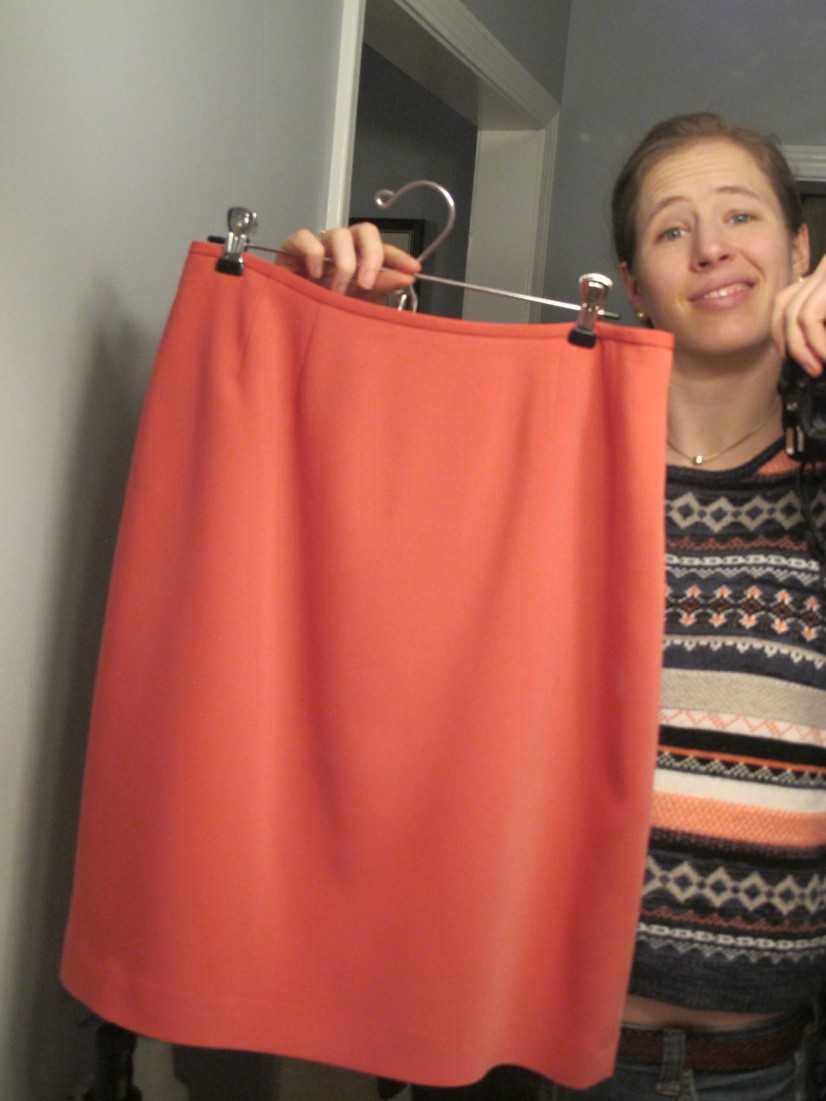 Blue pencilly skirt, you're on probation; I'll see how often I reach for you this spring/summer.
Last but not least, a pep talk to the lone beloved skirt still firmly on my roster (because I imagine if I were it, watching all my teammates being cut one by one, I would be shaking in my seams): Don't worry, taupe pencil skirt from H&M, I still love you. 
It's got a little more give, a lot more playfulness, and some chic-sexy I just can't refuse. You'll definitely have to wait 'til spring/summer, though, because I ain't squashing that vibe with leggings and yeti sweaters.
How do you feel about skirts? And do you feel differently about warm- vs. cold-weather skirts? I know some folks rock the skirts-n-tights look…maybe calf-high boots are necessary to pull it off?  Scroll down to share your insights!
And tune in later this week for Asterisks #2 and #3… I bet you're on the edge of your seat in anticipation. :)