Last week, without realizing it, I dressed like a great style icon of the 90s – Steve Urkel: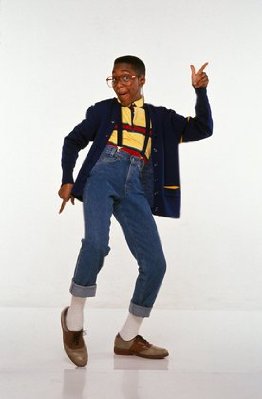 I subbed a belt for suspenders, but otherwise I had his look down: coordinating cardigan, high-waisted pants, high hems on those pants, and ankle socks: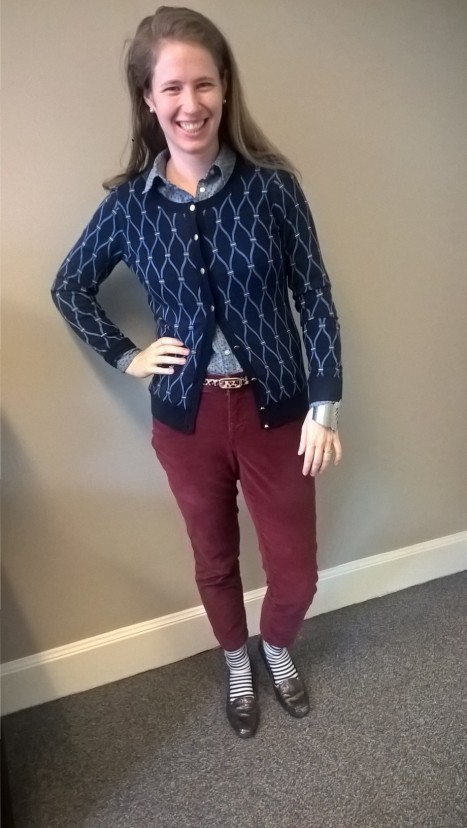 Swiss dot cotton button down by Merona – thrifted
Wine corduroy pants by Style & Co. – thrifted
Merino wool cardigan by Talbots – thrifted
Leopard print hair belt by J. Crew – thrifted
Socks by Target – retail
Shoes by Clarks – retail
How'd I get to this fabulous combination?
First up: base pieces.  I started off wanting some warm hues after a week in my travel wardrobe's polar palette, so I paired this button down with these pants:
The current iteration of this shirt, you may have noticed, is a true button down instead of the former popover tunic. I swapped the tunic version (too narrow in the chest/hips) for this same brand/print in a slightly larger size.  Yes, I cried a little to lose the popover cut and length, but I wanted to wear this great textured pattern more often than the constant tug-and-reposition act was inspiring me to do.  Comfort over style, people – or rather, style informed by comfort.
Next: a topper. My workplace is chilly in some spots but the temp outside was supposed to hit 66 F – hey Hotlanta, I love you so much this time of year! – so I decided to add a thin cardigan I could layer/unlayer with ease.  I went back and forth between the one on the left (from my spring wardrobe), which would have made for an interesting contrast in hem lengths, and the one on the right, which brought some extra punch in the pattern department: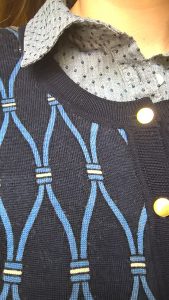 Hmm, the outfit on the left is basically this same outfit, translated for warmer weather.
Surprise surprise – I just couldn't resist the contrast of two great patterns (one subtle) in related colors and chose the cable pattern one.
I buttoned the top several buttons because, left to its own devices, the top button flops around and doesn't stay put, but I left the bottom several unbuttoned because I wanted the contrast in patterns to show through: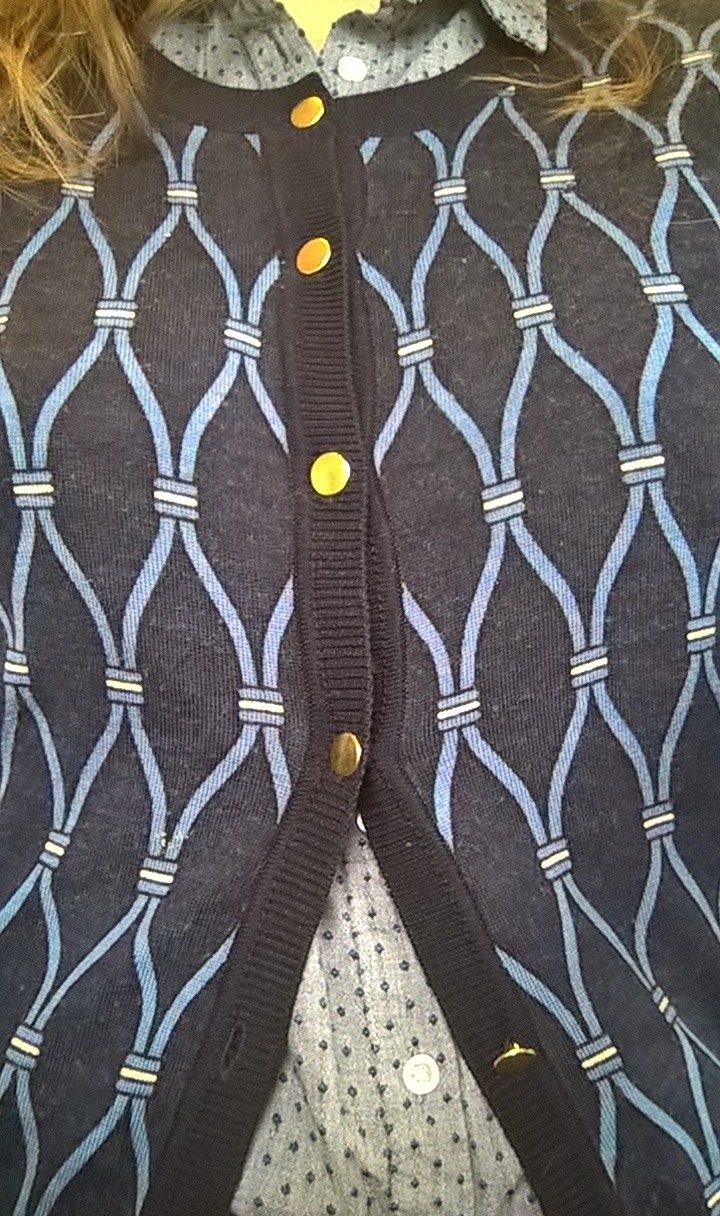 Since the hem on this shirt isn't as long as it used to be, I next had to decide whether to tuck or untuck.  The relatively similar length of the button down and the cardigan answered that for me – I'd much rather have a visual contrast between hem lengths than have them line up in a way that cuts me off:
Well, then, of course the high waist drew attention to itself and looked funny with no belt.  Out came my trusty leopard belt – a print that functions like a neutral: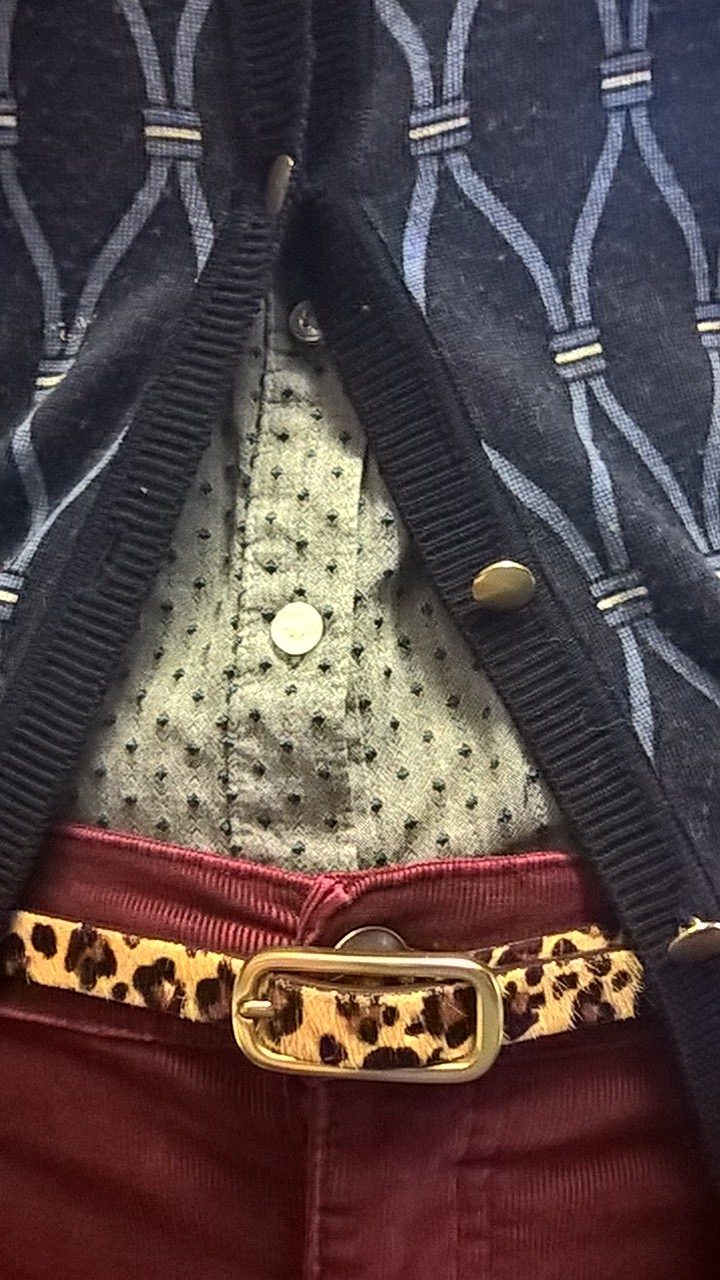 A little less of a closeup:
Last but not least, metallic bronze flats that would pick up the warm browns in the belt and the shiny gold of the cardigan buttons; and striped socks with all the constituent colors represented (a feat that makes me ridiculously happy):

That's a lot of sock showing.
So what do y'all think of my high-tide, pattern-mixing homage to Urkel – is it "No sweat, my pet"?  Or more along the lines of "Got any cheeeeeeese"?
Scroll down to comment!