I started out my winter wardrobe with a color palette of navy, cream, grey, and touches of gold and blush pink.  3 months in, I've added some more color (thank goodness!), my pants have multiplied like rabbits, and I've axed the blush pink and some pieces I wasn't wearing.  Let's take a look!
Tops
Still on the team: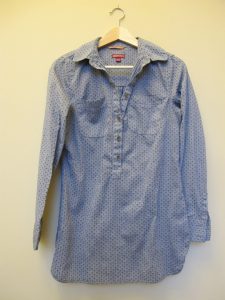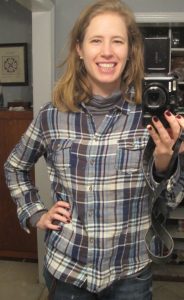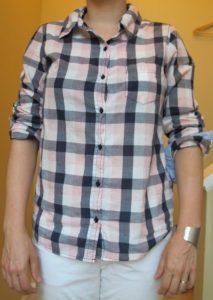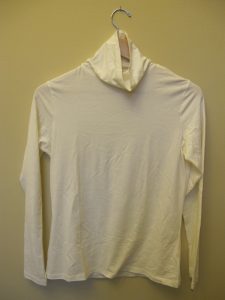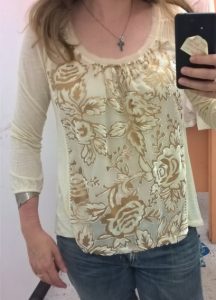 From top left: Merona, Ambiance, Japna, Coldwater Creek, Piazza Sempione, Meadow Rue, Pull & Bear
The standouts in this category have been the velvet floral (above) and the leopard print (below).  No surprise there, I can't say no to delicious patterns and textures.
Although I had previously proclaimed that this would be the Year of the Turtleneck, I've only strated wearing them recently as layers for the cold because I've had such fun with my sweaters.  I also haven't worn the blue/taupe plaid at all, except for our trip to Michigan, but I still love the pattern.  I wore it every weekend last winter so it may just need a rest.
For the sake of transparency, I gave the exact Swiss dot tunic pictured above (first pic) to a friend because it was just too small, and thrifted the same thing in a shirt version, one size up.
Note to self: wear the Pull & Bear chain top more or out it goes!
New Recruits: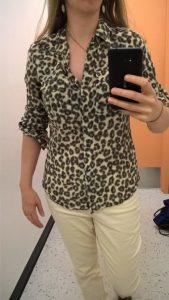 I've behaved myself fairly well in this category – just one addition, this leopard print shirt by Banana Republic, which I LOVE. Pats self on back. Expect to see this well into spring/summer.
Axed: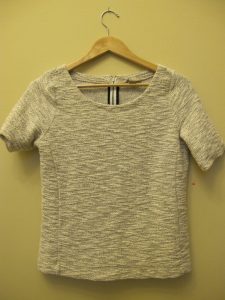 The left top, by Banana Repbulic, was too structured and scratchy.  You can read about axing the Madewell shirt here.
Relegated to workout/loungewear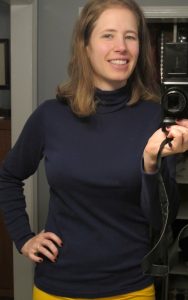 This Faded Glory turltneck is a great color but, true to its name, its glory has faded a little too much.  It had a couple holes and I like my turtleneck sweater, below, better.
Sweaters
Still on the team: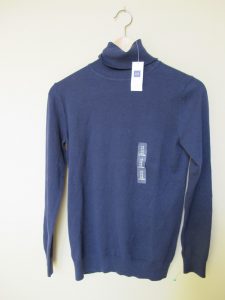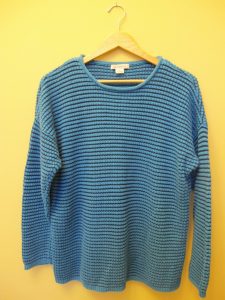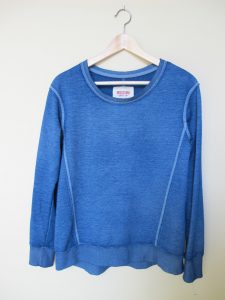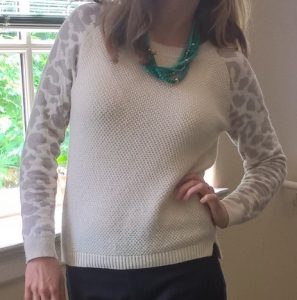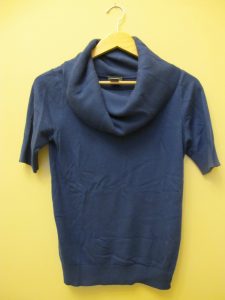 From top left: Gap, Liz Claiborne, Liz Claiborne, Mossimo, Loft, French Connection, Express
The stars here have been the new-with-tags navy turtleneck sweater (so delicious and so chic) and the gold-trimmed cream v-neck (my holiday go-to).
I love the two-tone oversized sweater but I don't love the oversize-over-flares look that I get when I pair it with my new jeans. I think I'll slim those down (see below).
The athleisure Mossimo sweatshirt I thought about scrapping has earned its place as my weekend staple, just not for work. And I've recommitted to the robin's egg blue zipper detail sweater (last pic) since recently discovering it's great on its own (not with a layer underneath).
I haven't worn my snow leopard (a favorite last year) or the cowl neck much (at all?) even though I still like both of them, in theory.  Is this a sign that I have…gasp…too many sweaters?!  I may tuck them away for next year and see if they feel fresh in 10-12 months.
New recruits: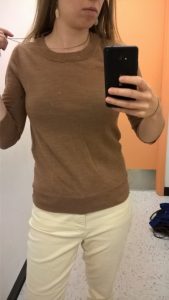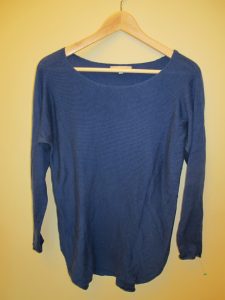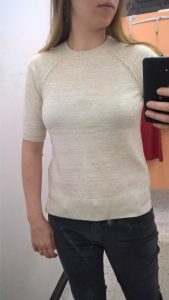 J. Crew, Joan Vass, Gap Designed & Thrifted

Read all about the first two here and here.  The third is VERY soft, short sleeved, and has a split hem, all of which I like.  But it also makes me feel like a millenial style blogger who wears nothing but expensive, organic neutrals.  Since I have so many sweaters, I'm waiting to see if I wear it enough to justify keeping it.
Axed: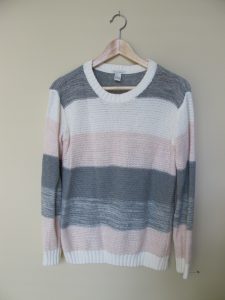 Forever 21

SO soft, but just too washed out for my newly warmed up, colorful wardrobe.  Kinda sad about it, but someone else will love it.
Toppers
Still on the team: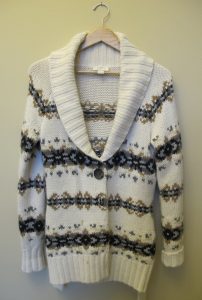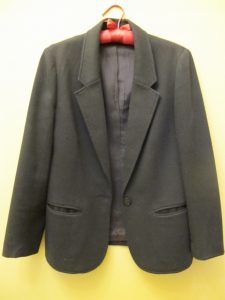 Old Navy, Loft, Haberdashery Collection by Personal
I have worn the heck out of the first two.  The third I put through the washing machine and still haven't ironed. :/  I'm feeling lazy/guilty about that since I probably should have just combed/brushed it…but it collects hair and fluff really easily and I'd love a navy velvet blazer in its place, so maybe I'll just donate it.
This merino cardigan by Talbots was sitting out this season until I suddenly had an urge to pair it with my Swiss dot button down.
New recruits: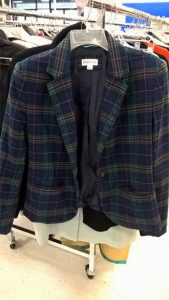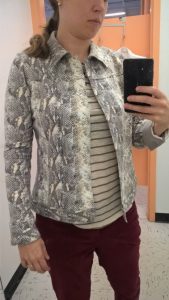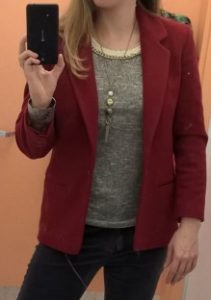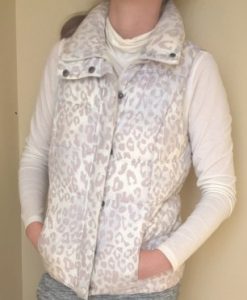 Merona, Isaac Mizrahi Live!, Kate Hill, Old Navy

I LOVE the plaid – so funky, unexpectedly goes with a lot of my wardrobe – and the red – it's a wool/cashmere blend and is so soft and the cut is <insert A-okay or 100 emoji here>.  The snakeskin… well, I still feel kind of tacky wearing it.  But it's almost sweatshirt-like and goes with a lot of what I have, so I'm committed to wearing it more to see if I can learn to love it.
Post to come on the vest!
Axed: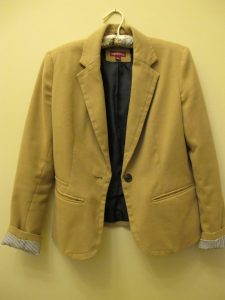 Merona
You can read about our breakup here.

Relegated to spring wardrobe (for the most part):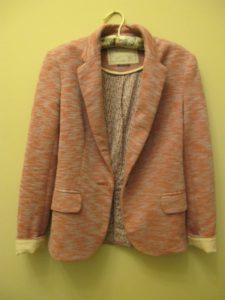 Cartonnier
I LOVE this blazer; the colors just go better with my spring/summer wardrobe.  But it'll probably make an occasional cameo, thusly.
Pants
Remember my core silhouette (skim over slim) vs. my fringe silhouette (fitted over flare) – core being what I mostly wear, fringe being my alternate? (More about core vs. fringe here.)  I've divided my pants up accordingly.
Still on the team – slim: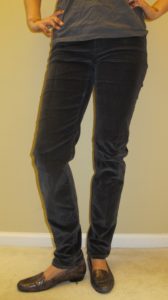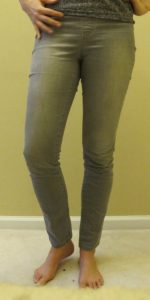 Banana Republic, Lauren Ralph Lauren Jeans, Chico's

Love these, going strong.  Got the waist on the cream pants taken in a bit so I didn't have to hike them up all the time.  And I wear the Chico's skinnies (with an elastic waistband!) pretty exclusively on the weekends since they read so casual.
New recruits – slim: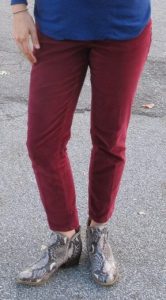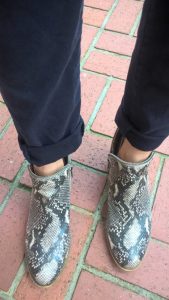 Jessica Simpson, Style & Co., Gap
Love the first two; love the third but they're pretty darn lowrise.  Looking for a thrift upgrade so I don't have to worry about exposing my backside to the world.
New recruits – flare: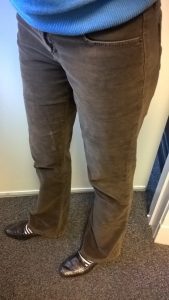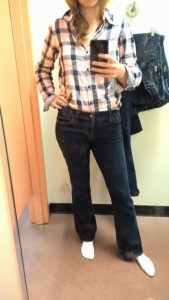 I'm keeping the caramel velveteen as they are since I'll wear them mostly with slimmer tops, but I've taken the jeans to the tailor to have the legs tapered.  (I know, I know, y'all encouraged me not to, but I have passed over them too many times for having not as formal/chic a silhouette as I wanted.  These babies deserve to be worn!)
Relegated to spring/summer (left) or to storage 'til I love them again (right):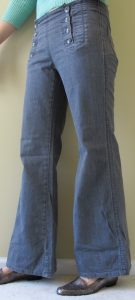 Uniqlo, Old Navy
Dresses 
Still on the team:


Merona, Land's End, Merona, Jacqueline Ferrar, George

I haven't worn my off-white sheath or my leopard much.  In fact, haven't worn many dresses at ALL because I am so enjoying my new pants.  A happy problem to have.
Two new recruits meant for summer but which, when layered, also play well with winter: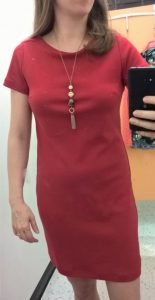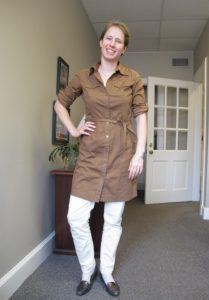 Talbots, Jones New York

You can read about my red & caramel love affair here (same as links above).
Coat stayed the same – although it doesn't look quite this fresh and is in need of some de-pilling:


J. Crew
I did add some cold weather accessories: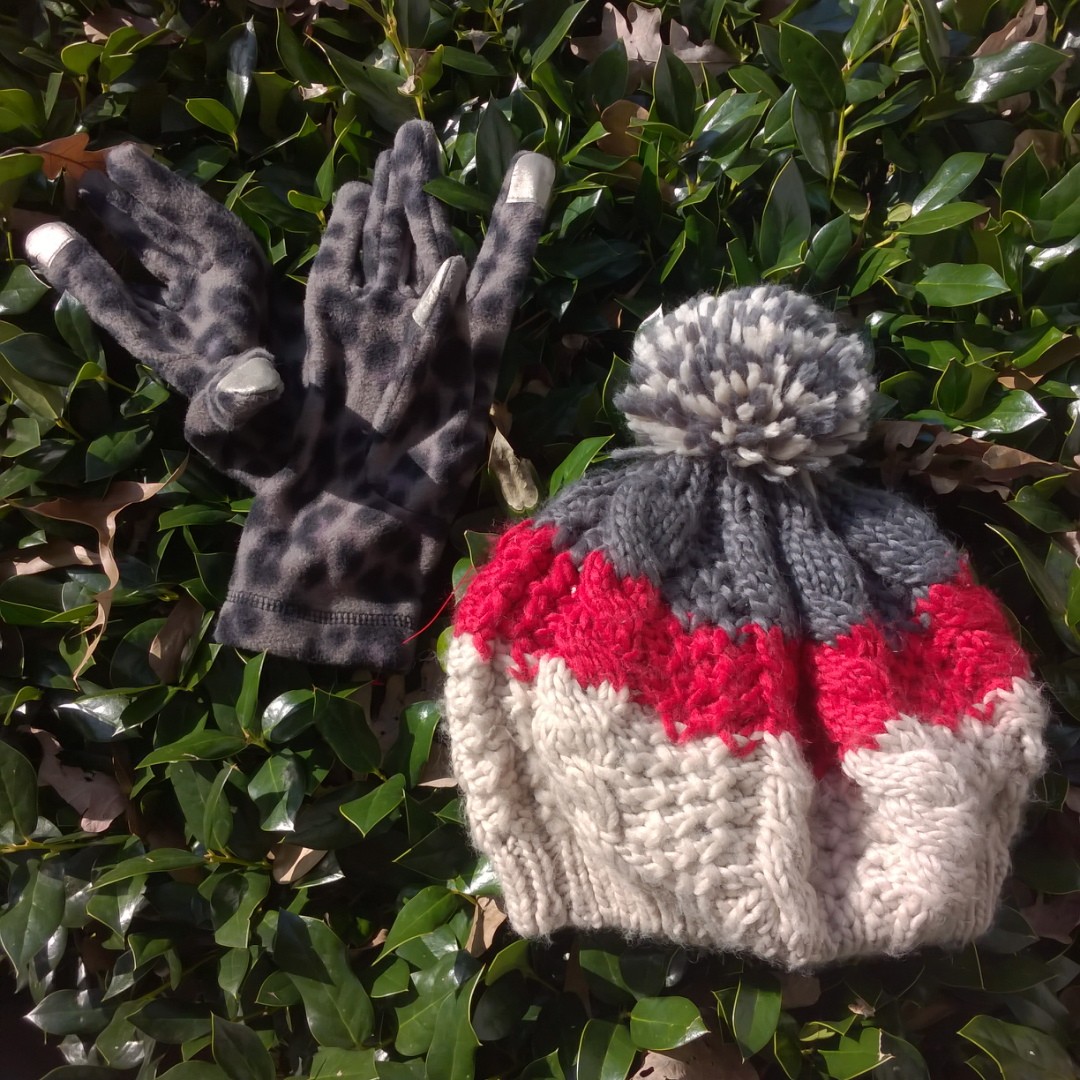 No label
There it is!
Looking over everything: wow, I like blue.
Overall, I am happy to claim victory over the winter wardrobe revamp pickle in which I found myself 8 months ago.  To wit: I have found a core winter silhouette I love – slim pants with skimming sweater on top; and some great fringe options – dress over leggings, turtleneck with big thick cardigan.  I thrill to get dressed in the morning instead of floundering around with too many disparate pieces and incohesive outlines.  Yippee!
Also, I have PLENTY of things for the rest of our (very short) winter.   Not counting gloves/hat, pieces I've barely worn but haven't put away, and pieces that are primarily for warm weather, I have about 35 solidly "winter" pieces.  Even though that's right in line with a lot of minimalist wardrobe recommendations (e.g. Project 333), it feels kind of overwhelming to look at them all laid out like this.
I'm no longer trying to create a silhouette I love or fill holes, so I expect to keep this wardrobe relatively static through the end of this winter, when I'll refine things a bit and donate some pieces I'm not excited about keeping around for next year.  I pledge to be satisfied with what I have, but not so stingy that something delicious won't sneak its way in…

Congrats if you made it to the end of this post; I hope it was informative, or at least entertaining!  What are your winter wardrobes looking like these days?  Scroll down to comment.