Hi all! A few what-I-wores from the past few weeks, wherein I bust out a new thrift find and accessorize an old one (and where I achieve somewhat better focus for my outfit shots). These outfits spanned the hot, then cool, then hot again end-of-summer weather we've been having in New England; if you're having the same kind of weather, hopefully you'll find them useful!
First up, my outfit for the town fair, which involved 5+ hours of walking around booths and staffing our own, getting to know people, nabbing books at the library sale, and eating Thai food and cupcakes the girls soccer team made. I needed something casual but easy to spot as I wandered the crowds being introduced and introducing myself hither and yon. Luckily a thrift find the day before at the Davis Square Goodwill hit the spot:

Dress: Talbots, thrifted
Necklace: DIY from thrifted parts
Bracelet: Monet, thrifted
Shoes: Saltwaters, retail
I pulled an ERII and decided to dress myself in one color for visibility; after that it was a matter of adding simple accessories for a touch of detail (necklace) and for functionality (bag):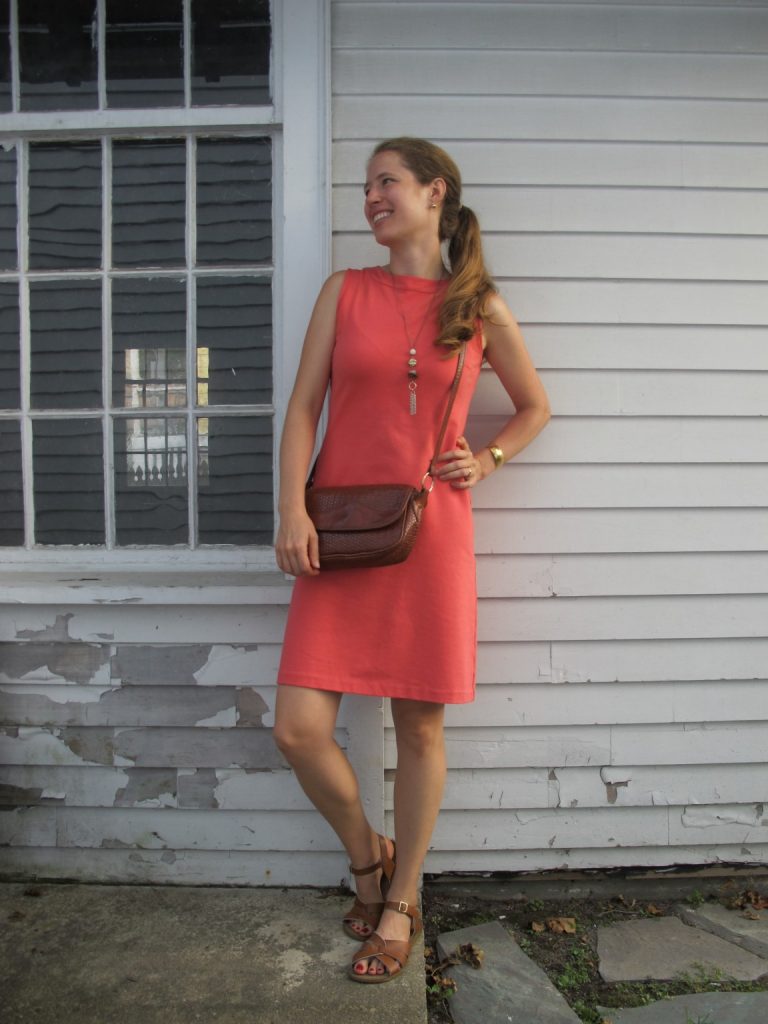 Bag: Marco Avané, thrifted
I love the warmth and cheeriness of the coral/salmon color and its polo shirt-adjacent feeling, which fits my town's casual vibe so well.  It's like the Massachusetts version of this dress, which was too stiff and scratchy and formal but whose color I loved:
Here's a look at the collar, which was wide and casual but whose neat finishing polished things up a bit: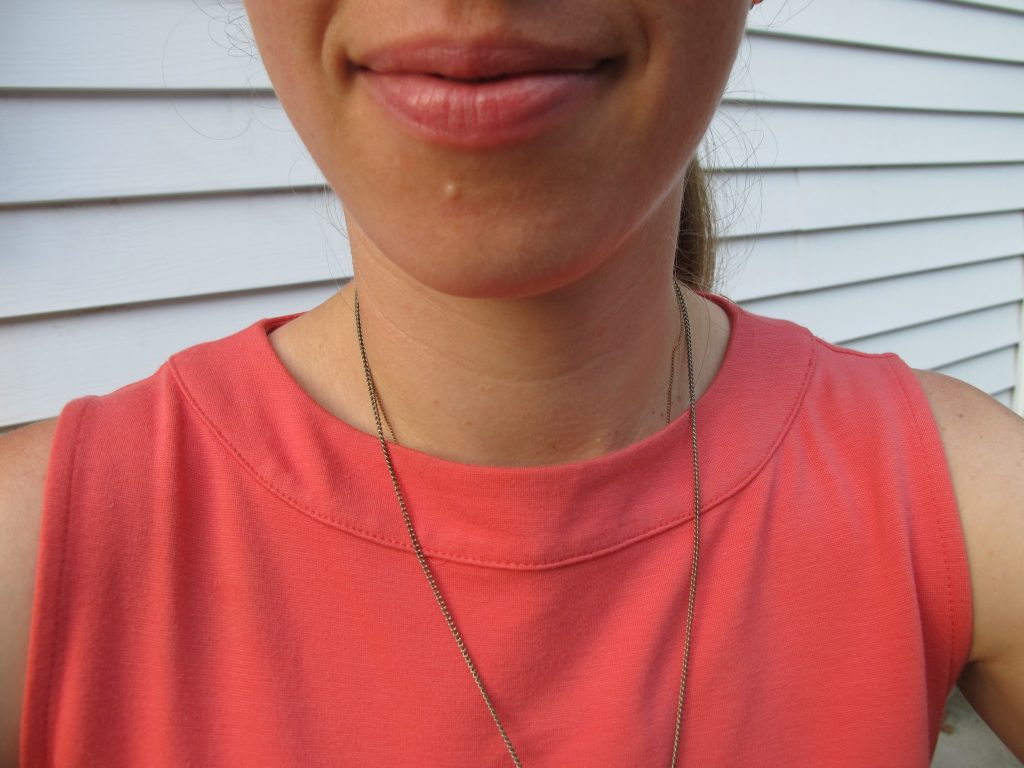 A closeup on the bag for those who haven't seen it yet:
…and on the necklace, although this shot showcases that I need to spend a little time with the sweater stone on my new purchase to tame the micro-pills.  This shot is also rather pink in color whereas the above shots come out more on the orange side; the true hue lies somewhere in the middle: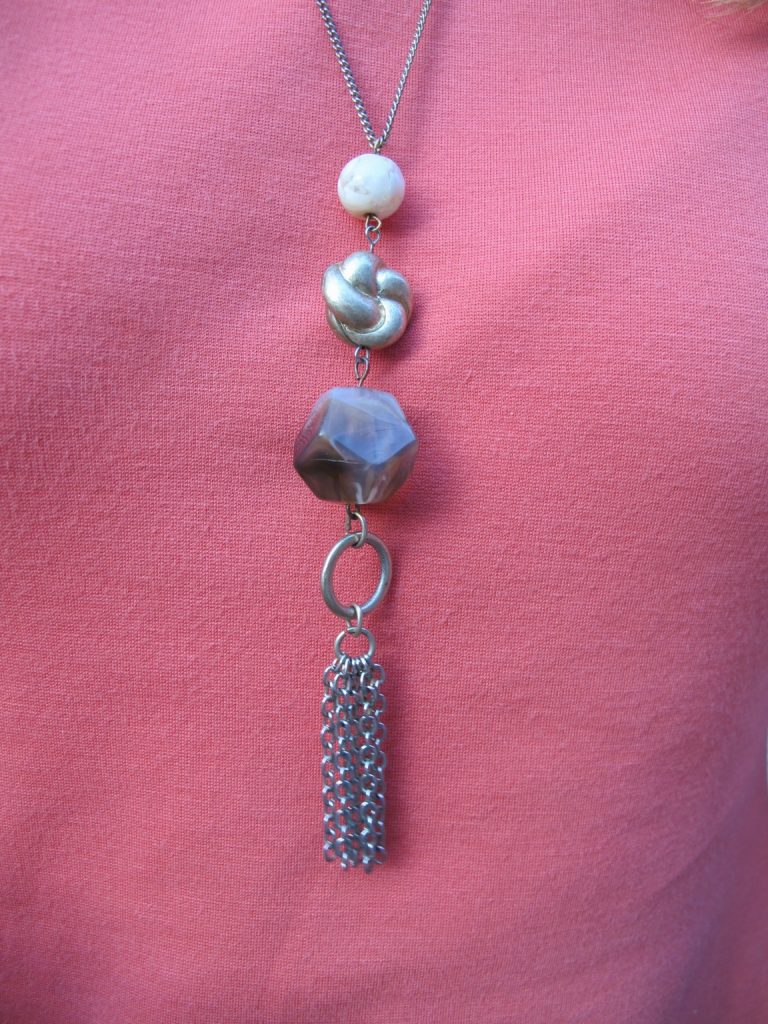 One sizing note for Talbots, for what it's worth: this dress was marked a full size smaller than what I normally wear. I'm not sure if that's due to vanity sizing at Talbots or just that their items tend to be a little roomier in fit, but it's a great reminder that you should trust your own eye on whether something might fit rather than the size label.
PS I wore this same outfit this past Sunday for preaching in a late-September heat wave and it worked perfectly to keep me cool yet looking collected.
Up next: Sunday preaching. It was dumb to wear both long sleeves and leggings underneath my robes on a hot September day, but this ensemble was just right after worship was over and the robes came off: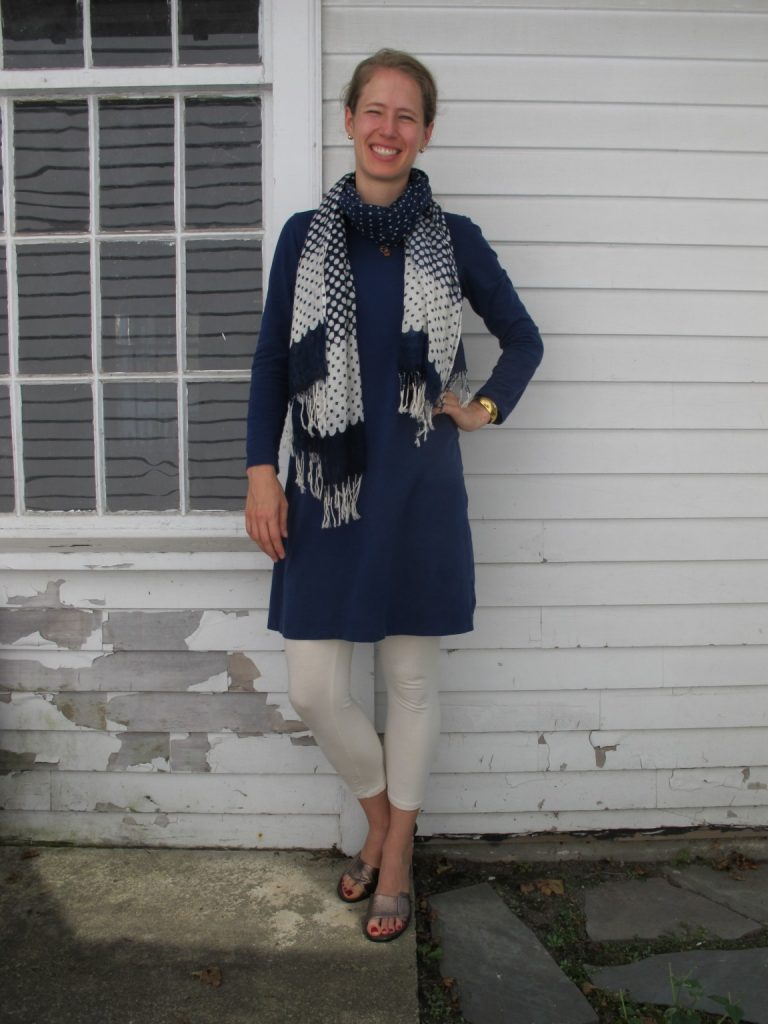 Dress: Land's End, thrifted
Leggings: F21, thrifted
Wedges: Bandolino, thrifted
Scarf: no label, thrifted
Cuff: Monet, thrifted
Squinty eyes: sun reflecting off house window
Let's get a closeup on that scarf, which I found on the same trip as the Talbots dress: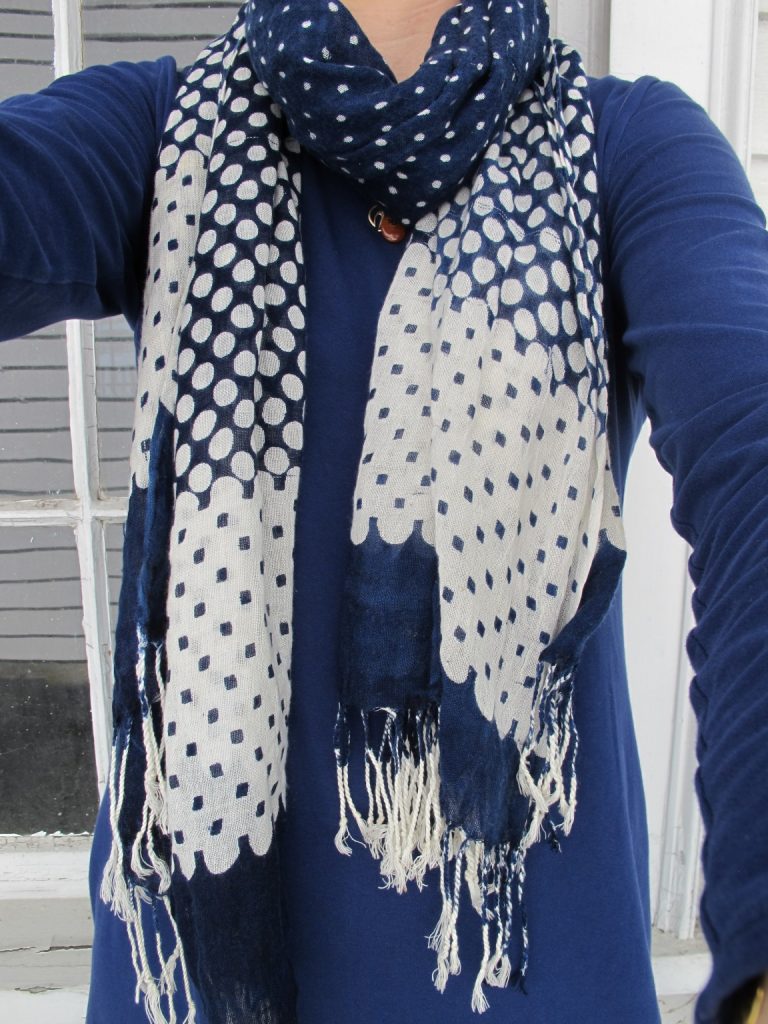 With scarves, I don't really know what I'm looking for until I see it; this was a clear "YES" right on the rack. It has a few pulled threads and even what looks like a burn hole smack in the middle, but the pattern disguises all of that (as does rolling it the right way). My love of blue, polka dots, and print-mixing also outweighed its imperfections; who could resist two different dot patterns AND the awesome scallop effect at the bottom?
Have you ever bought something with imperfections you knew would be hidden by placement or pattern? What do you think of my finds? Do you agree with my (no longer so) revolutionary stance that it's okay to wear white after Labor Day, particularly if it's HOT?