I've added tapered chinos in this color to my thrifting list: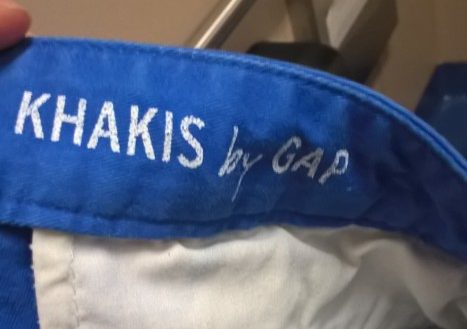 Not necessarily looking for Khakis by Gap, but I did love the fabric and fit…just a leetle too small
For blue pants I normally stick to navy, since it's subtle and neutral, but this brighter, lighter hue will go with everything in my warm weather wardrobe (including navy) and liven things up a bit.   It's almost summer, after all!
I'd call this color cerulean; it was definitely an "it" color a few (several?) seasons ago, and I'm pretty sure it's the same as the cerulean featured in this clip from The Devil Wears Prada.  You won't see it in most stores now.
Here's what's great about thrifting, though: you have everyone's donated items from past seasons to help fill holes in your wardrobe, even if your preferred silhouette/color/fabric isn't currently "in."
Of course, that means you have to put in a little hard work to come up with your own style instead of chasing trends and the Pantone colors of the year.  But when you've figured out what you love (and it's not just whatever happens to be hot in the mall nearest you), then you're in charge instead of leaving your look up to fast fashion gurus.
And if you wear a color or cut that's no longer "hip"?  Instead of seeming outdated,when you pair it with the rest of your purposely chosen clothes, it will read as "you" – part of your signature style.
Thrifting: you get to build a unique style, curating it with clothes from a much wider range than what's currently in retail stores.
Win all around.
Do you have a favorite color or style that's not "in" but that you snap up if you see it secondhand?
PS I'm seeing a lot of burgundy/oxblood pants currently in thrift stores…they were huge last year but if this color is YOU, don't be afraid to get amongst it now!  Cobalt is also pretty prevalent.