Find Part 1 here.
First up, if you're on Instagram (or even if you're not!), take a moment to check out the #10x10representationmatters conversation. There is so much good stuff being shared by people who are often overlooked in the slow/ethical fashion community – people of color, gender-non-conforming people, people of varying body sizes, immigrants, etc. – about their experiences living life on the edges of mainstream culture, about the privilege held by so many of us, and about the fact that ethical fashion can be economically out of reach for many. (That includes thrifting, because while thrifting an entire wardrobe can be very affordable, it takes a lot of another precious resource: time, which you don't have if you're working 3 jobs to support your family.)
Over the years I have learned the most about my own privilege and about the experiences of people who don't have it by listening, reading, and then sitting with my own discomfort and "aha" moments about the gap between the two. This hashtag and the ongoing #ethicalfashionrepresentationmatters conversation are great places to do that if you, like me, enjoy the advantages of being white and/or straight and/or gender-conforming and/or able-bodied and/or a citizen of the US, etc. and want to dig a little deeper about what that means and what you can do to spread those advantages to others.
Alright, on to the clothes.
—
Here's the second half of the 2018 Fall 10×10: the outfits I wore and what I thought of them.
Day 5
View this post on Instagram
Fine! Functional! Not going to win any awards or spark a fashion revolution, but entirely serviceable and a good use of a warm layer that doesn't need to be zipped around my belly. (I "cheated" and brought in my Puma sneakers because I planned to walk a bunch that day.)
Day 6
View this post on Instagram
I am a big fan of the chambray + textured sweater look, although you can see in this and in the pink edition that the chambray shirt is too big and doesn't lay flat underneath the sweater. I will be on the hunt for a chambray base layer to replicate this in non-maternity fashion.
All the "yeses" for the textures at play here:
Day 7 
View this post on Instagram
As noted last time, the sweater-over-maxi-dress is not my favorite look, but I am glad I tried out something new. It is eminently comfortable and I think I prefer this version, with the pink popping against the white/gray, to the white version deployed earlier in the challenge.
Day 8
View this post on Instagram
This is not a look I imagined when I pulled these separate pieces into my 10×10, but I decided to be creative and the vest gave me enough warmth to make it work. I love the longer length of the chambray shirt peeking out from under the vest, but again the oversize nature of the top makes it feel a bit sloppy.
Day 9
View this post on Instagram
I really liked this (and so did Instagram) because it let the dress shine more or less on its own. I have shied away from maxi dresses – something about how balloony they look? Or how they hit me oddly in the middle? – but with a pregnant belly those things are actually what make the silhouette work. The longer sleeves and taller boots also change the look – it ends up with more of a Pride and Prejudice feel, almost. (And my expression, I've decided, is 100% pure Jill Duggar.)
Day 10
View this post on Instagram
We're back to "perfectly acceptable" territory, with just enough texture/print to keep it interesting. I'll definitely be wearing this shirt-plus-sweater-over-skinny-pants combo in different iterations through the end of pregnancy (assuming these sweaters make it, size-wise!).
The skinny cords look black in the photo but the true color is closer to this blue-gray: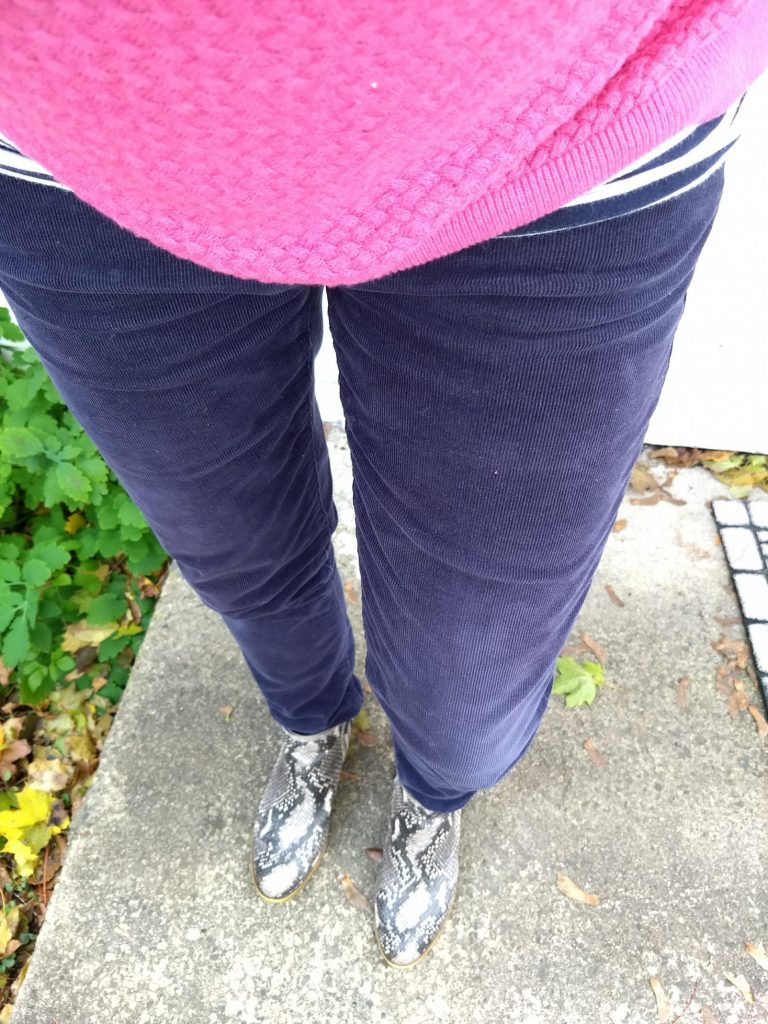 —
Here's everything, altogether:
Thoughts
My goals for this 10×10 were to try out some new-to-me silhouettes and break out some as yet unworn items in my maternity capsule. Done and done! I was tickled to discover legit ways to wear the maxi dress, to take one of my vests for a spin, to use the chambray shirt for unexpected layers – and to get some color into most of the outfits.
I also realized that my snakeprint boots go with eeeeeeverything. They are one of the few retail items in my wardrobe (though they were a gift from my sister) and I am glad to be getting so much wear out of them.
It's funny – I'm so content with (and also limited in) my maternity capsule wardrobe that I think I could be happy wearing this same group of clothes through the end (or until the weather/my belly necessitates further changes). But coming back to my full wardrobe, I am looking forward to swapping two other sweaters (gray and cropped white) into some of these outfit combos and having a few more dressy options for Sunday mornings.
Did you participate in the 10×10? Have you ever had a wardrobe this size, and if so, what did you learn from it?