Confession: I'm not a big purse person.  When my mother tried to get me to use purses in high school, college, etc., I refused–I didn't need to carry around a bunch of STUFF.  MEN don't need purses.  And anyways, I have a backpack for the big stuff and pockets for the small stuff.  Pphhhht.
Fast forward 10-15 years and all of the sudden I look down and WHAT IS THIS THING DANGLING AT MY SIDE like some sort of PERMANENT GROWTH?!
Oh, it's a purse.  (I still call it a bag, though—purse sounds like…my grandma?) (P.S. Mom is always eventually right about stuff like this.)
What changed?  A messenger-style bag had me covered for grad school and a chaplaincy residency where I needed to transport lots of paperwork.  My next job had less paper but still required space for keys, phone, wallet, pens, etc. and you know most pockets in women's professional wear are a pitiful place to try to carry more than chapstick. (Not to mention it's rare that skirts and dresses, if those are your thing, even HAVE pockets.  Because why would women need functional, practical garments?  Sexism, bah.)
Said job also had a classy sartorial vibe so I figured it deserved better than a logo messenger bag I got for free at some conference.  Enter purse number one: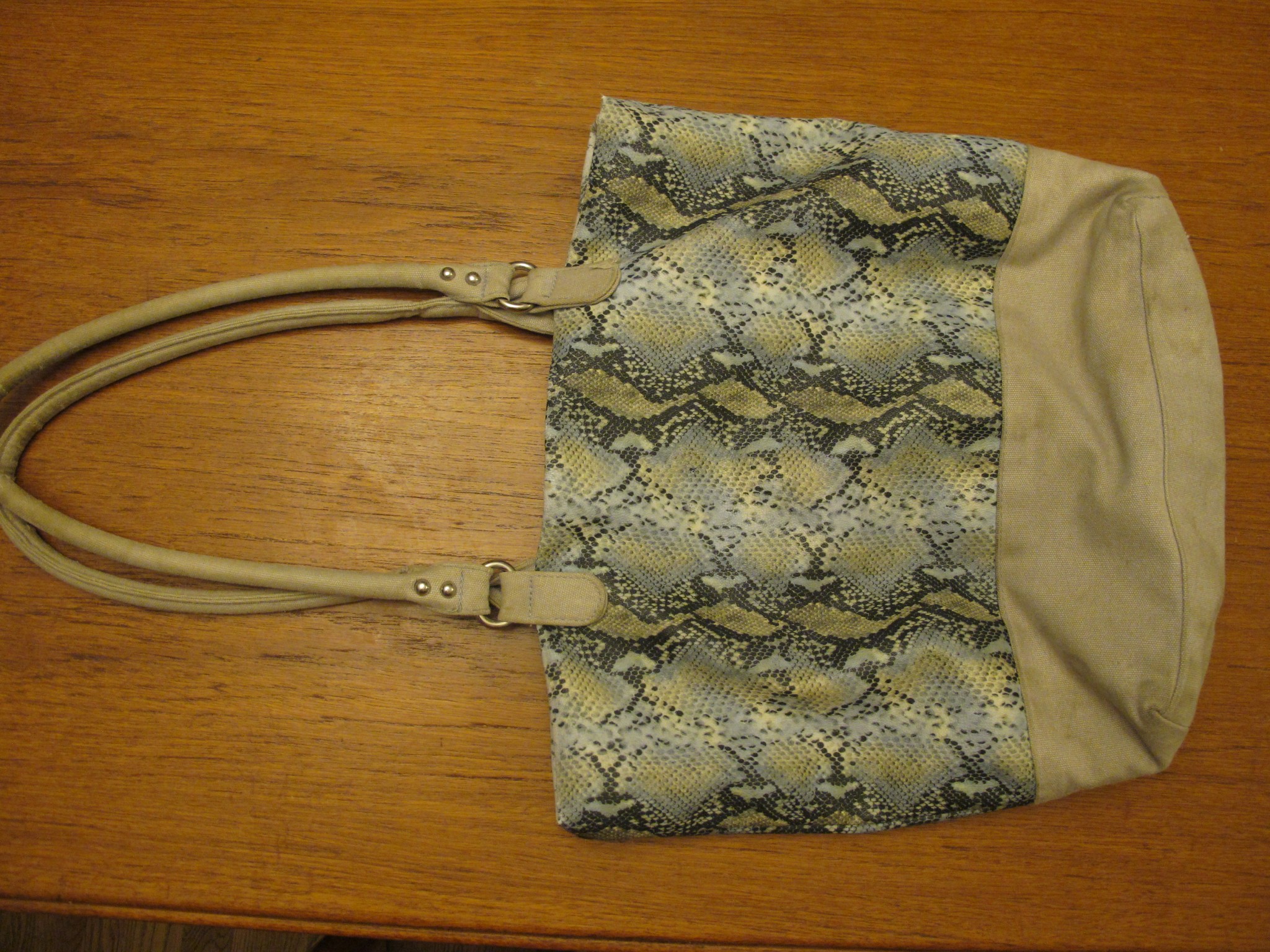 You may recall that it bit the dust at the beginning of the summer after a good solid year of use. Not bad for a previously-owned PVC-covered bag (you didn't think that was real lizard, did you?).  But also not great—PVC wears easily and I tend to be hard on my workhorse possessions, much to my Yankee husband's possession-protecting sensibilities.  Ideally I'd like a bag that carries me through more than 12 months.
To replace this first bag, I went for a seasonal number in a similar style but with lighter colors, less PVC to tear, and more room to hold summer accoutrement: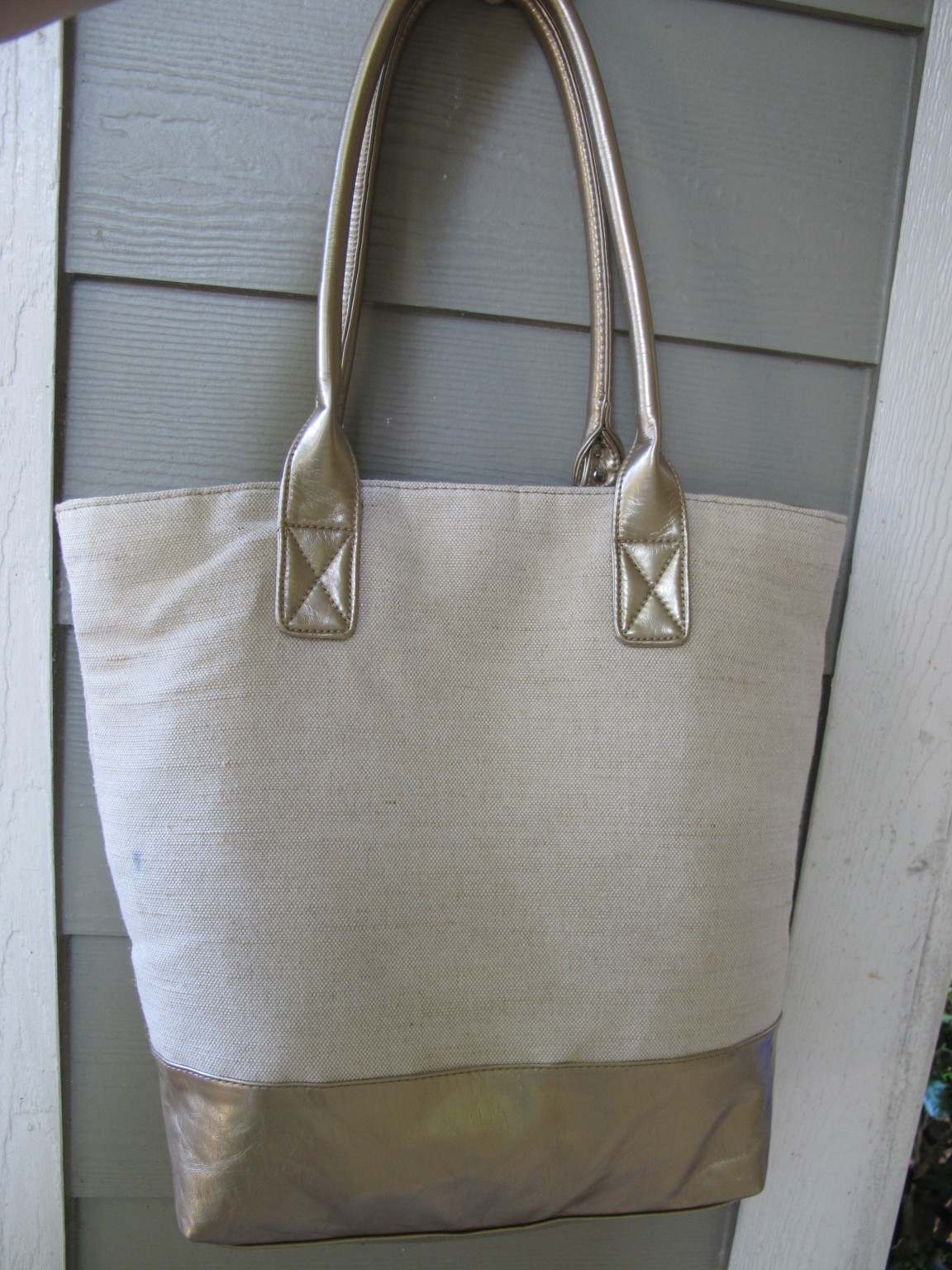 I have thoroughly enjoyed this bag and plan to break it out again next summer.  Its cotton weave is easy to clean; that casual fabric + gold = the perfect classy summer vibe.  But again, quality-wise it's not a long-term bag, and the color scheme and fabric are definitely not a great fit for fall.  Also, its generous size meant I was piling all sorts of stuff into it without regard for my poor shoulders, which were starting to complain.
So I went looking, over the course of 2 or 3 thrifting excursions, for a bag in long-lasting leather, a more manageable size, and a nice cooler-weather color. I also wanted something without big labels (I'd rather draw attention to my personality than a brand) or a lot of doodads that end up looking dated.
Voilà, my new (to me) fall bag, by Nine West (and a glass of wine, lovingly referred to in our house, along with coffee, as "Mama juice"–thanks Linds!):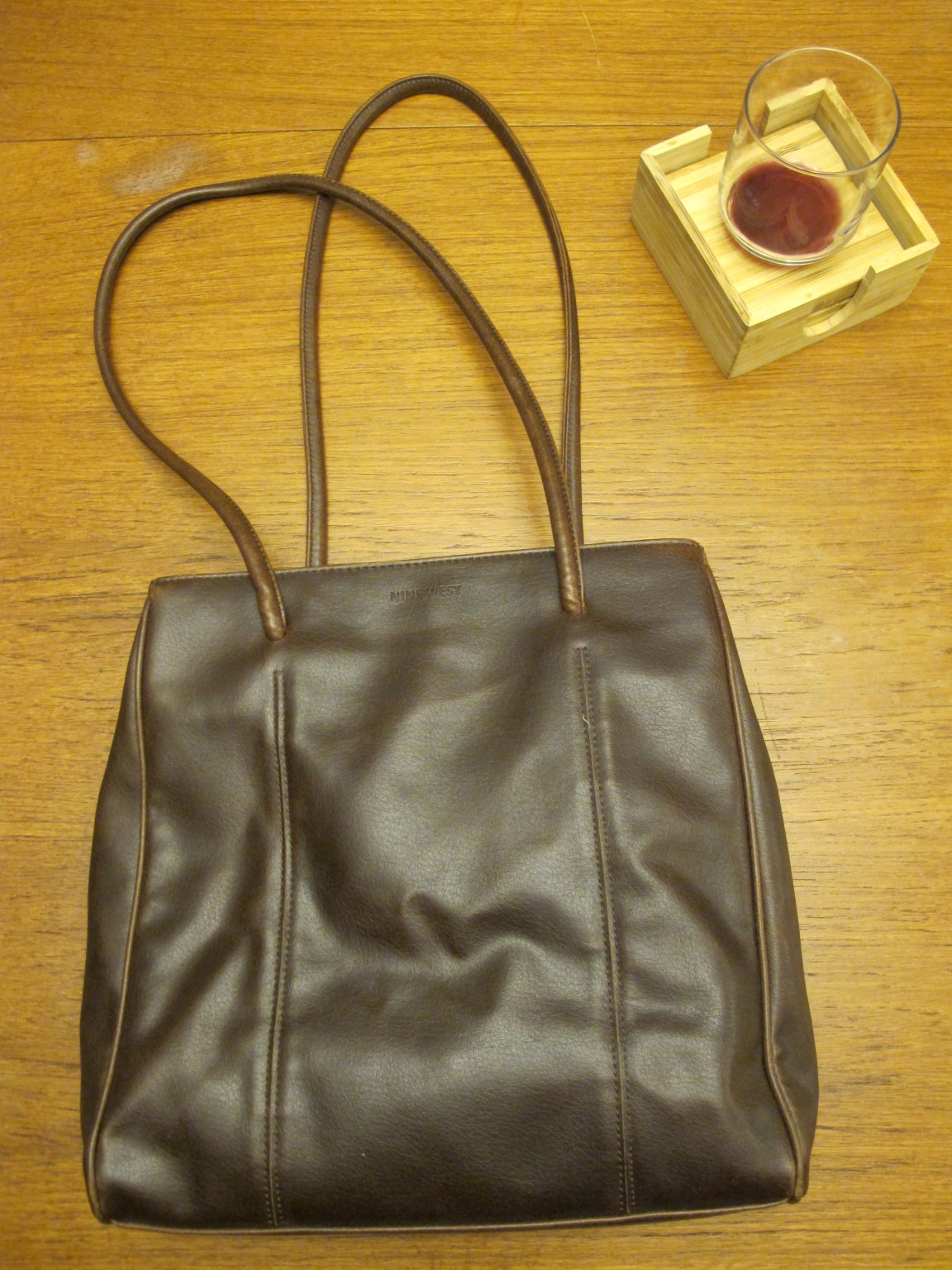 Inside dividing pocket keeps things a lot more organized than my previous catch-all: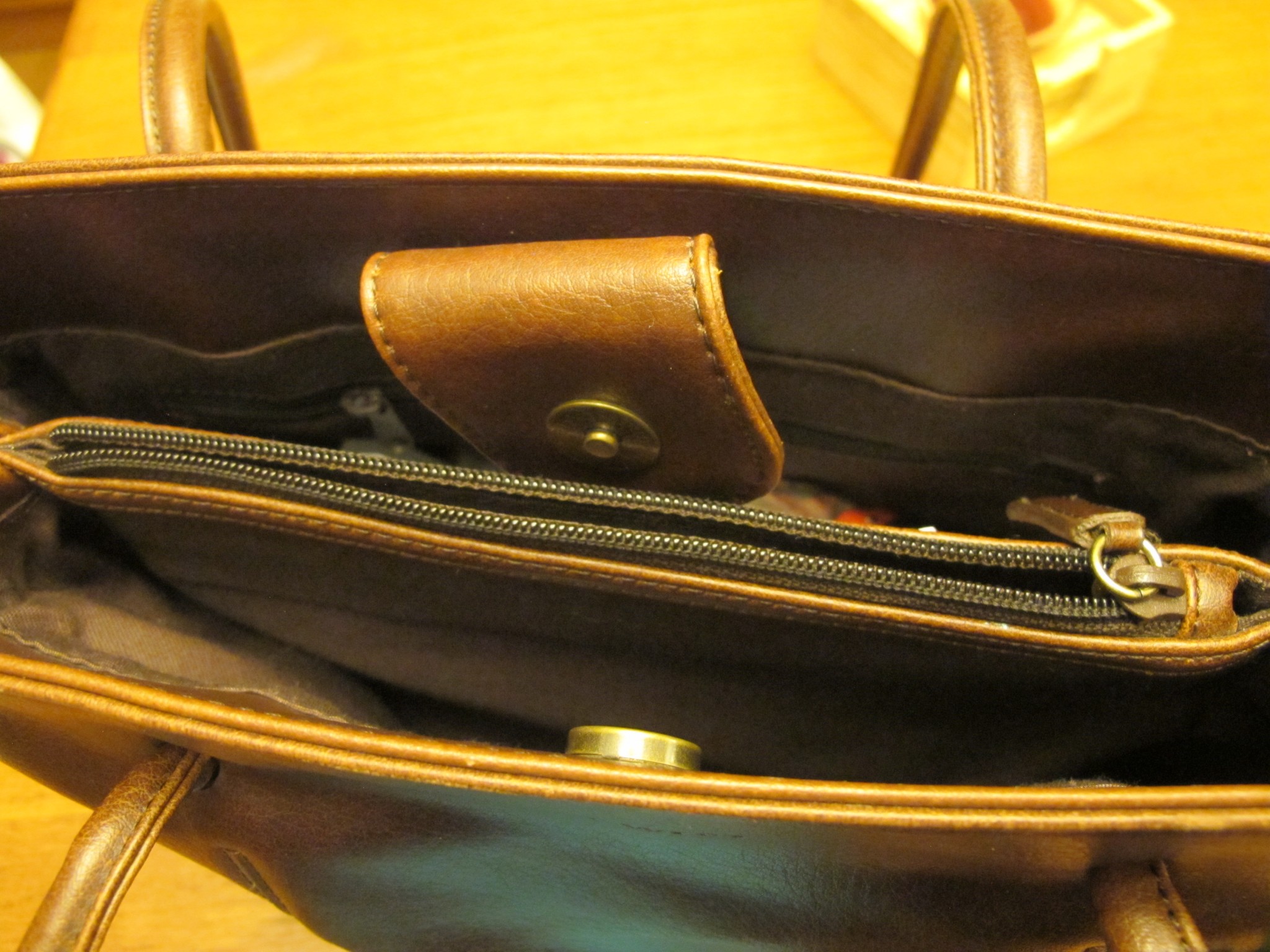 You can also see it featured in some of my Instagram photos on the sidebar over here–> (Click "load more" to see extra pics.)
I like the clean lines and the way it warms up my fall outfits without shouting too loudly or being too trendy.  That's part of why thrifting is great—the random assortment of treasures at any given thrift store means you never have to sport the same trapezoid-with-tassles or slouchy satchel as everyone else.  Relatedly, if you don't LOVE cognac or marsala or whatever this season's Pantone colors are, you can find YOUR colors through donations from seasons past.
What are your feelings on purses?  Would you thrift one?  If you eschew buying new leather for ethical reasons, would you thrift it instead?  What do you think of my find??
Scroll down to comment!