Long time no see, fellow thrifters! Turns out life with two little kids and a full-time job is…well… full! In lots of good ways, but also in ways that don't leave much time for long-form creative pursuits.
These days I'm more likely to have time for an Instagram post. To get a more regular fix, you can find outfit pics and thrift finds at www.instagram.com/thriftshopchic. (You can also see my latest IG posts – at least the picture part – on the sidebar at right.)
But I did want to pop in here to share a few resources I've been really enjoying lately.
—
First up, in the category of simplifying your home, closet, and life (aka minimalism), there's The Minimal Mom on YouTube. Dawn has a sunny, down-to-earth personality with loads of pithy questions and game-changing shifts in perspective to help you get rid of all the stuff (literal and metaphorical) that gets in the way of how you want to spend your time and energy. She's married with four kids and thus knoweth of what she speaketh re: streamlining your life.
Oh! And her house has color in it! Rare for minimalist types with an online presence.
Read the comments on this post for great tips on simplifying your closet.
—
Then, in the category of personal style inspiration, are two people who've put some thought into a small wardrobe with COLOR.
Remember when I thought I could/should fit into the IG capsule wardrobe look where everything is neutral? Ha:
View this post on Instagram
Orla Sheridan is an Irish stylist who shops retail but very thoughtfully, encouraging her clients and followers to only buy pieces they can see themselves wearing at least thirty times. (If that number seems really low…like we should be wearing well-made pieces for 30 YEARS instead of 30 times…well yes, we should. But since the average American throws out 81 pounds of clothes each year, I think aiming for 30 wears is a good step in the right direction for many of us.)
What I like about Orla's style is the clean, unfussy lines paired with beautiful colors. She looks current but not overly trendy; patterns are well-chosen and not too visually distracting; and she does oversize blazers SO well.
—
Signe at Uselesswardrobe.dk is similarly skilled at blazers. Personally, she tends toward the neutral cool-girl aesthetic, but she did us color-lovers a solid and made a color-heavy capsule wardrobe I can't stop staring at (I even bookmarked it for easy reference #stylenerd):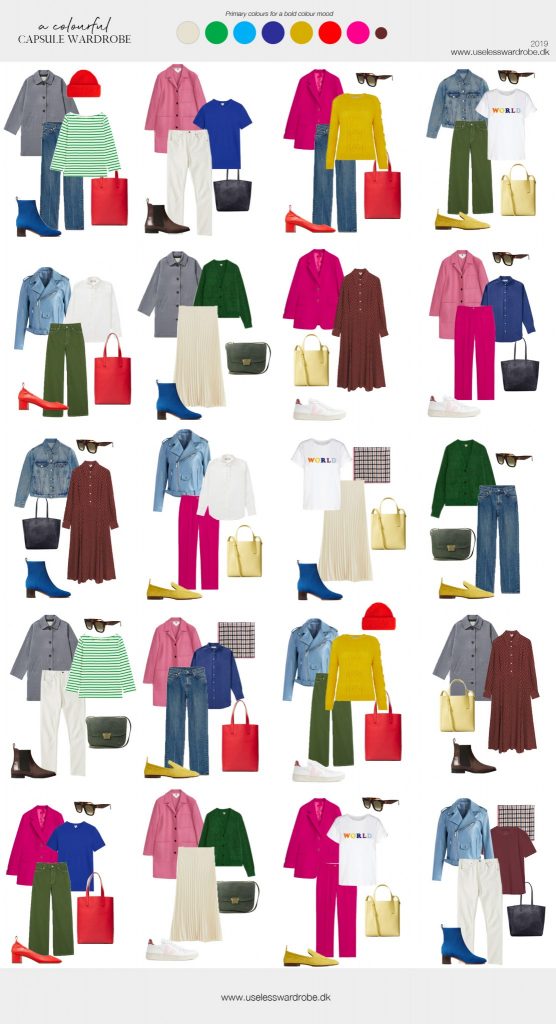 All the heart-eye emojis for this smorgasbord of color! I would wear almost all these outfits (especially if that mustard sweater magically morphed into more of a lemon shade of yellow).
Signe is also doing a "low buy" challenge for 2020 as a way to push back against the consumerism of influencer-driven style climate. Because, speaking of climate, she is committed to sustainability via secondhand and ethical shopping. (Watch this delightful thrift-with-me video!) I'm joining her in this challenge (hashtag: #2020wehaveplenty, awww, it rhymes) because I realize how often in the last year I've used perusing Poshmark or Etsy as a way to kill time and how much I've ended up buying (even secondhand/vintage/handmade) as a result. Time to take a break!
That's all for now, folks – hope your year is off to a great start!