It's Pants Week on Thriftshop Chic!  Monday: my newest thrifted pants; Tuesday: shopping for pants at the thrift store; Wednesday: my pants wardrobe lineup!  Tune in tomorrow for how to quickly thrift pants when a favorite pair bites the dust and you need new pants STAT.
Today we're going to get you started on your own wardrobe capsule re: pants.
Some of you may be asking, what's a capsule wardrobe and why would I want one?
A capsule wardrobe has a lot of different definitions (see here for more), but for the purposes of this blog, "capsule" is a shorthand for owning nothing but clothes you love and actually wear regularly.  The end.
I'll write a post in the future diving more into that, but for now, let's FOCUS: how do you make this happen for pants?  How do you end up with nothing but pants you love and wear?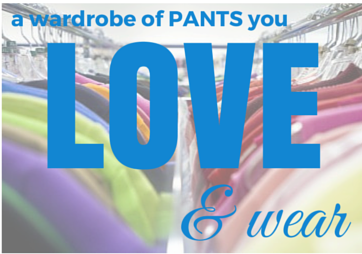 FIRST: Open your closet (or drawers, you Marie Kondo fans out there) and look at what you already have.  Ask yourself:
What pants are neglected, wrinkly messes you never wear?  Is there a quick way to fix this (sew on a button, get them hemmed, stick them in the dryer with wet clothes, aka "ironing"), or do they deserve to make someone else happy through donation?  Are they beyond repair?  Donate, trash, or fix.  Be realistic!
What pants do you reach for over and over again?  Why? Is it because you love the fit, the cut, the fabric, the color?  Is it because they go with everything in your closet?  In other words, what do you want to replicate in your pants going forward?
Do you need more pants?  A main goal of capsule wardrobes is to help us feel satisfied with enough, so if you love the pants you have, and you own enough to get you through the season and have enough variety to pair them with the tops you love most, sit on it a week (or more) before going shopping.
THEN: if you love what you have but it seems like your 2 pairs of pants are always in the laundry or you're sweating in your wool dress pants in July; or if there's a significant chunk of shirts you love going unworn because they don't have pants to play with, it's time to go thrifting!
BUT FIRST: follow the know-before-you-go rule and figure out what kind of pants you want to fill the holes in your closet.  Consider occasion & climate where you'll most likely wear your pants, then look at the tops in your closet to get a feel for the items with which your pants will need to play well.  Use these tools/strategies to get you started:
So if you were reading closely, you noticed that although the cuts of my pants span the spectrum, pants within similar seasons tend to jive with the same type of tops so that I'm not limited to wearing the same pant/top one-hit-wonder combo over and over–e.g. I'm not stuck wearing a peplum shirt with my only pair of skinny pants because it looks odd with all my straight cuts.  
Imagine other ways to play this: you stick with only one or two colors but indulge in a variety of styles, so you can wear your black or gray skinnies, slims, trousers, and flares with a bunch of different jewel-toned tops.  Or you stick with one sole style of pant but go crazy on colors or patterns and keep the shirts neutral and in cuts that work with your chosen cut of pants.

The Vivienne Files is a great place to help you grapple with this if you are a visual thinker.  Her graphics (below) really help you analyze what kind of tops you have and therefore what kind of bottoms you need (if any) to fill out your wardrobe.  She also has blank templates if you want to actually fill all these in with your own clothes.
Once you have figured out what you need,
THEN: go thrifting using this guide.
FINALLY: Wear your sweet new (to you) pants and rejoice!  Remember, if something doesn't work out like you thought it would, give it a few wears to make sure (sometimes they grow on you!) and then, if you know they need to go, donate 'em and keep a thrifty lookout for a similar replacement that corrects what was "off" about the first pair.  Remember, even if you're buying retail, it takes time to create a wardrobe of clothes you LOVE and WEAR, so don't be discouraged if you don't assemble a slammin' capsule wardrobe on your very first thrift foray.
Want to know more about capsules?  Have a question about pants?  Love the tools above?  Scroll down to comment!