What do baby onesies, camouflage caps (gag gift), cookbooks, state-themed earrings, men's button-down shirts, and lacy antique handkerchiefs have in coming?
All things I've bought from thrift stores to give as gifts.  And all things YOU could easily thrift this week if you are in need of last-minute holiday presents.
Tacky you might say?  Not much tackier than turning a holiday centered around the birth of a poor, possession-less prophet decrying our attachment to riches and status into a commercialized consumer-fest.  (Too harsh?)
Anyway, my friends and loved ones know I thrift as much as possible, so they don't really care if they receive something pre-loved from me.  Some of them have even joined me and given US thrifted gifts, which we love.  Much less financial stress, plus the fun of the hunt, AND you're guaranteed to be giving unique gifts.  And if your family does gag gifts or stocking stuffers, well, there's no better place to find affordable ridiculousness than the Goodwill.
Like this: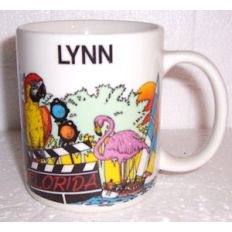 We were gifted a similar one with "Jesus" on it.  Perfect for a two-minister household with just a touch of snark (see above description of modern-day Christmas).
But what if your loved ones don't agree with my definition of tacky and they want something unworn by other human beings??  Head to a record store and hand-pick a cool vintage record for your loved one, because somehow records get cooler with age even when clothes do not.  You can frame it as wall art if they don't have a record player.
All well and good, but what if your holiday gathering is TOMORROW and it's 9pm and you have NOTHING??
Good thing the internets never sleep.
Even friends who are NOT so excited about my love of giving secondhand gifts are moved to tears by non-commercial gifts from places like Heifer, Habitat, or MercyCorps.  Seriously, there is a creative, unique charitable gift for everyone you know and love.  Google a non-profit related to something your giftee loves (puppies? nurses? fighting cancer? teaching kids to code?) and I bet they will have a program whereby you can honor loved ones with your donation.  If not, just make a card explaining the gift.
The best part about these kinds of gifts?  They are INSTANTANEOUS.  Just click "submit donation" and you'll get a printable card or a receipt to slip inside your own, hand-made card; or an email sent straight to your honoree on the day you choose.  BAM.  No wrapping needed, no last-minute trip to the mall.
What have you bought secondhand as a gift?  What are your favorite non-material gift donations?  Scroll down to comment!