Loungewear, aka what I wear on lazy Saturday mornings/to sleep in at night.  (Check out winterized weekend style—not the stuff I sleep in—with this post.)
I can't say that I thrift much of my loungewear, because I've had most of it forrrrr everrrr.  I mean, isn't loungewear just stuff you've had so long it's not in decent condition to wear out of the house anymore?
I jest—most things that have gone all holey on me saw the garment recycling bag long ago.  (PSA: if you live in Atlanta they recycle textiles here.)  But most of my pajama-like garb is, in fact, decades-old retail purchases/gifts, or a hand-me-down from someone who didn't want it anymore.
I've thrifted a few pieces and, tell ya what, if you're like me and want that exquisitely worn-in feel (see below), thrift stores can be the PERFECT place to find something quality (won't shred on you) but also pre-worn (someone else has already done all the work to get that cotton t-shirt to the ideal softness).
Now I know some folks advocate scrapping all the crappy stuff and buying yourself nice silky pajamas and robes because YOU ARE WORTH IT.  (Or you need to say goodbye to a bunch of clothes that are past their prime.  On that part, I agree.)
But, guess what: comfy, holey clothes that have been worn in just right feel so much more luxurious to me than the fancy stuff.  Maybe it's cause I grew up sleeping in a t-shirt instead of night gowns or pajama sets, but I like my loungewear more on the "worn" side and less on the "lounge" side.  What about you?
Without further ado, my loungewear lineup.  Hold your snickers, please.
In the thrifted category: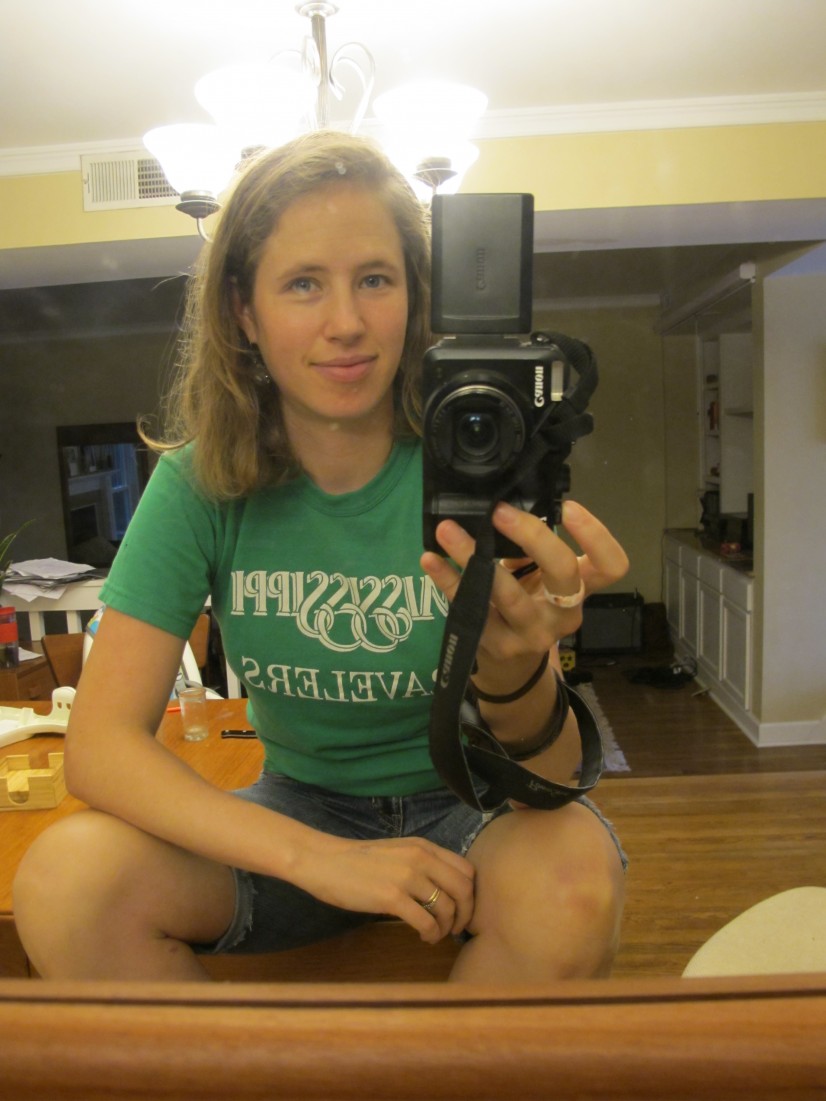 Ugh, second mirror this week in need of cleaning.  Time to get out the vinegar spray bottle.
Possibly favorite thrifted shirt of all time, found in college: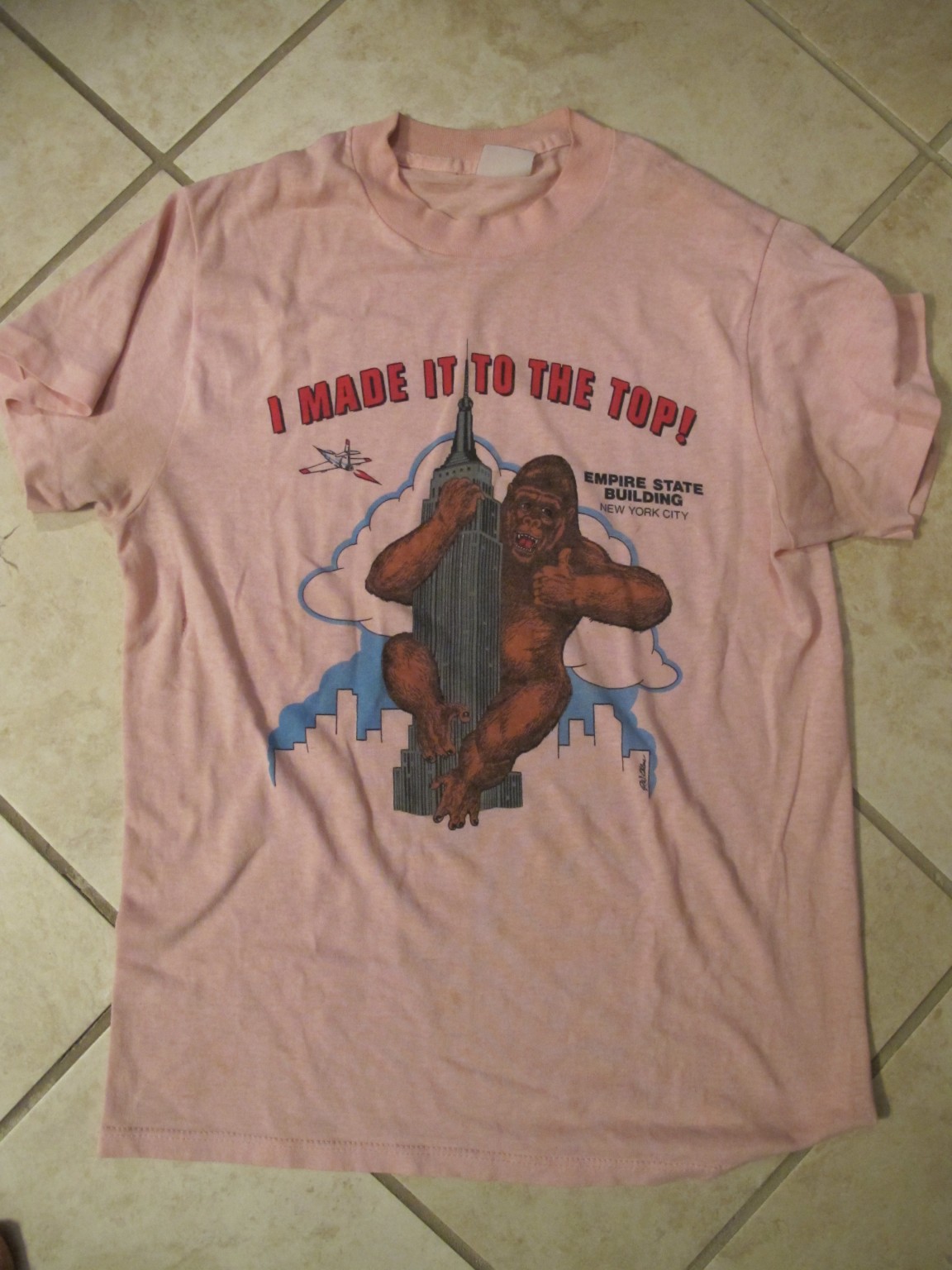 Left thrifted, right hand-me-down from spouse as it was too small for him…yes we're nerds:

Gifted shirt, thrifted shorts:
In the had-it-forever category: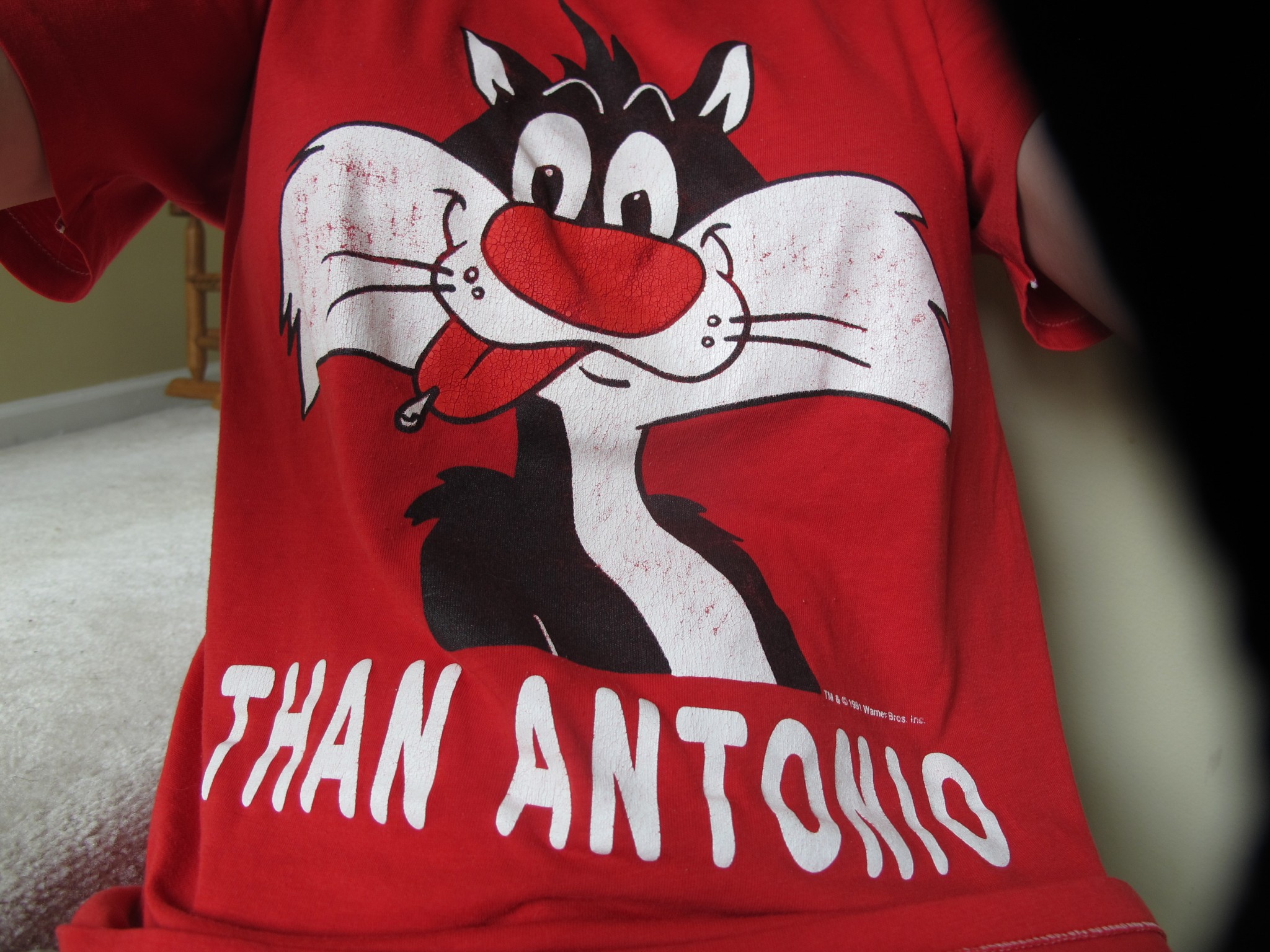 Since I was 8 years old.  Legit.
Since highschool when The Sister gave it to me—I finally had to cut the cuffs off they were so bedraggled, but when I put this on I'm enveloped in comfort: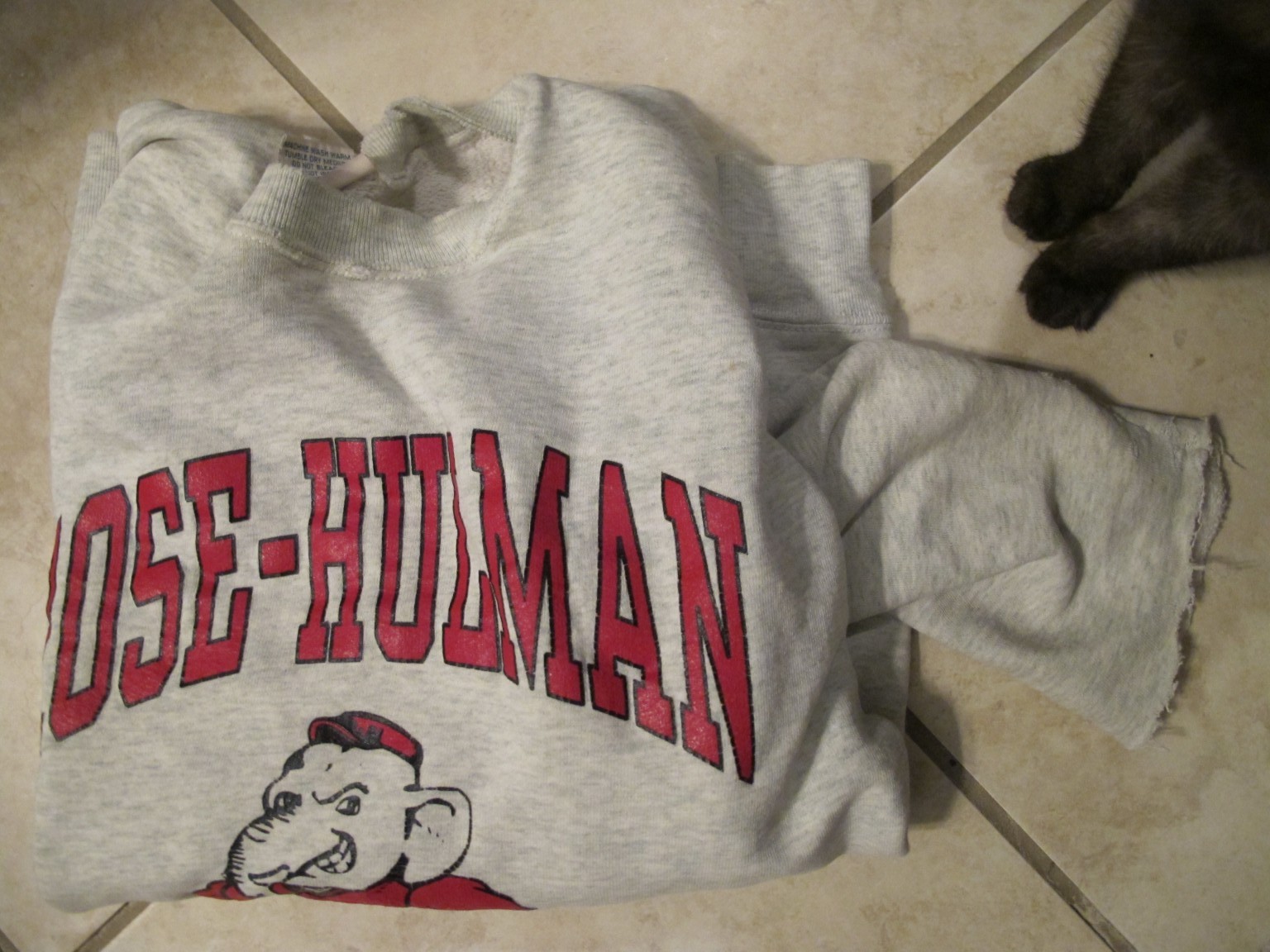 Thank you kitten for your Vanna White presentation skills.
Quick story: the mom of a family for whom I babysat in college had a similar—no, holey-er—sweatshirt her brother had given her from his days in the Marines.  She was all New England prep with navy blue, pearls, and nautical themed belts during the day, but on lazy weekends and after dinner on weeknights out came The Sweatshirt.  Her husband had suggested it might have seen better days but to her, it was a connection to her sibling and it had taken her many years of hard (ahem) work to get it to just the right stay of disintegration.
10+ years later, I'm basically her, and happy about it.
Last but not least, bought-in-highschool (left) and hand-me-down from a former, dear roommate (right) pajama pants: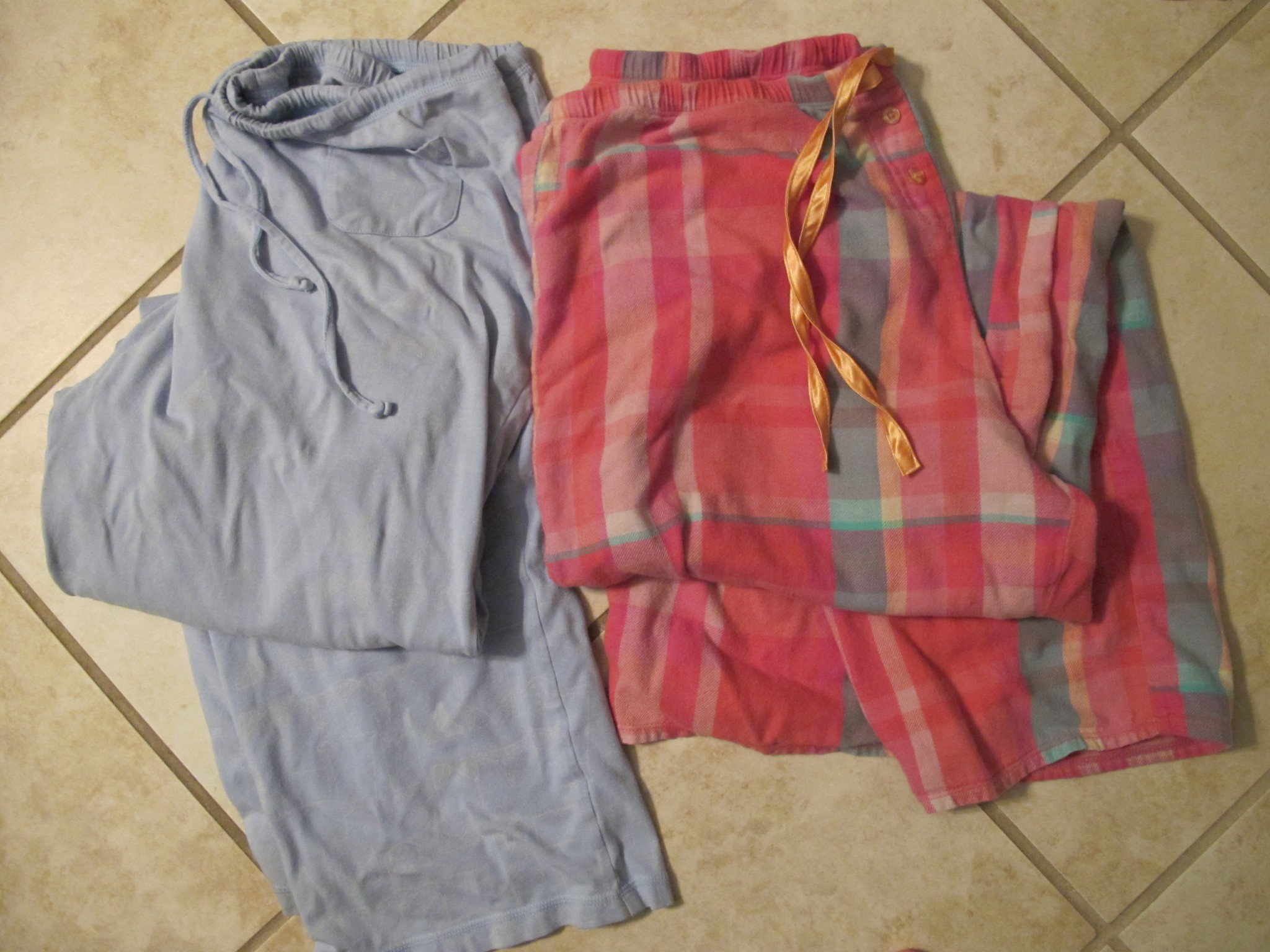 Wow, assembling this post makes me realize I may have a *tad* bit too much in the way of cozy lay-about clothes.
But they all bring me joy, in terms of comfort and happy thoughts/memories.
What would you do, dear Thrifters?  Cull your collection to a reasonable size (it's not like I wear pjs half my waking hours…) or keep it until it's useless and enjoy it the whole time?
Thoughts appreciated, scroll down to share!