Hey all! So, I'm pregnant, due in December with Mini Thrifter #2: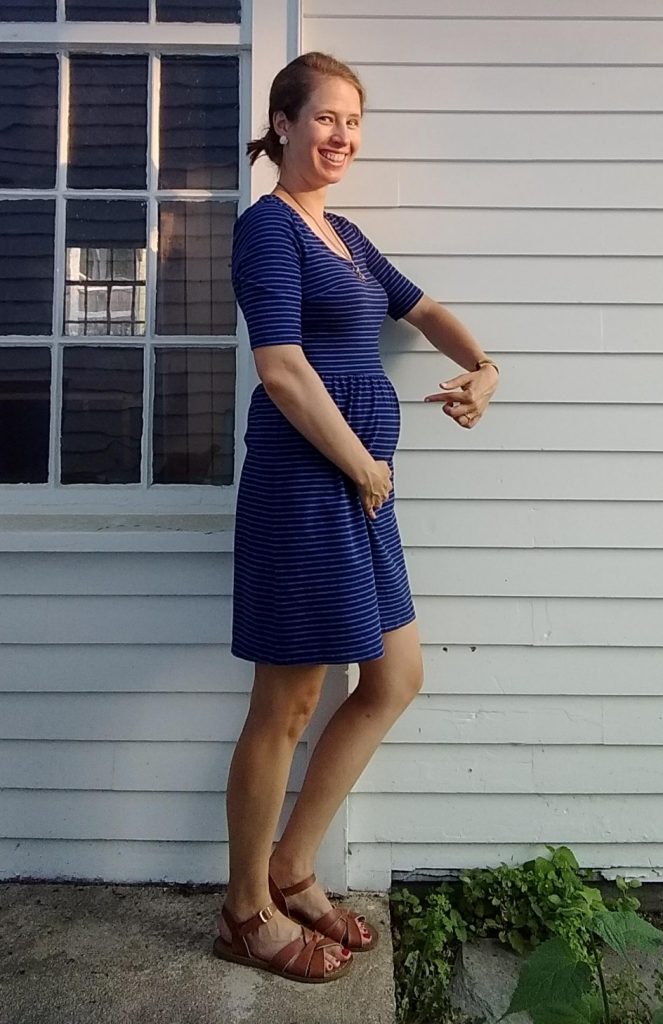 We're really excited, especially Mini Thrifter #1 who will get to be a big sister: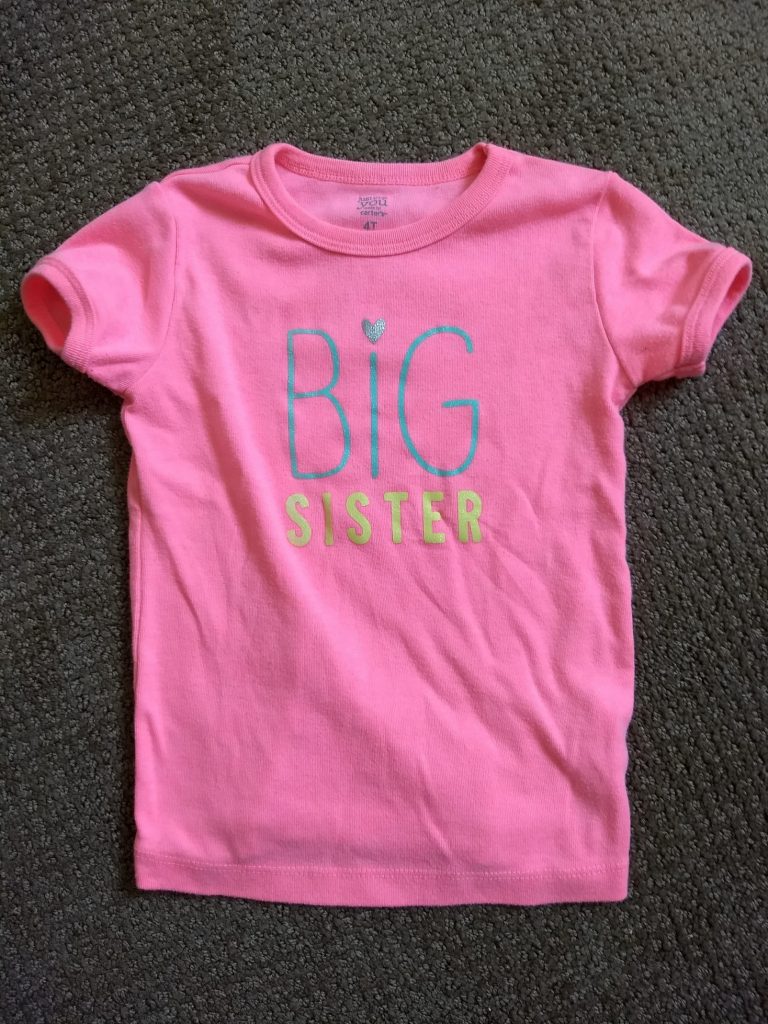 Thrifted shirt, natch.
When we started trying to conceive, I admit I was super psyched about the idea of thrifting a maternity wardrobe. It seemed like a great excuse to go thrift a whole bunch of clothes without having to think about whether I really needed them.
And then a funny thing happened – I suddenly had no desire to thrift. I mean, if a friend had suggested we hit up a Goodwill, I would not have said no – but I didn't feel the need to initiate anything myself, and even inside a store, didn't feel much desire to buy. Proof: the last time I went thrifting, all I grabbed was pants for my kid because I had neglected to bring anything but shorts for her on a trip to Maine. (Note: even if it's the middle of summer, Maine always requires pants. And a sweatshirt. Always.)
In other words, I suddenly felt content with my closet. Hormones?
In part I just couldn't be bothered, so I started looking for ways my current wardrobe could stretch (pun intended) to cover at least part of my maternity wardrobe. I already favor looser, fall-from-the-shoulders type silhouettes, so tops were pretty easy to find in my closet. And thanks to growing up in the 90s and feeling like waistbands anywhere near my actual waist are anathema, my shorts all button closer to the hips and a few are still doing maternity duty:
Pants only made it the first couple months; I am now done with them until the cold weather comes back. Dresses have picked up the slack and are doing a great job of keeping me cool on hot days:
I have one new (to me) piece which is not actually maternity but regular Uniqlo – a skirt with a nice wide elastic waistband, on hand for days when the shorts are too casual or don't want to button:
And I have one new (to me) dress waiting in the wings for August-September when things start to get a little bigger around here:

Pockets! Thrifted J. Jill, found in the regular dress section.
I have no doubt I'll need to thrift more for colder weather; I don't have any pants left over from last time and the few maternity sweaters I needed in Atlanta are in eye-burning color combos like electric purple and chartreuse (what was I thinking??). I'll keep you all up to date!
Tips for building a maternity wardrobe
Thrifting (or shopping secondhand in other ways) is a great way to save money on a wardrobe you won't need forever. Here are some strategies to help you thrift maternity clothes:
Shop your closet – don't assume all your current clothes won't work, particularly if you favor roomier styles.

Pull out the pants/skirts/shorts that have always seemed a little loose or needed a belt – they're your friend when your waistline starts to expand!
Dresses with any kind of stretch in the fabric are your friend – they can bridge from pre-pregnant through your first few months and give you time to scope out maternity clothes for when things really start popping.
Use the rubberband trick to keep regular pants in rotation longer.

Hit up maternity consignment stores. This is what I'll do for my winter clothes because they have the advantage of a) a lot more selection in one place and b) more modern, up-to-date styles. If you don't want to abandon skinny-cut jeans, for example, go consignment. All I ever see in thrift stores are bootcut styles. Pro tip: many children's consignment stores have a maternity section that's worth checking out.
Shop secondhand online. Same as consignment, you get a wealth of current style options. Downside: you can't try on for size and often can't return, so look for pieces like dresses and stretchy tees that can afford to give a little either way.
Look beyond the maternity rack at your local thrift store. You can easily find pregnancy-friendly tunic tops/dresses and skirts/pants with elasticated waistbands in the regular racks; empire waists are also great at adapting to pregnancy. Look in the PJ section for cute shorts for sleep or play, or fashionably oversized pj tops. Size up for regular shirts/sweaters, or snap up one of those normally frustrating pairs of jeans that leaves you swimming in the waist but fits everywhere else. Shoes that are wider than your normal size (particularly sandals, mules, clogs) are a cheap thrift score to give those expanding feet more room.
If you've thrifted for a maternity wardrobe, what are your strategies and tips?  Or any specific season in your life – when you'll need clothes for a certain purpose but you know you won't keep them forever?