I'm doing the 10×10 spring remix hosted by Un-Fancy and StyleBee. I'm using 10 pieces of clothing to create 10 different outfits, using self-imposed limitations to spark some creativity. All the details – and the clothes (all thrifted)– here.
Day 9 – the penultimate! I paired the white Ann Taylor skirt with the peach leopard print blouse by Forever 21. I don't think that counts as "high-low" in the original designer/mass market sense of the term…but these two are definitely from the high and low ends of the retail cost spectrum in terms of what I normally thrift! I finished it off with a Monet cuff bracelet and Clarks sandals (retail):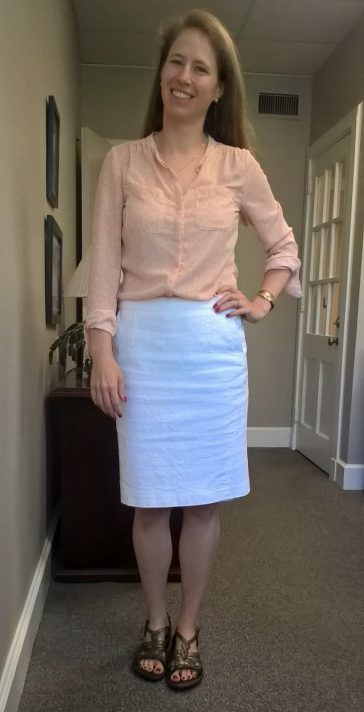 Painted nails left over from a weekend wedding – so fancy!
Close up on that pattern: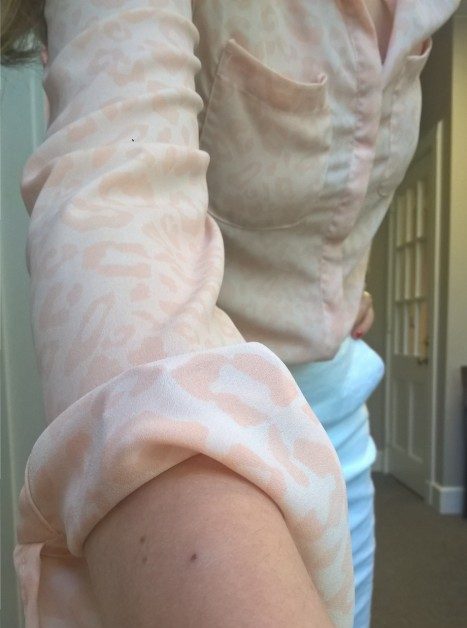 Styling notes: rolled sleeves, natch. Tucked in shirt pulled out just a smidge to give it some insouciance.
I also love the look of more tailored shirts worn untucked over pencil skirts, but I decided to go with just one kind of top in my wardrobe for simplicity's sake, and this looser version with some lovely drape and roll to it, tucked in to skirt or slacks for a more put-together flavor, feels more "me."
I think this might look slightly better with my slide wedges but I felt lazy and went for comfort with the flatter sandals.
Last but not least, here's another safety pin creation – the gaps in the blouse are held together by pins. You can probably see it a little more here than in the previous shirt, because I have one pin that needs some rearranging.  Same trick used on the skirt as well.
Thoughts: I'm a fan. I included this skirt in my 10×10 to establish it as a wardrobe staple instead of something I wish I'd wear but just haven't gotten over the hurdle yet. And this second wearing got me there!  I like the lightness of these colors together – it's a palette cleanser, but not so neutral that my eyes are searching for color. And you know I love the subtle funk in that leopard print…
One day more! Are you bored of my choices yet? I'm not, but I'm also looking forward to slowly adding some of my other clothes back in and seeing what really fits great with these staples and what can float on down the river to someone else.
See ya tomorrow!