As you may remember from my intro post, this was basically a travel wardrobe of tried-and-true favorites masquerading as a 10×10 challenge, which means my goal for it wasn't necessarily to discover anything new about the items therein.  But I made room for the possibility that I'd learn something, and lo and behold, I did!
#1. I love this shirt.
You know those items you wear so easily that you don't even know how much you love them because it's so second-nature to just throw them on?  They don't feel special, exactly, but then you do something like this and realize that they work with everything and you wear them all. the. time.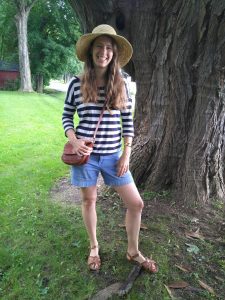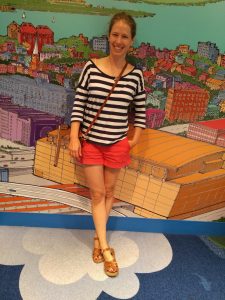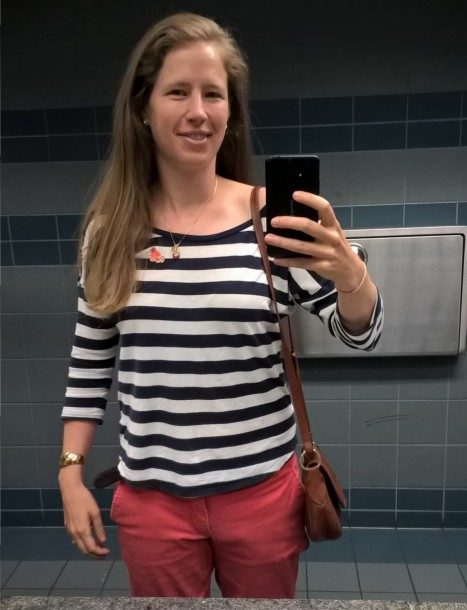 Can you tell which one was taken after spending 10 days outside??  Ha.

Three things make this one a winner:
Stripes. These have equal amounts blue/white so the navy doesn't overwhelm my skin tone. They're a great width, too; stripes that are all too thin/narrow just look busy to me instead of bold.
3/4 length sleeves.  Combined with the open neck and light material, the sleeves keep this right in the middle between hot & cool. Perfect for in-between seasons and temperature changes while traveling.
Silhouette/drape. This shirt has give and flow for a not-too-tight silhouette. The drape adds a certain chicness and insouciance (as well as making room for fried scallops and sweet corn).
Plus the drop shoulders give it some visual interest – those stripes going perpendicular to each other just jazz the whole thing up a little. (I guess that's 4 things. Whoops.)
#2. Put it on repeat.
Especially on vacation, I am happy to rewear the same item or even outfit. No shame on these back-to-back outfits, where, just like above, I simply swapped shorts:
If it works, it works, and I don't need to reinvent the wheel for no reason. This is related to my next discovery…
#3. Life is a 10×10 remix (or a capsule wardrobe?).
Because the color palette was broader, when I did my first 10×10 remix this spring I wore each piece multiple times, yet felt like there were still SO many options left at the end of the 10 days.  It was exciting and invigorating.
At the end of this summer remix, however, I felt not energized but more… content. I hadn't worn everything, and probably could have gotten by with even less, yet surprisingly I wasn't bored with my clothes by the end of the trip. (You know that feeling where you just want to chuck the entire contents of your suitcase, dirty or not, into the laundry hamper because you're sick of seeing the same clothes? Not this time.) It was like I relaxed into my wardrobe as the days went by.
And when I looked at my closet to get dressed for work the next day, I felt happy and "relaxed into" my clothing there, too. I knew what worked together and what I wanted to wear, and felt no need to go thrifting.
I think after 2 years of blogging (and 10 years of thrifting), I might finally be getting into the groove of this capsule wardrobe concept – not a rigid set of restrictions, but a mix of feeling invigorated by and "relaxed into" the clothes I have and happy with the way they fit together.
I still go thrifting for fun and for inspiration, and to change things up occasionally (example: the grey, blue striped, and olive casual summer dresses in this post were all new styles for me and all really hit the spot in different ways), but I'm not feeling the grabby impulse of yore to THRIFT ALL THE THINGS.
It's a good place to be.
Last but not least…
#4. Never trust Vermont weather.
Whatever the forecast, even in JULY, just assume it will be colder/rainier than they say and pack accordingly. As I mentioned before, I did just fine with a windbreaker over a 3/4 sleeve shirt, but if I had it to do over I'd have swapped this:
I kept thinking a sweatshirt would be bulky and take up way too much precious packing space in my tote; I had somehow forgotten about the fleecy, thin wonder that is my Mossimo sweatshirt. Oh well, there's always next time!
Did you do the 10×10 remix?  What did you learn?  How are you feeling about the current state of your wardrobe? Scroll down to comment!