My style ranges from drapey cardigans over skinny pants to vintage dresses to oversized Liz Claiborne sweaters.
But if I were to describe my *ideal* personal style with an equation featuring stylish people of the world, it would look like this:
1/2 Inès de la Fressange + 1/2 Nicola Sturgeon + a dash of Luke Spiller.
Expressed visually, this would be:
Let's take a closer look at each piece of the pie.
Inès de la Fressange – Gentlewoman Chic
Model/businesswoman/muse/author Inès de la Fressange exemplifies the feminine side of gentlewoman chic with her fitted blazers, trim trousers, bold blouses, and always a touch of funk – see those two-toned shoes peeking out from underneath her pants?  And I count at least 3 patterns in this ensemble, maybe 4:
Source
Let's admire the bold contrast here between the yellow and the monochrome jacket, with the whole look pulled together by that playful, yet ascot-like scarf.  And that superbly cut blazer!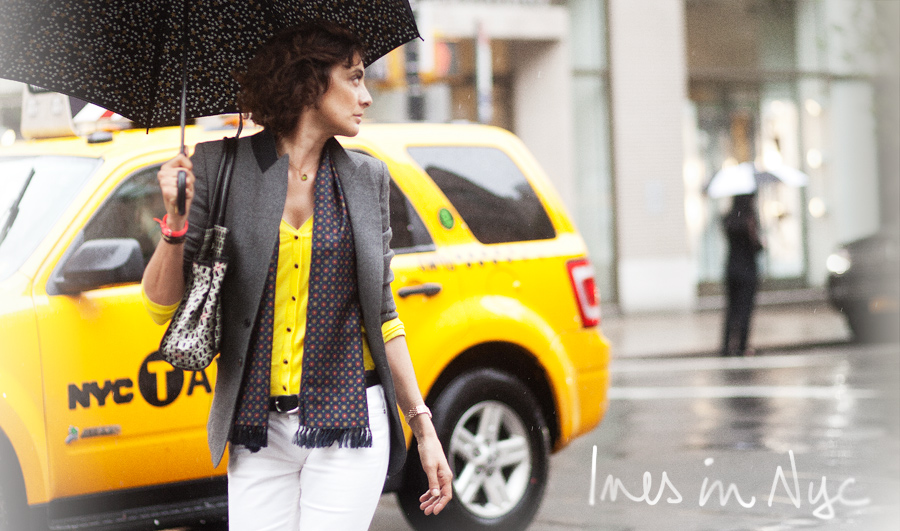 Also, brava to another poster child of gentlewoman chic, Garance Doré, for that incredible photo. Source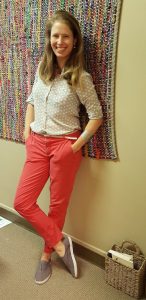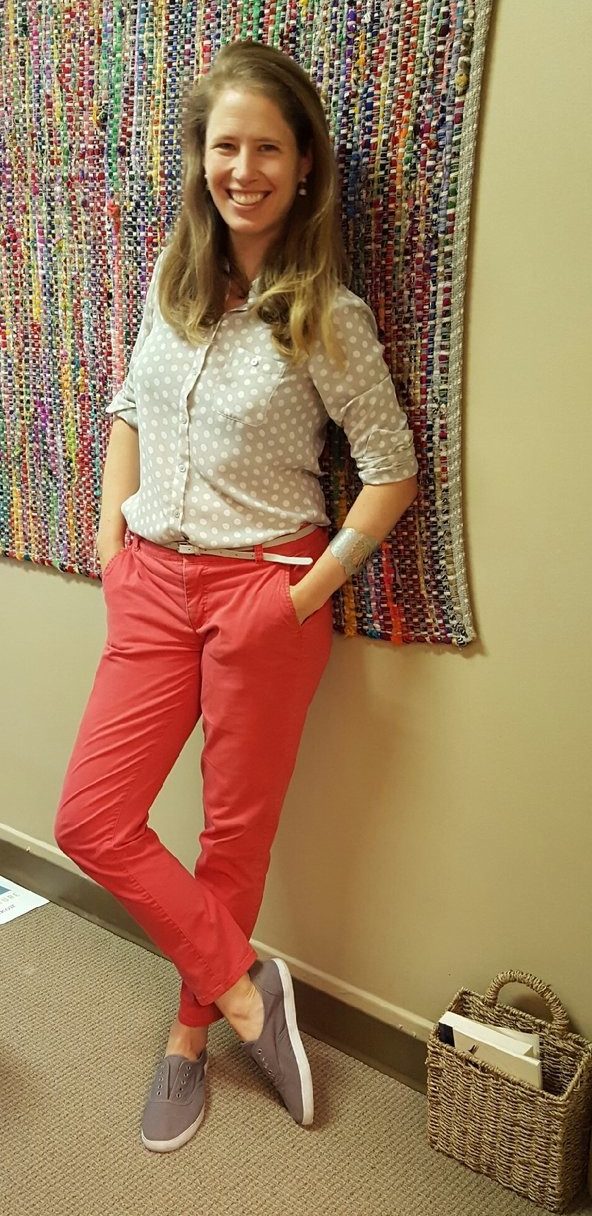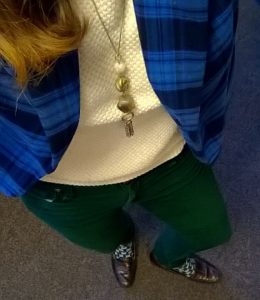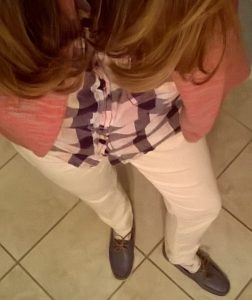 Nicola Sturgeon – Stylin' Power Dresses
Leading up to her election as first minister of Scotland, Nicola Sturgeon started working with an Edinburgh dress boutique to create a wardrobe of solid-color sheath dresses with unique twists – what the boutique owners call "a soft power look" (check out the NY Times article on her wardrobe here – and then we can all talk about the politics of how women's dress and physical appearance affect their electability as public servants):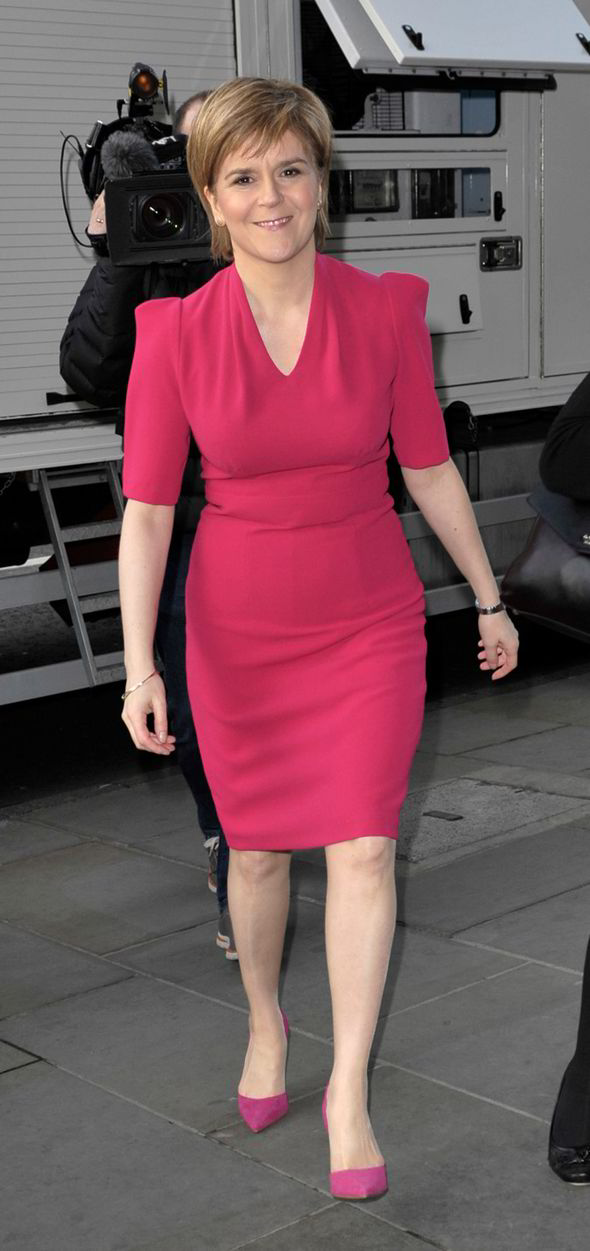 Shoulders!  She has this one in at least 3 colors – source
…for example, in orange: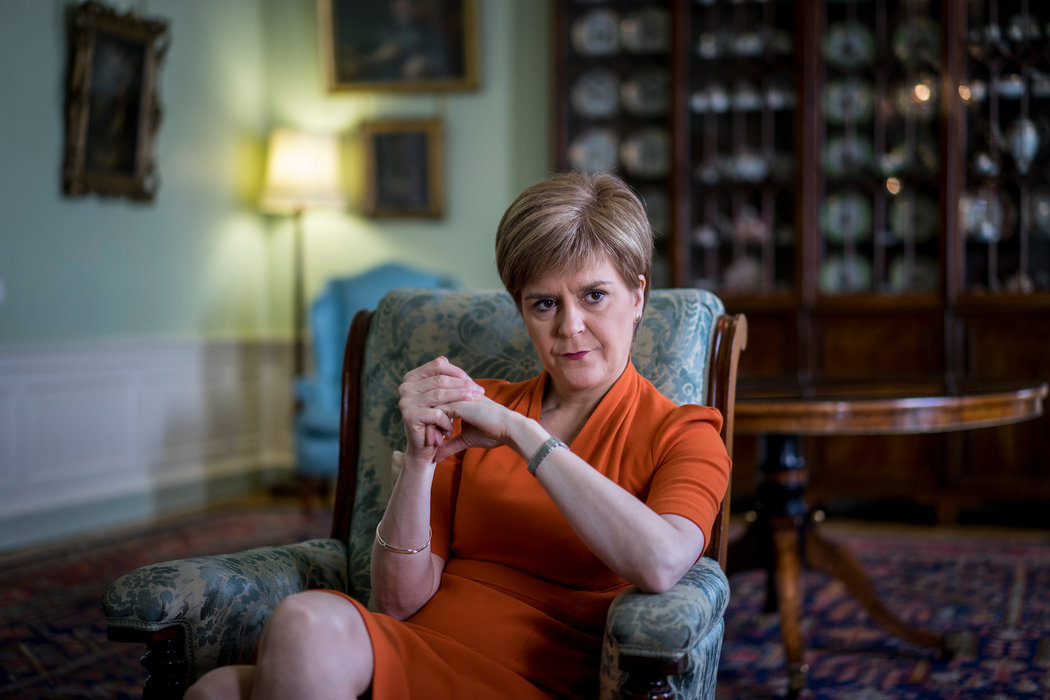 Source
Hello asymmetrical neckline and slit on the side:
Bonus: the completely fabulous, satin-y contrasting lapel on this blazer – that's some edge, woman!  Theresa May, take note. (Or not.  Since, you know, how stylish or chic you look ≠ your ability to govern.)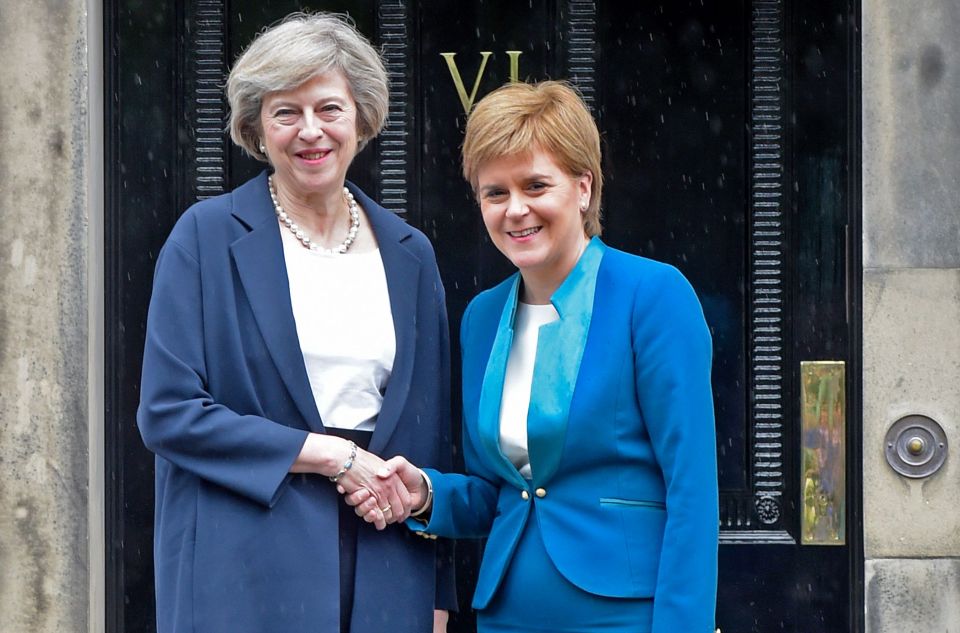 Source
My take: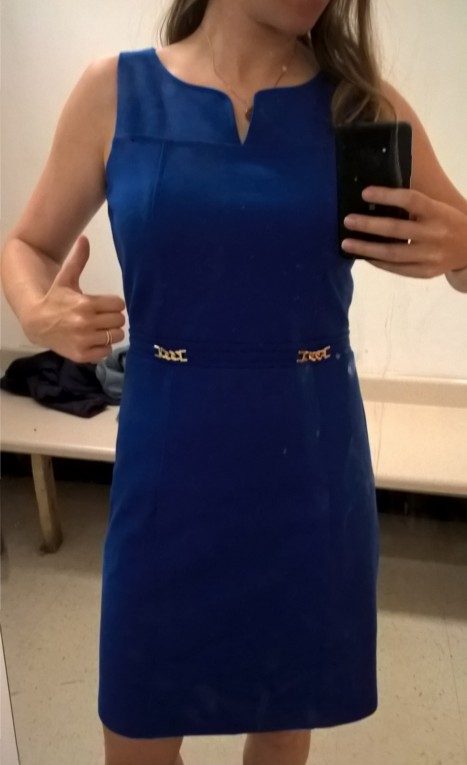 While I do love a good plain dress for its versatility and the great canvas it makes for accessories, I really thrill to dresses like Nicola's and the one above with its unexpected neckline and sassy gold chains.  Right now it's the only one in my closet that fits the bill, as most of the rest of my dresses are solid-color and plain.  But here's a throwback to a couple I loved that had to be sent on due to pilling:
Ahh, back when I did bathroom selfies.  Good times.
Luke Spiller – Glam Rock
Luke looks, sings, and moves like the love child of Freddie Mercury and Mick Jagger.  I've already blogged about his style here; suffice it to say that his boldly metallic, besequined allure is called to mind every time I spot a glitzy top I should say no to.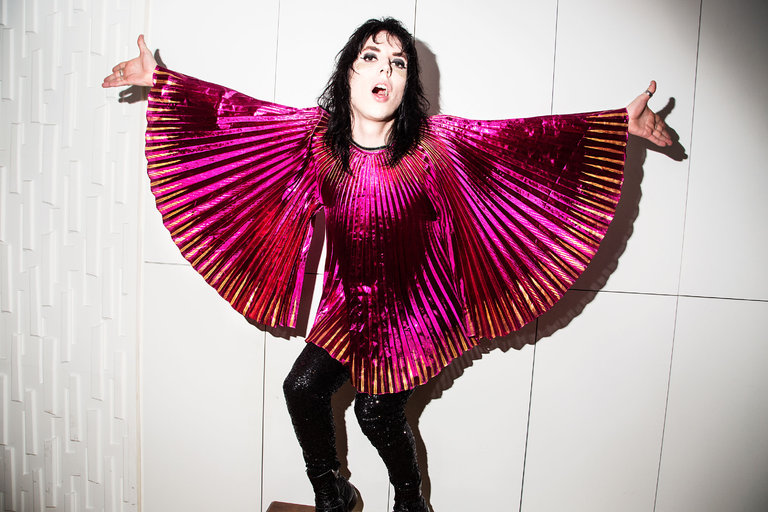 My take:
And… last week I found these exact pants I had long ago regretted not thrifting and I bought 'em without even trying them on.  They're amazing:
Now to figure out where to wear them.
Who are your style icons?  Could be someone you know personally, a character in a movie or book (illustrations help), or a public persona.   Keep in mind that it's not about emulating someone else's look to a T, but rather helping you define your own style.
If you've never tried to figure it out before, I encourage you to give it a go.   Once you've identified a person or two or three, ask yourself: what is it about their sartorial presentation that sets your heart aflutter? How do they exemplify what you love to wear?  I'm willing to bet it'll help you sharpen your own aesthetic.  Scroll down to share your thoughts!