This post is about an outfit I thrifted for a birthday party with a dress code, but could easily work for a New Year's Eve bash or other one-off fancy holiday party.  
My fabulous friend Sheena had her birthday party a few Saturdays ago (Sagittarians in the house!) and the dress code was "all black."
If you have been reading for any length of time you will know that I decided awhile back that black washes me out and that therefore I have almost no black in my wardrobe. The few items I can think of that involve black use it as a pattern on top of some other non-black base color:
Plus a pair of black leggings that I use for running.
Everything else you see in my closet that might look like black is, in fact, dark grey or navy.
Sheena knows this and knows that I am thrifty and didn't want me to have to buy a completely new outfit, so she graciously offered to let me go with navy. But what is thrifting for if not being able to rise to the occasion/dress code on short notice and small budget? Challenge accepted.
Our staff holiday party was Friday and everyone went home early afterwards, so after doing some necessary chores I was off to the Goodwill to see if I could put together an ensemble tout noir. My strategy was to start with the black leggings I already own, add a black dress (quite abundant in the thrift store) and finish off with a topper to keep me warm. I had previously donated my black flats that I wore very infrequently, so I got permission from the birthday woman to wear my cream and dark grey snakeskin print ankle boots. They'd add some nice contrast but easily crop out of a photo.
Tip: When thrifting a dress for something one-off, first figure out your parameters – color? hem length? sleeve length? fabric? – and sift through the options on that basis.
For the dress, I was pretty sure I wanted to go with long sleeved (for warmth) and just-above-the-knee, so I skimmed over the black dress section starting at the bottom and looking for shorter hems.  When I found a hem I liked, I pulled it out by the fabric (not the hanger) to 1) get a feel for the fabric quality and 2) see the sleeve length.  It turned out there were not a lot of long-sleeved dresses and I didn't like any of them, so I switched to short sleeved/sleeveless and figured I'd just keep my topper on.
Look at all these options!  The black section is definitely the largest part of the dress rack.  L to R: Loft, Zara Basic, Calvin Klein, H&M, Liz Sport, BCBG Max Azria, H&M, detail of back, H&M.
If I had been thrifting something I'd also keep to wear to work, I would've gone with the last one – it's my favorite silhouette (sheath) with pockets and an interesting neck detail:
But since this was a party, and I don't wear black on the regular, I went for something more fun!

It's a sleeveless v-neck high quality polyester dress with a flare skirt that felt very festive to me.  As I was walking past the blazer rack a new-with-tags Chico's blazer with sleek lines and contrast collar/side panels jumped out at me, and I realized pairing it with the dress would bring a modern touch to the more 90s ice skater feel of the dress.
See the incredible contrast details on this blazer?
The final outfit:

Dress: Jones New York, thrifted new with tags, retailed for $100
Blazer: Chico's, thrifted, new with tags
Leggings: American Apparel, retail (made in USA)
Ankle boots: Lucky Brand, gift from my sister
Necklace: DIY from thrifted parts
I LOVE the jacket.  It is so damn modern and clean-lined, and it fits like a glove.  Chico's, I have wanted to be old enough to buy your stuff since I was 12, and you have proven my preteen longing right (again).  I wish, a little bit, that this blazer were navy and…whatever the charcoal equivalent of navy is.  Textured navy?  Heathered navy?  But since this baby is in perfect condition and so sleek, I'll quit complaining and start thinking of ways to style this wardrobe outlier.  Thoughts?
And the dress – I love the neckline and how gorgeous it feels (high-end polyester for the win!).  The cut of the skirt is not super-current BUT feels very party-ish, and I think it would be perfect for an evening wedding or a super fancy cocktail party.   Except I never get invited or go to such things.  That being the case, I feel like this BRAND NEW WITH TAGS, $100 dress should go to someone who will glory in it, especially since thrift stores are the best place to find swanky duds that fit your unique style and not just whatever silhouette the retail world has dictated must be sold.  So I will likely donate it – after the holidays, in case I get invited, unexpectedly, to some fancy New Year's Eve bash (and assuming we can find a babysitter).
For $13 I had a great outfit that fit the party parameters and which will not kill my bank balance even if I never wear it again.  Win!
And now for the fun, with the lovely Sheena in all her birthday glory!  We celebrated at an upscale bowling spot, hence the ugly-chic velcro shoes:

Please to note Sheena's fabulous sparkle top and hoop earrings.  Not thrifted, but still.
In some photos (like the above) my sleeves have un-scrunched themselves, but for most of the evening I styled it with sleeves scrunched up, which made it feel more current:

In the background, Sheena's delicious cream-black handbag in the back (also not thrifted, but still) and a bottle of birthday champagne.
A little later, a little sweatier, and with my offending charcoal grey jacket (because it was ALL BLACK, Leah, DUH) gone: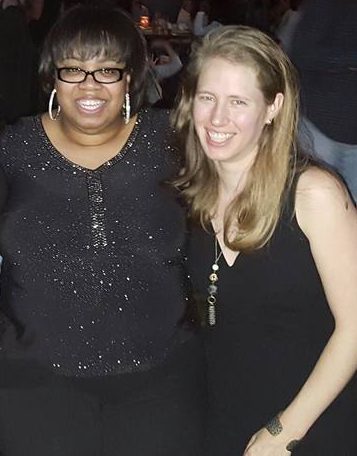 PS I am a bowling fox:
Have I convinced you that thrift stores are the perfect spot to pick up a one-off outfit?  (Or am I preaching to the choir?)  What do you think of my finds?  What have you, dear readers, thrifted in one-off fashion?  Scroll down to share!