Tailoring is a tool everyone should have in their pockets because there's no way mass-manufactured clothing will always fit your body perfectly.  Thrifters need it even moreso to mold priceless-but-not-perfect secondhand finds into an effortlessly chic wardrobe that will leave you looking like (but not spending) a million bucks.
(Story time: I once heard someone recount the experience of a Ghanaian woman who came to the U.S. for college and whose healthy self-image began to deteriorate after long term exposure to mass retail shops where her body always seemed "wrong" for the clothes. In her home culture it was the norm for clothes to be tailored or bespoke, so instead of feeling inferior because they didn't meet some arbitrary standard, everyone felt fab in clothes made to fit their bods exactly.)
I bought this beauty back in the days of chilly weather and knew that its popover style, rollable sleeves, and cotton fabric would be a hit for spring and summer 'round these parts.
The only problem?  It apparently was a shirt dress in another life—one that had an altercation with a pair of scissors: 
Wanh-wannnnh: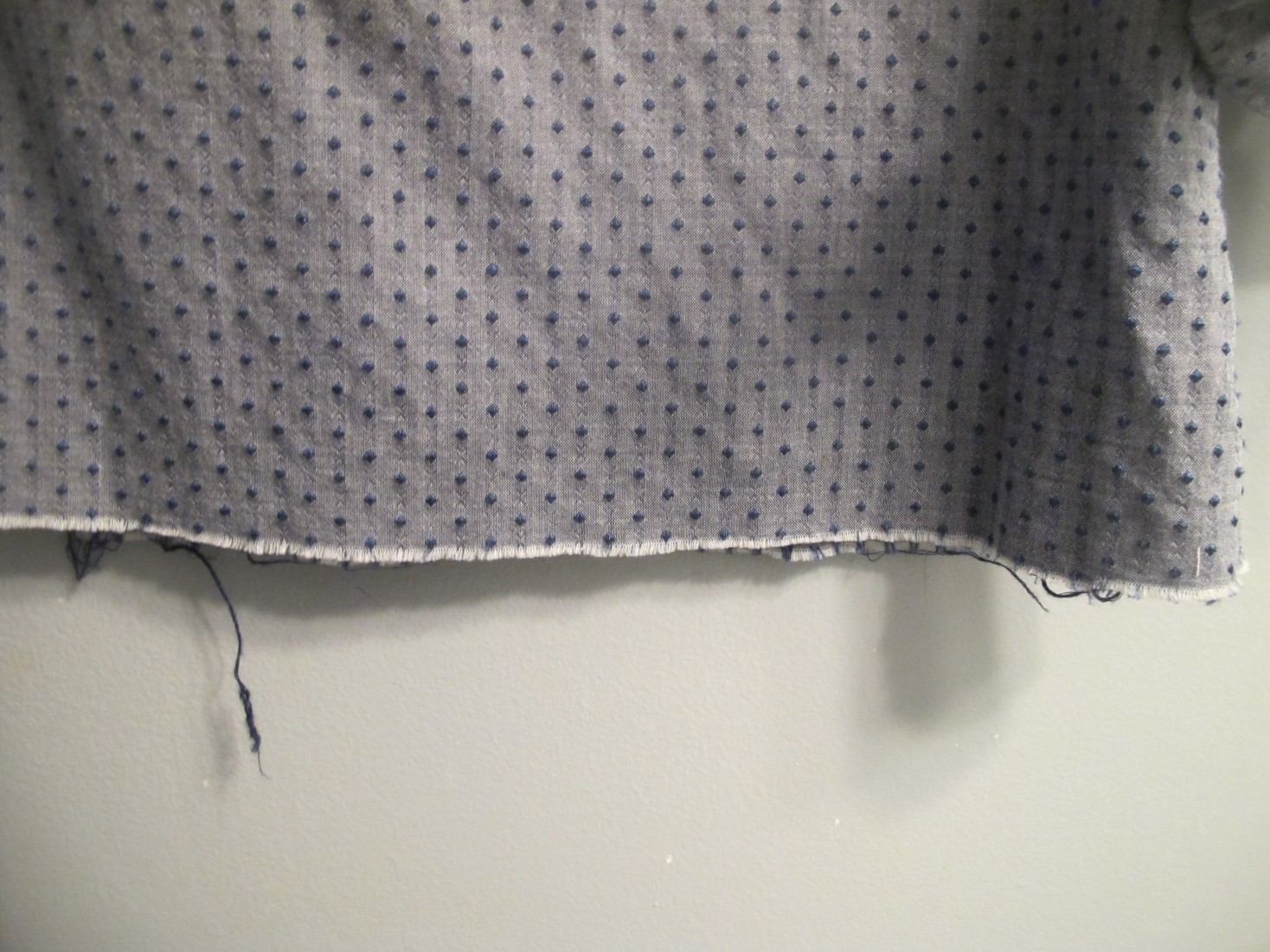 But look at this gorgeous embellishment!  It was just the thing to put the twist in my classic-with-a-twist style: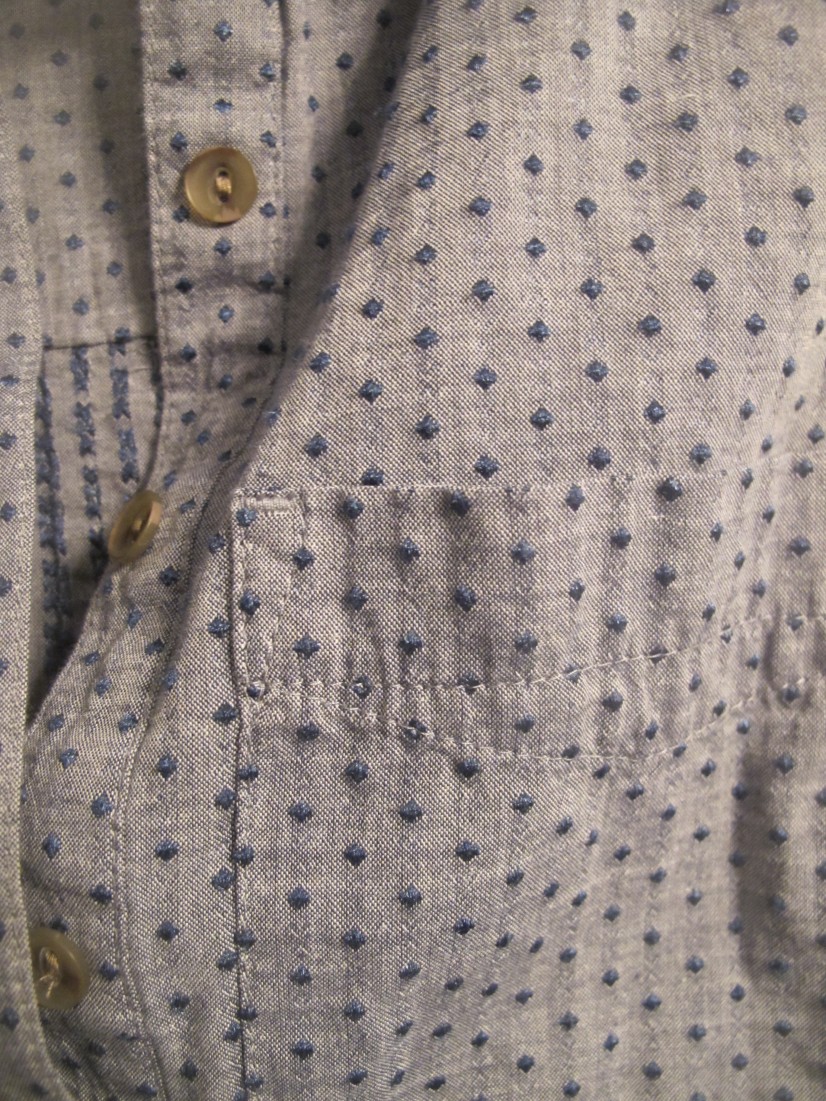 I knew the length would be long enough to cover my torso, and although the t-shirt hem I envisioned was beyond my sewing skills (at least a neat version is beyond my sewing skills), it looked like a pretty doable job for a competent tailor.
So I Yelped some local tailors, found one near work that looked dependable and reasonably priced, and took this shirt, along with a model, over to their establishment pronto.
My model was the tropical popover in my spring capsule wardrobe video—see the way it's shorter in the front and curves to the side seam?  Divine.
$15 later and 3 days later, I had exactly what I had ordered—although if I had it to do over I'd get the front slightly longer (but still shorter than the back).  Voilà:
You can see the t-shirt hem nicely here:
  And it looks great tucked, just the right amount of contrast with my navy skirt:
Total winner; the proof is in the fact that in just over 1 week I've instagrammed it twice in addition to blogging it once.
My tips for tailoring something thrifted?
Know what can be tailored and what can't.  Paris-to-Go has a great post on this. The short version is: tailors can't/won't magically re-make a garment for you; and it's much easier to go shorter/smaller than it is to go longer/wider. (The latter is usually impossible unless extra fabric was built in.)  If you have mad sewing skills, the possibilities expand: see Charity Shop Chic and New Dress a Day for great ideas on how to turn ungainly thrifted finds into amazingness.  (Watch out, the archives are addicting.)
On my purchase, I knew that hemming a ragged edge was simple and the extra length made it feasible to change the shape of the hem.
Know what typical alterations cost in your area. Hemming pants is generally cheapest; what I ordered was a bit more expensive because of the shape. Call ahead to ask about pricing on general alterations—if you're not sure what you're asking for, Google it ("How much is it to have darts put in?" is more likely to get you a clear answer than "So I have this dress…").
Decide if it's worth it.  Tailoring can get expensive quickly; ask yourself if you would buy the garment retail and still have it tailored.  If you love it enough to spend retail $$ on it (or if it's something you can do at home), by all means make it yours.
I knew I'd wear the stuffing out of this shirt if it was fixed up, so I calculated that $5 to buy it and $15 to tailor was a $20 investment I was willing to make.
Don't be afraid to walk away.  Once you've bought an item and brought it to the tailor, don't be afraid to walk away from it if the alteration estimate is too rich for your blood.  This means you need to ask how much the alteration will be in person (which you should always do anyway); even though you may have called ahead for a general figure, that may change once the tailor handles the garment in question (e.g. they discover it has linings or is made of a difficult fabric to work with).   If that happens, quote back the figure you heard on the phone and ask why there's a difference; if you're not satisfied with the answer and it feels like too much money, walk away.  You can always get an estimate elsewhere, and if all else fails and your friend who sews doesn't want to help you out, donate it back to the store.  That way you're only out the original purchase price instead of that + $50.
Check the work in the store. After the alterations are completed, try it on to make sure that what was promised was delivered and the fit is right.  If it's not, and it's not your fault, ask for the work to be redone at no charge.  If you're respectful and calm, a great tailor will be happy to make it right.  If they're not willing to correct their mistake, it's time to look for another tailor.   I watched the tailor mark my garment and had the opportunity to ask for a longer hem in front, so even though it was a little shorter than I wanted, I didn't complain because it wasn't their mistake. (Also, that ship had sailed…see #1 about not letting out hems.) So I ponied up my $15 and, happily, the length turned out not to be as bad as I thought!  This leads to my last tip…
Don't be afraid to speak up. Most tailors have years of experience and know what they're talking about when it comes to what's possible/advisable in the realm of alterations. But ultimately YOU are the one who will be wearing (and paying for) the garment, so don't let a difference of opinion sway you from what you truly want. I'm reminded of the cobbler who insisted The Spouse buy shoelaces in a color he disliked because they would go best, in the cobbler's eyes, with The Spouse's shoes. Luckily The Spouse stuck to his guns and bought the color he preferred…and then he found another cobbler who respected his views on shoelace color and other important matters.
What's your experience with tailoring, in general?  What about tailoring thrifted clothes—would you do it, or is $10 too much to spend on pants that only cost you $1.50 at America's Thrift?
Picture bonus!  Reader Caitlin left a comment below about a gorgeous dress she nabbed from a consignment shop and then had tailored for a wedding—doesn't she look wonderful?  Scroll down to read more about the dress in the comments.  And thanks, Caitlin, for sharing!