Let's take a look back at September's thrift finds – the stuff I've been thrifting as I shift back to a colder climate!
First up, a few dresses bought at the Davis Square Goodwill in search of a good candidate for the town festival. This sleeveless number by Talbots you'll recognize from the What I Wore post since it ended up being a hot day: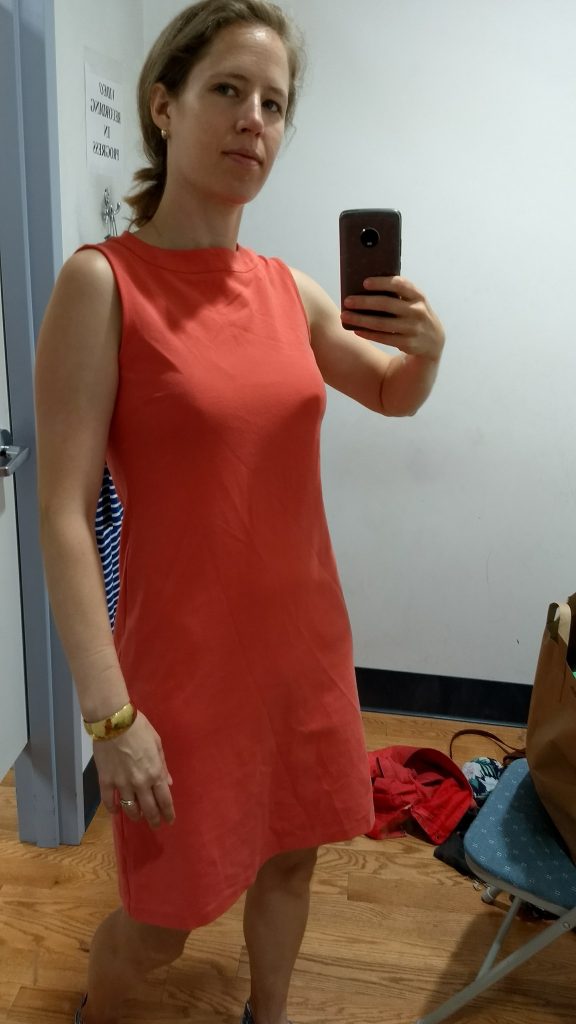 Less orange, more coral in real life.
This striped Gap dress with bracelet-length sleeves also came home with me. With its thick knit it'll be good for transitional temps; plus the stripes will work in my more casual workplace:
Despite being a color I love and having roll-tab sleeves (y'all know my affection for these), this long-sleeved romper made me feel like a Coachella attendee. Too short and sort of…sloppy? floppy? for my taste and my lifestyle: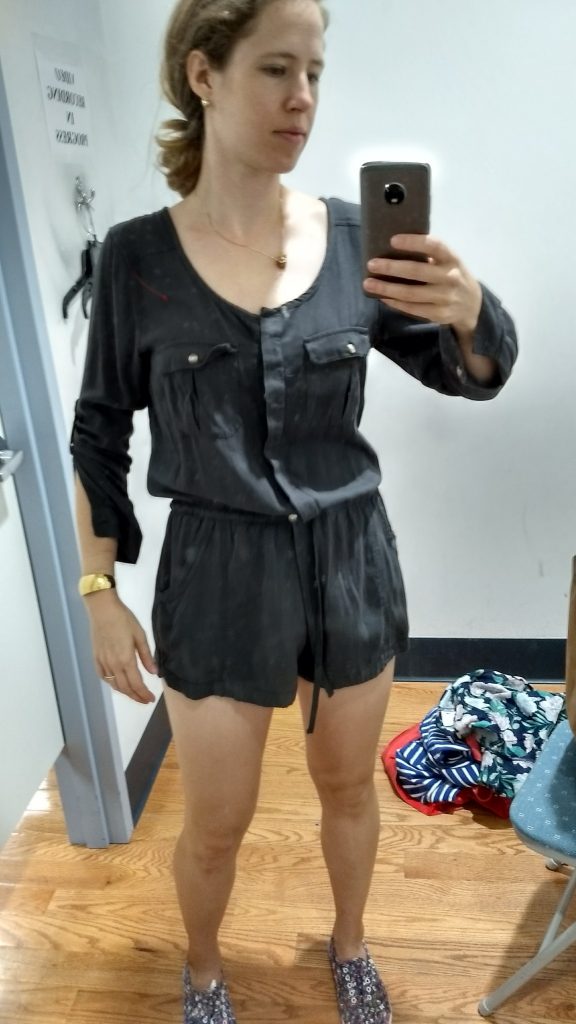 I can't decide if it's better or worse from the side: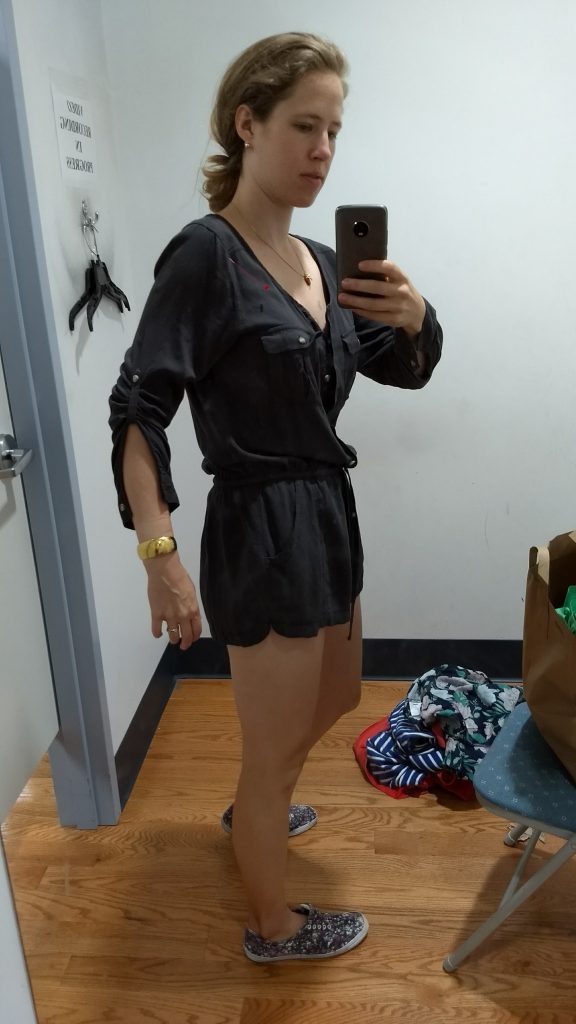 But that miss was redeemed by this scarf win:
Next up was a trip to Sister Thrift in Framingham, which I visited after the one in Watertown. The lighting in the fitting room was abysmal; I apologize in advance.
This sweater had my favorite fitted proportions but too many bobbles on it, like your aunt crocheted it for you in 1986:
I'm pretty sure there's a hand-crocheted blanket with that exact motif on the bed in my parents' guest room.
This cardigan was a great color and had nice drape but was too big across the shoulders/in the sleeves. Wanh-wannnh: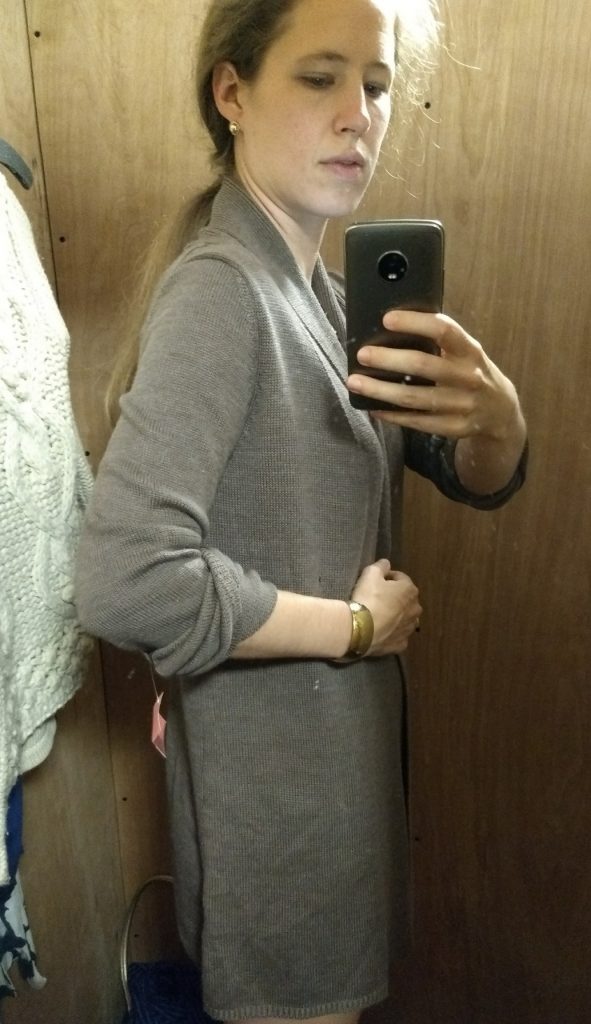 Diane von Furstenberg in the wild! This puppy was 100% silk, my size, and check out that ginko print! I love it. Sadly the white was pretty dingy, the v-neck was waaaaay too low for work, and the hem was too short, so I left it for someone else: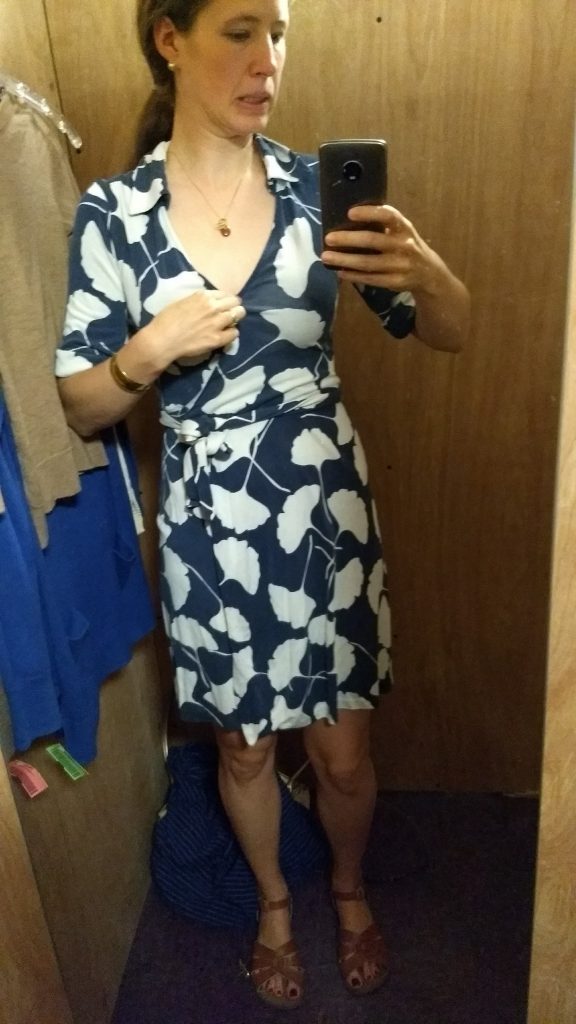 This Caslon sweater dress came home with me, to be paired with leggings. This eBay listing will give you a better idea of the color – it's much more of a royal blue. Sweater dress + zipper details + pockets = win in my book: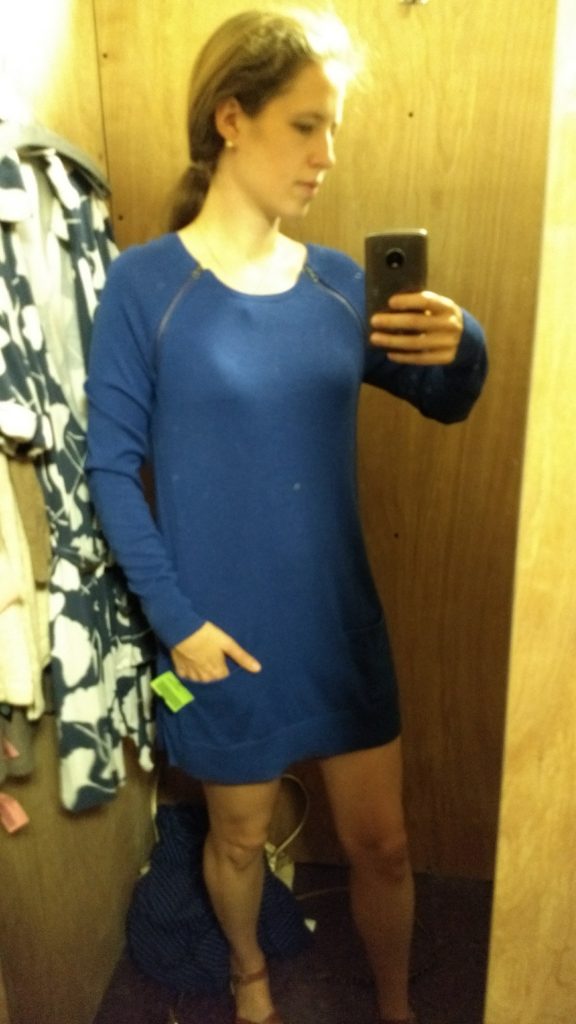 This military green field jacket by United Colors of Benetton also came home with me. Nice and cozy for New England fall, it reminds me of Nancy's monster-bashing outfit in Stranger Things – which, let's be honest, is half its appeal. My favorite part is the contrast plaid lining, which no one ever sees…but I know it's there!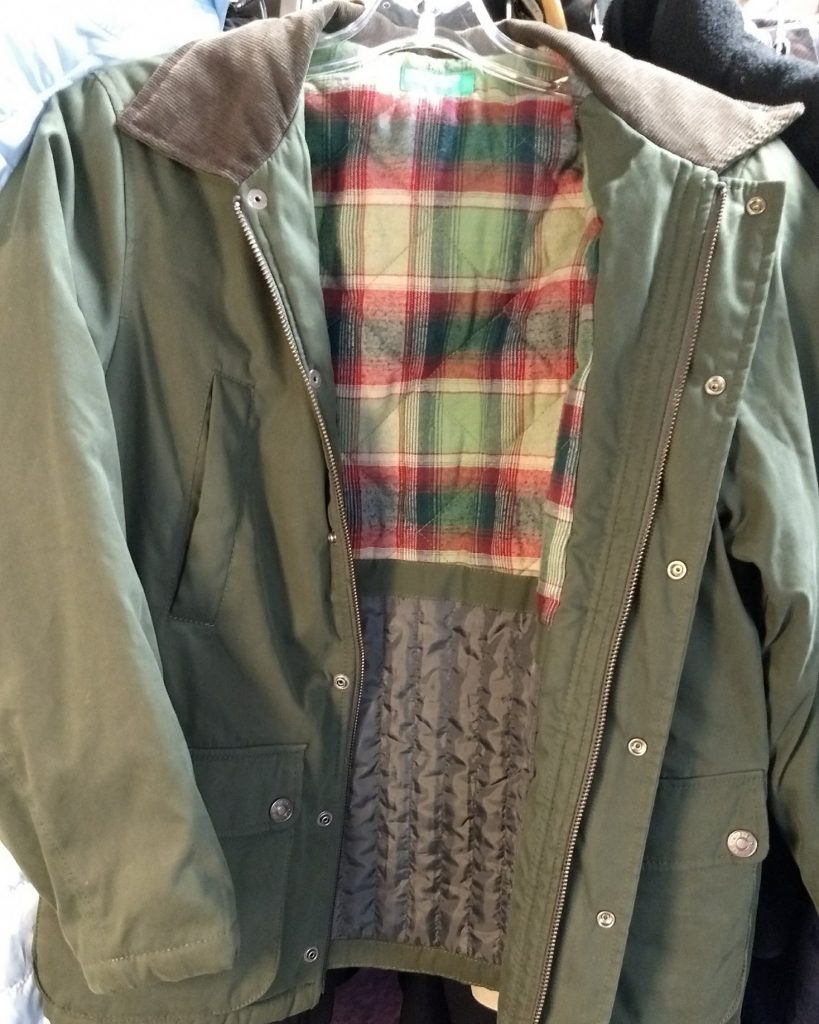 My last thrift stop for September was the Goodwill in Portsmouth, NH, where I was on the hunt for some longer-sleeved casual tops. All my long-sleeved tops are either blouses are sweaters, but in this casual, cool temps environment, I'm finding a big need for more t-shirt-like, long-sleeved tops that can layer under warmer stuff.
Thus I give you this salmon-colored Chico's 3/4 length top with pearlescent buttons (on the sleeve, too, although you can't see them here), which is made of Pima cotton and was half off. BAM:
The color is much less dark in real life: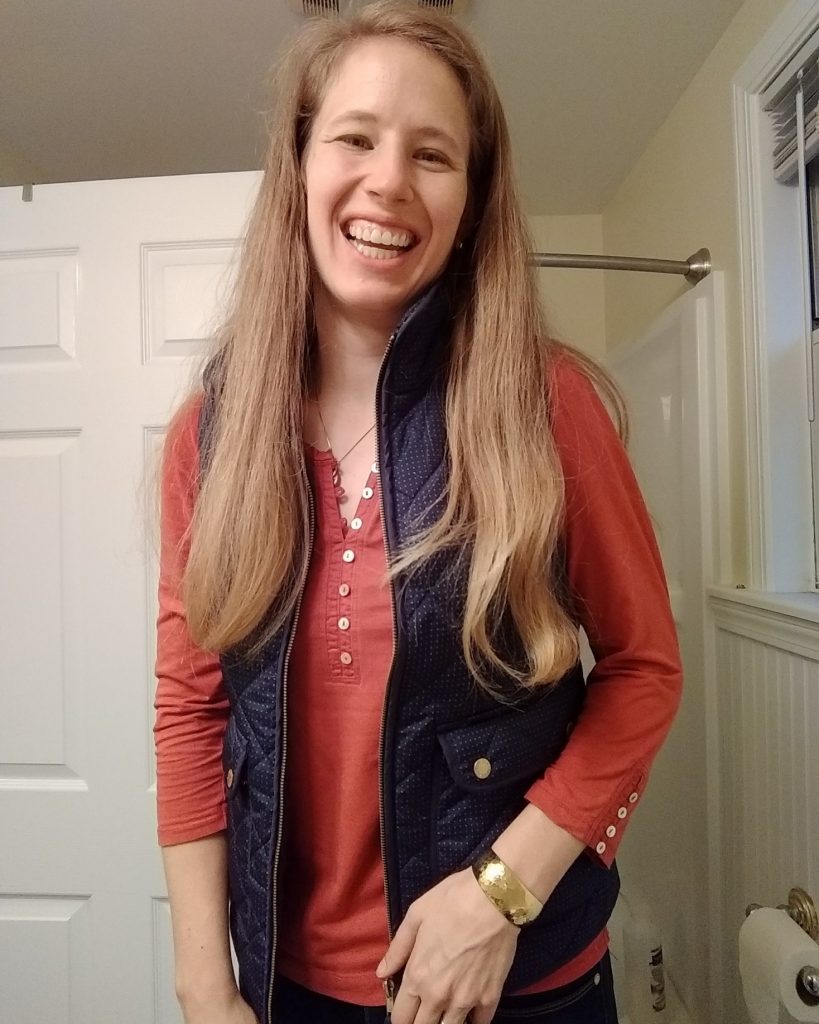 Paired with The Savile Row Co. polka dot vest, thrifted
Here's another longer-sleeved tee, by Olive & Oak. Yep, those navy and white stripes are pretty similar to the Gap tee I wear to death, but this one has full sleeves, a neck that doesn't flirtatiously reveal my shoulders, and a fun contrasting stripe there at the bottom. #thriftjustification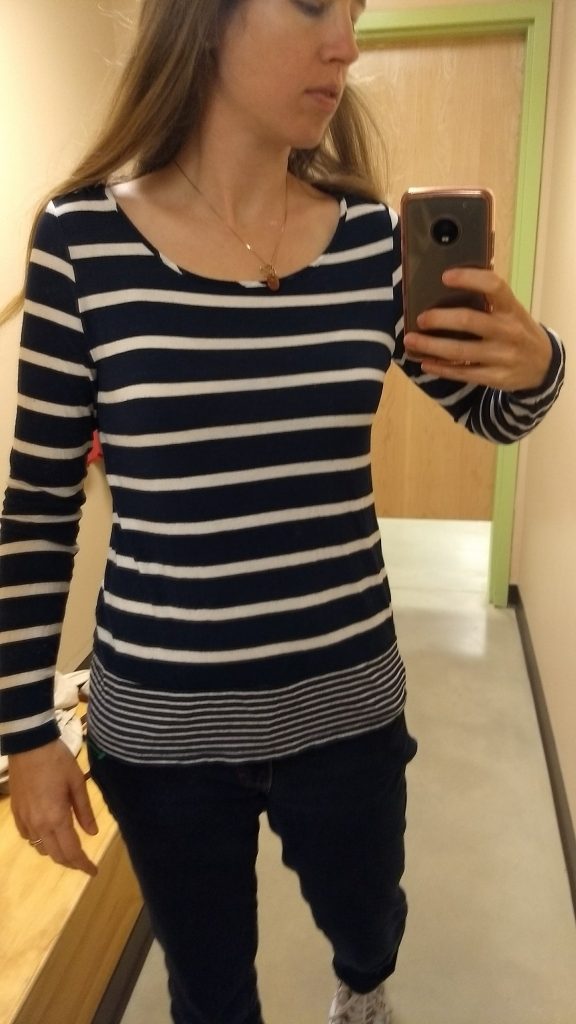 Check out that hi-lo hem: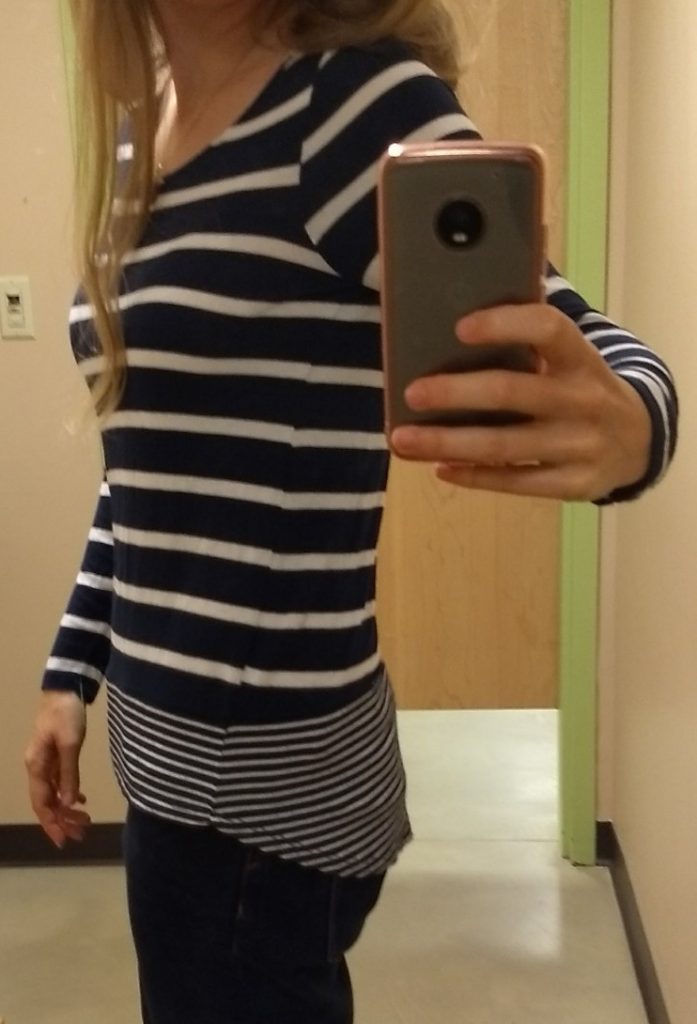 I saw someone rock a warm oatmeal long-sleeved tee under a vest earlier in the day and figured I'd try to replicate it. This one was too greige and washed me out: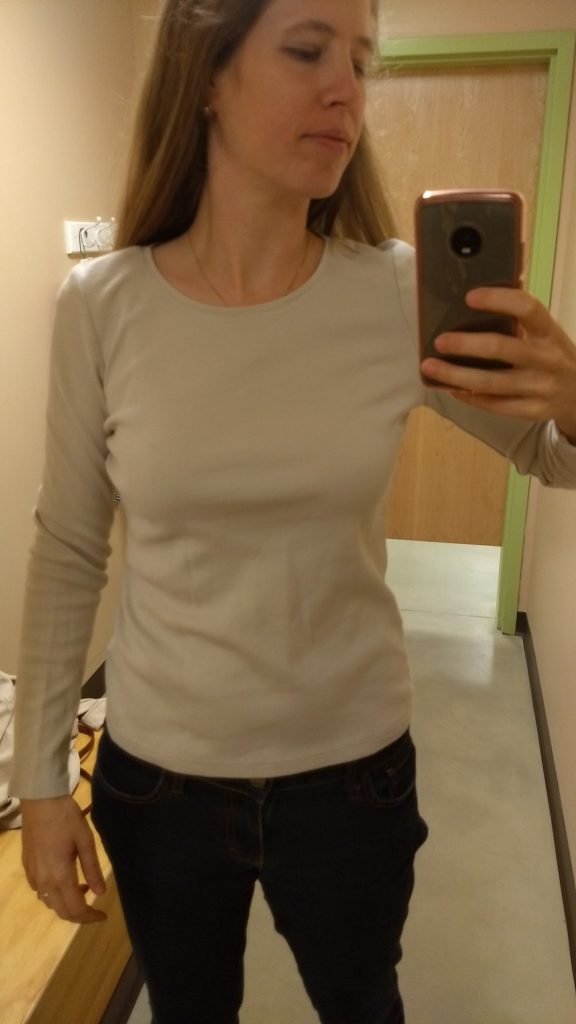 But this one, by L.L. Bean, was just the right oatmeal color with a little cream heathering for visual texture (and a mock turtleneck! joy!):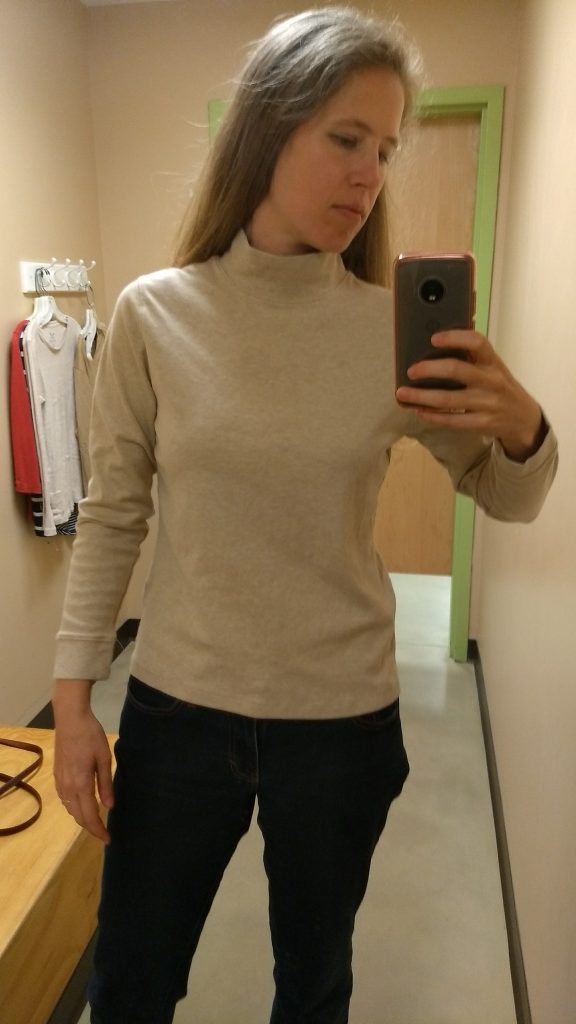 It's going to be great under my navy vest (see above) and my cream/caramel/grey cardigan from last winter:
Last but not least, a fun cotton moto jacket, by Gap I believe, with sleeves too big, but I thought you all would enjoy it: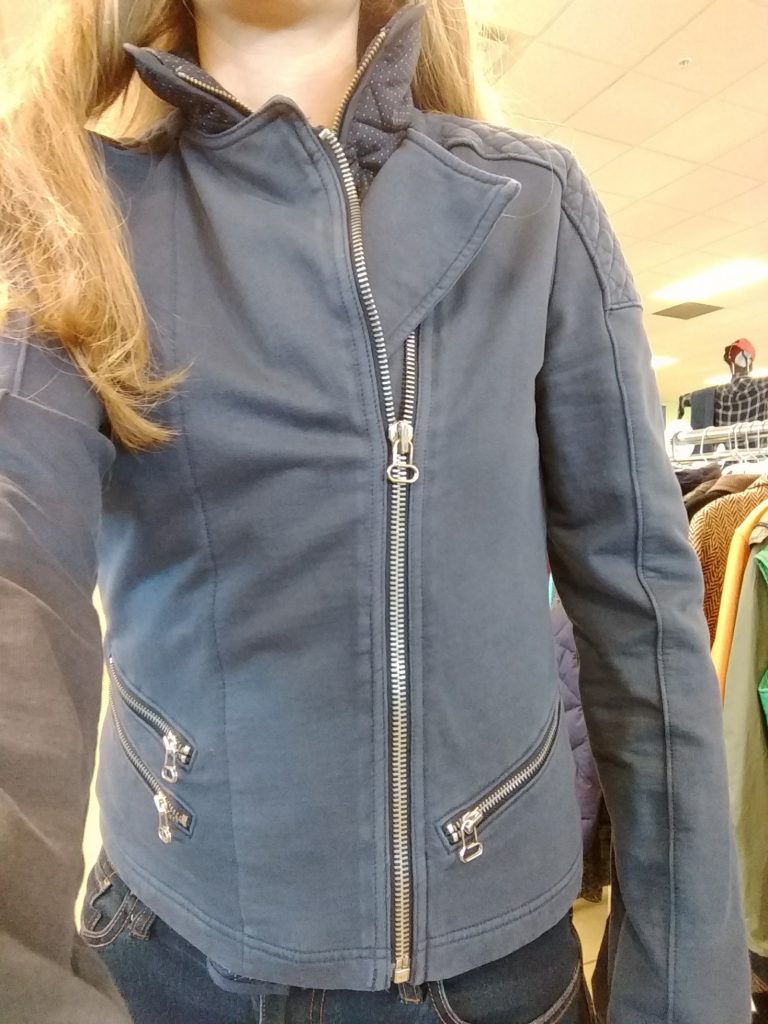 What'd y'all thrift last month? Should I have bought the moto jacket? Comment to share your thoughts!