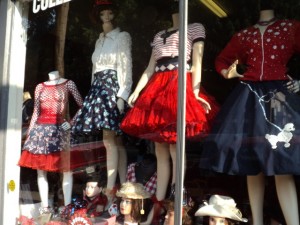 This past Saturday on the 4th of July my friend and I went thrifting–the perfect activity when it's raining out, especially on a day that's supposed to be about outdoor activities.  Adhering to thrifting tactic "Know Before You Go", I had 2 goals in mind:
try my hand at live Thriftstagramming for the first time, and
look for a neutral silk camisole to go underneath some sheer-ish tops I have.
Thriftstagramming, or the act of posting one's thrift finds on Instagram, was a ton of fun because it scratched an itch: the urge to appreciate awesome finds.  Normally the itch gets scratched when you thrift with friends or partake in thrift camaraderie, but absent a community with which to share, the urge to appreciate often gets mistaken for the urge to appropriate.  When you're thriftstagramming all the awesome (and the unbelievable) stuff for an audience, though, you feel like a bunch of folks are in on the fun and the "I should by this" reaction quiets down considerably.  Plus you feel like you've accomplished something (spreading some thrift love) even if you leave the store empty handed–which is a good feeling to reinforce!
The search for a silk camisole had been ongoing the last 2 or 3 thrift visits as part of my mental checklist, and in fact we were shopping the very same Goodwill I had visited with friends a few weeks ago (with no luck on this item).  Retreading recently covered territory for the same item isn't always successful, so I wasn't convinced I'd find anything.  Lo and behold, though, I found this beauty: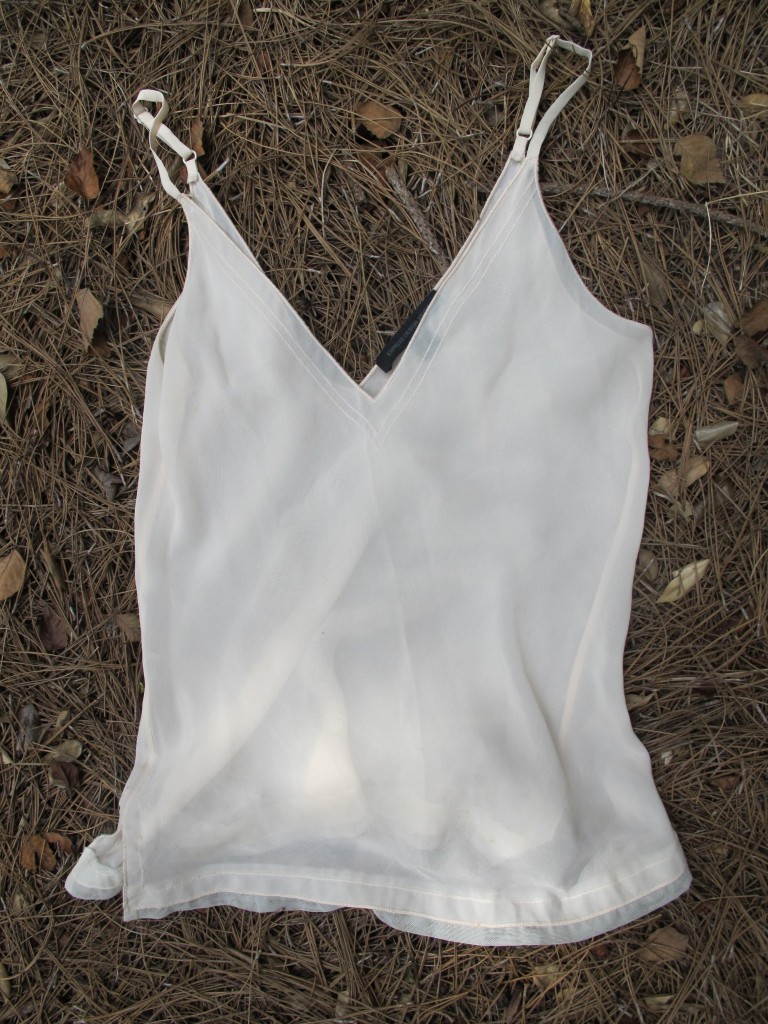 It's an Express tank in ecru (err…somewhere between off-white and blush?) with a t-shirt hemline.  It's thin enough to tuck in and pretty enough to leave out, and the neckline follows the neckline of my bras, so there's none of that awkward camisole peeping juuuust above your sweater where it's not clear if you meant to do that or not.  Express is still a fairly decent quality brand, and best of all, this number is 100% silk.  Normally I eschew silk because I am too lazy to baby it in the laundry department, but I'm willing to go the distance on this one.
Why?  My friend asked the same question, to which I replied that silk creates a great base layer.  Thanks to the magic-making of those little silkworms, it naturally keeps you cooler in the summer and warmer in the winter; right now it's light enough to keep me from sweating when I need some extra coverage, and come late November (when it finally gets cold here) it will punch far above its weight to keep me warm.  That and it's a base layer, meaning any funkiness I inflict on it with my laundry ineptitude will be hidden by tops made of hardier fabrics.
Also found this trip:
and:
Shout-out to my dear friend for keeping an eye on my kiddo whilst I made out like a bandit.  The friend, if you're curious to know, was looking for books and struck out, but I'm pretty sure I can convince her to look at clothes next time.  She is the friend who inspired me to start this blog and last time we went thrifting she came home with a sassy denim vest for her troubles…which I may or may not have talked her into.  Ahem.
How was your 4th?  Any good finds?