June in Atlanta has been strangely…80s.  As in hovering around 80 degrees and lots of rain.  I can tell it isn't really "summer" yet (as Hotlanta defines it) because I can still get away with wearing these lined white pants without my lower half sweating to death: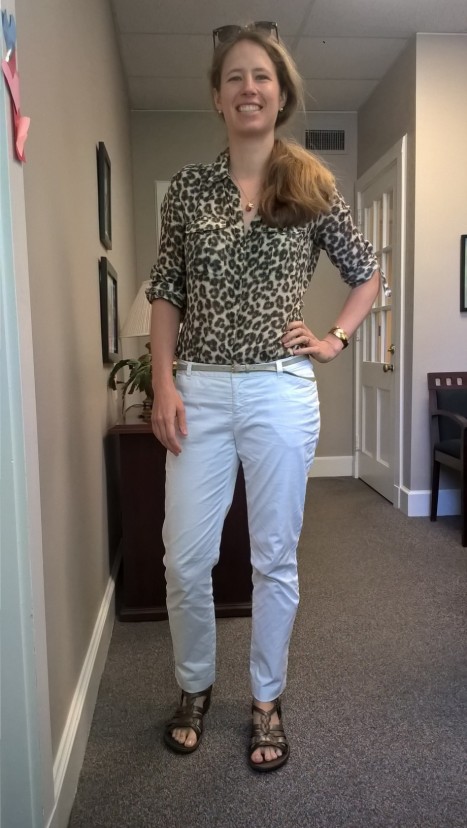 Leopard print blouse: Banana Republic Heritage, thrifted
Pants: Banana Republic, thrifted
Belt: J. Crew, thrifted
Cuff bracelet: Monet, thrifted
Sandals: Clarks, retail
Necklace: heirloom (the dove is by James Avery)
Sunglasses: Ray-Ban, Costco (post on these coming soon)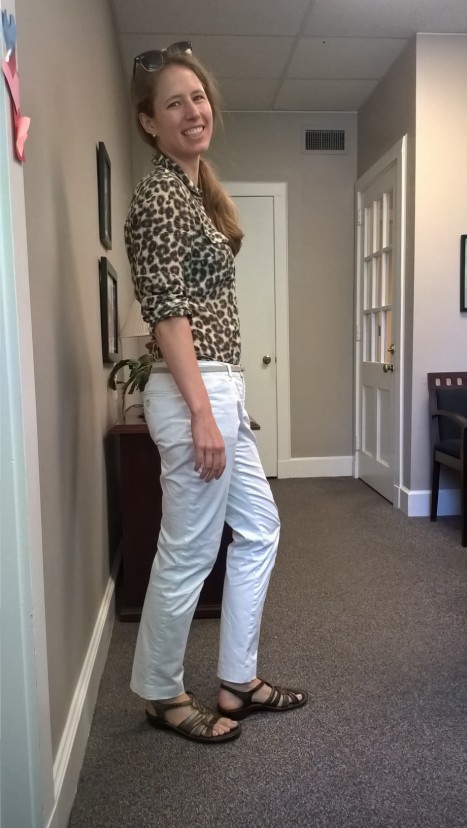 Styling: I paired bright white with more muted leopard to tone this whole thing down a bit – we're not talking beachfront BBQs just yet. For a footwear alternative, this outfit would have been great with my champagne Trotters flats, but I still haven't doctored them up yet and I wanted to show off my toes (hard to see but they're painted a surprisingly lovely, warm shade of beige). Rolled up sleeves, of course – and a bracelet to showcase the resulting forearm. Clubmasters to top it all off, because it's sunny out and the colors go great with the leopard. (And yes, I am one of those annoying people who uses sunglasses as a headband.  At least they're not my beach-scavenged purple and yellow wayfarers!)
Thoughts: this outfit is a total win for me. The subtle leopard print brings some funk while the lines are clean and classic. It's summery chic, with a definite nod to the Inès de la Fressange-inspired side of my style.
Are you wearing straight-up summer clothes (for your neck of the woods) yet?  Southern hemisphereans, are you in your cold-weather duds yet?  Scroll down to share.