We're still in hot temps here but I know many of you have already started the slide into fall weather so I'm going to post some of what I *think* will work as my core/fringe items to get those autumnal juices flowing.  This is not an exhaustive or restrictive list but covers most of what I plan on wearing.
As you may remember, I've been restyling my cold weather wardrobe as I try to figure out some styles I love that keep me warm. I've been doing it during the summer to give me time to think about additions and go slowly without the pressure of chilly temps right around the corner – but this also means I haven't been able to wear any of the clothes together yet! So consider this most definitely a first draft.
(Also, the cords below are currently at the tailor to be transformed into actual slim pants instead of boot cuts, so you'll just have to use your imagination.)
Enjoy!
Mixing my core/fringe model with a dual-silhouette idea borrowed from Un-Fancy, I'll do two core silhouettes – my go-to silhouettes that most of the clothes in my cold weather closet can participate in – and a fringe silhouette – the one I use occasionally to mix things up a little and that's made up of some pieces that don't mix and match as well with the core silhouettes.
Here's my first core silhouette, continued from summer into fall: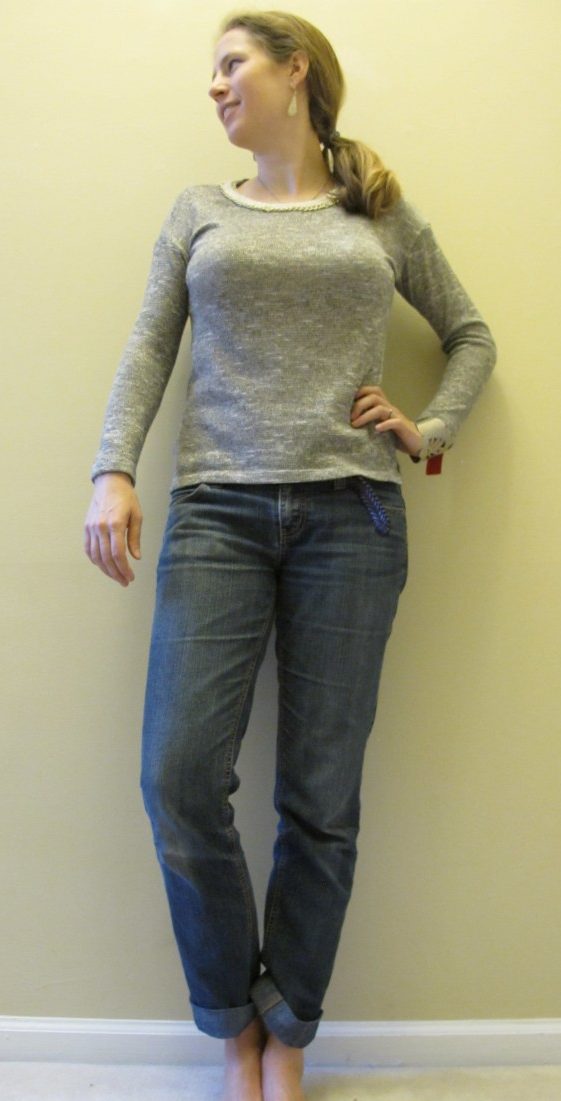 Torso-skimming top over slim pants.  This silhouette will cover a variety of temperatures with some lightweight tops, some toppers (cardignas, blazers, ruanas, etc.) over lightweight tops, and finally proper sweaters (with shell underneath for really chilly days).  Please ignore the tag on the top – recently thrifted and not yet worn! – and imagine the pants a little slimmer in general.  All my slim trousers were at the tailor.
Second core silhouette: sheath/sweater dress over leggings and long sleeves (as needed)
Two more dresses I'll be wearing in this manner: here and here
Merona – Land's End – Merona – Jacqueline Ferrar – George – all thrifted
Here's my fringe silhouette, moving from the starting list last winter to more of a relief pitcher this year: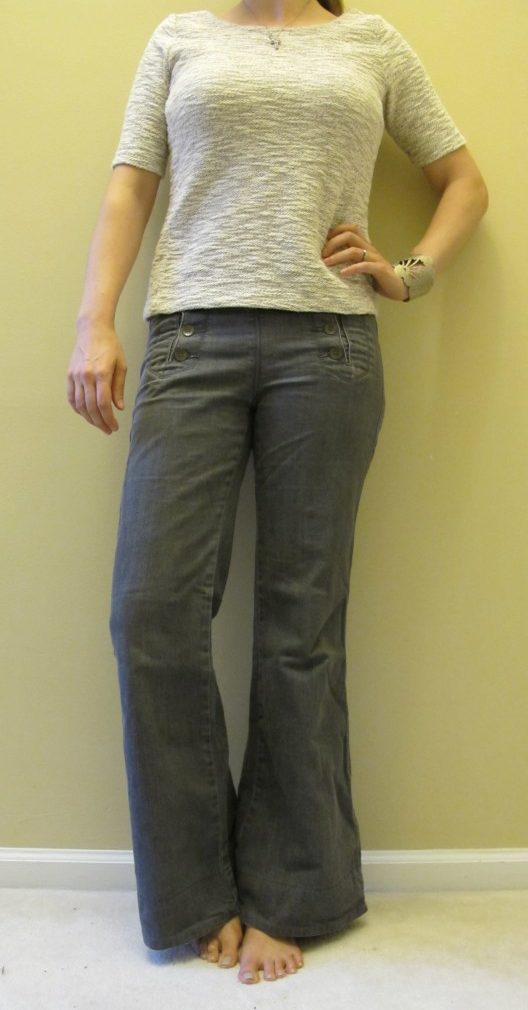 Fitted top over flares
I like the chic, long lines of this silhouette, but I got a little tired of it last year, so it'll make some appearances this year but not take top billing.  Now I'm mixing metaphors…
And here are the items that will fit into each silhouette:
Skim over slim – lightweight tops
Japna – Madewell – Meadow Rue – Merona – Ambiance Apparel – Piazza Sempione – White Stag – Coldwater Creek –  Pull and Bear (detail of sweater worn in silhouette photo above) –  all thrifted
Liz Clairborne – Gap new with tags – Forever 21 – Mossimo – French Connection – Liz Claiborne – Loft (the back is more interesting) – all thrifted
Skim over slim – toppers
Old Navy – Loft – Haberdashery by Personal – Merona – Cartonnier – all thrifted
Uniqlo – Ralph Lauren new with tags (to be tailored to slim fit) – Banana Republic (to be tailored to slim fit) – Chico's – F21 – all thrifted
Fit over flare – tops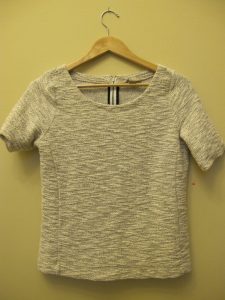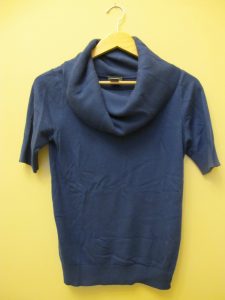 Banana Republic (featured in silhouette photo above – Express – both thrifted
Fit over flare – bottoms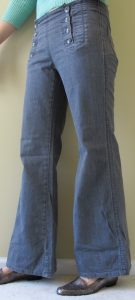 Old Navy – thrifted
Outerwear
Just one coat, because it makes me just that happy: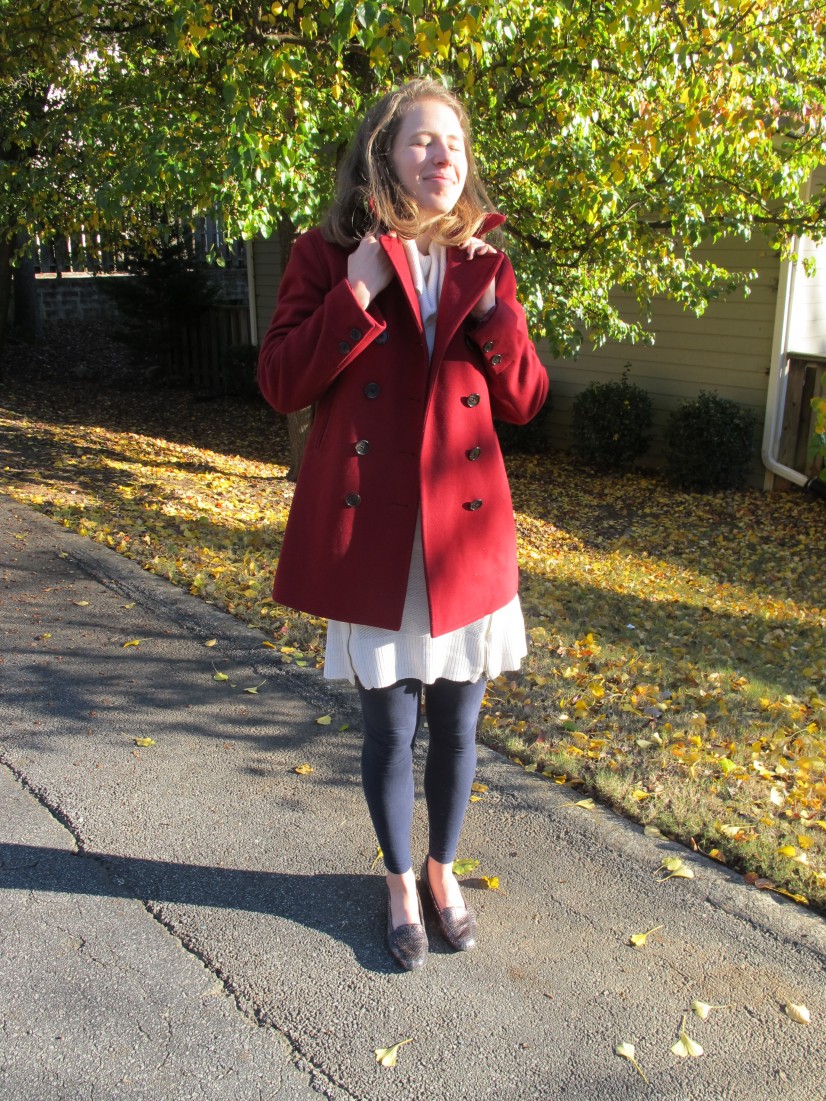 J. Crew – thrifted
This feels like a lot, but not counting leggings, shells, or outwear, it's 35 pieces – right about at the sweet spot for typical mix-and-match capsule wardrobes (although I do have a few more things on my thrift list that might either grow this list or elbow some of these items out of the way!).  I'll keep you updated on what works, what doesn't, what gets worn and what sits at the back of the closet or drawer.
What's in your capsule or edited wardrobe this fall/winter?  Scroll down to comment!
Happy fall!