So, these past two months were fruitful at the thrift store.  In fact they were so fruitful that you'd be forgiven for thinking I no longer have an "edited"/"minimalist" closet.  But – surprise! – I also gave away a fair number of things and am still at my self-defined acceptable number of hangers….except for two areas: blazers and pants.
For blazers, I've been looking to cross a "statement" blazer off my list, and in exchange for the two I'm trying out…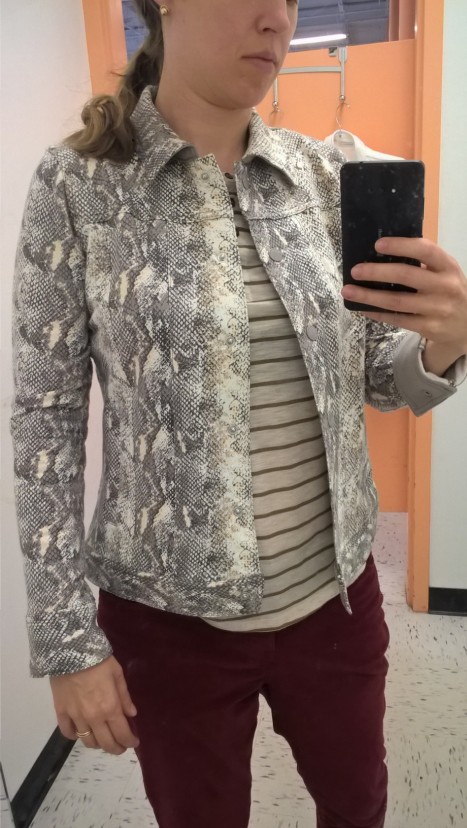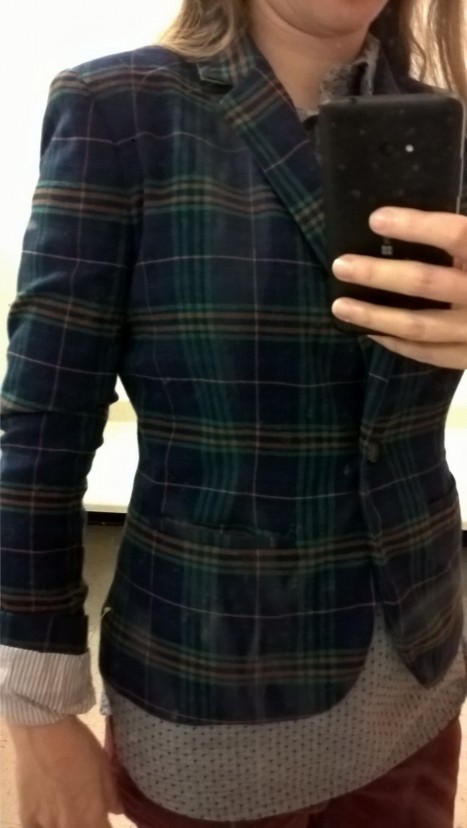 Snakeskin by Isaac Mizrahi Live!; Plaid by Merona
…I may give up my camel blazer.  It goes with everything but in a way that involves a large swath of what is basically untextured tan – blah.  (And we know how I feel about the necessity of texture or at the very least visual interest.) I do love the contrast lining on the camel blazer but that's about the only interesting detail on this sucker.  And and, I think the plaid being a size smaller is a better fit than the camel. So I'm sitting on it but it'll probably get donated and free up some space by the end of the month. <– already in the donation bag
Speaking of texture, my pants drawer is noticeably more full than last time I showed it off (left), and I blame corduroy: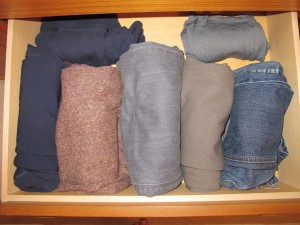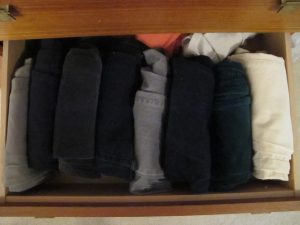 The photo on the right doesn't even include the wine cords below which are at the tailor's. Sheesh.
These two in particular are culprits, having joined the ranks this past month: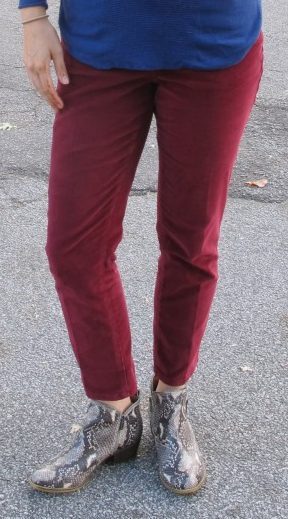 Wine-colored cords by Style & Co.; "Scotch pine" cords by Jessica Simpson
Also joining in the pants department: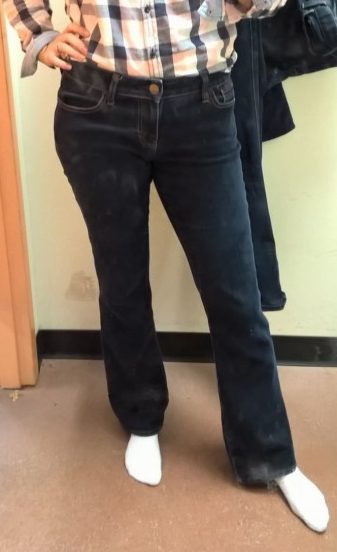 Banana Republic jeans – more on them next week.  Flares, I know!
Here's a luscious two-texture Joan Vass Studio sweater I wrote more about here and here: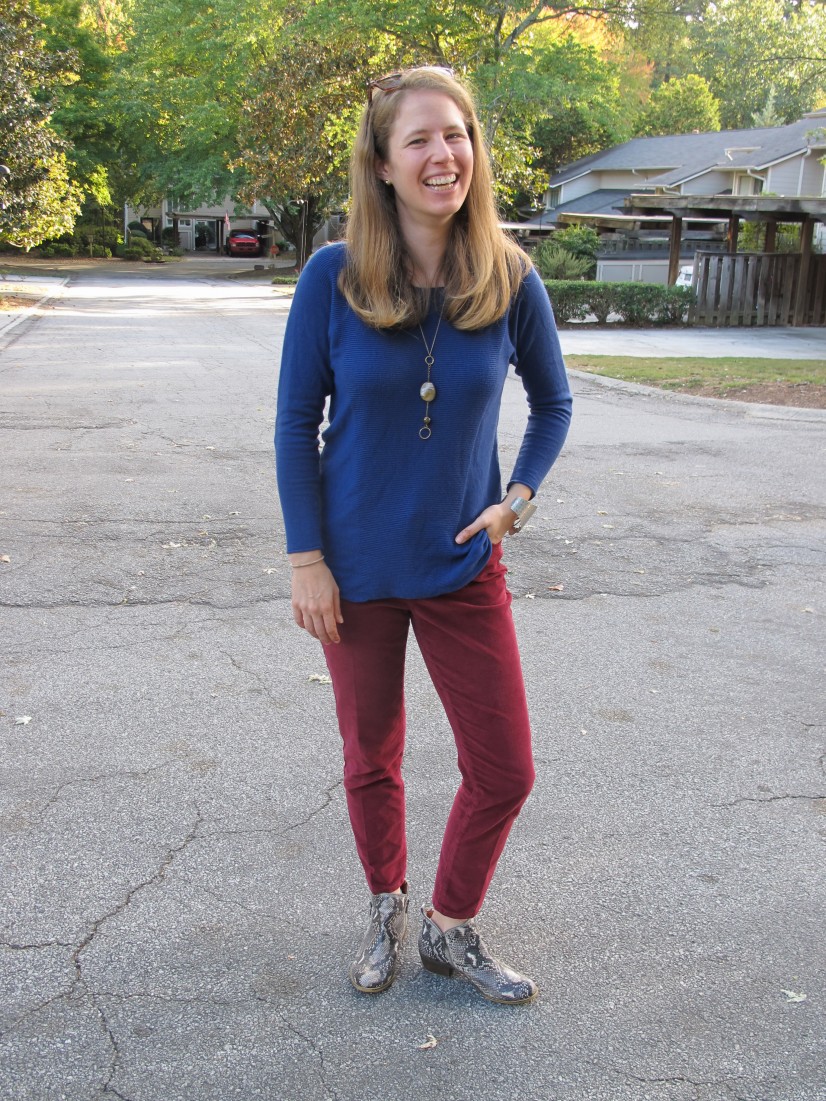 Still loving this and wearing it regularly.
And new (to me) Pumas!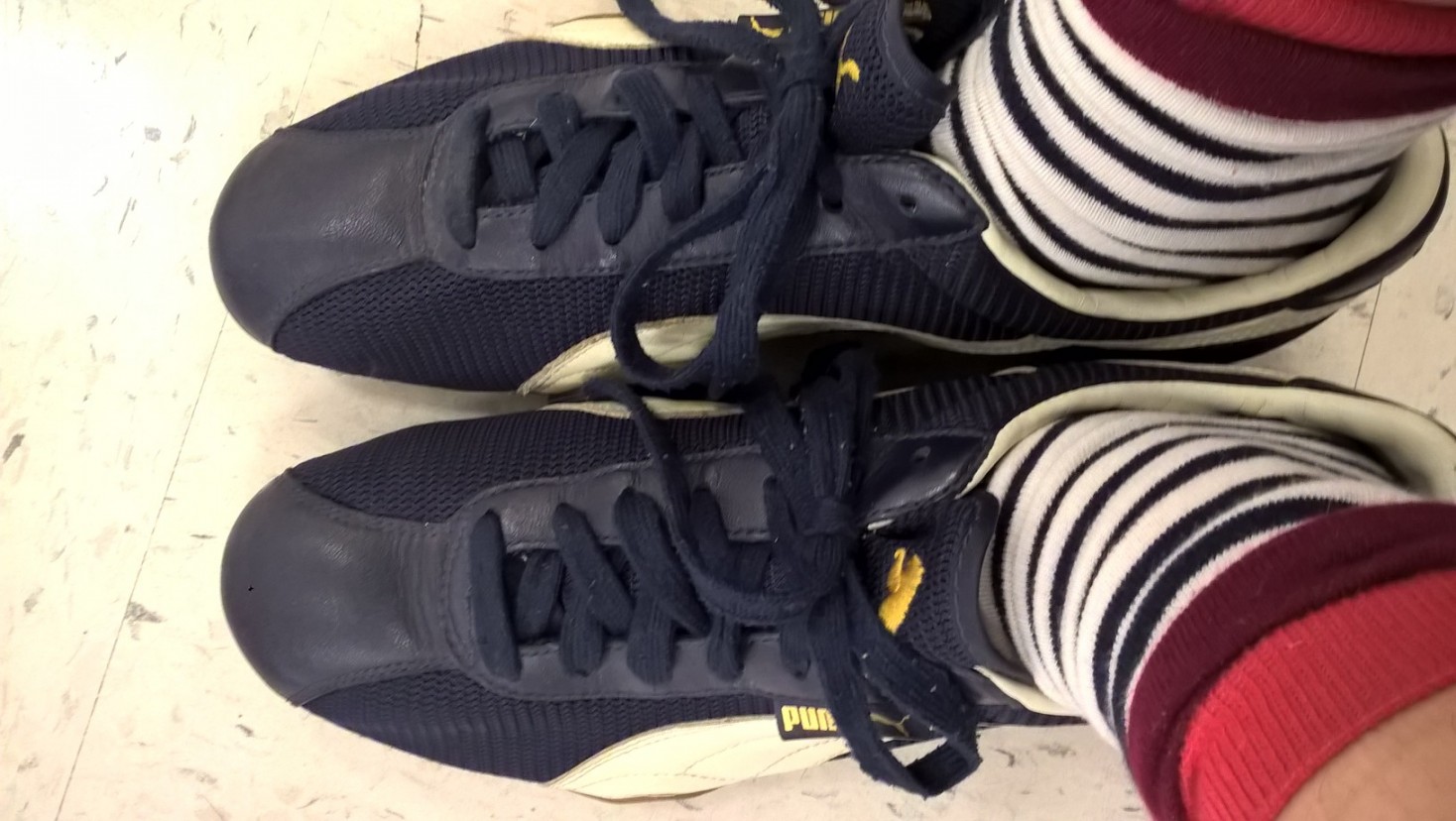 Also more on them later this week.
And although I just pooh-poohed camel earlier in this post, I did pick up a camel skirt I'd been looking for. I don't think it made it to a thrift list but it's been in the back of my mind ever since I got rid of this one – quick recap, I knew I wouldn't be excited to wear the winter-weight skirt I donated, but I can definitely rock this cotton-based one in fall/spring/summer:
Looking forward to pairing it with button downs and popovers and maybe even a turtleneck or two! Wild.
And throwing it back to a thrift list hole from spring (which was unsatisfactorily filled by this silk first attempt), a blue sheath dress by Ann Taylor: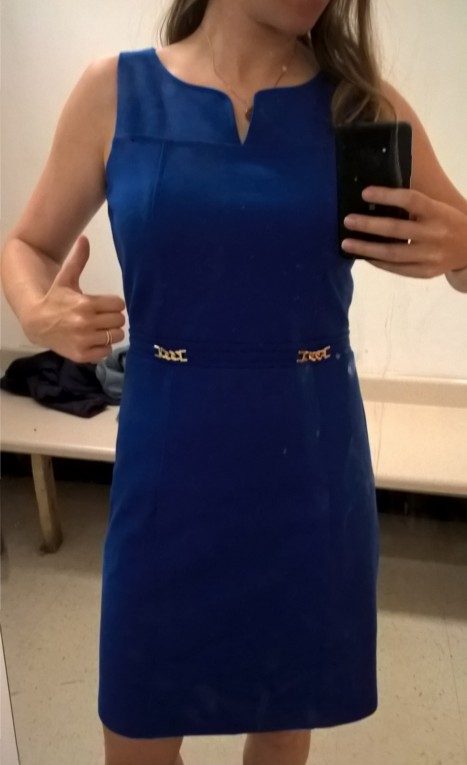 Isn't it lovely? I dig the color and I LOVE the neck; the neckline and the little chain detail at the waist bring some interest without making it overly showy.  It also fits like a glove and is the perfect length.  Can't wait to wear it (this fall mayyyyybe? If not, definitely spring) and give you better pictures.
In the same outing I found this Virgina Hill shirt dress – after a long drought, apparently it was raining blue dresses: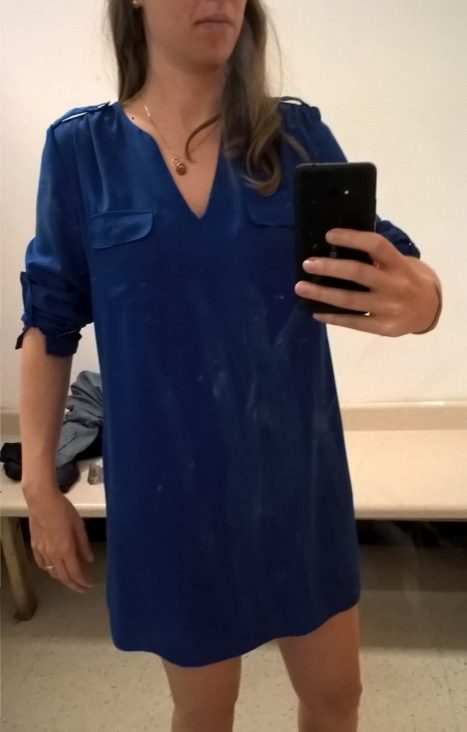 Excited about the shirt dress nature of it – it's basically a dress version of the blouse silhouette I dig.  I also love the gorgeous color and the 3/4 length sleeves (my fave).  The length is a little short for my work/church wardrobe. Since I don't often wear dresses casually and work/church is 85% of my wardrobe, though, I'm going to have to find a way to wear it regularly – maybe with leggings or maybe out on dates. Thoughts?
And last but not least, by Chico's – another spring/summer find, inspired by this top I pinned from A Pair and a Spare: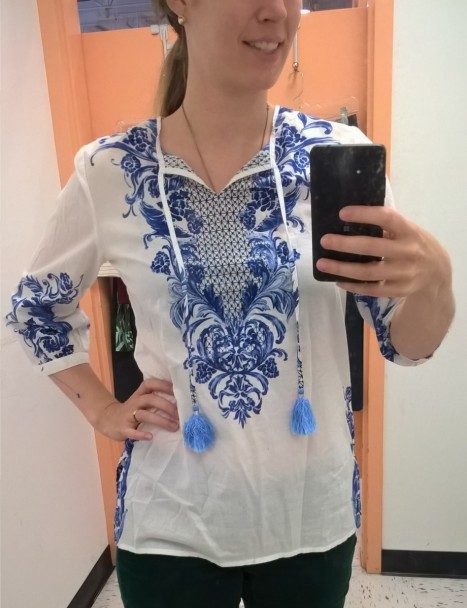 It's a popover tunic (my fave!) and has a gorgeous Delft color palette going on.  Now I just have to be patient for several months (or some surprise tropical vacation?) until it's time to wear it.
And now, the rejects!
Mulberry stretch skirt by femme with a cute back zipper detail – love the stretch but it was too tight.
Textured blazer by… Liz Claiborne I think? Love the texture in there but you can see how big the arms were on me by the funky little pooch on the upper left arm – excess fabric is the culprit:
Faded Glory 3/4 sleeve striped Henley – loved the colors, the length, and the sleeve, but the buttons made it too casual for my work wardrobe and the pilling made it too lo-fi for my wardrobe, period.  What it taught me, though, was that some tan/gold-ish stripes on cream would work well with the cords-and-blazers look I'm reveling in this fall: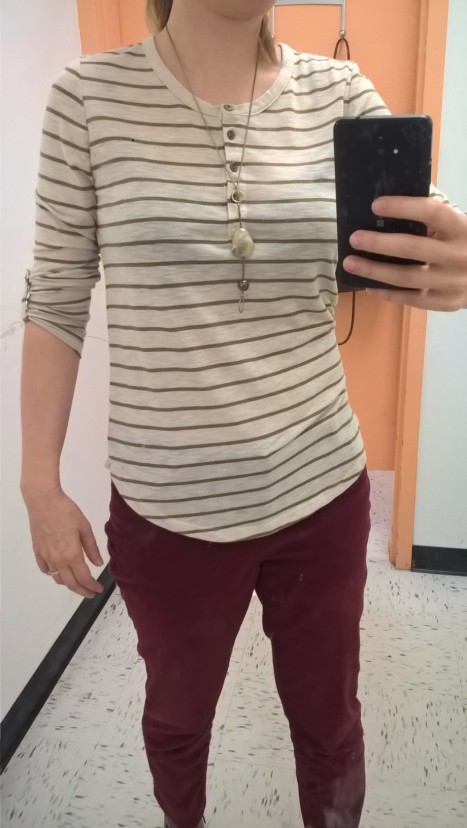 Oh ps it's kinda sheer.  Or you just shouldn't try on your shirts with a darker bra than you plan to wear it with in real life.
This was an attempt to carry the cream/tan stripe thing into another shirt, but this shirt – I can't remember the brand – is definitely too small: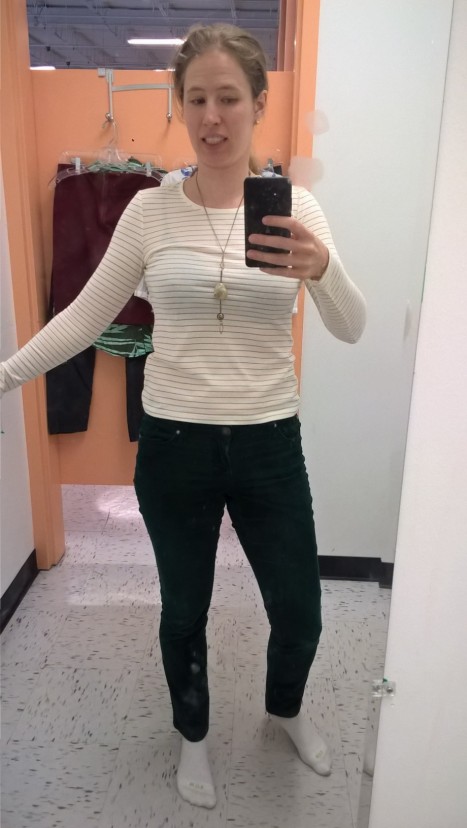 I love the short hem and gold buttons on this acrylic number from the 80s – it's very Golden Girls, and would go great over dresses (as modeled below). Aren't those pockets sassy?  But it had a stain and was too big for me in the shoulders, so back on the rack it goes to be picked up by some deserving bridge-playing lady who needs it for a luncheon out and has better stain-lifting powers than I:

I loved this top by Pleione (a new-to-me, mid-range Nordstrom brand).  It's a neutral take on leopard, has an unusual pleat in the middle that gives it good drape and a little swing, and an open collar.  It was too big for me and the drape is not my style, but I think it'd be perfect for Anna from The Anna Edit (basically this plus this):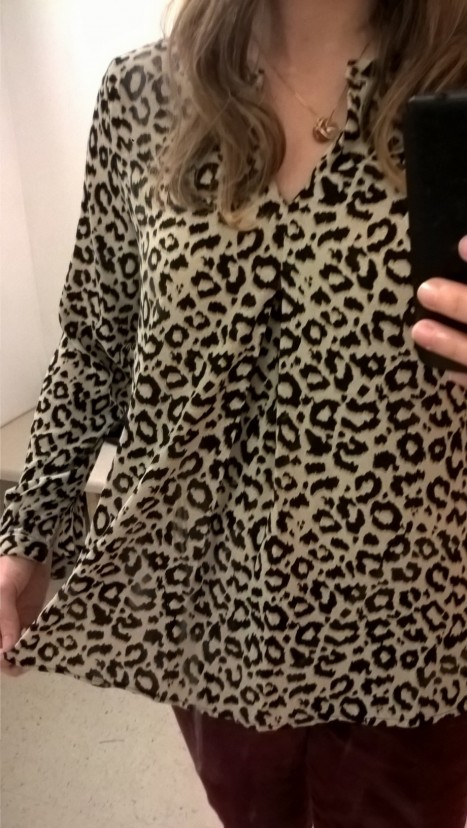 Showing off the pleat; a straight-hanging view is on my Instagram.
Loved the print on this shirt dress, but body-hugging much??  I think I could make it work if my style was a loooot sexier: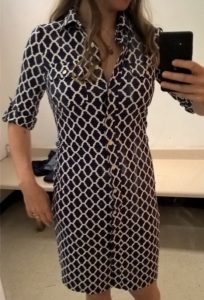 Loved the diagonal seam on the front of this sweater by Quinn, and the color – but it was sheer and didn't seem to be high quality, so nope: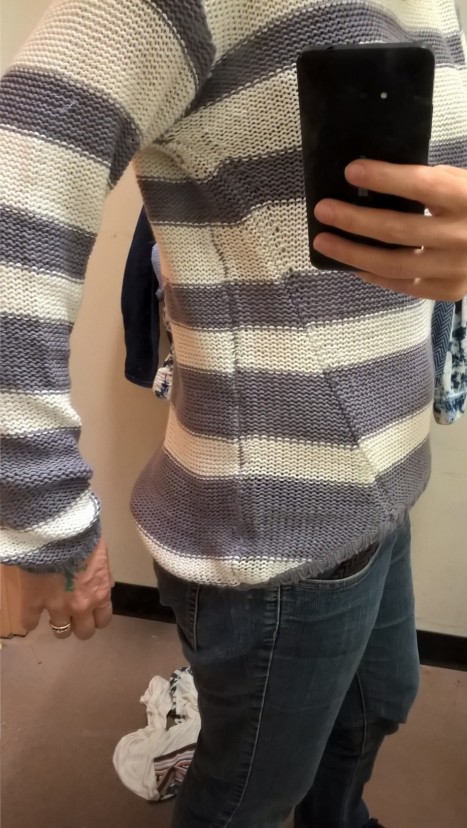 I loved the color on this and the interesting pattern, plus the split t-shirt hem is a great detail.  But it was getting a little close to a tribal motif, it hit me funny in the mid-section (pic on left) and was too tight in the chest (pic on right):
This great popover tunic by Tiny was, in fact, tiny.  Love the colors, the length, and the pattern (possibly also tribal? I feel like this is a minefield since you don't know what's problematic until you know it is) but I am literally holding the top closed over by bosom: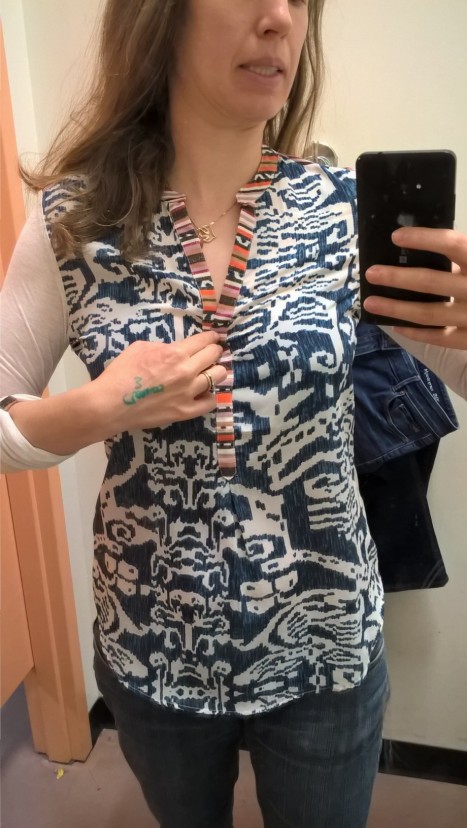 My favorite kind of business shirt – popover tunic, with great buttons, color detail, and 3/4 length sleeves! – by Express, I think? (Y'all, I'm bad at getting brands on items I'm trying on!) But it was too tight in the midriff as you can tell from the telltale navel dimple shadow just below the placket – like a donut: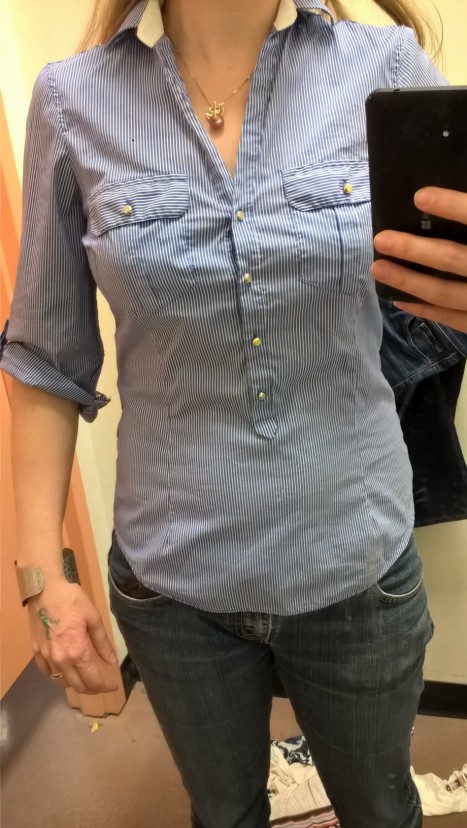 That's it for this roundup.  What have you thrifted/skipped lately?  Scroll down to comment!