The universe is laughing at me right now.
You'll probably recall my musings a few weeks ago about cerulean chinos – how they would make a perfect pop in my wardrobe and how I want to replace my navy pants with something brighter and less fussy for summer.
I was committed to wait it out on this one – I knew if I looked long enough and diligently enough I'd find something I loved.  After all, thrifting is a long game, and the long game ain't failed me yet.
But then, I read a post about someone else's experience with ThredUp (more on that tomorrow) and a lightswitch flipped. If I knew exactly what I wanted, and I want to wear it this season, not in 5 months when I finally find the perfect pair at a brick and mortar thrift store, why wouldn't I hop online and see if I could secondhand me some cerulean chinos RIGHT NOW?
So I did.
I got on ThredUp (you have to create an account to browse – boo – but at least it's free), searched for "cerulean chinos" (no dice), then "blue chinos," then "Gap blue chinos" since I loved the ones just a size too small I had spotted at the Goodwill, and filtered for my size.
And this is what I found: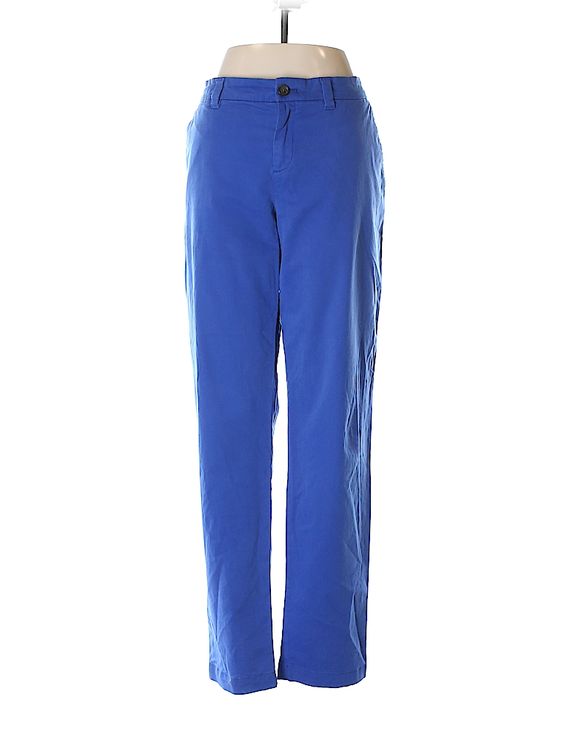 Price was $12 and change, plus shipping (about $6).
(Pro tip: Google "ThredUp coupon" and find yourself some free shipping or % discount.  I found a 40% off coupon for first time buyers which basically nixed the shipping price.)
At my local Goodwill I would pay less than this for pants, but I would also take longer to find just the right pair – so I figured I was paying for the ability to wear it all summer long, which was just fine with me.  Also, there are free returns within a certain time period, so I wouldn't be out any money at all if I didn't love them (not true at Ye Olde Thrifte Shoppe).
I got an email when it shipped and (after a holiday weekend) it arrived 6 days later.
This is the lovely packaging (I'd be willing to pay less to skip the cute sticker, the little booklet, the postcard inside, etc. etc.):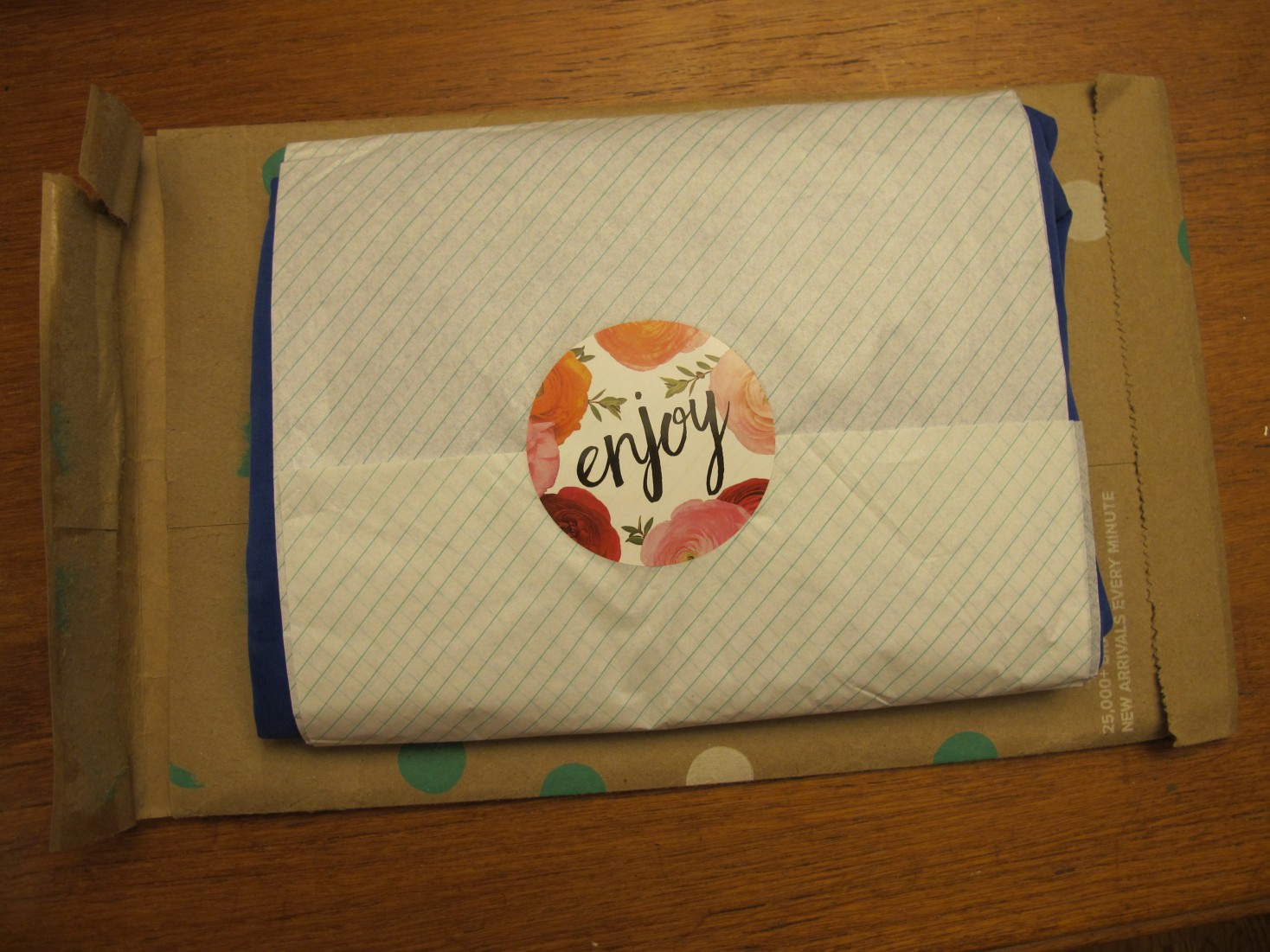 And how they look on: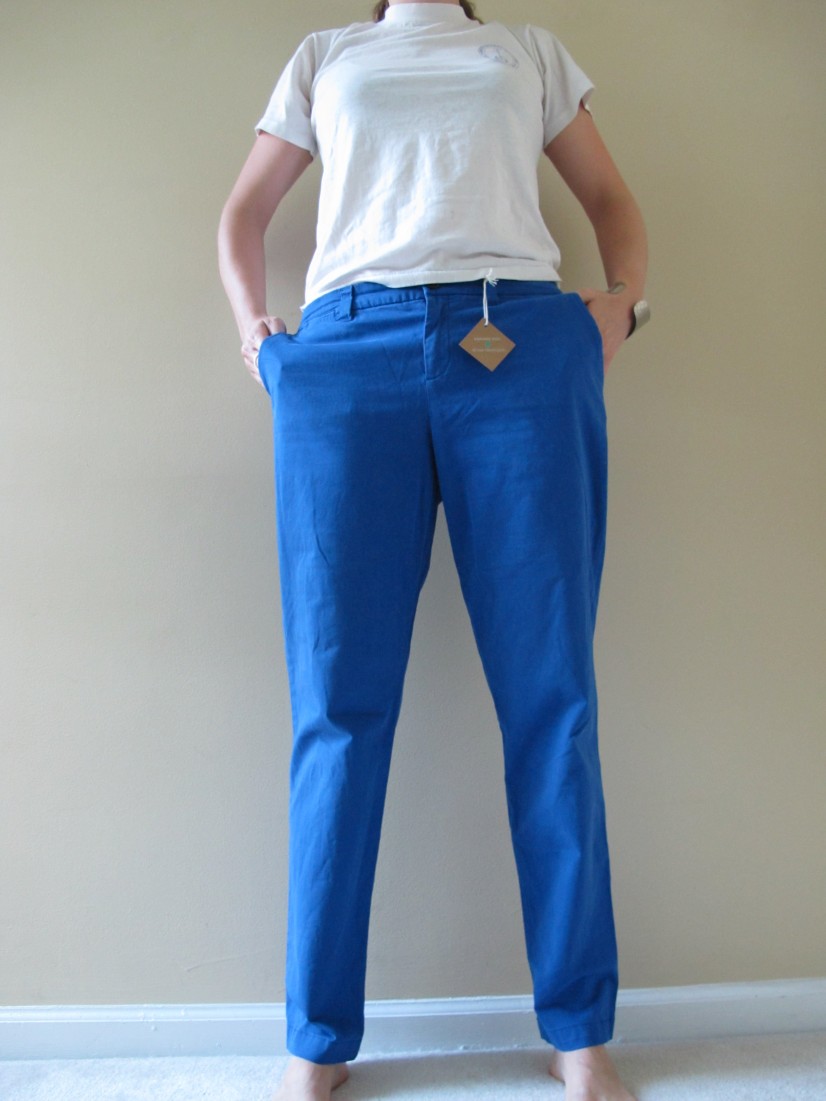 Verdict: Too big, even though the next size down is too small (different season/style?  Label is the same on the inside of the pants….).  I was pretty disappointed, not gonna lie.
Then I went thrifting this weekend and found the exact, perfect-fitting, pants I was looking for by Loft for half the price of the ThredUp pants.  If only I'd had the perspective to play that long game a little longer…

They need to be hemmed but that's easy peasy.
Thankfully ThredUp has free returns, but if you want your money returned, you have to pay a $9 processing fee.  If you want your money credited to use later on ThredUp, no fee – so for now, I have $12 floating around ThredUp waiting to be used, but of course I'll have to pay shipping for whatever item I cash that in on.
(I heard you can set an alert for when new items fitting your search filter are posted, but I haven't figured out how to do that.  Anyone out there know?)
I probably won't shop secondhand online regularly because of the price, the possibility of a dodgy fit even when I know the brand (see above), and my laziness about returning things. Plus, online shopping just isn't as fun for me as in-person shopping.
But maybe for you, online secondhand is the answer to your time-tight, live-nowhere-near-thrift-stores, or hate-fitting-rooms lifestyle – and you're in love!  Maybe your only problem is that it's SO easy/fun that you have to be careful not to drop a (relative) fortune.
Have you tried ThredUp, Schoola, or other sites geared specifically to the secondhand clothing shopping experience?  (Or Ebay's great filtering system to help you sort through their zillions of clothing listings?) Scroll down to share!