Ahhh, two of my favorite places: downtown Chicago and the Michigan dunes.
Last week we took time out to visit family and celebrate our anniversary, and although we had access to laundry (thanks Mom & Dad!), I wanted to pack light and bring versatile pieces that could do double duty for sightseeing in the city and the beach.  I also wanted things that could layer since the weather was about to take a dip into cooler temps – real fall!  (Although sadly the trees were all still green because that part of the Midwest has had such a warm late summer/early autumn.)
On the plane I wore my old standby (pun intended?) travel shirt (also featured here and here):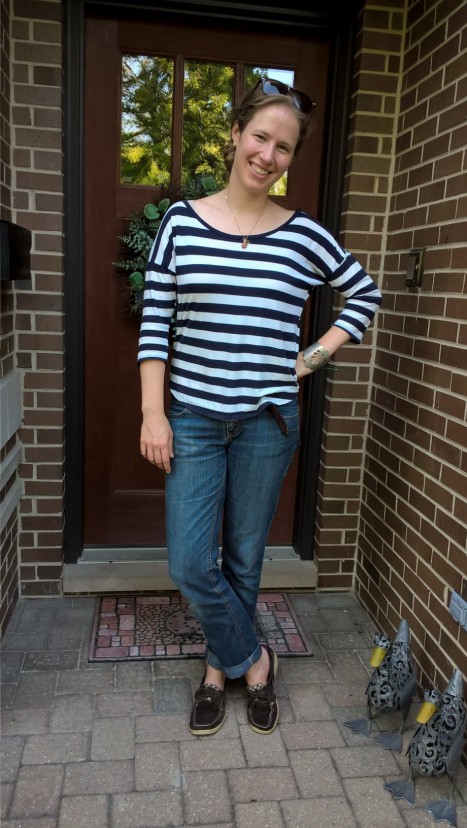 Then into the bag went two long sleeved plaid shirts, a pair of jeans, a pair of cutoffs, a blazer, and my trusty boat shoes:
Plaid one (Ambiance Apparel); cutoffs (Gap); boat shoes (Sperry Topsiders) – all thrifted.  
"Glamping" hair; Plaid two (Japna); camel blazer (Merona); jeans (F21); leather bag (Nine West); same shoes – all thrifted
We stayed at Lakeside Cabins Resort in Three Oaks, MI, which I would highly recommend for a family-friendly and/or relaxed getaway.  The handsome log cabins were built like tiny houses inside and were perfect for our family of three – you could easily do more though with two upstairs mini sleeping lofts.  We had a closed-in porch and a firepit on site, plus a playground, small lake with a mini beach, all of which we availed ourselves of heavily, and kayaks/outdoor games/heated pool (which we did not get around to using in our 48-hour stay).  They were a short drive from Lake Michigan and pretty sparsely populated in the off season (not sure how crowded they get in summer), with a price that beat local Air BnBs by $20+ and local BnBs by $50-100.  (Alas, they did not sponsor this post, but that means you can be sure you got an honest opinion!)
The glorious (and super wavy, windy) Lake Michigan at Warren Dunes State Park, scene of uncounted childhood memories: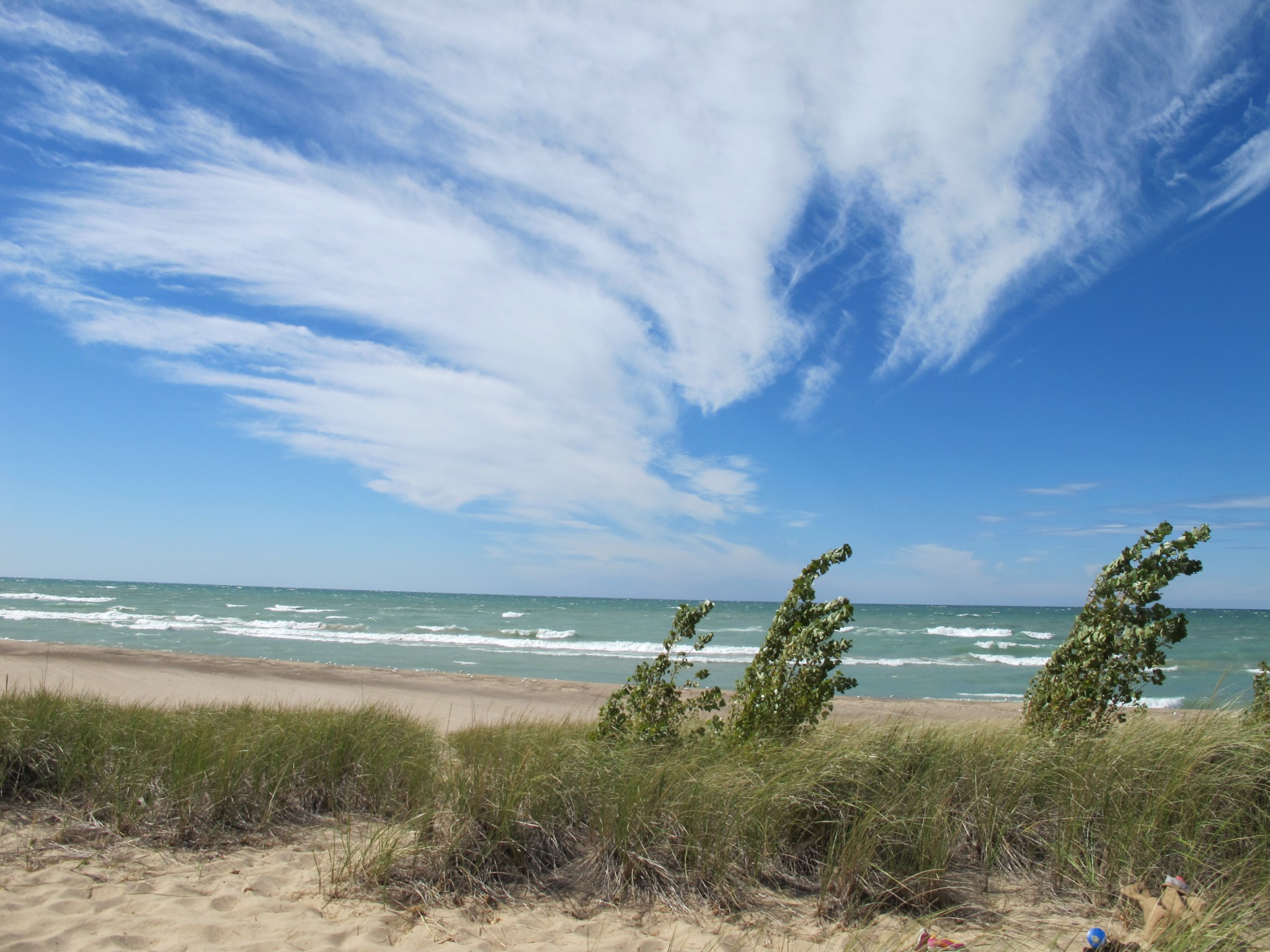 My gnarly old boat shoes were perfect for trekking around in sand and popping off to stick my toes in the chilly water – none the worse for wear and easy to shake out the sand:
Just for fun, wild turkeys on our walk back from the beach – people say these critters are quite dim bulbs but I'd say they look pretty smart to me, chowing down at a ready-made buffet meant for other birds:
Then back to Chitown where we attempted to take our toddler sightseeing.  Note to self: it's going to be a few years before the fun-to-foot-dragging ratio of schlepping a kid around downtown is high enough to be worth it.  Basically we only made it to the Bean and to the edge of Maggie Daley park (not even in it!) before having to turn right around and head back to the train station.  (FYI That promenade between the Bean and the lakefront parks is gorgeous but deceptively LONG with a small person in tow.)
We also missed the Art Institute Lions due to toddler misbehavior. And Buckingham Fountain? Forget it.  Per the Spouse: "I wondered why we hadn't done this before… now I know."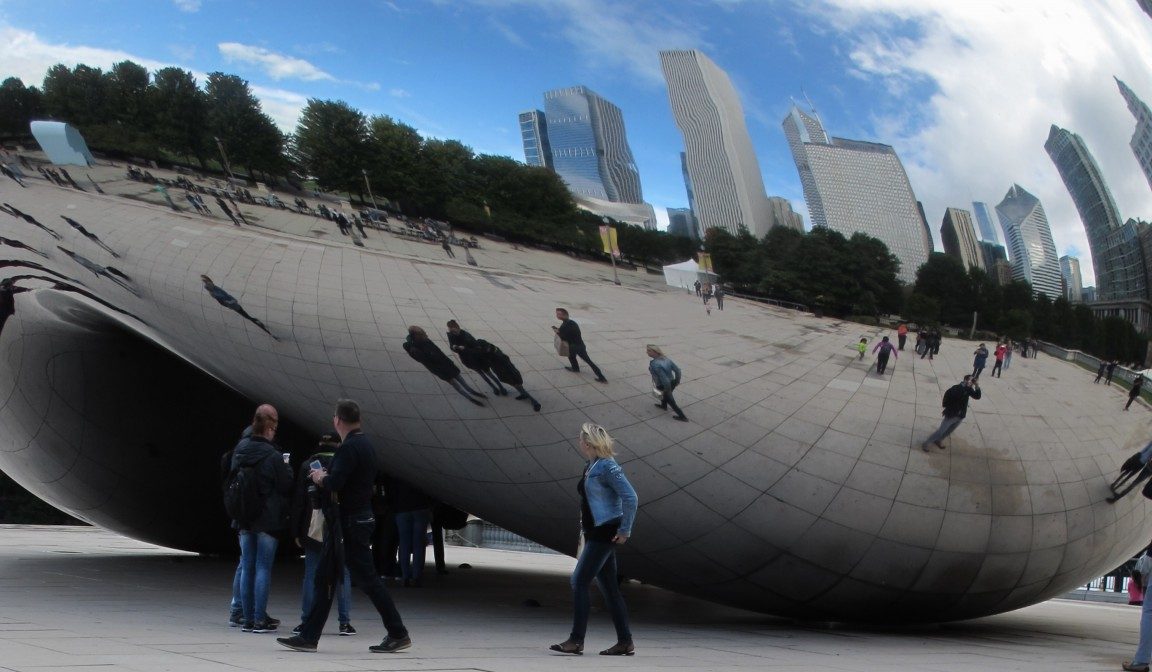 As you can tell, the exact same outfit that worked for beachcombing worked for Cloudgating and taking the El over to a friend's office for lunch: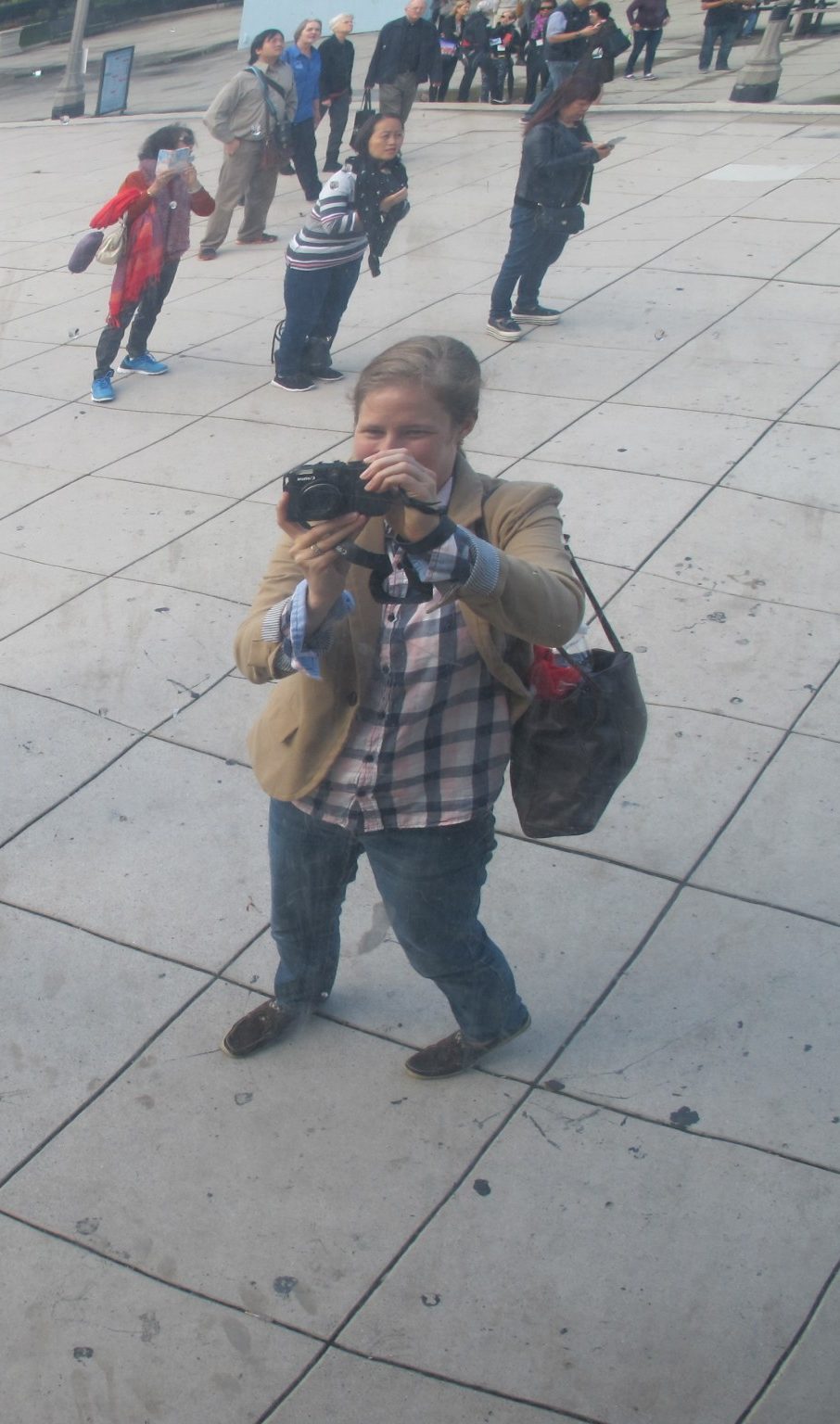 The following outfit was also included and worn for church, lunch with highschool girlfriends, and an anniversary date with the Spouse – all of which I was enjoying too much to photograph my outfit anew.  I was a little unsure that it'd be worth it to take a second blazer, but I'm so much in love with the look that I did it anyway (you ever run into that temptation?) and just made sure I found reasons to wear it.
Blouse (Loft); cigarette pants (Vince Camuto); blazer (Cartonnier) – all thrifted
I also packed a swimsuit and workout gear that were never used (too chilly to swim and we walked a lot but no running), plus one other top by Lucky Brand (below) that was worn with the above jeans but never photographed in situ.  I like to think that the same laziness ability to be present that makes me a bad Instagrammer/wardrobe documenter makes me a good vacationer.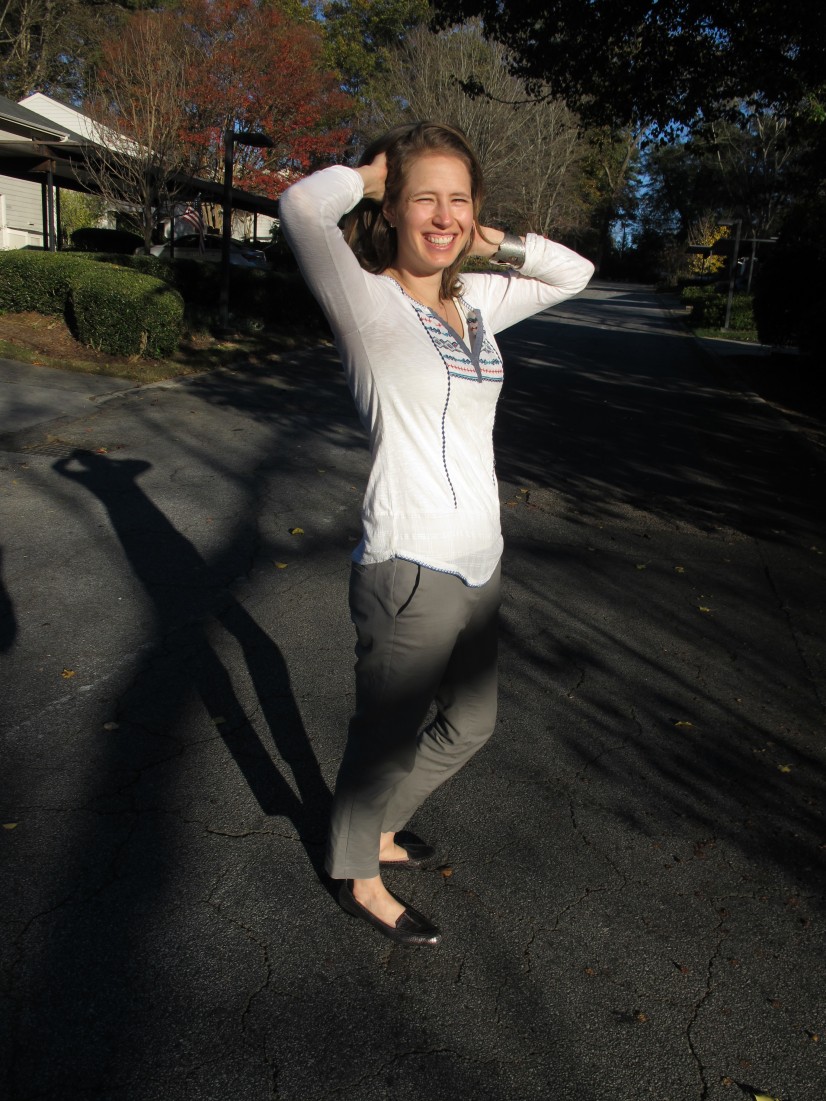 (Those pants, though not what I wore with this top IRL, are the same ones I wore to church/lunch/dinner.)
That's it, for a week-long trip with laundry in the middle and two very different locales.  I wish I'd brought a sweatshirt for the one night that was really chilly, but a blanket by the firepit did the job just as well without taking up excess room in my carry-on suitcase.
Anyone ever been up to the Michiana dunes?  Are they not heavenly?  Any thoughts on when toddlers become agreeable sightseers?  Any tips for navigating downtown Chicago with a 2-year-old?  Any other turkey lovers out there?  Scroll down to comment!