A few weekends ago we packed up and drove the 3 and a half hours to meet friends in Asheville, North Carolina for a mini break.  What follows is what I packed (and what my kid packed), what I wore, and what we did, including a thrift visit (sadly only one; I saw at least two more but we didn't make it to them.  Next time, Asheville!).
If that sounds like a lot to cover, it is!  Buckle up, folks, this is a long one (but there are photos to help you make it through!).We had more room to pack than on previous trips (here, here, and here) since we were driving, not flying – although a lot of that extra room filled up with snacks, drinks, and other foodstuffs because we were Air BnBin' it and planned to do breakfast and dinner at the house.  But I still wanted to keep things trimmed down, because I hate lugging a bunch of luggage around.
Our toddler is old enough to be responsible for her own bag (meaning it's her job to carry it to/from house/car); this is what went in her mini-backpack: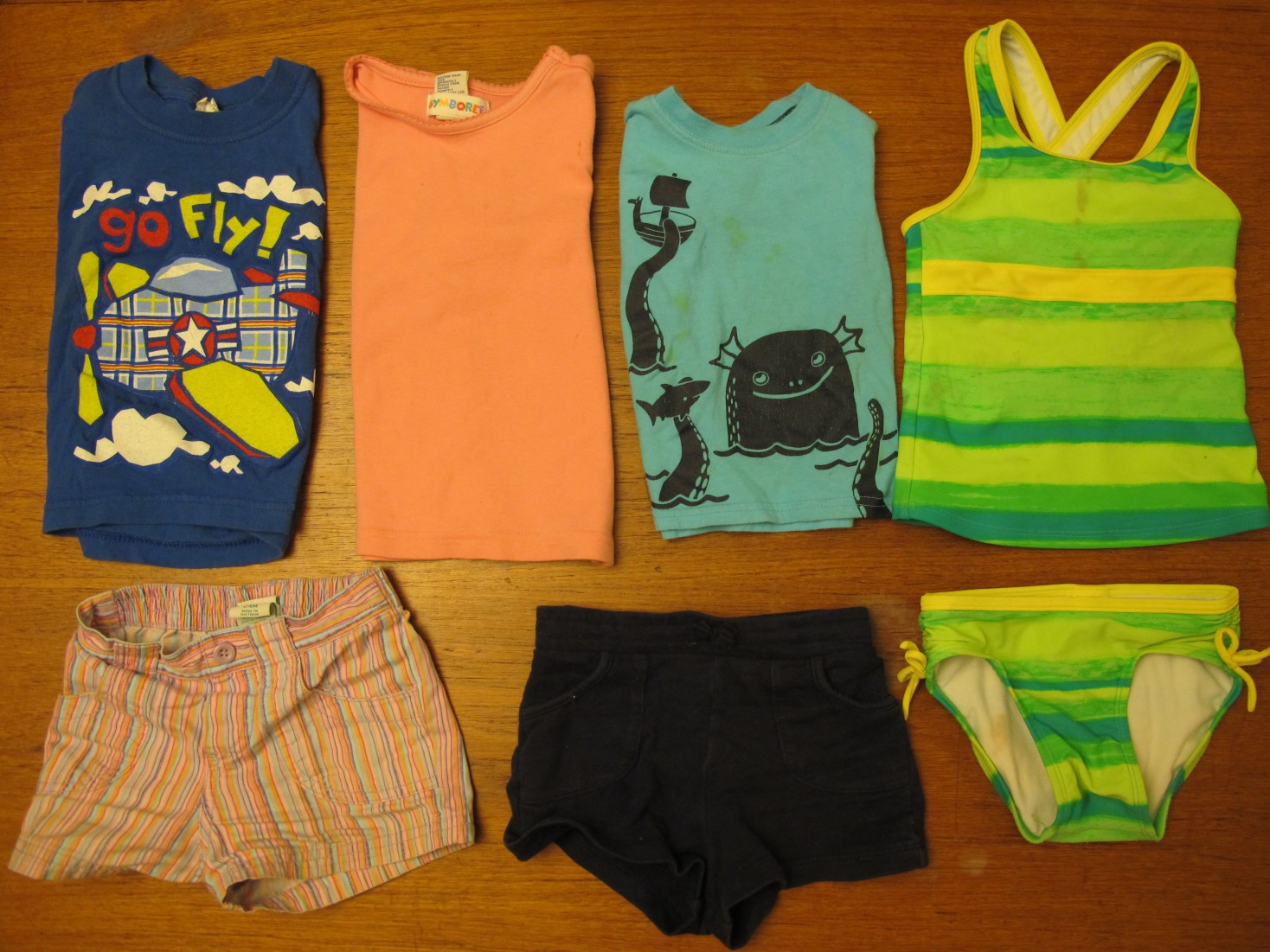 Hmm, a few chocolate ice cream stains on that swimsuit, and who knows what on the sea monster…
She wore all of it in different combinations.
Go Fly! shirt – gift from auntie
Pink shirt – Gymboree, thrifted
Sea monster shirt – gift from auntie
Swimsuit – L.L. Bean, thrifted
Stripey shorts – Circo, thrifted
Navy shorts – Circo (I think), thrifted
I am also responsible for my own bag (the same used in past trips).  I started off by referring back to the easy three-step packing strategy from this post:
-length of trip? 2.5 days
-weather/activities at destination? August in the mountains = 10 degrees cooler than Atlanta, but still hot.  On the agenda: hiking, swimming, walking around downtown.
-laundry facilities check!
Given those parameters, and that Asheville is the epitome of casual funk (it's hipster/hippie heaven), I thought about doing all easy one-pieces (a la this travel wardrobe).
But when it came down to it, I was jonesing for some shorts/top combos – they are too casual for work and don't get enough rotation on the weekends (romper, I blame you).  Plus I'd just snagged this top at the thrift store and couldn't wait to wear it (a sign that I made a good choice).
Here are my outfits:
Day 1: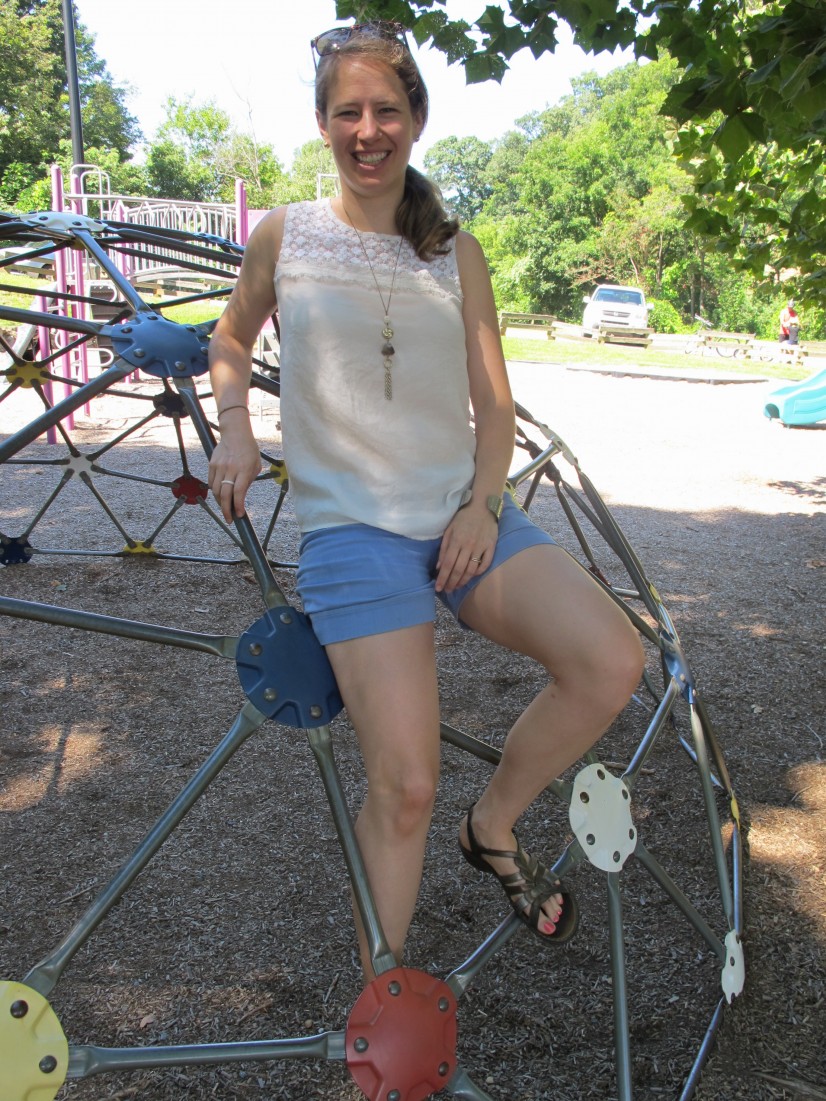 The eagle-eyed among you will know I took family pictures in this outfit last year.  If it ain't broke, don't fix it.  Oh and I also traveled in these shorts plus this top – even in summer, longer-sleeved shirts work for AC-cooled cars and rest stops.  (PS Apparently both those photos were taken before I learned to use the focus button on my phone….sorry friends.)
Top: Loft, thrifted
Shorts: Bill Blass, thrifted
Sandals – Clarks, birthday present
Necklace – DIY from thrifted parts

Day 2:
I only loitered for a second, promise.
Gold lame crepe top: Zara, thrifted
Red shorts: Bebe, thrifted
Necklace: vintage, my grandma's
Day 3: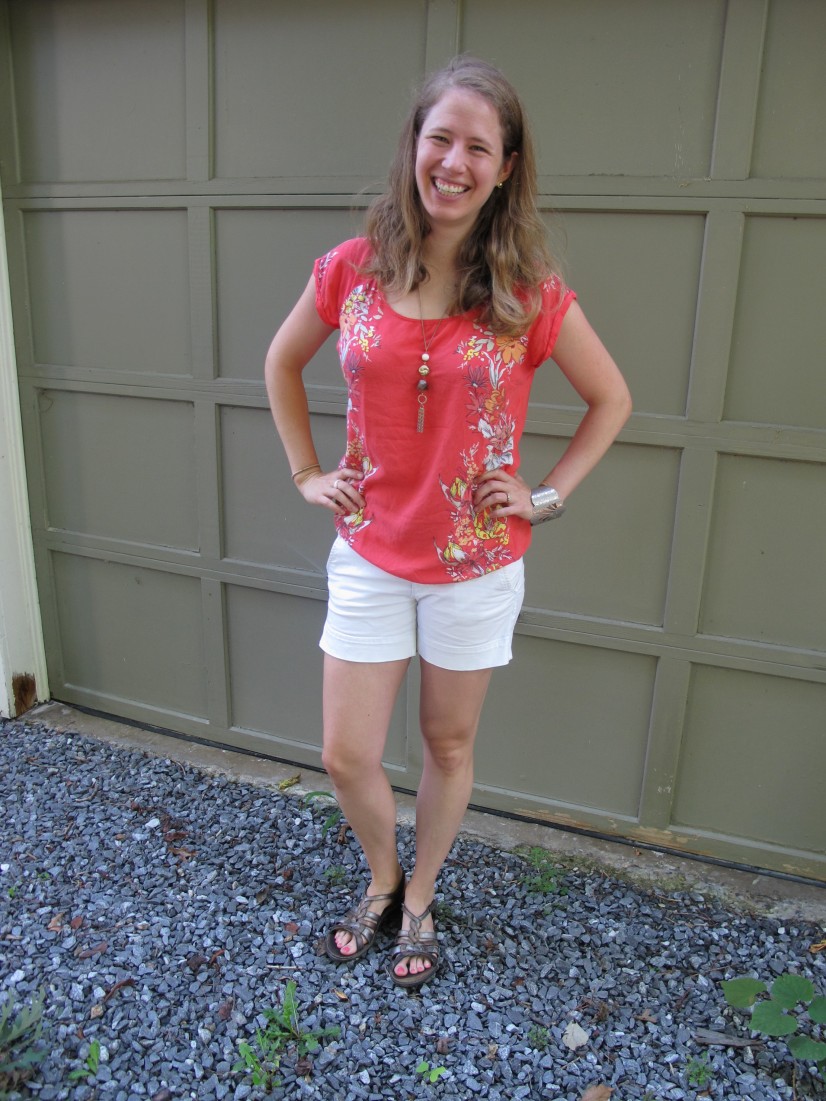 Post-Sliding Rock, slept-on hair…hmm.  Speaking of hair, my how it has grown from when I wore this outfit last summer (different shorts though.  I upgraded to these which have more give).
Top – Old Navy, thrifted
Shorts – American Eagle, thrifted
Cuff – vintage, my grandma's
Necklace – DIY from thrifted parts

Not the most minimalist of packing list – three shorts and three tops (four if you count the one I traveled in) for only 2.5 days of vacation-y fun, at a location with laundry facilities no less!  But I had stuff I wanted to wear and we had space, so I damned the torpedoes and did it.  And guess what?  I loved every single outfit and felt totally appropriate for all activities undertaken therein (see below for a day-by-day rundown).
I also packed the swimsuit from this post (bottoms and halter, not tankini) and my blue workout shorts and tank, which I layered over the swimsuit for our post-swim hike.  This shirt and these shorts worked to sleep in.  My only shoes were the sandals pictured and a pair of running/hiking shoes (which I promptly forgot to wear hiking; the sandals worked just fine).
And I bought these at the local Goodwill since I own no water-friendly shoes and we were going to Sliding Rock, essentially a natural waterslide requiring some kind of grippy, wet-able footwear: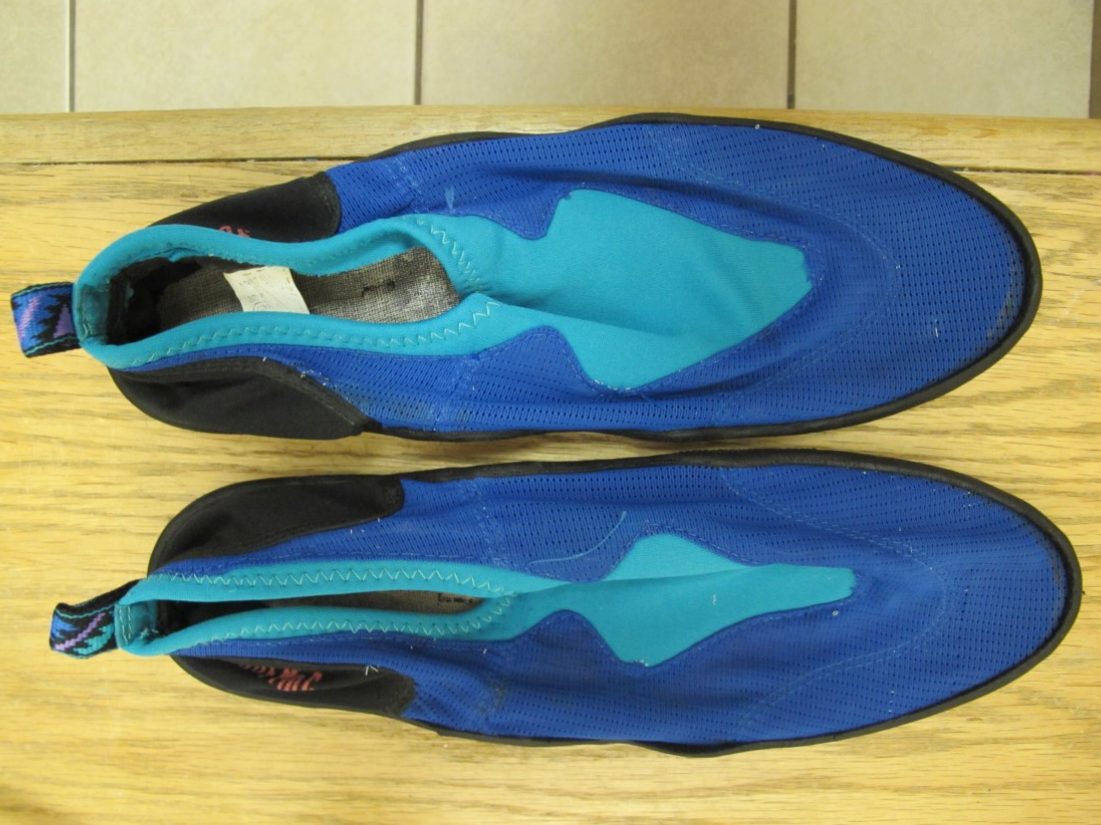 Friday night we arrived, settled in, and went to sleep.  Saturday AM we went to the Goodwill where I got the above shoes and a bubble wand for the kiddo but struck out on fit for these two lovely dresses – the blues are not done justice in these photos: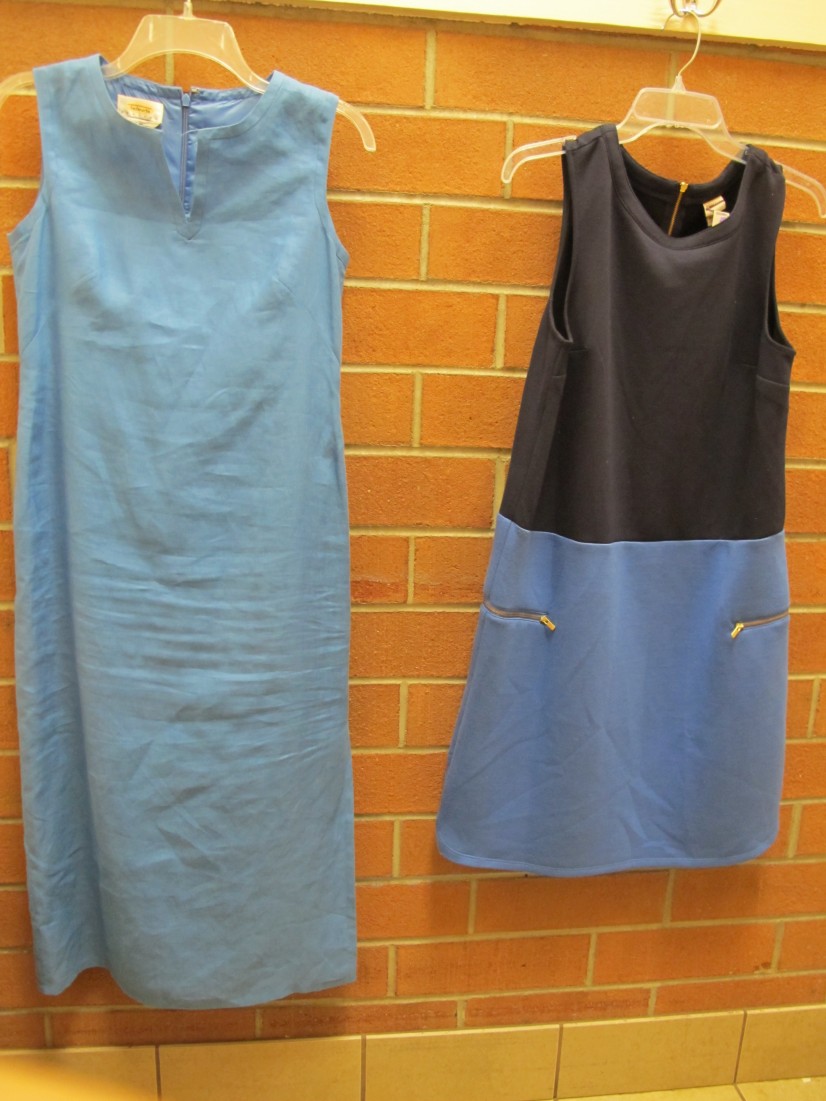 The midi dress on the left – let's be honest, I woulda tailored it to just above the knee (I am a sheath addict!  I need help!) – is 100% Irish linen from Talbots in a gorgeous color.  It was too small through the hips.  Tear.
This Merona two-toned number is basically a one-dress version of this, no?  Sad face that my normal Merona size was swimming on me:
Plus side zip pockets!  And a t-shirt hem!  I die.  (But it did kind of feel like fleece on the inside, so maybe I dodged a flammable, fuzzy bullet.)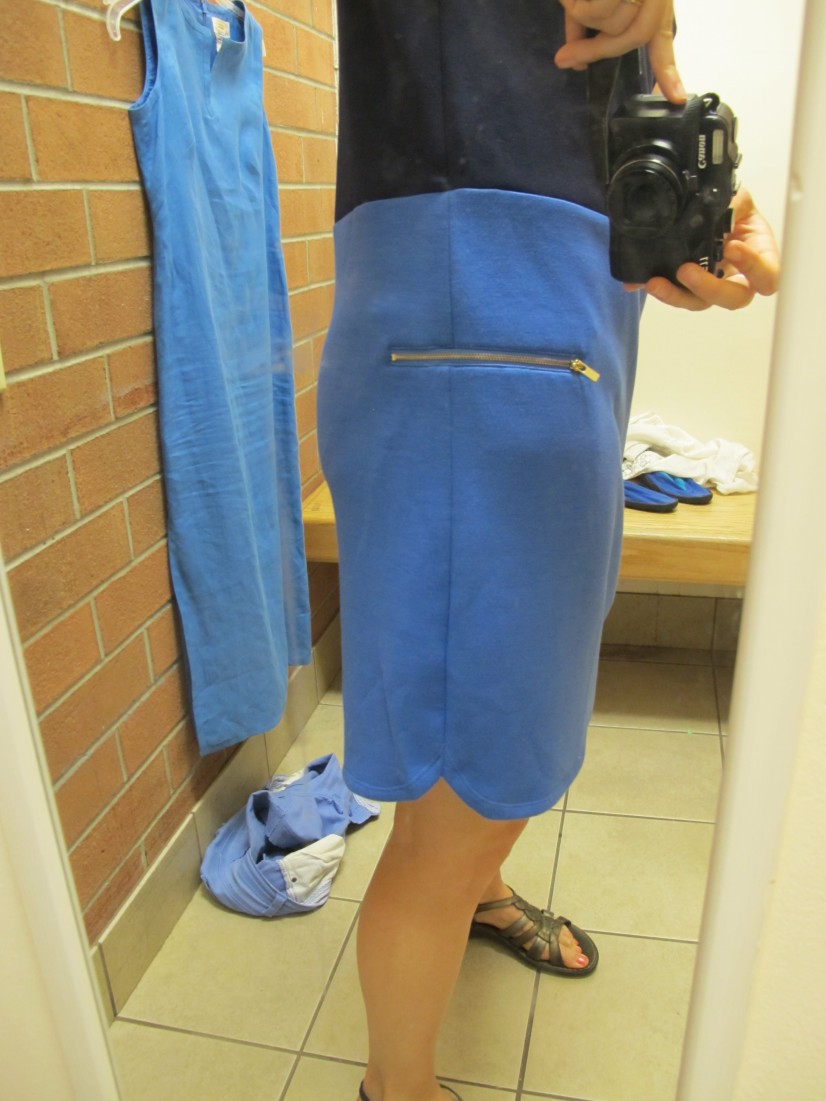 Let us note that this Goodwill is organized by size, not color, and I found it massively harder to sift through than the color-sorted ones at home.  I must be getting old and set in my ways.  The upside to my sense of overwhelm was that I just skipped a bunch of sections and thus found my try-ons in less than 10 minutes and was ready to go in about 15 minutes total.
Also, this: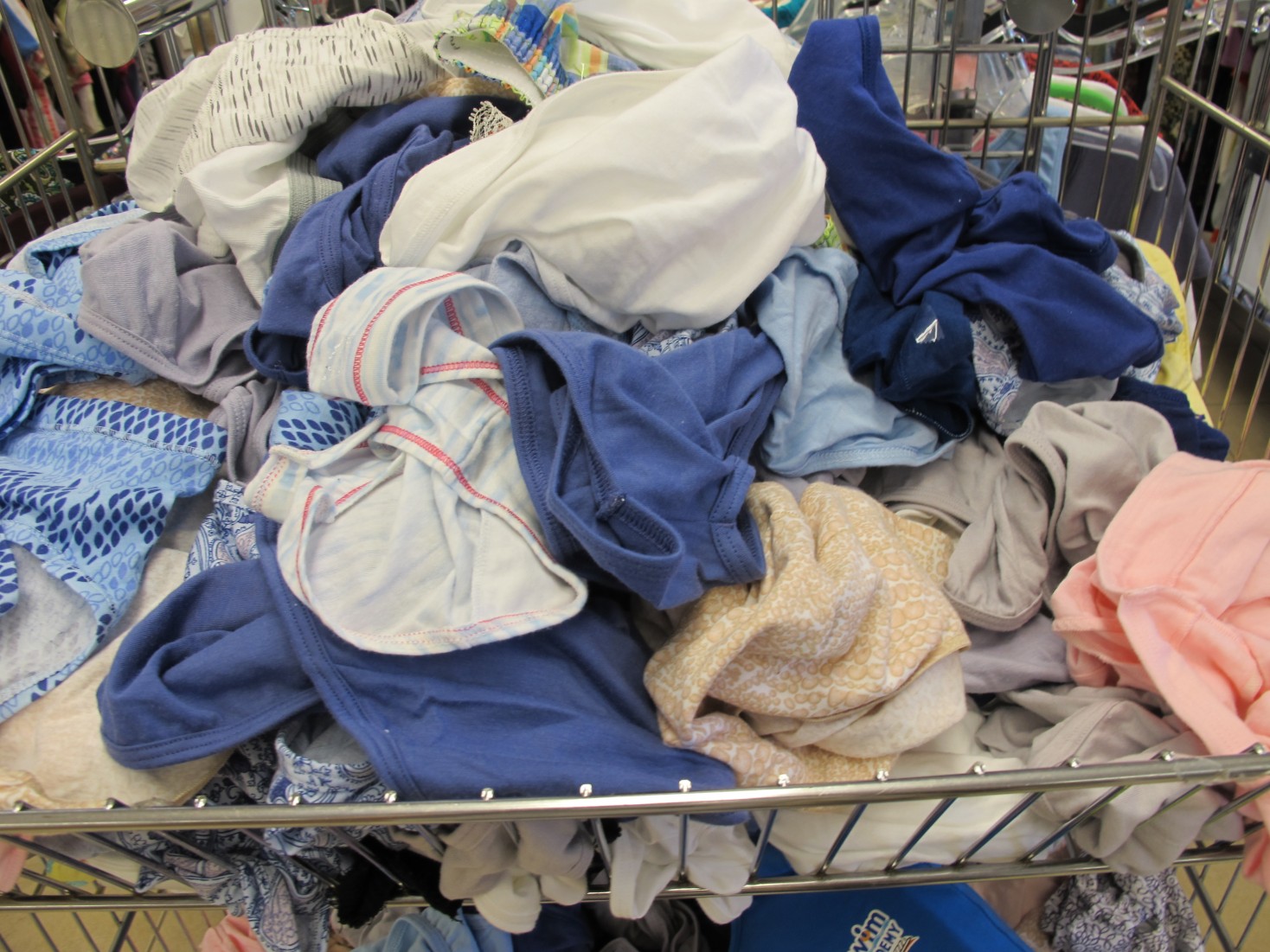 Brand new (cute) underwear at the thrift store!!  This qualifies as a thrift unicorn sighting for sure.
Pro tip: Wondering how to tell if thrift store underwear is new without having to touch any of it?  If you see a bunch of the same repeating patterns/colors, chances are it's overstock from somewhere and you're looking at unworn undies.
I didn't technically need any underwear but knew I couldn't pass up the opportunity to buy underwear (somewhat) ethically and un-ickily for whenever my current crop starts to unravel, hence: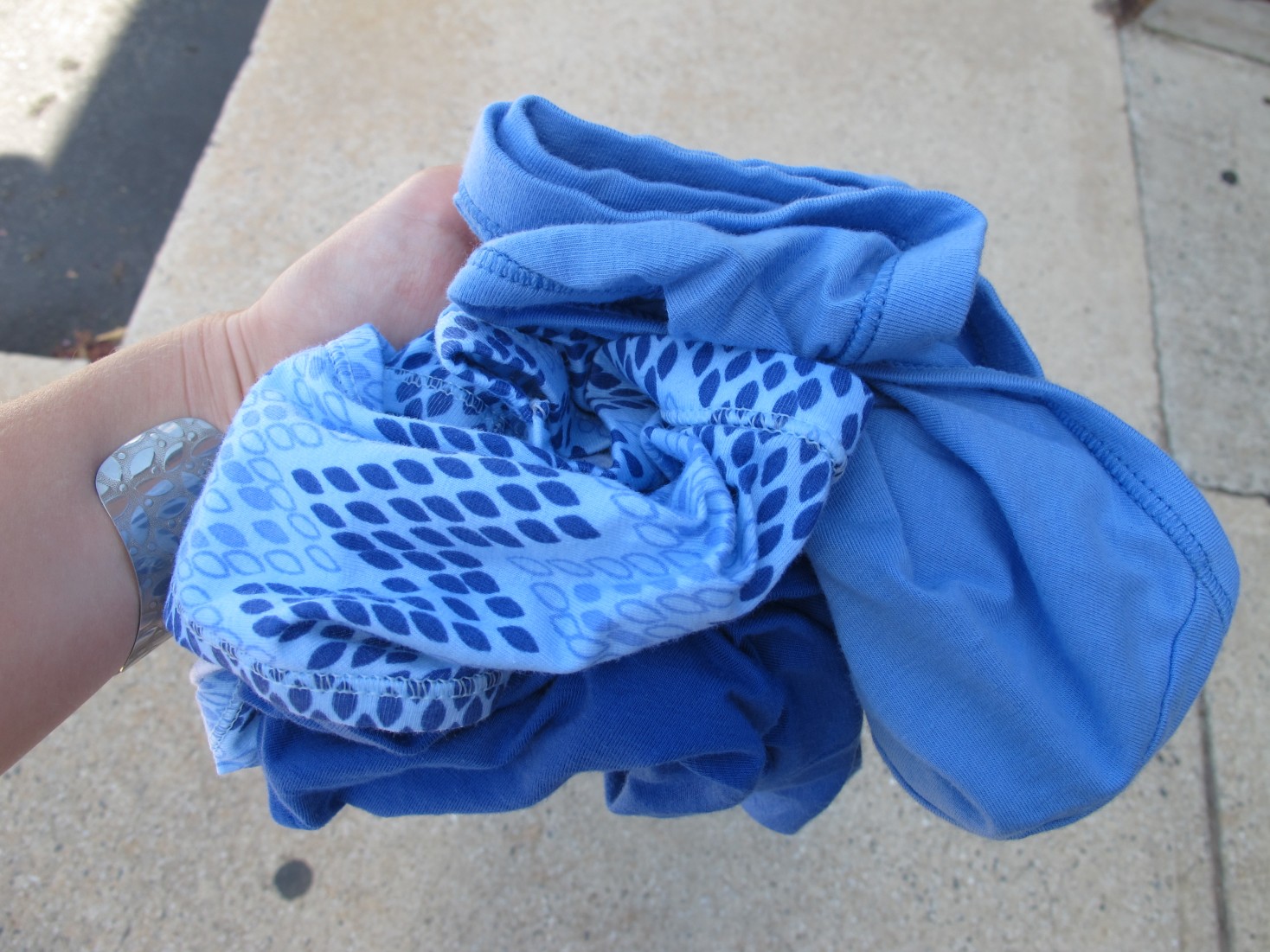 New underwear for mama!
Next we hit up a local park with access to the Swannanoa River (it has sand this color LINK!), where we hung out waiting for our friends to arrive. Both the park and the river were a big hit with the toddler.
Lunch was at Early Girl Eatery, recommended by both a friend and our AirBnB host.  I had the Fried Green Tomatoes (my favorite Southern food) which were oddly chewy/meaty but paired deliciously with goat cheese and vinegary tomato relish.  (To give you an idea – they were so solid I picked up the sliced tomatoes and ate 'em with one hand.)  I also traded my kid the grits that came with my meal (not a grits fan but she is) for the beets and black eyed peas from her veggie plate, both of which were tasty.
Afterwards we wandered Wall St. and poked our heads into the Paul Taylor handmade leather store.  Their stuff is beautiful, luscious really – the handbags in particular are straight out of style blogger post and probably cost a lot less and are made right on the premises: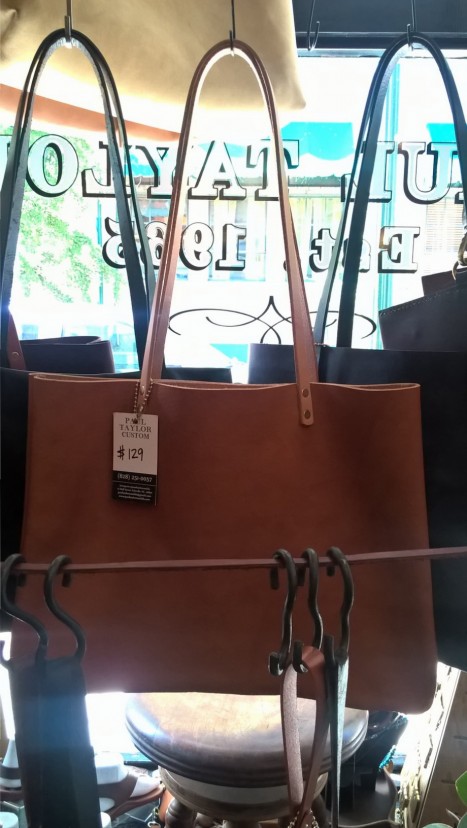 I thought about getting one for a hot minute but the inside pockets were very slim – think holding a slim phone or some ID/credit cards – and I need more room to separate out all the odds and ends I carry around.  They also had an amazing assortment of belt buckles, belts, and (very expensive) custom-made shoes: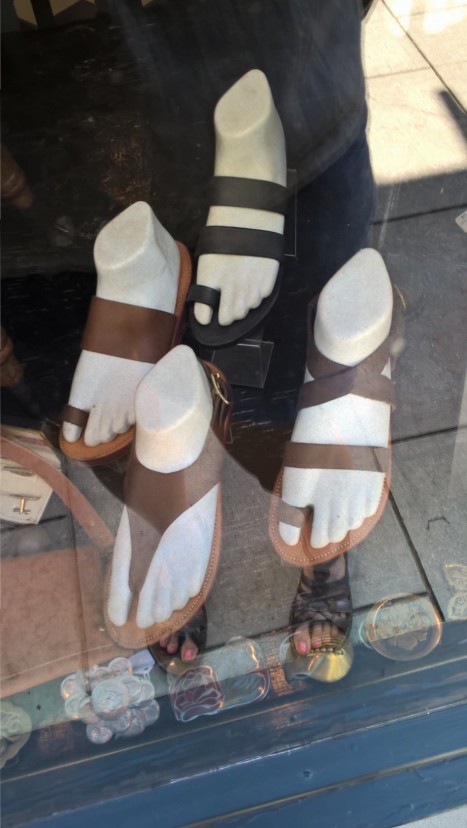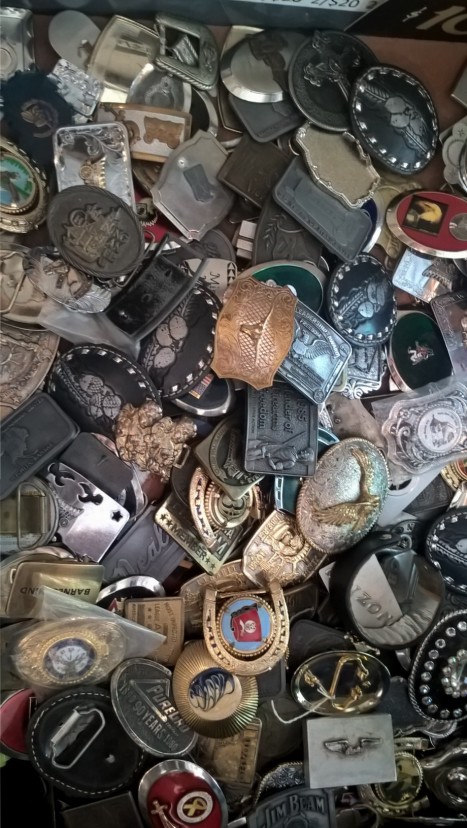 Next up we wandered past the library which had both a free book cart and a very cheap book store of discarded library books, where I could have spent a lot of time and money: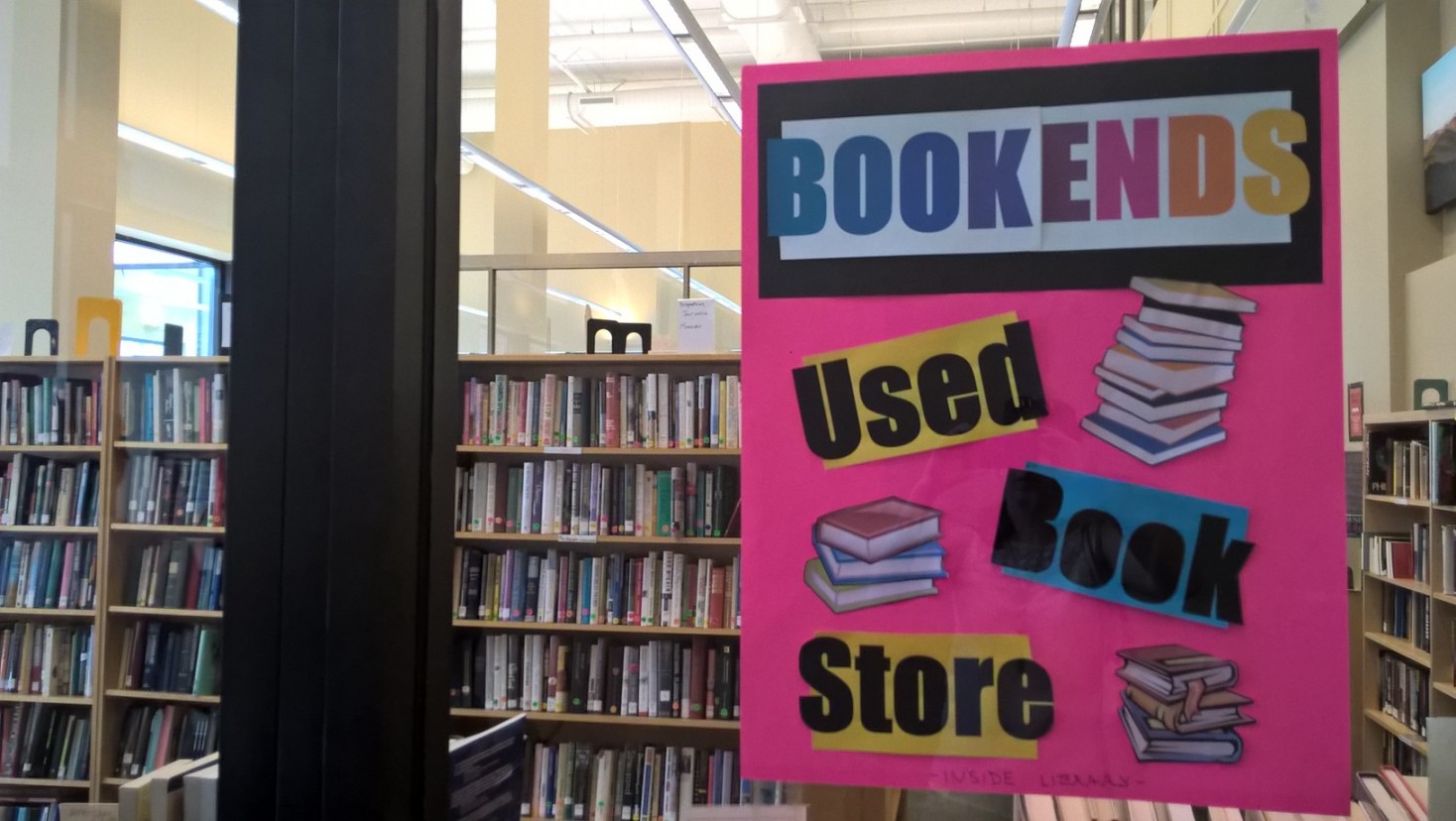 Chasing a kid curtailed that activity, although we did walk out with another Harry Belafonte record to add to our collection.  His Jump Up Calypso record (not to be confused with this regular ol' Calypso record) is our family dance party favorite.
The new acquisition.  He looks so young!

We also met the lovely lady behind Monster Menagerie, selling monsters hand-sewn from repurposed fabric sourced at thrift stores or given to her by friends: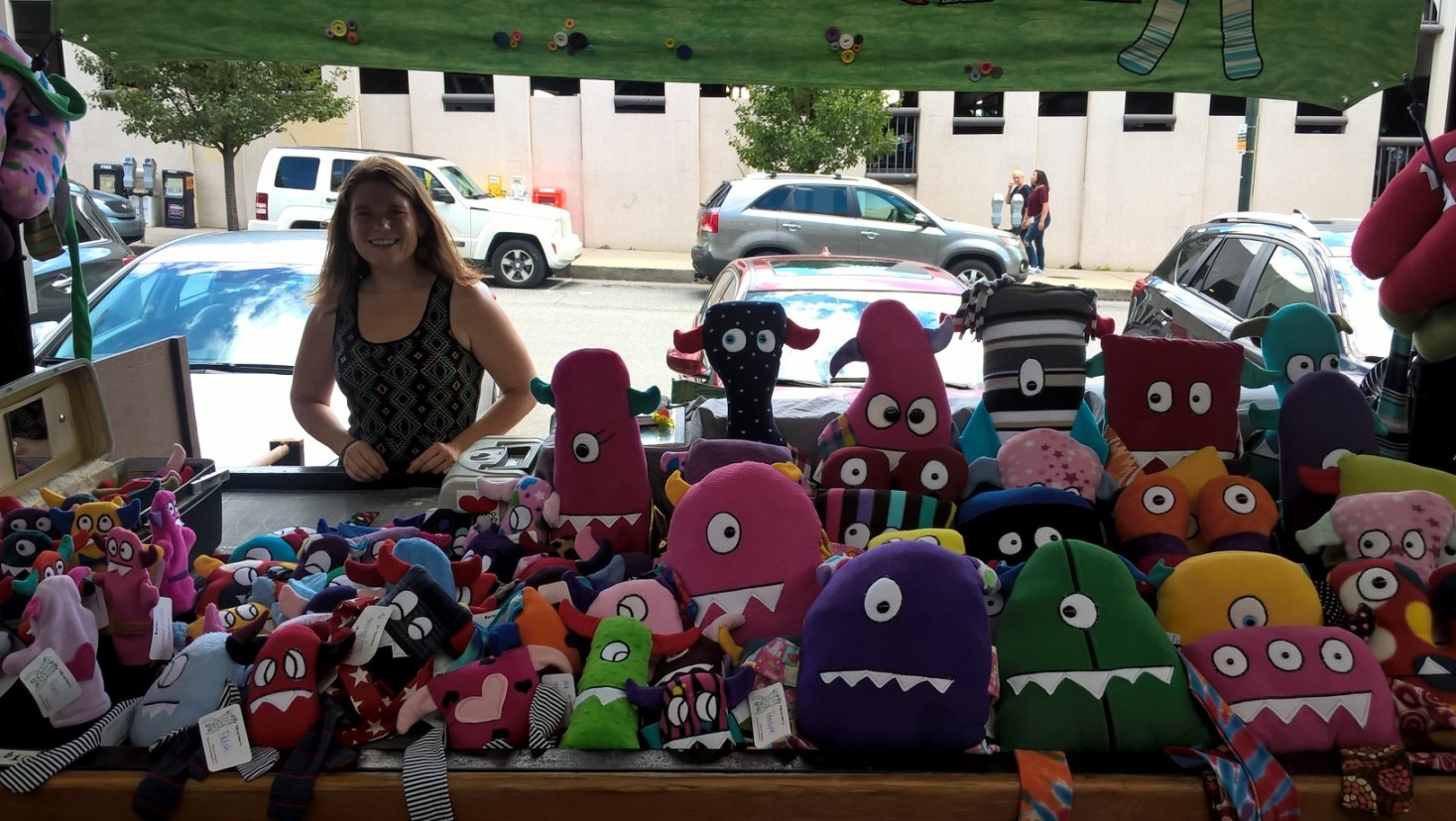 We picked up a neat little hand puppet named Poindexter who became our go-to entertainment on car rides about town.
After adopting Poindexter we traipsed around downtown Asheville window-licking and busker-listening until we got thirsty and stopped into Asheville Brewing Co. where the cherry sour hit the spot on a hot day.  Dinner was cooked up at home.
Sunday we headed out to Mt. Pisgah National Forest and drove straight to Sliding Rock for some great people watching and c-c-c-cold river-dunking.  (Sample video here – not us pictured since we left the camera in the car.)  Yes, you basically slide down bare rock on your backside, and it was a blast!  Note to people with little kids: there are shallow areas where you can play with your kiddo if they're not up for the slide; I'd definitely recommend water-friendly shoes with grip for any little ones.
Next was a picnic lunch at a little meadow where we comically realized we forgot to pack a knife to spread peanut butter; so did the next people who drove up.  Forks, it turns out, are not that great for making PB and Js, but they are better than fingers.  Ahem.
Off to the fish hatchery which we sadly learned is closed on Sundays but which provided a great jumping off point for a hike.  We aimed for a 4.4 mile loop but looming thunder turned us around less than halfway there.  Happily though we made double-time on the way back since our small person had passed out and was no longer stopping every 5 minutes to explore all. the. things.  (She did really great, actually.)
Showers and fresh clothes applied back at the AirBnB and we were off to dinner at Tupelo Honey Cafe, recommended by friends.  It's pricier but the food was Dee. Vine.  A Honeysuckle and Lavender flip – tangily sour with just enough sweet – got me started off right, followed by biscuits, Tupelo honey, and homemade blueberry jam (for which they very graciously gave me a takeaway container when I asked if they had to toss the leftovers we hadn't eaten.  Yes it was that good and yes I am that tacky but also they are trying to reduce waste so it was a win for everyone).  Then Carolina trout pan fried in browned butter – so crispy on the brown parts, so perfectly done right underneath – with crispy (but too salty) Brussels sprouts and an Appalachian corn souffle from heaven on the side.  The spouse got a veggie burger with goat cheese which I dare say was equally good (seriously – it all just melded together into savory sensory overload.  I don't know how you make a veggie burger as good as fresh trout but I am happy I experienced it) with a side of jalapeno corn slaw.  No room for dessert which has got to be a First.
We walked off dinner around town and topped it all off with a little decaf iced brew inside Double D's Coffee and Desserts (a former double decker bus whose resume includes London transit and "party bus" in Atlanta…?):
Made it home just in time for 2 rounds of Exploding Kittens and bed.
Monday AM we checked out of our AirBnB and headed to the Western North Carolina Nature Center which homes NC-native animals that can't live safely in the wild for a variety of reasons.  Black bears, a Great Horned Owl nearly as old as I am, a completely prehistoric-looking hellbender, red and gray wolves and foxes, two cougars (!! not native to NC now but were 100 years ago before being hunted to extinction), and two river otters named Olive and Obi Wan (I die) were highlights for both the kid and the adults in our group.  Oh and a sleeping possom named Bosco.  Definitely worth the $11 for the intimate zoo-like experience and to support their mission.
A squooshy, satisfying falafel burger and zesty, refreshing gazpacho at Green Sage Cafe made for a tasty lunch, though I regret ordering the tofu scramble for the kiddo – tofu scramble never, ever tastes as good as you hope it will.  We wandered into the musical instrument-wonderland of Finkelstein's, North Carolina's oldest pawn shop, and learned about their 4- and 5-ton safes before finishing off the trip with delicious gelato at Chocolate Gems.
None of this was sponsored by anybody, but I'd do it all again on my own dime (plus I'd stop at those few thrift shops I had to miss.  Can you tell it hurts me to pass up a thrift store?).
Hope you enjoyed, and let me know your favorite Asheville spots if you've been!