This month's thrifting window was half as long as normal due to my thrifting fast, but I still found some good pieces.  That fast focused my thrifting and I ended up sticking mostly to what was on my (trimmed down) thrift list.
(FYI I wrote that list mid-April but didn't publish it until after the 10×10 was over; so it may seem like I magically wrote the list Tuesday and found all this stuff in two days, but really I had the whole second half of April to work from that list. And I got lucky!)
Let's take a look.
Running shirt by Champion
I've stepped up my running game and in this hot climate I wanted another sleeveless top to prevent asphyxiating anyone with BO due to re-wearing sweaty shirts before laundry day rolled around. This one was grabbed on a quick thrift with the fam and it'll do just fine:
Sky blue sleeveless blouse by Dalia Collection
I mentioned in my thrift list that I was looking for another sleeveless, work-appropriate blouse.  I love the color of this one and the way it drapes. We'll see if the side slit rides too high for my pants/skirts but I'm hoping not!
The awkward side profile face: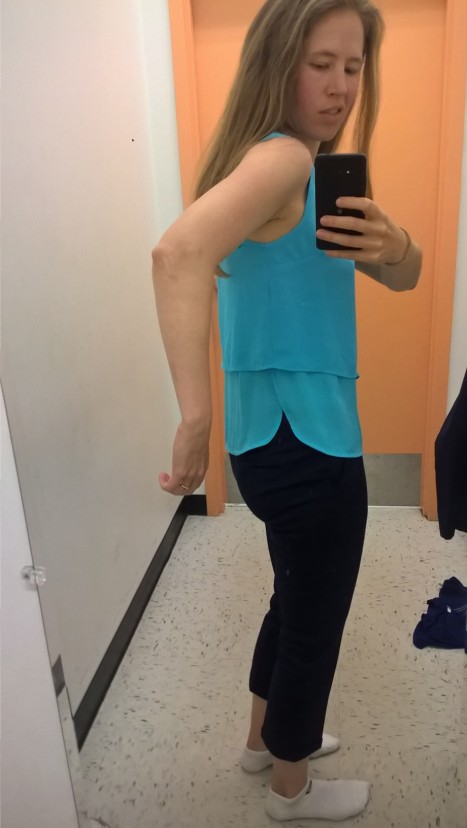 Sorry its blurry! Uniboob courtesy of sports bra:

Floral tee by Old Navy
Also from my thrift list: one casual tee down, one to go. The colors are great and I love chrysanthemums on clothes. (I think I'll do a post on that particular preference because I weirdly have three different items covered in chrysanthemums.)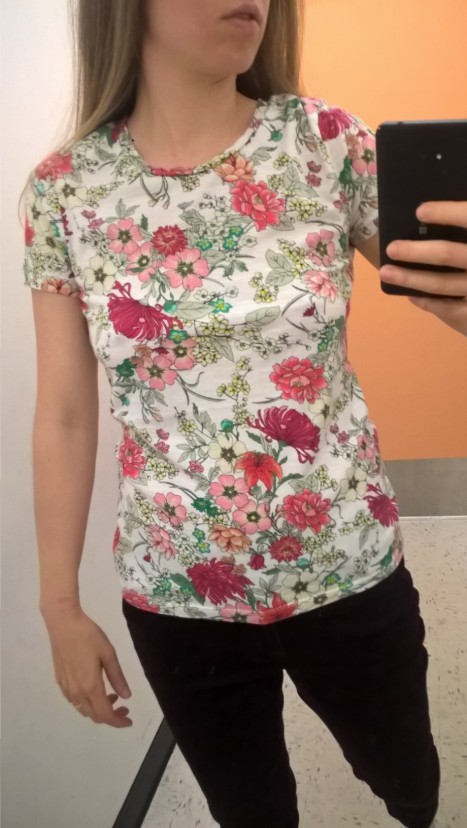 Palmy beach tee by Loft
Two down, zero to go! I like to have at least one "fun" tee and this is it. It's relaxed, comfortable, and since it's Loft (as opposed to, say, Mossimo) the quality is better. I've already worn it once over the weekend and I'm looking forward to many more days of feeling eminently tropical in this baby: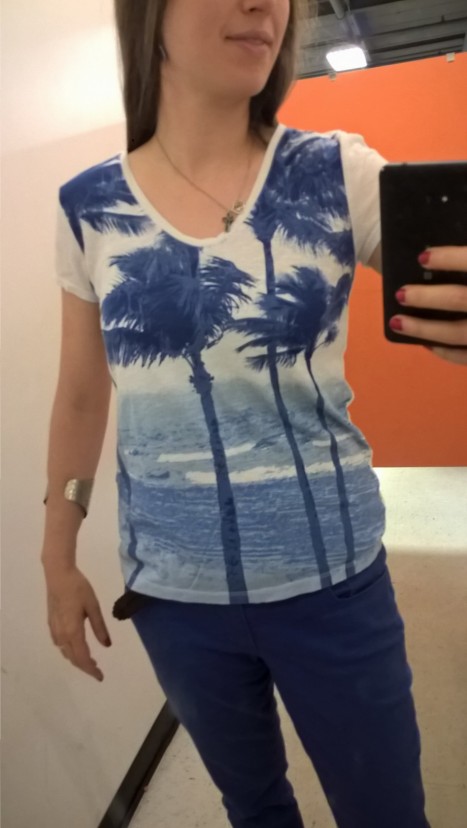 Navy leggings – no label
Another item from the thrift list – yippee!  These had the label cut out and unfortunately don't have the great high-rise waist my American Apparel (RIP) ones did, but they don't cut into my middle too badly and you won't be able to see the waistband underneath my dresses anyway:
Navy dress pants by Alfani
These are dress pants – they are mostly rayon/nylon and have a nice finish on them – but they also have stretch thanks to a healthy dose of spandex. And the hidden secret that makes them eminently fabulous: they have no zipper! or buttons! Just a lovely wide waistband: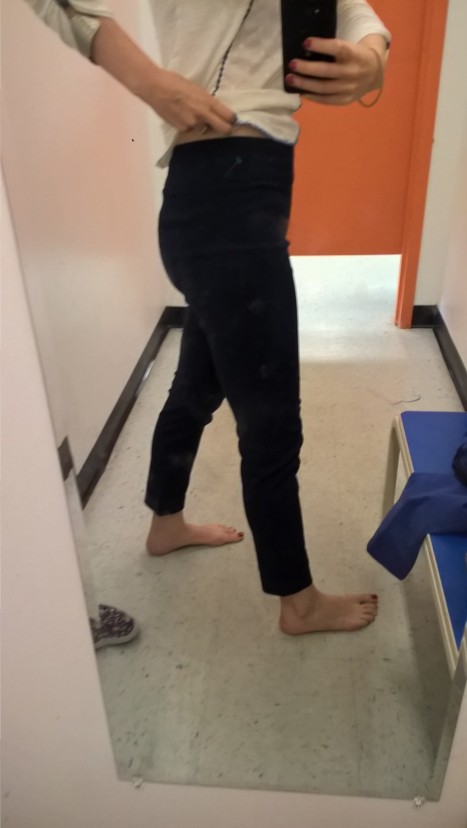 More in focus pics of them in action: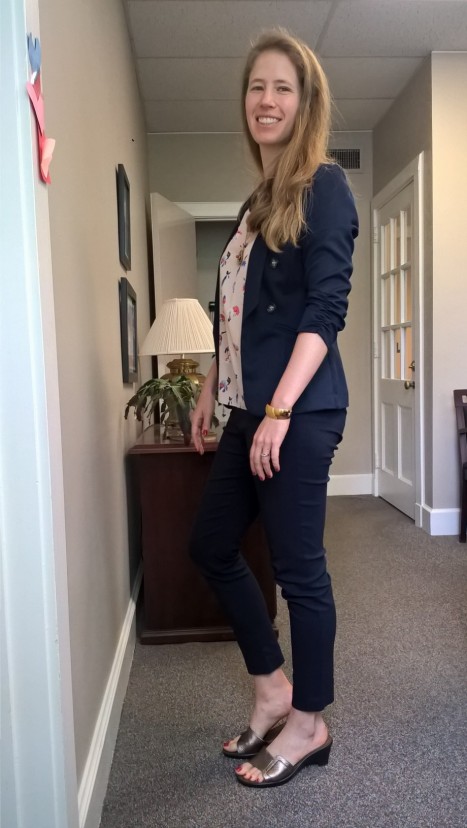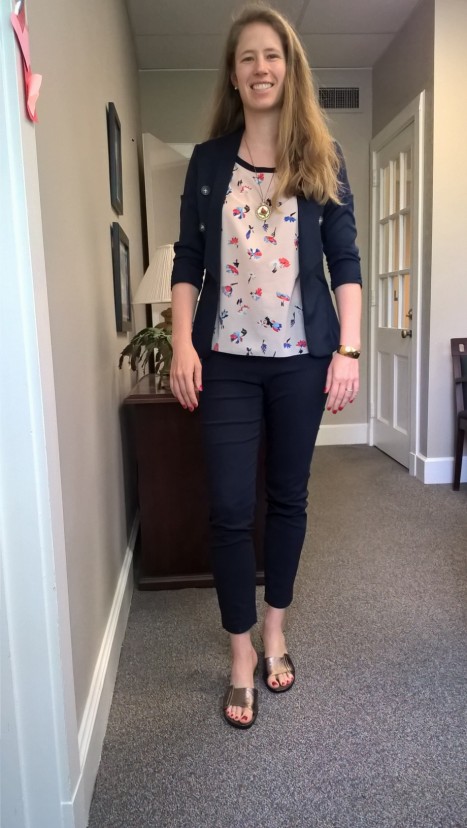 I'm not in love with all the wrinkles resulting from quiiiite so much stretch, and these aren't the world's highest quality pants. But they are a great place holder for me to discover whether I "need" navy dress pants in my life and if so, whether the skinny silhouette is the one I want or if I want more "slim."  So far I am loving them, and plan to keep an eye out for a "thrift upgrade" – this same kind of pant but better quality.
Dark burgundy/purple cords by Loft – not on the list!
At the end of the winter I was feeling pretty disenchanted with my mulberry-esque cords: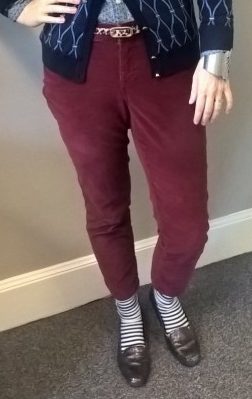 They were too short to properly cover my legs (hello Wicked Witch of the West socks above) and a little too loose; even with tailoring I was always hiking them up. Also, the color was starting to feel played out. That last may just be a reflection of my other feelings about them, or it may be that colored pants don't have as much staying power as neutral ones.
While searching for navy dress pants I found these, which fit perfectly: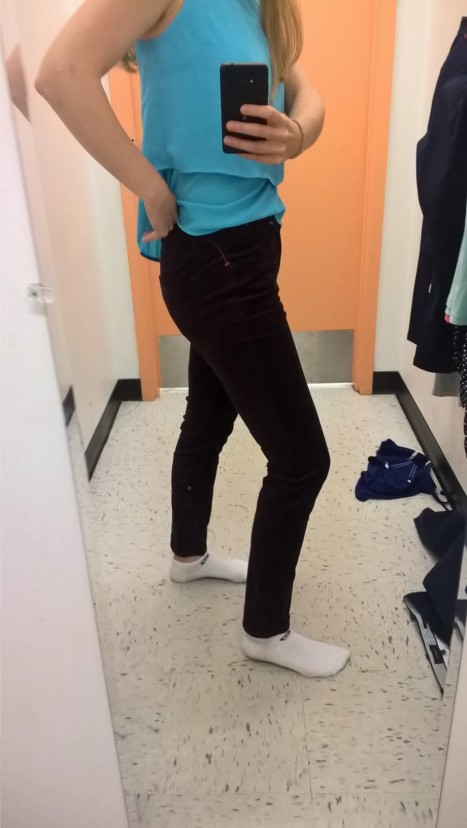 They're much darker than my previous ones which made me hesitate – would they overwhelm my winter wardrobe? But I started pairing them with my cold-weather sweaters and tops (an advantage of a streamlined wardrobe is that you can conjure everything up in your head) and thought they'd do pretty well. We'll have to wait, of course, until fall to see if that assumption bears weight, but in the meantime I'm enjoying having something different to look forward to.  Coming soon: pics with better lighting so you can see the actual color.
Also not on the list:
Breton stripe tee by Madewell
I didn't have a striped tee on my list but this one jumped off the rack at me. I like my striped tees to have as much or more white than navy, otherwise it just feels too dark and overwhelming. With its simple, classic cut and a bit of marling on the white stripes, this puppy fits the bill perfectly:
It's much higher quality than the LOGG (H&M) version I had in my drawer for work outfits; that one was cut on such a bias to save fabric that the side seams wrap halfway around my middle. So I'm counting this an a thrift upgrade.  Side by side comparison pics coming soon!
The cut on this one is more relaxed, and the overlock stitch on the side seams and hem make it feel more casual. I've already worn it on the weekend and loved it, but since I don't need a 3rd casual tee and I had enjoyed having something striped in my work wardrobe, I'm going to try it out with my skirts and on casual Fridays.  We'll see how that blend goes…otherwise I may just end up with more weekend tees than is strictly necessary. (I don't know why but I just don't get tired of wearing the same thing on the weekends; maybe my one or two tops always feel fresh after 5 days of office attire?)
T-shirt hem for the win: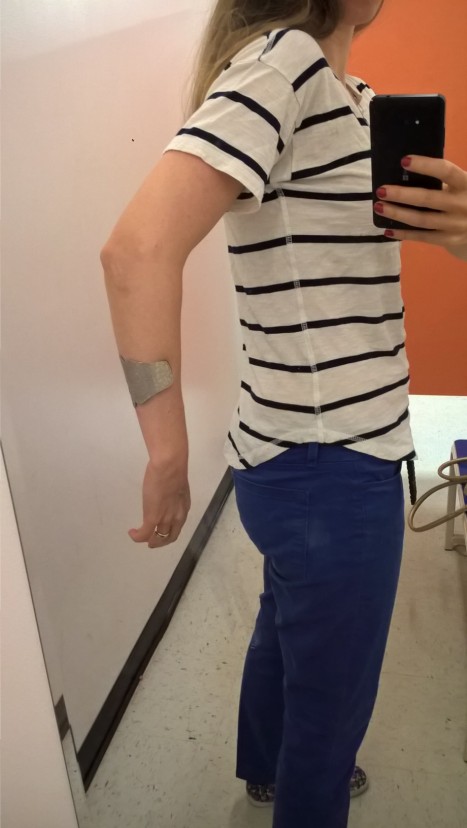 Misses
Here's a bunch of stuff I didn't get, for your viewing pleasure: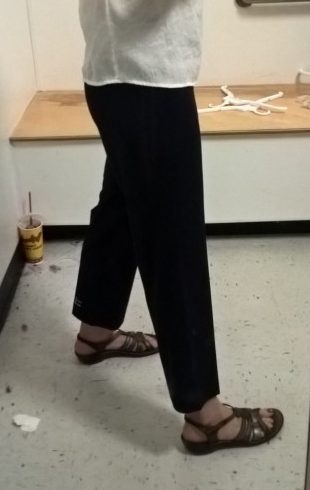 Yikes, that dressing room!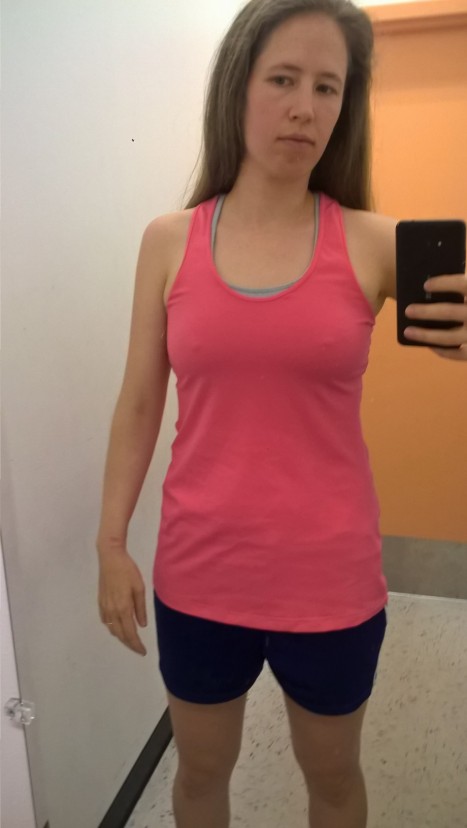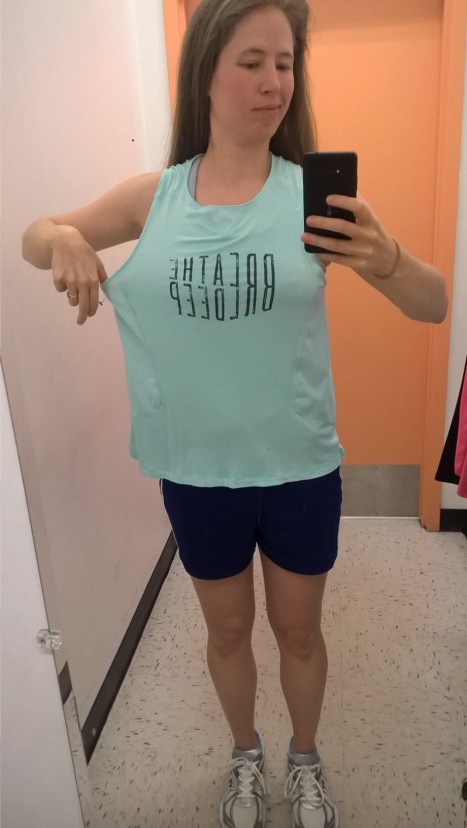 Grammar nerds will commiserate with me that it should be "deepLY."
I don't own a racerback bra and don't want to buy one: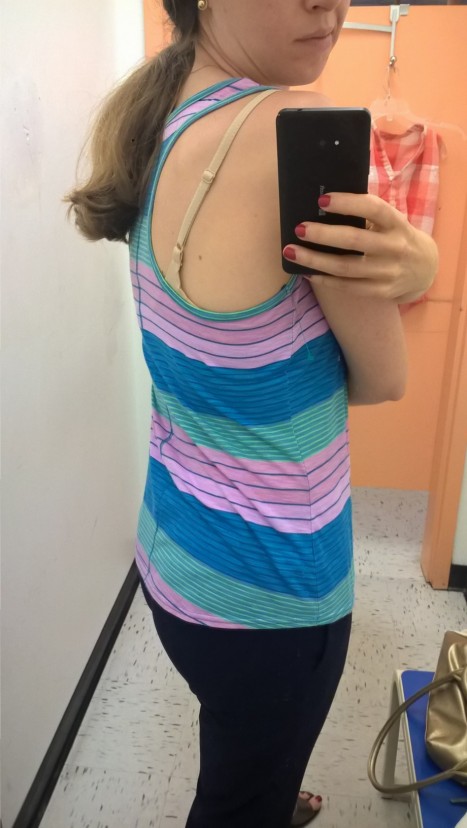 In my quest for casual tees – too big: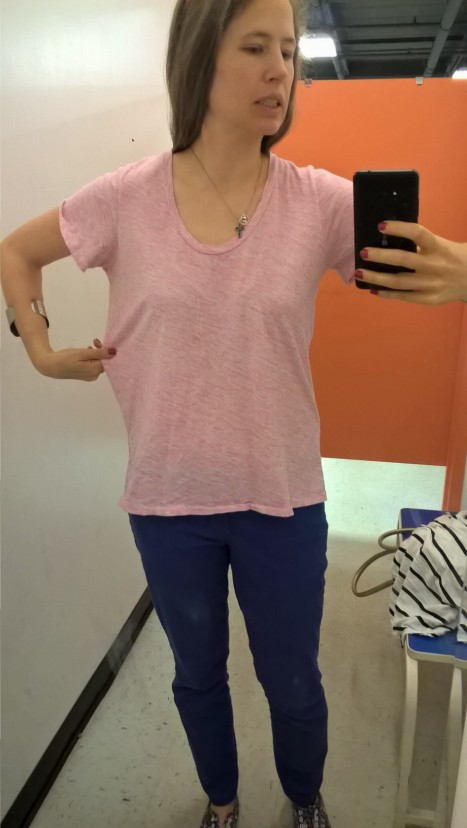 Too small: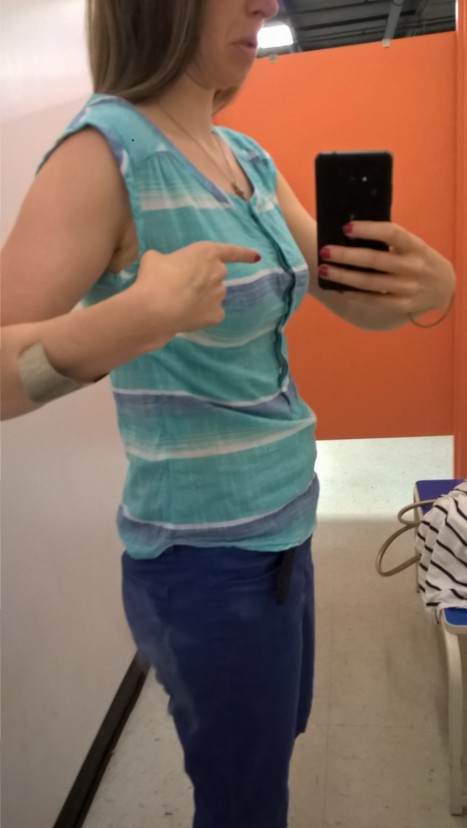 In my quest for navy dress pants – too big in waist:
I loved the silhouette on these (more "slim" than skinny) but the fabric was meh and the zipper was broken: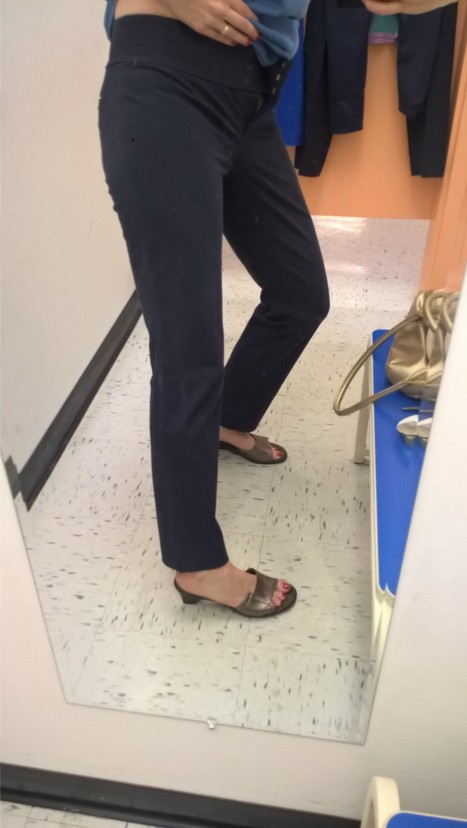 I so wish these had worked – Bass is good quality and it would be nice to have some open-toed, muted red shoes to give me more summer shoe options but they were too big. Good luck to someone with larger feet!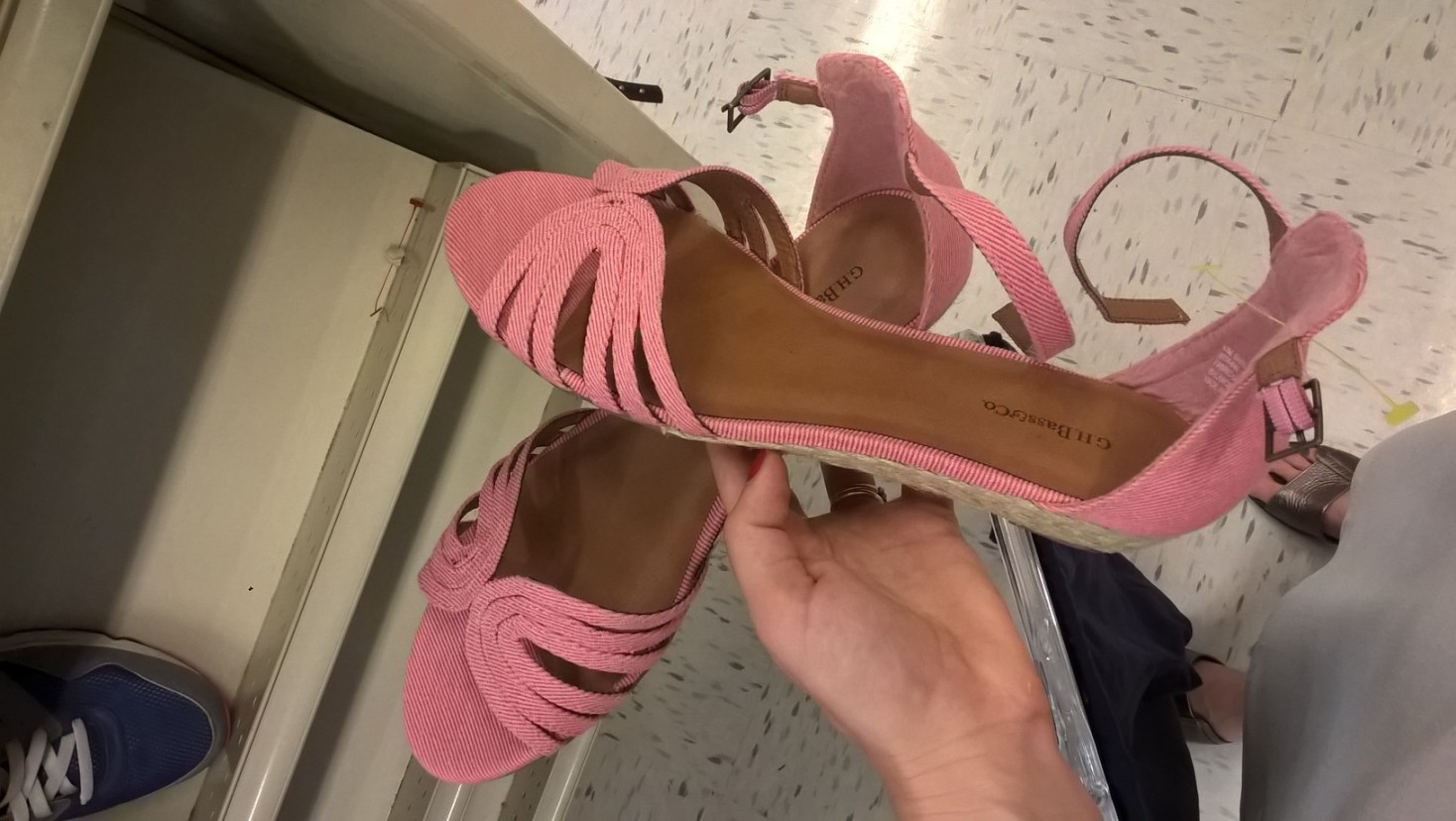 The end!  What'd y'all thrift this past month?