It's Style Rehab week here on Thriftshop Chic.  Take a look here at how fashion can help you feel your awesomest and here for how to improve your wardrobe stylistic sense; tomorrow we'll build a kid's wardrobe capsule!
Sometimes, you like most of the clothes in your wardrobe, but something is just off.  Outfits you think should come together nicely just look…weird.  Frumpy.  Trying too hard.
You ever been there?
Lucky for you, this problem does not demand a full-on sartorial engine replacement, but rather a simple style tuneup to get things running right again.  (I can't help myself with these metaphors. Sorry.)
Two good times to do a wardrobe tuneup: at the beginning of a season and/or at its end.  For summer, I did it at the end of the season because I'd gotten into a good groove and knew what I had loved and what had sat, unloved, at the back of my closet. (See my summer wardrobe rehab here and here.)
For fall, I'm cleaning out a few weeks into cooler weather.  I had a little trouble getting started on the right foot; outfits I wore to work felt not quite right, not quite me—and I couldn't really tell why.  After a summer of LOVING all the clothes I wore, it was really obvious that I wasn't on the happy style train with my autumnal garb, so I decided to jump in early to figure out what wasn't clicking and fix the problem.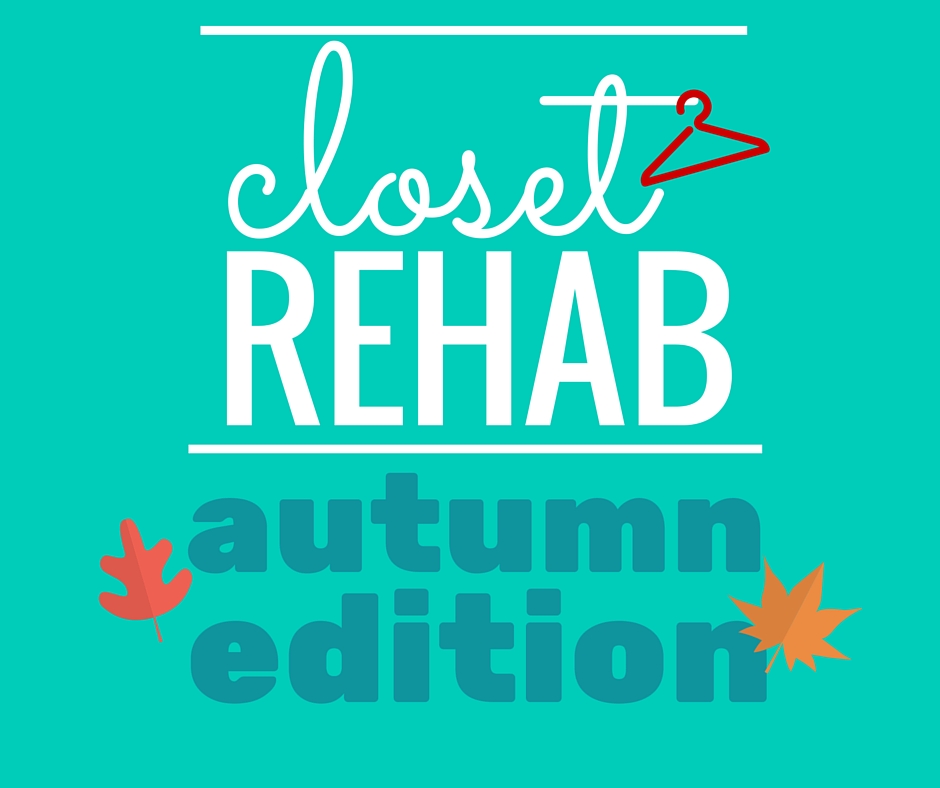 Case in point #1:
  Case in point #2:
Case in point #3: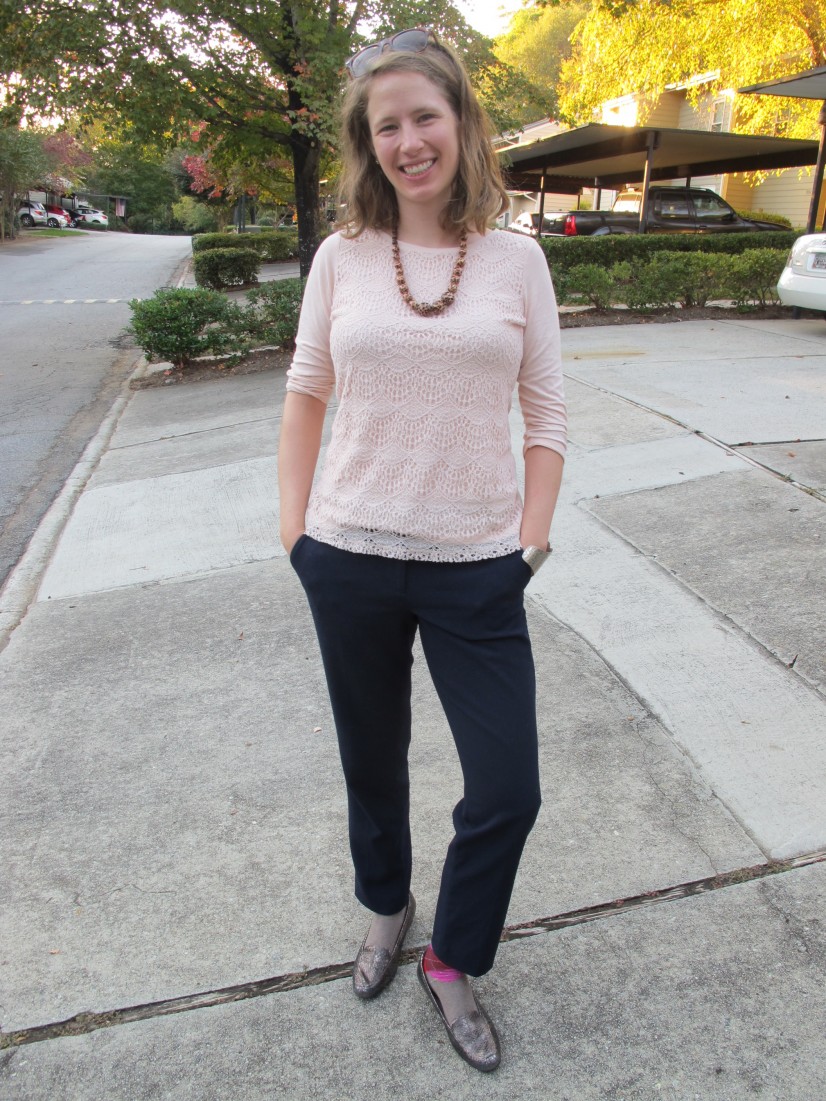 Blush pink lace 3/4 sleeve top from Loft.  I LOVE this shirt.  The detail, the color, the sleeve length, the neckline—it felt classic with interest added.  ME.  And in my book, navy + blush = win.
Closeup of the deliciousness: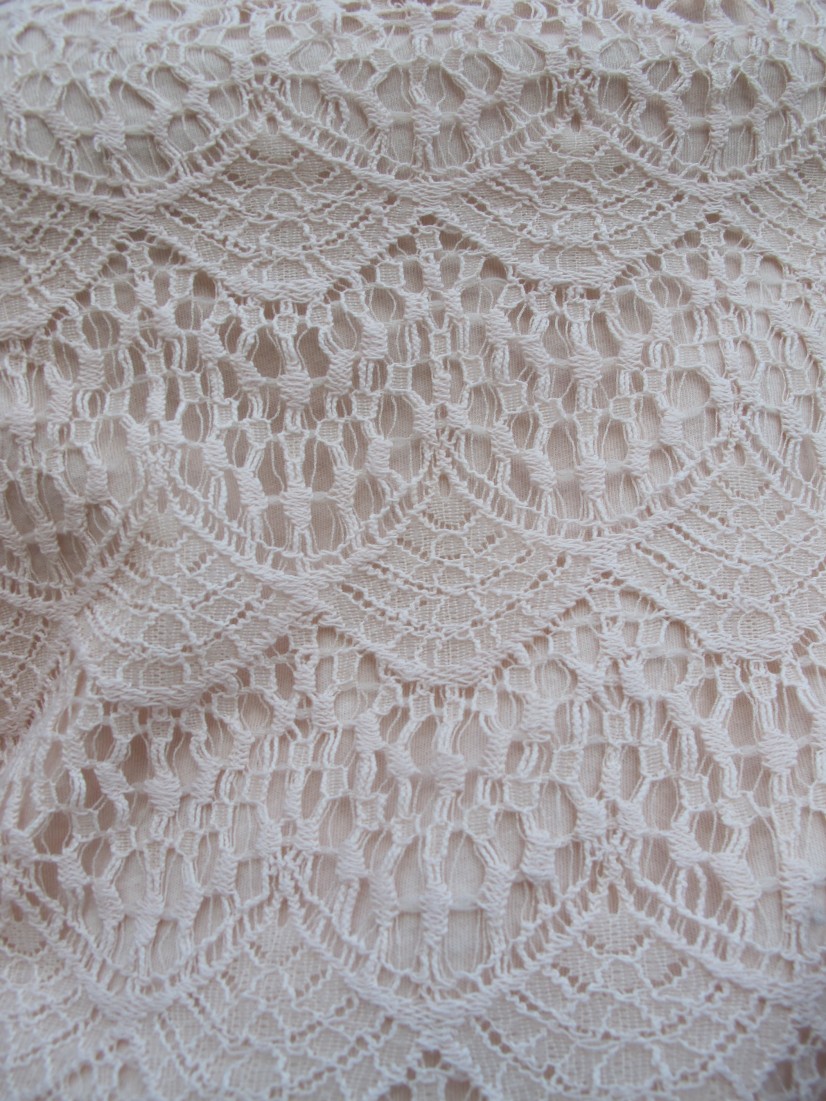 But once I added the Chunky Cardigan Culprit, things fell apart:
Casual clashing with refined? Warm clashing with cool? Texture overload?
Whatever it was, it had funked with two different outfits and it wasn't working for me.
Time to restrategize.
How to Fine Tune Your Wardrobe
1) Figure out what piece(s) you need.
What's getting in the way of your wardrobe mojo?  Could be a repeat offender like the cardigan above, or it could be a hole—something missing that could complete a number of different looks, thus bringing your entire wardrobe to a whole new level.
The culprit here was, as mentioned above, a cardigan.  Going forward I knew I wanted to be warm for work and church (hello thermostat geared to women in menopause…and I am happy to layer up to keep them happy 'cause one day that will be ME sitting with a bag of frozen peas on my feet in the back row of the choir!).  Since I have some longer-sleeved shirts and fall/cold-weather pants I like, it made sense to look for a different topper that would successsfully pull everything together.
2) Pick a silhouette that goes with your existing pieces.
This silhouette had grown on me during some AC-heavy summer days: long cardigan (duster?) over slim pants:
  So I thought I'd go looking for something similar.  I found a navy and grey Splendid cardigan with the same jaunty pockets at the hips giving it some angles & sass.   Like this, but with thicker stripes and buttons to roll the sleeves up to my aforementioned favorite 3/4 length, and jauntier, because pockets!
This was a SUPER tempting item because the cardigan was the perfect silhouette, uber soft, made in the USA, and similar Splendid items retail for, oh, $150-$200. I'd never heard of this company before which is why it pays to know your brands people!!!  (Pro tip: If the Google on your phone can't help you look up an unfamiliar brand, the feel of the fabric—smooth, supple, and well-woven, or slick and stiff?—and a quick look at seams—half-assed with threads already coming apart, or sturdy?—will help guide you.)
3.)  Strategize a color/pattern. You want something that will play well with your current wardrobe, leveraging your existing clothes instead of becoming a dreaded wardrobe exponent that goes with next to nothing and requires you to buy more stuff in a similar colorway just to make it wearable.  Arranging your clothes in a style template like this may help you figure out the right hue and pattern (or not). Since most of my pattern & texture are in my shirts, it felt like stripes might be overdoing it a bit.  Plus, navy and grey on top would probably be a bit too matchy-matchy with my navy or grey pants, respectively.  (Some folks dig the "faux suit" look of the same color on top and bottom, but it's too much for my taste.) This is when it dawned on me that an ALL-GREY cardigan would probably do the trick.  If grey on the bottom was playing nicely with navy, blush, and off-white on top…
…it would probably work on the bottom with them up top, too.
As you can see from the last IG photo above, I already own a grey cardigan, which I leave at work for unexpected cold snaps/meetings in Siberia, so I knew it worked as a neutral with most of my clothes.  But since it is pretty strongly patterned and lives on the back of my desk chair, I figured finding one with no pattern that could stay ready in my closet would help me make the most of an already good thing.
And so this is what I got—clean lines, interesting details, no fuss (outfit pictures below):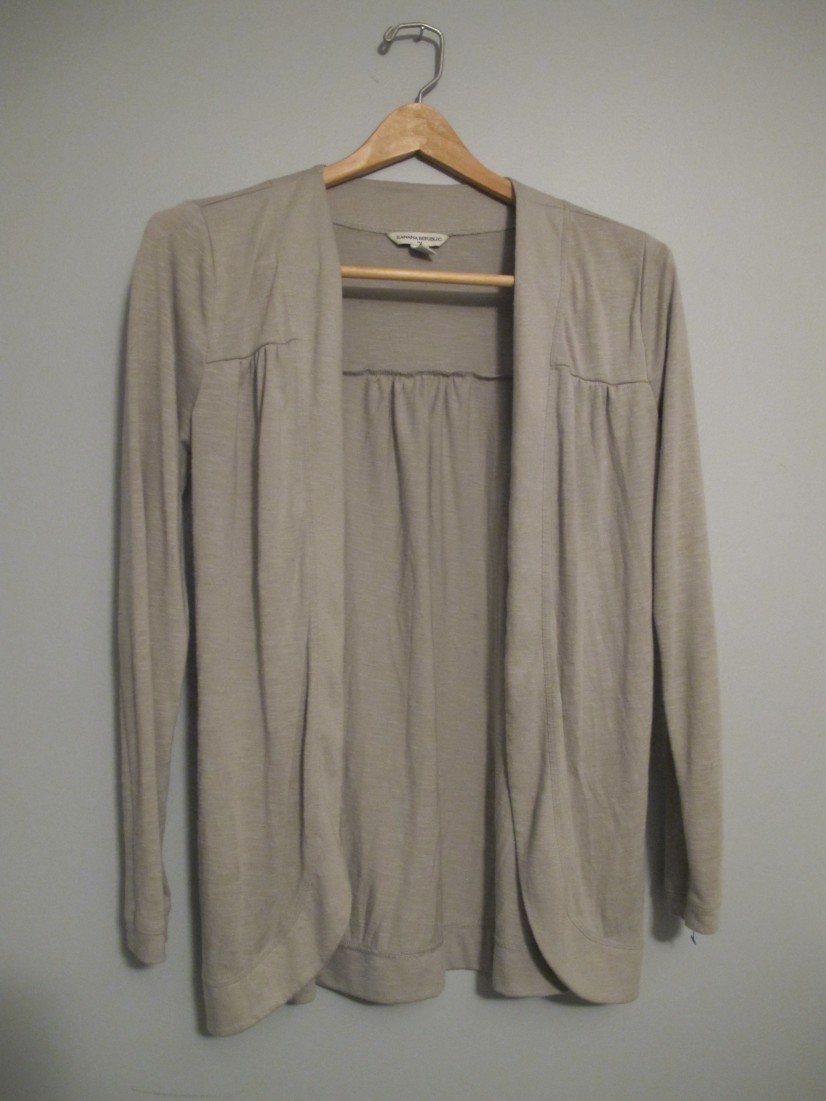 Grey open cardigan by Banana Republic
4) Evaluate your accessories.
Accessories can truly pull together an outfit, making disparate elements look purposeful, well-balanced, even lovely. Likewise, the wrong colors, textures, or styles can make an otherwise fine outfit look disjointed.  This should probably be a preliminary step, because swapping some accessories can sometimes fix an otherwise "eh" ensemble before you even leave the house!
The leopard-print necklace in the cardi-catastrophe up top is one of my favorites, and it looked okay on the blush top—without the cardigan—as a sort of dark/light contrast.  But add the cardigan in and suddenly the necklace pulled the eye towards the subtle pink/yellow highlights woven in amongst the oatmeal, muddying up the effect and making it look like my blush/navy core was fighting with some warm, earth-toned accessories.  Ugh.
But swap out that necklace for something a little more refined, in cooler colors, and you get:
Or again, this:
  It's all in the details.      
5) Last but not least, give it a test drive. Mix and match your new find with a few of the outfits you've been trying to "fix" to see if it does the trick.  Ideally, you would wear one of these combos (or at least the colors or silhouettes in question) to the thrift store to give you a preview of how things will play together; this especially helps if you have a hard time recalling what's in your closet.  If you LOVE something but it just doesn't go with the items you have in mind, LEAVE it. I wore this outfit to the thrift store so I'd at least know whether my picks went with navy/jeans and if they were similar to other greys in my closet: 
And voilà, the finished product—please excuse yellowy indoor lighting (which also makes the grey look cooler than it is):
Nice details—gathered yoke, finished lapel, subtle marling—but nothing competing with the rest of the outfit.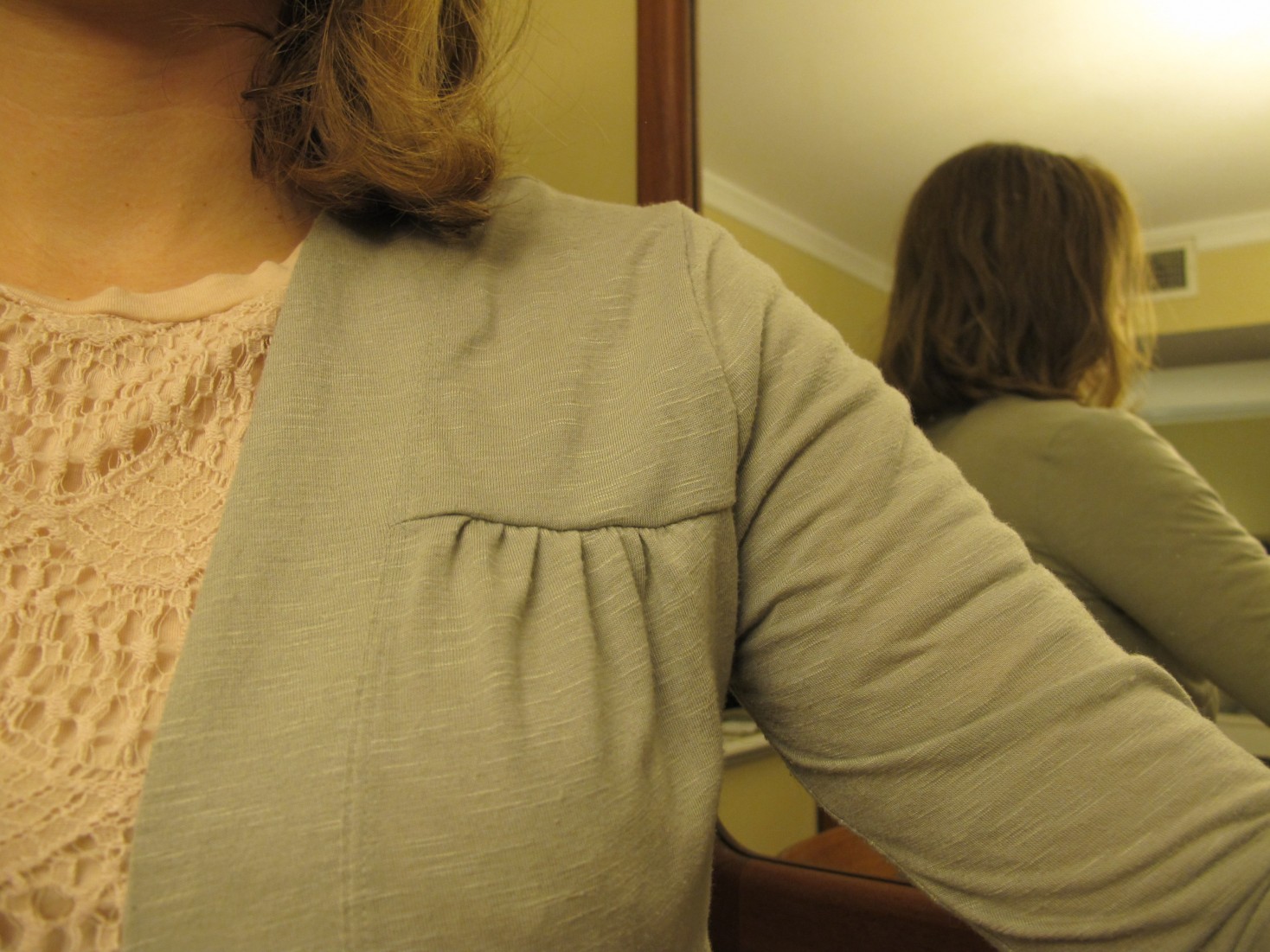 How have you tweaked things in your wardrobe to pull it all together into a cohesive whole?  Any of these tips helpful?  Scroll down to add your own insights!