Much has been made of the inimitable French woman's style and how chic, understated, classic, minimalist, etc. her wardrobe is.  Black features prominently in this depiction, as do basics.  You can Google myriad examples where this is the case, but from the time I've spent living in and visiting France (particularly not-Paris), this depiction is a pretty narrow take on "French" style.
Case in point:
The other evening my family attended a community holiday party where a French woman I'd met at the same party the year before was attending with her family.  The husband and their 4 sons wore homemade bowties while their tiny daughter was dressed exactly like Princess Charlotte but with bolder color.  Their children's given names are gilded with old-fashioned patina – think Bénédicte, Marisol, and Thibault (not their real names, but a good idea of them). In short, they are charming and full of personality.
And the mother of this family?  She was dressed nothing at all like the "typical" French woman:

(Items recreated below so you can get a better gander)
Let's start with her top.  Okay, yes, a black base layer, but one that served as a neutral canvas to showcase her other two layers: a dark teal paisley blouse, peasant-ish, topped by a (faux?) fur vest and a multicolored scarf featuring blue, aquamarine, and copper threads.
On the bottom: bootcut jeans which aren't particularly trendy at the moment (although wider flares are), and Timberland boots with wedges.  Timberland wedges, I tell you!  To top it all off, she had accessorized with a pair of big metallic drop earrings.
Her look was mostly boho, but those Timberland wedges said "street."  Her look communicated both her unique taste and her complete confidence in wearing things others would never have put together.
(Her hair and makeup, I admit, did look typically "French" – nothing much besides black eyeliner and mascara, plus sideswept gamine bangs in front, with the rest of her hair clipped back in a way that looked like it had taken 2 seconds but was nonetheless full of unstudied elegance.  Am I waxing overly poetic?)
Since the photo is partial, I did some googling to bring you similar (and in the case of the boots and earrings exact) pieces so you can marinate on this combination yourself: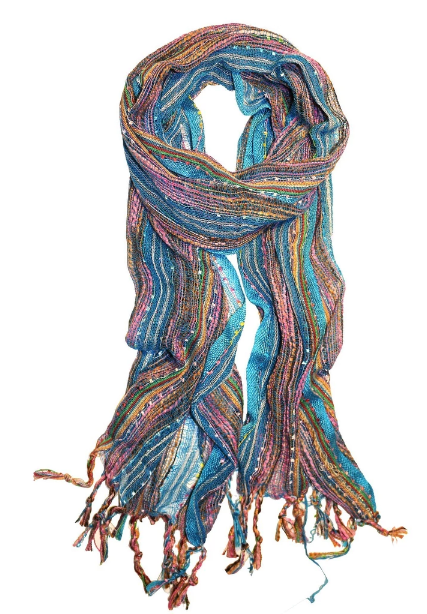 Honestly, her funky mashup looked more "French," according to French women I've known, than most things I've seen in the pages of Vogue.
To wit – here are style snapshots of several French women I know well:
One has a daughter living in America and has a soft spot for her Ralph Lauren navy sweater with the American flag on it. But when a wedding is on the calendar, it's fascinators and textured silk suits all the way.
Another is an ashram-frequenting, reincarnation-believing goat farmer, and she dresses the part: work pants and boots below, Indian-inspired prints and colors on top.
Another is basically Catherine Deneuve – same age, same coqeuttish preference for dramatic makeup and feminine dresses with flair.
Another lives in Paris but has a villa outside Toulouse and, when there, stuns in a simple caramel-colored sleeveless dress and subtle gold jewelry. (She was the inspiration for the dress in this post.)
Another few dye their hair with henna and don't appear to pay any special attention to style.
Admittedly I have often felt uncool next to my French counterparts, but I think it has had less to do with their wearing black and moto jackets than it did with a certain confiance en soi that made them seem self-assured.  Thrifting and writing this blog have helped me hone my style to the point where I feel this confidence in my own dressing – although I'm sure I would still see a difference between an American aesthetic vs. a European one.  Something I need to spend more time on to fully articulate, but generally having to do with cleaner lines, a little more quirk, good tailoring, etc.
What do you think of our case study's look?  And what's your take on the much-touted "French woman style"?  Geographically speaking, where have you been particularly impressed by people's style, whether it matched the stereotype or not?  Scroll down to comment!