If you follow me on Instagram – and you should! lots of outfits of the day and delicious thrift finds – you'll know I've gone a little overboard with the red and caramel lately.  ("Caramel" is the name I've made up to describe a sort of richer camel.  It's kind of a honey brown take on tan, if that makes sense – like when caramel has been toasted.)
It started off with these ensembles on the Vivienne Files – particularly the purple sweater/camel pants on the right: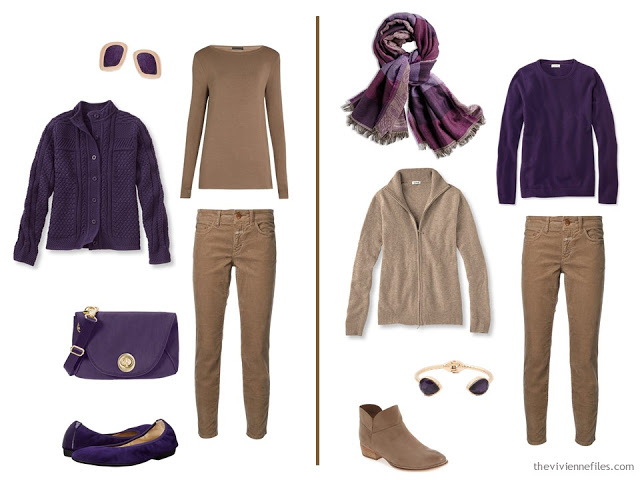 I LOVED this combination, which surprised me because I had tried several iterations of khaki/tan/light brown pants before and always felt washed out and vaguely 1990s PTA mom in them (mad respect to moms who were on PTA in the 1990s – just lots of beige pants and solid color tops, you remember?).  I thought I was doomed to never wear khaki/tan/beige-ish pants, but then I saw these babies in a more…toasted? take on the color.  Warmer, richer, closer to picking up my hair color than washing out my skin tone.
I didn't have any purple in my wardrobe so I didn't feel compelled to recreate the exact look from the Vivienne Files, but a seed was planted.  I started looking for tan/beige-ish pants again – hopeful, though never quite finding the right shade.  Then it occurred to me that I had too many winter pants anyway, and why couldn't I pick up this color in a top instead?
This first attempt was beautiful in color and in form, but too tight for anything but layering: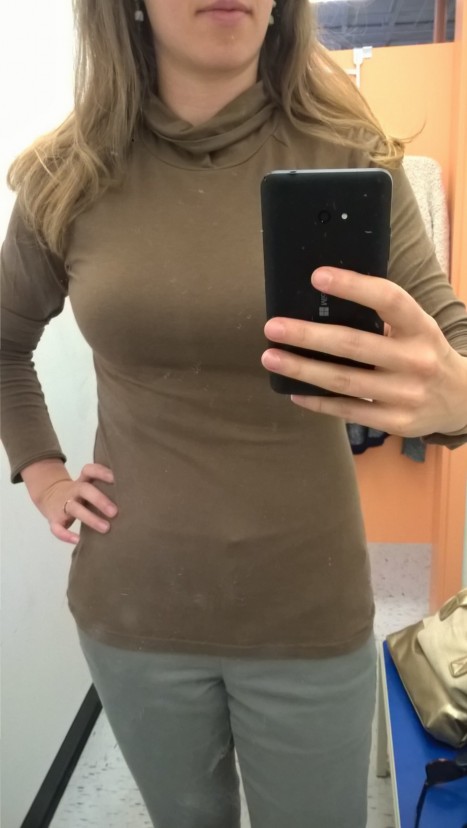 No room for lunch!
It was exciting, though, to find the color on the rack and realize I loved it just as much in person as in theory.  It was not too brown (been there, done that); the warm honey tone picked up my hair and made my face pop.
I bided (bid? bode?) my time, and eventually found this merino J. Crew number in November: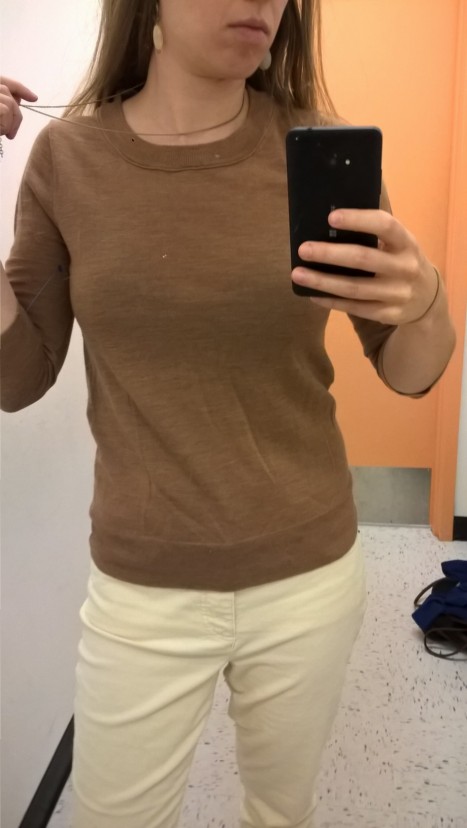 You may recognize it from these previously alluded to Instagram outfits:
From that initial success, I went a little crazy.  I picked up a skirt (even though I never wear skirts in winter and stick with just one or two in summer…we'll see how that goes!), a shirt dress, and then pants: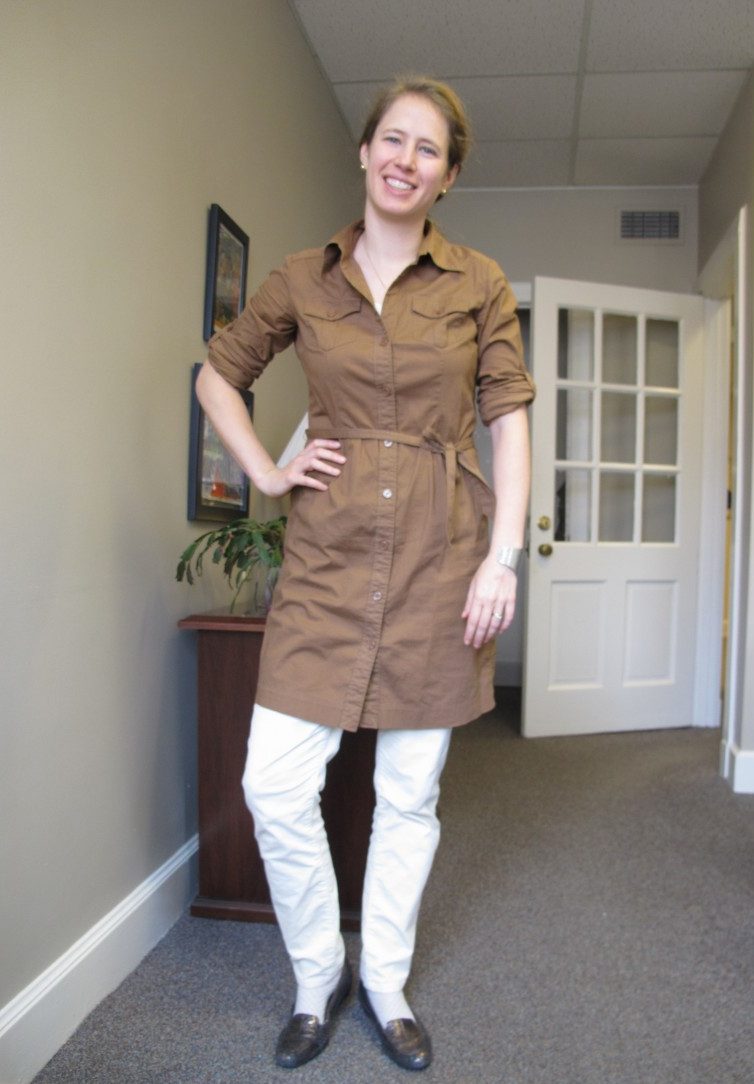 Safari shirt dress by Jones New York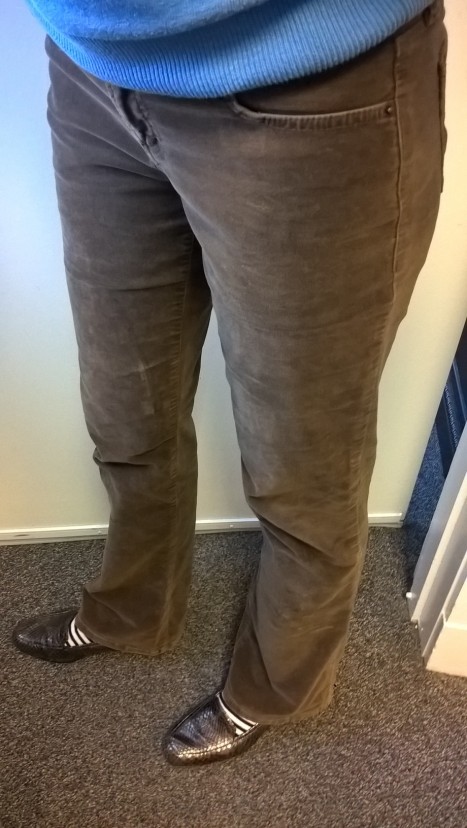 Velveteen bootcut pants by !iT Jeans

The pants are SO soft, but also appear to be a little on the cheap side, so consider 'em candidates for a thrift upgrade if they don't hold up.
Also this same color is in the details of this fuzzy polar bear of a sweater paired with the above dress a few weeks back, and indeed, the pants and sweater paired together nicely in my recent cold weather travel wardrobe:
BAM.  Instant outfit making.
I think I was craving some visual warmth in the increasingly short, dark days of winter.  A similar longing for festivity amidst the holidays would also explain the recent uptick in red in my wardrobe:

This blazer might have been paired with my evergreen corduroy pants on Christmas Eve…
Isn't that just the RIGHT shade of red?  Not too cherry or too burgundy, plays great with cream, grey, and of course, caramel. I've even gone back to daydreaming about red ankle boots, but since my true love in that category retails for $100+ and Santa has already come and gone, I think I'm going to keep an eye out for something similar in the thrift store.
I'm feeling good about all the ways to combine these colors with the rest of the staples in my winter wardrobe (navy, cream, grey) and love that they, along with these and these, have brought more color to what was a fairly polar palette.
What do you think of these colors – and what would you call the hue I've named "caramel"?  Scroll down to comment!