I wore this dress at my ordination and to my baby's baptism (where one of her godfathers said I looked like "somebody's gurrrlfriend," which was his way of saying "hot").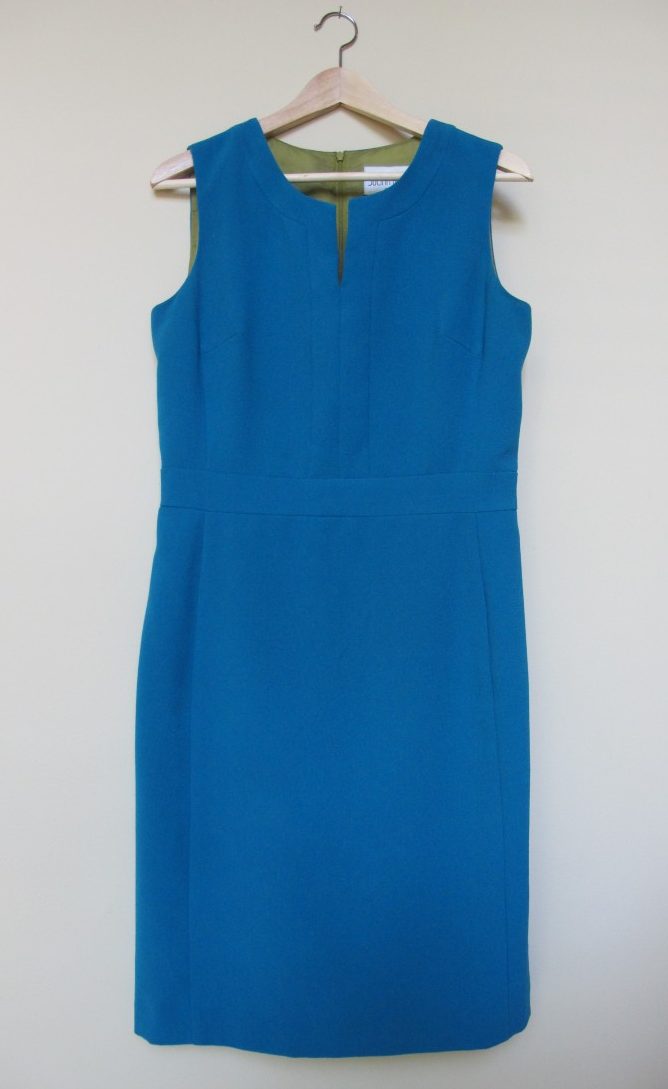 It was also the first sheath dress I found (yes, thrifted – it's vintage Julian Taylor), and sheaths are now my hands-down favorite dress silhouette. So there's history.
I love the cut.  I love the waist detail.  I don't even know the proper name for the split neck but I love it.  Perfect length.  (A little hot, though – vintage polyester, you rakish cad!)
So why am I donating it to a secondhand store?
I stopped wearing it, plain and simple.  (This pic is from 40+ weeks ago – thank you Instagram for keeping track of my wardrobe.)
I could tell you why (while I like the color, it's pretty intense and it just kind of overwhelms me – see above), but I'm more interested today in sharing why I'm giving it away instead of hanging it in a garment bag for posterity.
Big things happened in this dress, sure – it evokes a lot of memories.  But those memories don't live in that dress.
They live in each embrace from my parishioners, invoking the hands laid on me when I was tasked with this humbling and holy call.
They live in the face of my child and the way her church family – the one that welcomed her into the big, wide, family of God – can't get enough of her on Sunday mornings.
They live in the smile on my face every time I rock a sheath dress that's the sartorial descendant of that first one, feeling great and hearing the echo of my friend's voice purring in admiration. (For the record we're both married and of different sexual orientations so no funny business there. Ahem.)
And I like to think that someone else just might get something close to the level of joy out of this sweet teal number that I did – which will never happen if it stays in the back of my closet.
So goodbye, Julian Taylor sheath.  You have been good to me, and I thank you for it.  I now release you into the wider world to bring yet more style happiness to as yet unknown persons.  It's been lovely.
Do you struggle to give up sentimental pieces?  Or do they bring you so much joy you WOULD rather keep them just to smile at them every day in your closet?  Click through/scroll down to comment!