Has a luggage crisis  ever left you with the need to assemble a mini wardrobe, stat? Rather than head to the mall and spill a bunch of cash, you might consider hitting up a local thrift store to find a few items to tide you over 'til your luggage arrives or your travels come to an end.
For example.
Remember the weekend travel wardrobe I packed for a holiday trip? Well, we went on that trip recently…and I left the entire, flim-flammin', ingeniously packed thing behind.
Gah.
I chalk it up to my child being on strike and the whole family being late and the fact that I'd put the bag in a safe (read: foolishly out of sight) place to prevent said child from emptying its entire contents on the floor…anyway, we got to the airport sans bag and with no time to go back for it.
The upside was that it was a lot lighter navigating the airport without it!
The other upside was that we were going to visit family (thus: laundry) and that said family loves a trip to the thrift store.
So the day after we arrived (and after I had slept in the clothes I traveled in…just to make sure I was telling the truth in that post about wearing literally the same clothes for everything), we headed to a local Goodwill.
I gave myself 30 minutes to find clothes to get me through the next few days, clothes I wouldn't hate wearing in real life once I got home. I figured if I was spending money on something anyway, I'd try to make those purchases count.
(Meanwhile, my in-laws went looking for clothes for my kid, whose wardrobe was also nicely packed away in our travel tote, at home. My mother-in-law was PSYCHED.  No really, she loves dressing her grandkid.)
So…what did I end up finding? Did I make it in under 30 minutes? How can you, too, thrift a passable wardrobe on very short notice? All will be revealed…
(It was my grand plan to videotape the whole thing for your viewing pleasure, but my phone punked out of memory after the first few minutes, so we'll just have to make do with descriptions and photos.)
THE GAME PLAN
Borrow from your hosts.  If staying with friends/family, shamelessly beg them or your travel companion(s) for clothing to get yourself started.
I borrowed my sister-in-law's running shirt (she brought several under the auspices of driving in a car to said vacation), and my mother-in-law's shoes (thank goodness she shares my freakishly narrow shoe size.  Solidarity, narrowly-soled people of the world!).  I was foolish enough to try to thrift uber-narrow dress shoes (ha!), but I should have shaved that time off and shopped her shoe rack first.
Strategize what you need. Unless you love thrifting on vacation (hi, let's be friends!), you won't want to spend hours crafting your pinch-hitter travel wardrobe. So on the way to the store, mentally review the activities, climates, and laundry facilities for which you originally packed.  Pare down your travel wardrobe template even further by thinking about what you could reasonably re-wear and settling for less variety.  No need to shop a second sweater if the one you wore on the way there will suffice.
I already knew I needed an outfit for my spouse's high school reunion/church, workout clothes (luckily I had worn my running shoes on the plane), and a few shirts to get me through the next few days.  Given that we washed clothes, I could feasibly have done with buying just one top instead of two.
Also, since I've been looking for some cold weather grey dress pants, and we were, after all, in New England, I figured I'd try on a few of those, too.  (In retrospect, this was a mistake—see below.)
Scope out the general layout. Take a few minutes to orient yourself so you're not wandering the aisles in vain.  Try not to let your biases about how clothing should be organized get in the way—for example, don't assume that there will be a separate rack of workout clothes when perhaps they're trucked in the middle of a general clothing section.  And don't hesitate to ask employees to help you find something!
This Goodwill was organized by size, THEN color (miracle of miracles!) which made it pretty simple to flip through and find what I wanted.  I did miss those tricky workout clothes the first several times I walked past them until my sister-in-law pointed me in the right direction. (I would definitely have saved time by asking an employee.)
Single-task.  If at all possible, go for one-pieces or sets (e.g. suits) that will be an outfit unto themselves.
I had this optimistic idea I would find great pants and use those, plus a nice top, for reunion/church.  But such an approach required finding not one great garment (dress), but two—and two, no less, that went together.  I wasted several minutes trying on pants vs. starting with the dress section, then moving to pants as a back up. 

Build around what you already have.  If you can't single-task it all (trickier to do with men's garments, or with a very small dress/jumper/romper section), look for things that go with whatever clothing you managed to arrive in/beg/borrow/steal.
For me, that meant whatever went with jeans and a white sweater—thus, tops.
And now, for the reveal!
Top 1/bottom 1: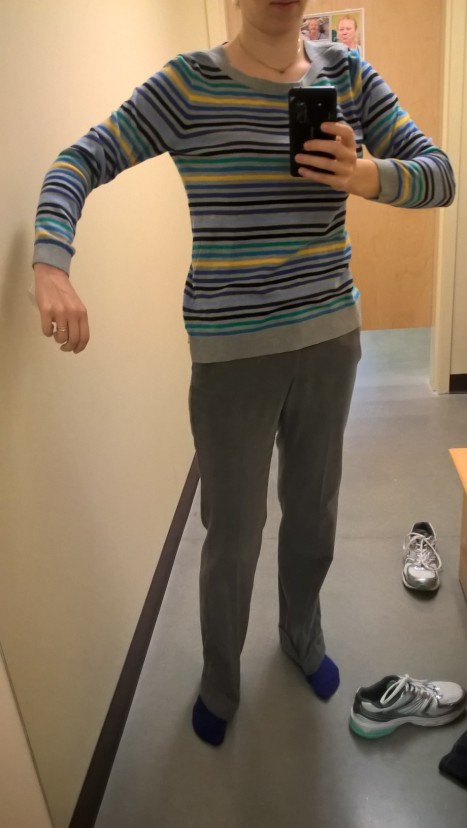 Talbots top.
Nah/nope.  Top too baggy/trousers cuffed, flared.  Nothing less sexy than a cuff on your work trousers, in my humble opinion. It kills the clean line mojo that is the whole point of trousers.
Bottom 2: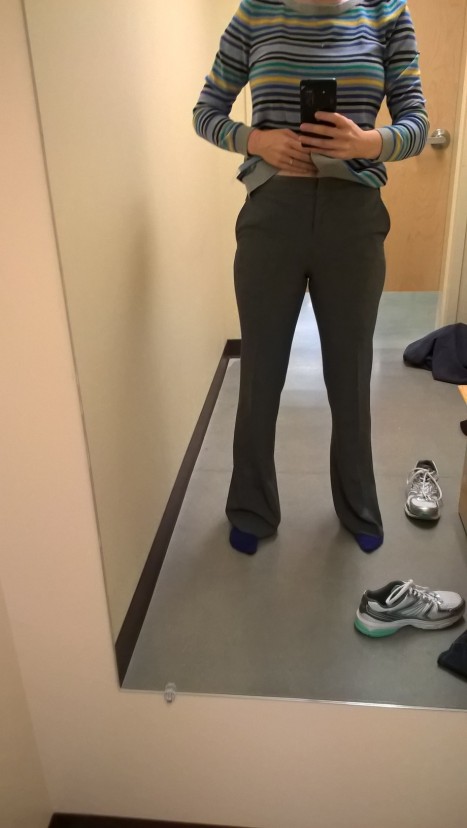 Too dark of a grey, and more trousery than the slim pant I was hoping for. (Trousers of this variety are super popular at the thrift store; slim pants are a bit harder to find.)
At this point I gave up on bottoms and focused on tops/dresses, since the jeans I wore on the airplane would get me through the next 4 days just fine.
Top 2: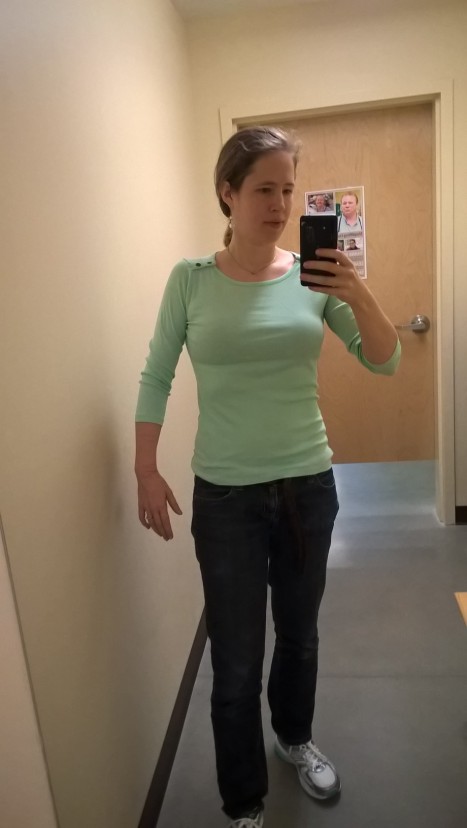 Very serviceable.  Mint, 3/4 length sleeves, buttons on the shoulder; all things already in my wardrobe.  A bit tight on the chest, but when artfully disguised by the yeti, nobody will be the wiser.  Check.
Top 3: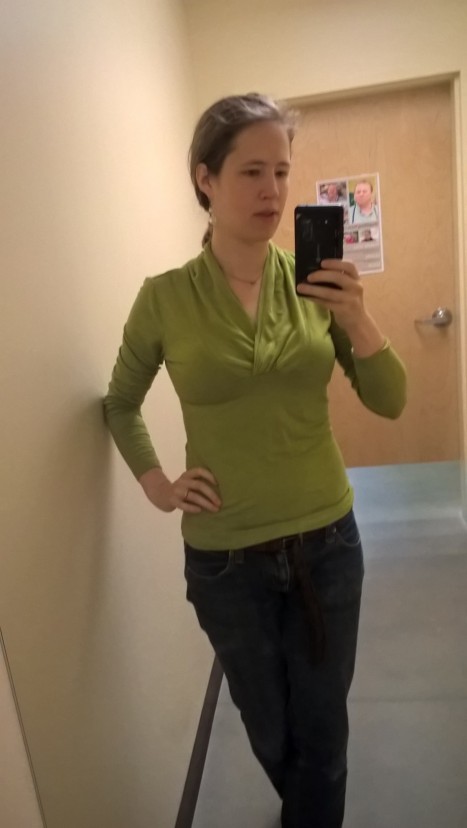 Tweeds green top.
Not in my winter wardrobe color scheme, but nice v-neck details and a lovely fit.  Great fabric and it went fine with the white sweater and jeans I managed to wear onto the plane.  Also, this color is supposedly a "spring" color, so it goes with my skin undertone…? Hard to tell in dressing room lighting.  Check.
Dress 1: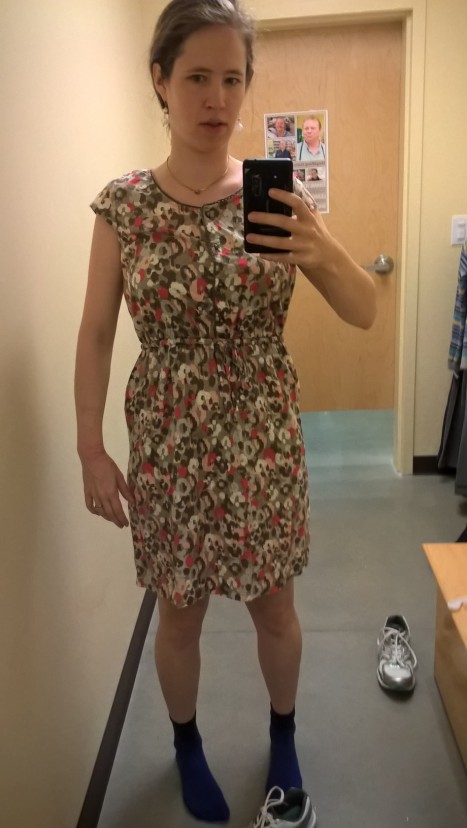 Merona drawstring dress.
Yeesh.  Great colors (taupe!  darker taupe!  red!  blush!), but frumpy cut on my body and very thin, summery fabric.
Dress 2: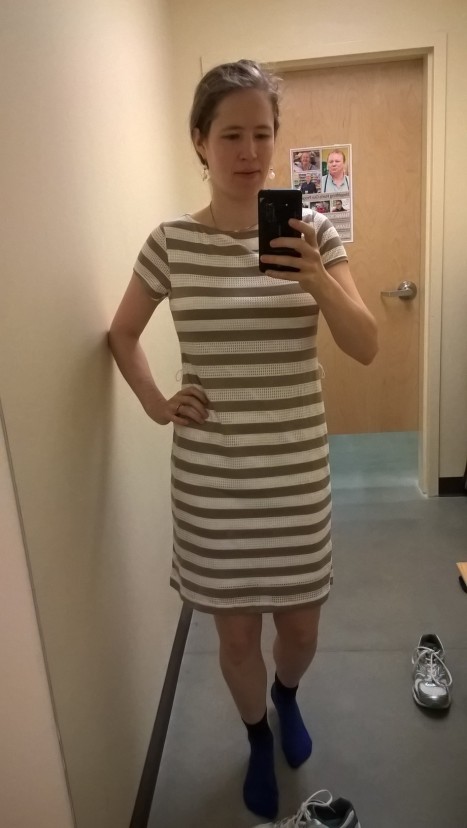 Sharagano striped dress.  Please ignore the bright blue socks I was too rushed/lazy to remove.
Ding ding ding!  This baby is in great colors for my wardrobe, is by a brand I already like, has interesting texture, and is lined for a bit of extra warmth under the yeti.  Perfect for an unseasonably warm New England evening out at the local bar/bowling alley (high school reunions being all about classy locales, of course).
Not shown because I bought them without trying them on: sports bra, fleecey running tights (I cut the feet open to make leggings), a Danskin running skort with pockets (no athletic shorts anywhere near my size), underwear, tights, and socks.
This mythical, magical thrift store was like some sort of Island of Misfit Accessories and Undergarments: brand new packs of underwear, one-off sock patterns, odd sizes of tights, and strangely colored gloves, all unopened.  (I found out the next morning that the underwear was so classified because the fit was a weird mix of granny panties and briefs).   This made it possible to truly assemble my entire wardrobe from the thrift store, minus items borrowed from relatives.  Thanks family!!  
Total time: 40 minutes
(30 minutes to find all the clothes; 10 minutes to make final choice on kid clothes, stand in line, pay, etc.)
Total cost: $60
(my clothes, undergarments, workout clothes which I will leave at parents' house over Christmas, kid's clothes, and a tote to carry it all)
Would you ever thrift an emergency travel wardrobe?  Does a Minute-to-Win-It-style visit to the thrift store thrill you or give you heart palpitations?  What do you think of my purchases?  Scroll down to comment!