We'll be hitting up New England this winter for a holiday weekend, and since many of you will be traveling for (American) Thanksgiving, I thought I'd show you what I plan to wear in case it helps you pack for your own adventures.
Staying with family in the past several years, I've come to realize I rewear the same pieces of clothing every day—when we're in the Northeast visiting my in-laws, that means whatever I've brought that's warmest. (Thankfully, they have a coal-burning stove where you can generally find my Southern-acclimated self cozying up during all but the sunniest hours of the day.)
My wardrobe strategy for these trips?  I sleep, run, and lounge in layers, and make liberal use of my in-laws' washing machine when I've done all 3 in the same garment and it's time for some freshening up.
Yes, I can hear all you Northerners chuckling right now.
Taking our cues from the How to Pack a Travel Wardrobe post, I'm factoring in:
-length of trip (3 full days, 2 travel days);
-weather/activities at destination (cold; family time + church + spouse's high school reunion + exercise); and
-laundry facilities (check!)
With all that in mind, here's what I'll be packing for our next trip (everything thrifted unless otherwise noted):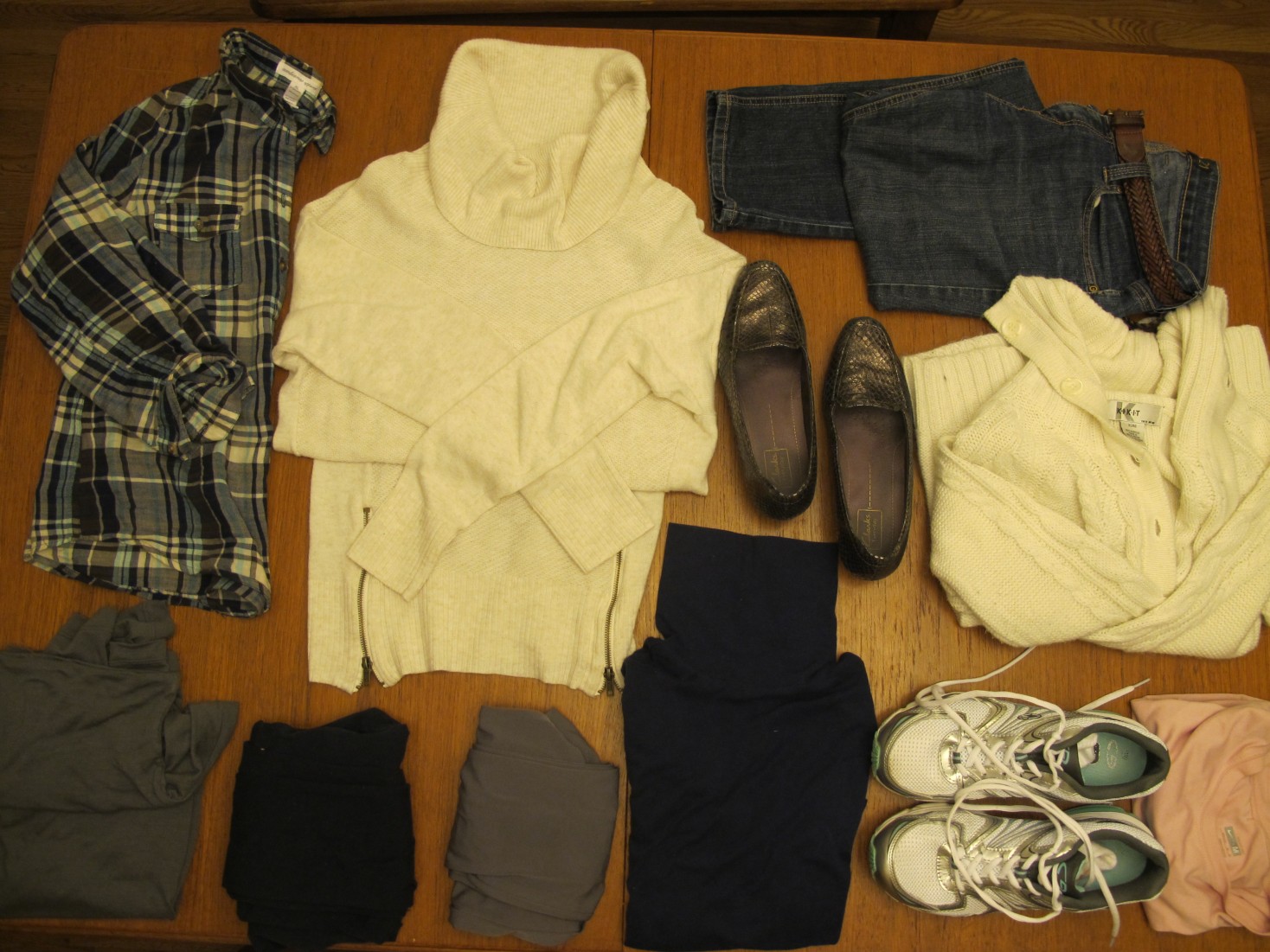 Top to bottom, left to right:
Blue plaid shirt: this ain't exactly flannel, but it's cozy, relaxed, and great for layering over turtlenecks or under sweaters.
Sweater dress: paired with the adjacent Clark's shoes (gift) and some leggings (below), this chic and snuggly number'll have me looking stylish for the reunion and classy for church.
Jeans: worn on the plane both ways, at home for hanging with fam, and layered over leggings for late night dog walking excursions (a family tradition).
Grey turtleneck: layered under the plaid or the sweater; color goes with either.
Blue and grey leggings: two pairs, because as noted above I will be wearing these 24/7.  The lazy woman's longjohns.
Blue turtleneck: same as the grey; great for layering.
Sneaks (bought at Target): these double as running shoes and shoes for going everywhere but church/reunion.  (If I get desperate I'll borrow my mother-in-law's snow boots.)
Pink technical running shirt (swag from marathon): this is my base layer.  I've run at my in-laws in December in everything from 16 degrees to 60 degrees, so I'll wait until closer to the trip to decide if/how much I need to layer other exercise gear.
White sweater: the "completer" piece for this travel wardrobe, I will likely wear this every moment I'm not in the dress, with turtleneck, plaid, or both underneath depending on temp.  And you better believe I'll be wearing it on the plane—no way I'm using up valuable luggage space by cramming this yeti in there.
And since I somehow forgot to feature this all-star in my November thrift finds post, here is a shot of it in action, paired with the jewelry I'll wear and a facial expression to match the weather at my destination:
And yes, this will all be fitting inside my trusty Spirit Airlines-friendly tote bag/"personal item." Along with my kid's clothes. I'll let you know how it works out!
How do you pack for the holidays? Any tips on stuffing cold-weather clothes into limited luggage space?  Scroll down to comment!