When I first heard of styling apps that keep track of your outfits, it seemed like a 2010s version of Cher Horowitz's virtual closet. I wasn't sure I would use such an app; I was already committing time and energy to Instagram to document my outfits and didn't particularly want to learn to use another platform.
But then I started having ideas for outfit combinations I wanted to try, and with a job and a kid it wasn't practical to dress up in each combo, take a pic, then post to IG just so I could remember what it looked like.
So I started looking into styling apps: platforms where, after an initial investment of time to upload pictures of my clothes, I could create outfits virtually and save them for future inspiration. Stylebook and Cladwell were the two I'd heard the most about; neither are available for my Android phone, though, so I did a brief search for free, Android-friendly alternatives and came up with Stylicious. (Bonus: it's free!)
It isn't the fanciest – the graphics share an aesthetic with Cher's mid-90s closet computer – and I'm sure it could use some better features, but it does what I want: it helps me curate my closet. Here's how.
Document Outfit Inspiration
Sometimes when I am trying to fall asleep at night, I drift off thinking about how to edit my closet, or how to combine pieces I already own in new ways. (Yes I am a nerd.) As often happens with genius ideas born of late-night ponderings, I often don't remember my brilliance the next day. But with a style app, I just grab my phone, select the 3-4 pieces I'm thinking of combining, and save it as an outfit:
Later, when trying to decide what to wear, I can filter by season and scroll through the outfits I've brainstormed to find creative, new combos. Which helps to…
Boost Style Creativity – and Curb Closet Discontent / Shopping
While I do love most of what's in my closet, I'm guilty of wearing the same outfits over and over again, leaving my wardrobe latent with untapped potential. Then when I'm out thrifting, I'll think, "Oooh, I could really use another blazer/pair of colorful pants/button down shirt to help boost what I can do with my existing clothes," instead of digging deeper into what I already have.
Scrolling through previously saved outfit inspiration helps address this; it gets me to realize how many combinations are just waiting to be worn, and encourages me to step outside my style comfort zone with new-to-me looks.
Evaluate Looks
I haven't used my app for this yet, but there is an option in most styling apps to keep track of which outfits you wore on which days – and to make notes about what you liked/disliked and what you'd do differently next time. This is a big benefit for data-minded people, particularly folks tracking how many wears they've gotten out of a specific piece, either for cost-per-wear purposes or for sustainability purposes. (Have you heard of the #30wears hashtag encouraging people to decrease clothing consumption by getting more wears out of the clothes they already own? Do you track this?)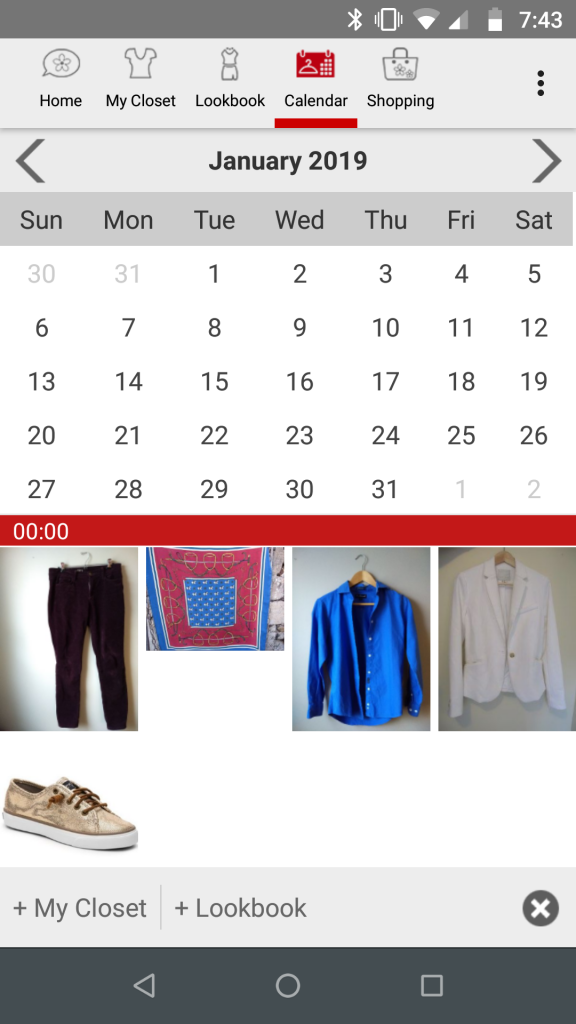 Test Drive Potential Acquisitions
The best, unexpected use for the style app was test-driving items I was thinking about buying secondhand online. I simply downloaded photos from the seller's posting, uploaded them to the app, and then mixed and matched to see how they would look with what I already owned. Granted, this approach misses something of how the items will look in 3-D, so to speak, but I've found it super useful for doing a more accurate job of the mental outfit calculus we all do while trying on something in a changing room. If the thing I'm thinking of buying makes a decent-looking flatlay with 8 or 10 other pieces, great; if I love it but can't see how it will really go with much, maybe it's an outlier and I need to leave it behind.
I've been toying lately with adding some mid-rise, water resistant boots and some gold sneakers to my shoe rotation; I also want to add some scarves to my lineup, so I've trying it all out on the app: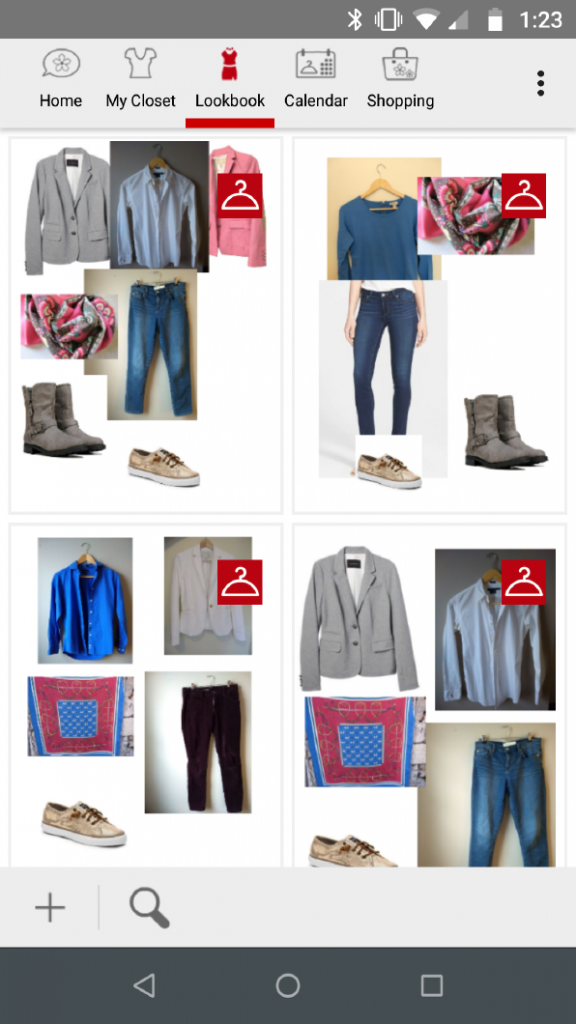 This way of using the app helped me visualize sneaker-based outfits (yes, I got them, from Poshmark – hooray!) and gave me a sense of which of the half-dozen vintage scarves I've been eyeing on Etsy would get the most wear.
Do you use a styling app? If so, what do you use it for? If not, can you see it being useful?