I recently donated my Goodwill-bought Puma sneakers back to Goodwill; over the course of wearing them regularly for two years, the vinyl-ish lining on the edges of the opening has peeled off and it's no longer possible to corral the foot odor (a problem with all the Pumas I've thrifted, but not with any other shoes I own). So a few weeks ago, I decided it was time to find new-to-me sneakers.
As I brainstormed about their replacement, I realized that apart from rain/snowboots for weather, I've only been wearing one pair of shoes this winter – my Lucky Brand snake print ankle boots: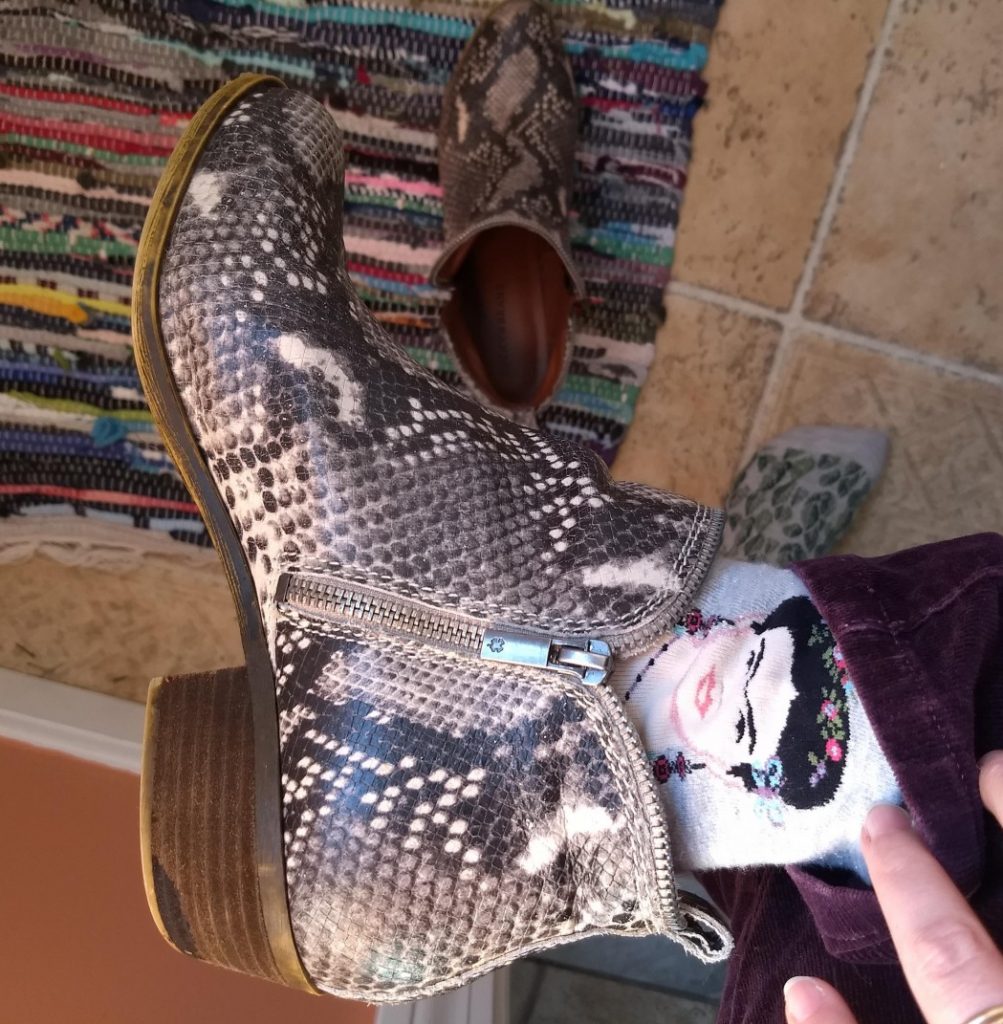 Hi Frida! #favoritesocksever
I thought about what makes them so versatile and how I might find a pair of sneakers that hit that same sweet spot. I came up with:
-Print = visual interest. The print on these boots adds visual interest to pretty much every outfit. If I'm worried about looking overly color-blocked with big areas of solid color, or if an outfit just looks meh, I can add these for an instant visual relief and/or boost.
-Monochrome = neutral. Another reason these go with everything is because the black-and-white color scheme reads as neutral. (They're also somewhat muted, more cream/charcoal than stark white/black, which means they go better with my Light Summer palette.)
-Comfort. I can walk a mile or two in these comfortably because the heel is low and the insole is comfortable.
Since I wanted to avoid the Puma odor issue, I decided to look for another brand. I knew my secondhand Sperry Topsiders were comfortable and figured that knowing my size in this brand would allow me to search online for a new (to me) pair of sneaks that had a reasonable chance of fitting. Loads of scrolling later, I found these beauties on Poshmark: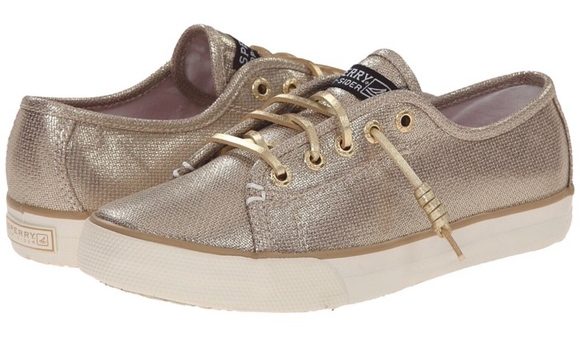 The gold helps them add interest & personality, while the embossed "python" print breaks them up just a bit and makes them more of a brushed metallic neutral. Plus they are very comfy! Once the snow and salt disappears, I'm very excited to wear these as a "pop" on an otherwise straightforward outfit. (Full disclaimer: the laces on mine are a weirdly clashing cognac kind of color; I'm either going to paint them with my leftover leather paint from this project or maybe get white leather laces instead.)
I've also thought about getting another pair of cold-weather boots to alternate with my snakeprint beauties to give them a little rest – I want them to last a long time! As I scrolled through Poshmark and eBay for ideas in the print/neutral category, here's what caught my eye:
Metallic ankle boots by Miss Albright (Anthropologie brand) with a funky, fun fan detail on the back:
I have no idea about their comfort level but suspect that that heel will be too high for me to rock on the regular. (I am a lightweight when it comes to heels and favor comfort over height pretty much every time.)
Brocade ankle boots by Aldo:
I love the neutral metallic brocade on this – the lush texture of brocade makes my heart sing! – and the floral pattern (florals are another favorite of mine). The heel is low, which means they would probably be comfortable, although reviews on the Aldo site say these are not very high quality.
Pro tip: when shopping secondhand online (or even in a thrift store), if you're not sure about quality/how something will hold up long term, Google the piece and see what reviews say.
Speaking of brocade…
Brocade floral ankle boots by Shellys London: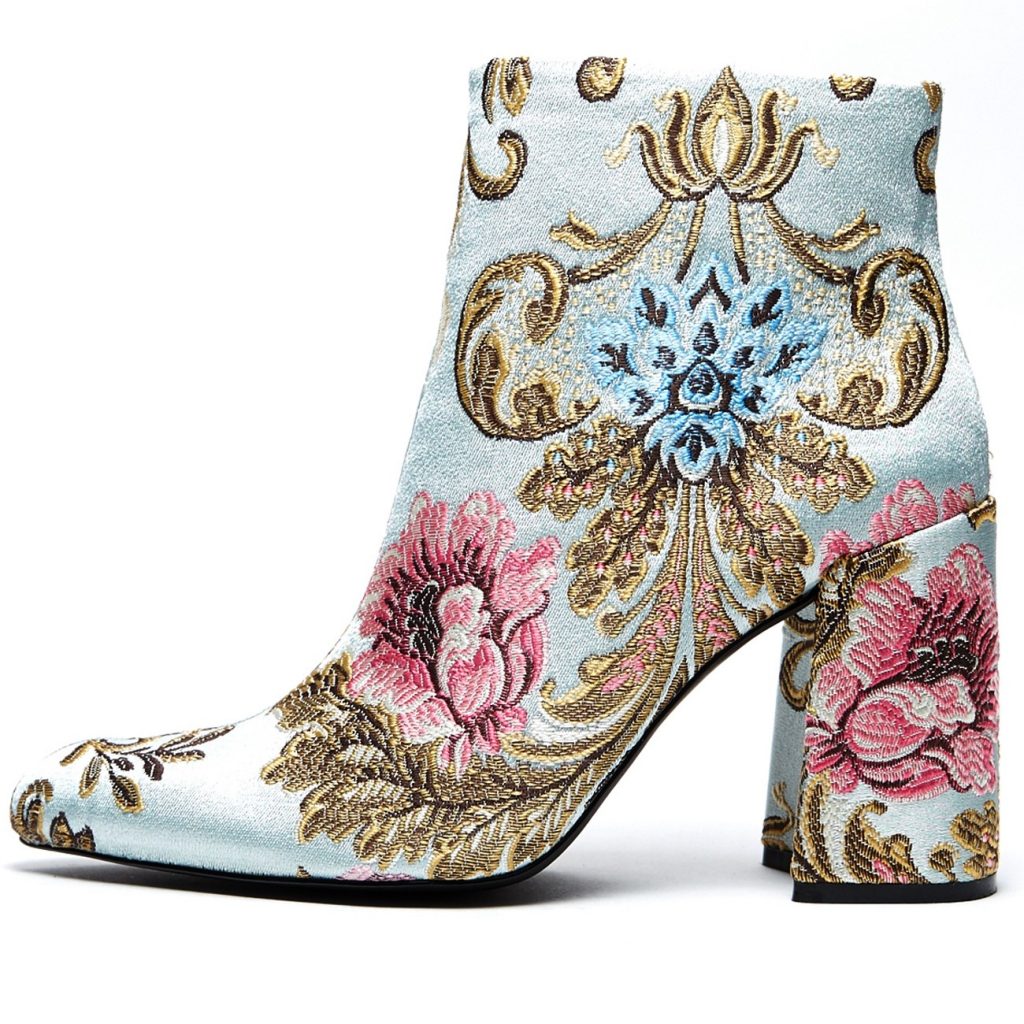 I have heart eyes for these. These definitely add visual interest; in fact, they steal the show! They're not exactly neutral, but they echo the Light Summer color palette fabulously and would harmonize with the large amounts of pink and blue in my wardrobe. The only negative? That 3-inch heel. Although an online review calls them comfortable enough to wear all day, and the large, blocky nature of the heel would provide more stability, as a non-heel wearer I'm not convinced I'd find them practical.
Granted, I'd probably only wear them to church (think of the vestment-like wardrobe statement with them peeking out underneath my robe!!), which is just a few blocks' walk and lowers the chances of them getting dirty and dingy… yes, I have tried really hard to convince myself to get these secondhand. Walking away now…
What makes a shoe super versatile to you? What shoes would you snag if practicality weren't an issue?