Click here to read about the 10×10.
Let's start with Day 5:
Lands' End plaid shirt
INC waterfall(ish) cardigan
Loft corduroy pants (deep purple although it's hard to see)
Rain boots, no label – all thrifted
This is not a look I had planned but it solved the problem from my previous cardigan outfits – looking chopped in the middle. What fixes the issue here is the longer length of the plaid, the pattern that breaks up what would otherwise be blocks of color, and the way the purple (again, hard to see) of the pants and the dark berry of the plaid make my base layers look like one long column. Thanks to Danielle for getting me thinking in this direction!
I love the contrast of the plaid and white, and the long line of the base layers. The style is a little mixed – casual, homey plaid and more sporty, technical cardigan with those gold zippers – so I give it an 8/10. (On a non-rainy day I'd swap out the rain boots so their giant clunkiness doesn't figure into my rating here.)
Day 6
Blue button down by F by Façonnable
Sweater by Loft
Corduroy pants by Loft
Snake print ankle boots by Lucky Brand
All thrifted but the boots (gift from The Sister)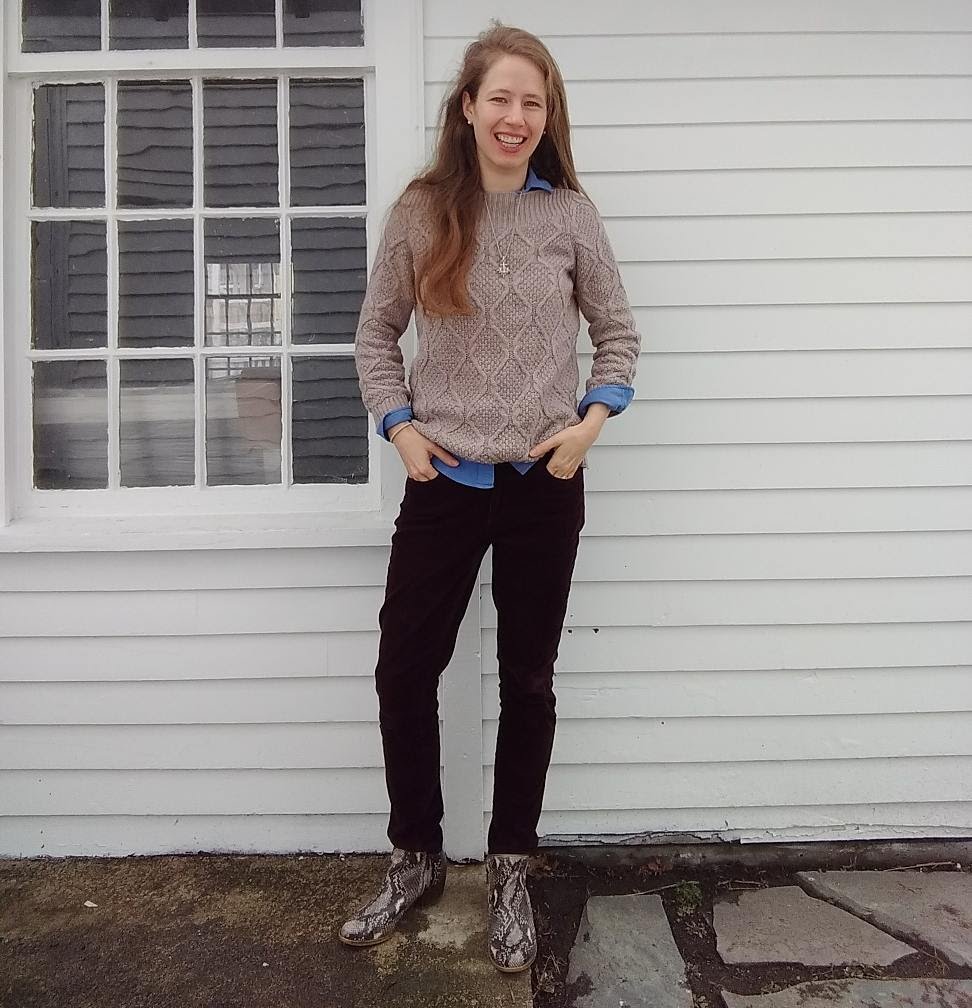 I have to say, this look is a 10/10 for me – great textures, neutrals with a pop of color – and a great finish with those snake skin boots.
Day 7
Apparently I didn't plan my mix very well this time – a white button down + white cardi doesn't work so well; neither does a sweater under a sweater. So I have now paired nearly every top with every finishing layer that makes sense. It feels boring to me to just swap out pants with looks that are the same on top. Plus I just thrifted some more Light Summer-ish tops and was itching to get them in rotation.
So here's Day 7 – all things not included in my 10×10 line up!
Pink button down by Forever 21
Cable knit sweater by Workshop by Andrea Jovine
Mom jeans by Gap
Sneakers by Puma – everything thrifted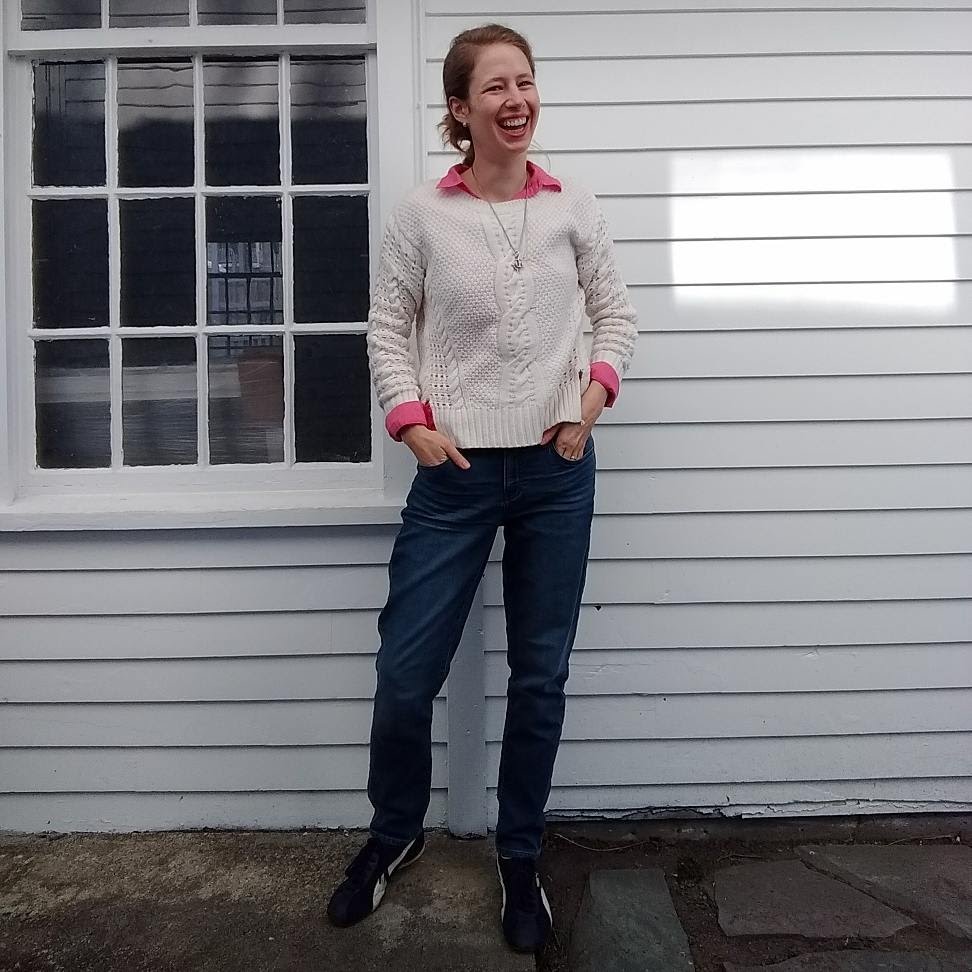 I wish the shirt tails of the pink shirt poked out below to give that same burst of color in my other buttondown/sweater combos (which, full disclosure, really only happen if I've rucked up the sweater hem because that Loft sweater is so long!). I thought the shorter length of this sweater would take care of it but this button down is shorter in the torso than the others I've recently thrifted.
In this closeup, though, everything looks divine: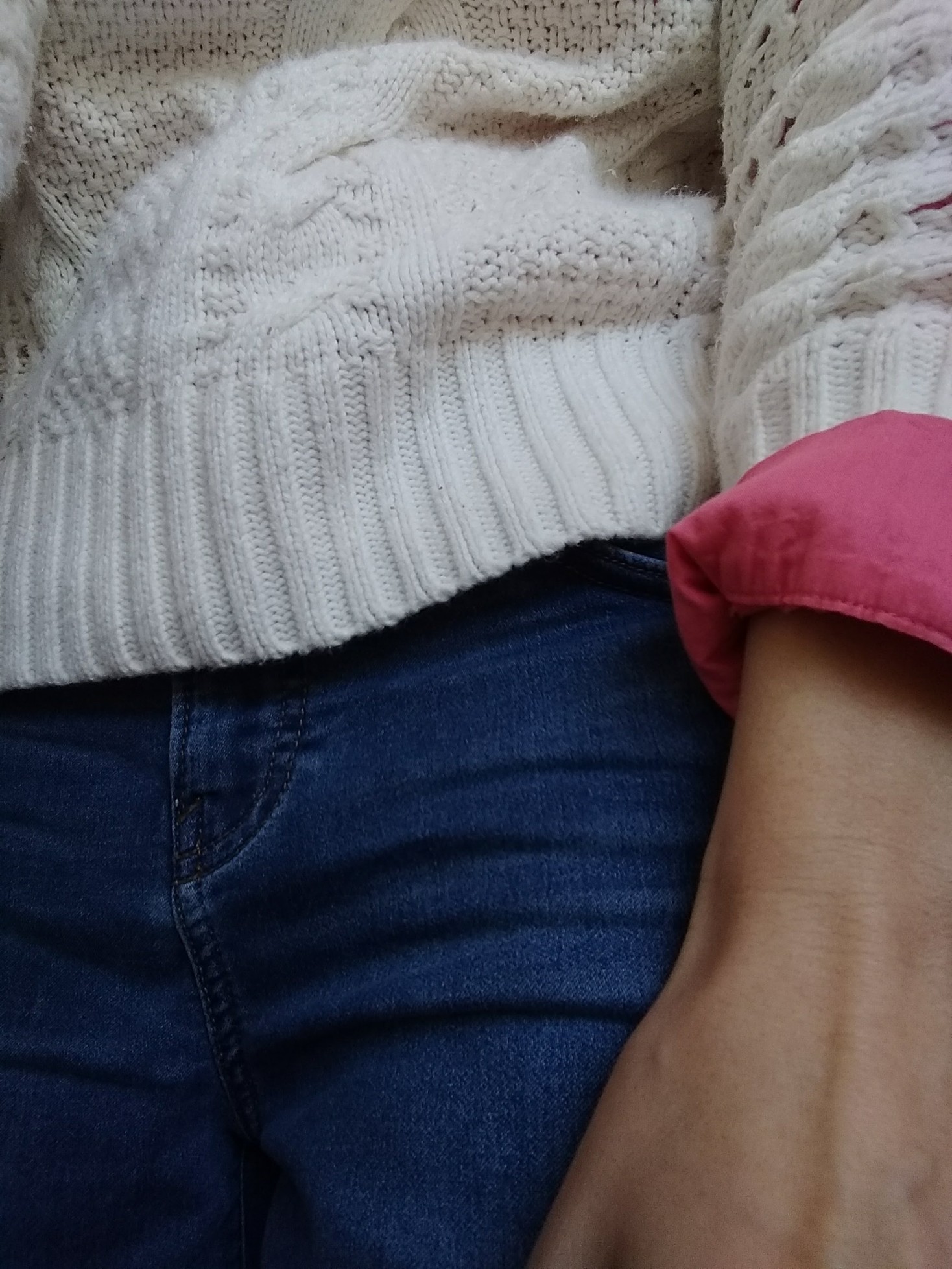 Let's talk Mom Jeans. Gap has labeled these "Best Girlfriend Jeans," whatever that's supposed to mean – I think they're supposed to be a slightly more tapered version of Boyfriend Jeans? which are a looser, straighter fit, like you borrowed them from your male significant other (that's making a lot of assumptions about you, your orientation, your relationship status, and how you like to wear your jeans – but then, that's marketing). They are looser in real life than they appear in this shot and oh so comfy. They're my laze-around-the-house jeans, almost pajama territory. That being said, I don't particularly like how sloppy they look if I haven't just hiked them up; I think with a belt I could reign in their slouch factor. I'll post more thoroughly on them in the future.
5/10 for this outfit. It's comfy and I love the colors together, but the torso feels too short without the shirt tails and I'm not sure the pink is quite right for my face.
Speaking of which, I have had a really hard time picking out Light Summer pinks – finding something that's the right saturation and not too warm has proven tricky. This pink, for example, looks like it belongs with the other pinks in my swatchbook – but it doesn't seem to be doing my complexion any favors. That could, of course, be down to this sweater being not quite the right white or my foundation still being a bit too orange…sigh. This whole find-your-seasonal-colors thing is more complicated than I had anticipated.
Day 8 may well see a return to my original lineup – e.g. the blue button down with the white cardi – but Days 9 and 10 may be a free for all, especially because I recently found some stellar J. Crew Ryder trousers that will be A+ for church. Tune in next week for a full recap!