This weekend the morning temperature dipped down below 50 for the first time, so I went looking for a cozy ensemble for church/work.  I often wear something to church on Sunday AM and then redo it for work on Monday since I don't wear my church clothes hard and the only person who will see me sporting the exact same outfit is my spouse. I figure if an ensemble worked once, I should milk it for all it's worth, no?  (Fun fact: the first picture is from this morning and the rest are from yesterday.)
Pants: My wine-colored cords were freshly back from the tailors, where they had gone for a little nipping in around the waist, and I was itching to wear them.
Top: It was cold enough for a proper sweater on top so I opened my sweater drawer to see what looked inviting.  Light blue sweater – too lightweight.  Pink/grey/white sweater – wrong color palette; the wine would drown out the blush pink and soft grey.  But the off-white with snow leopard sleeves?  Yes ma'am.
Shoes: I grabbed my dark grey/white snakeskin ankle boots to echo the off-white/grey palette of my sweater and add some interest, and we were in business: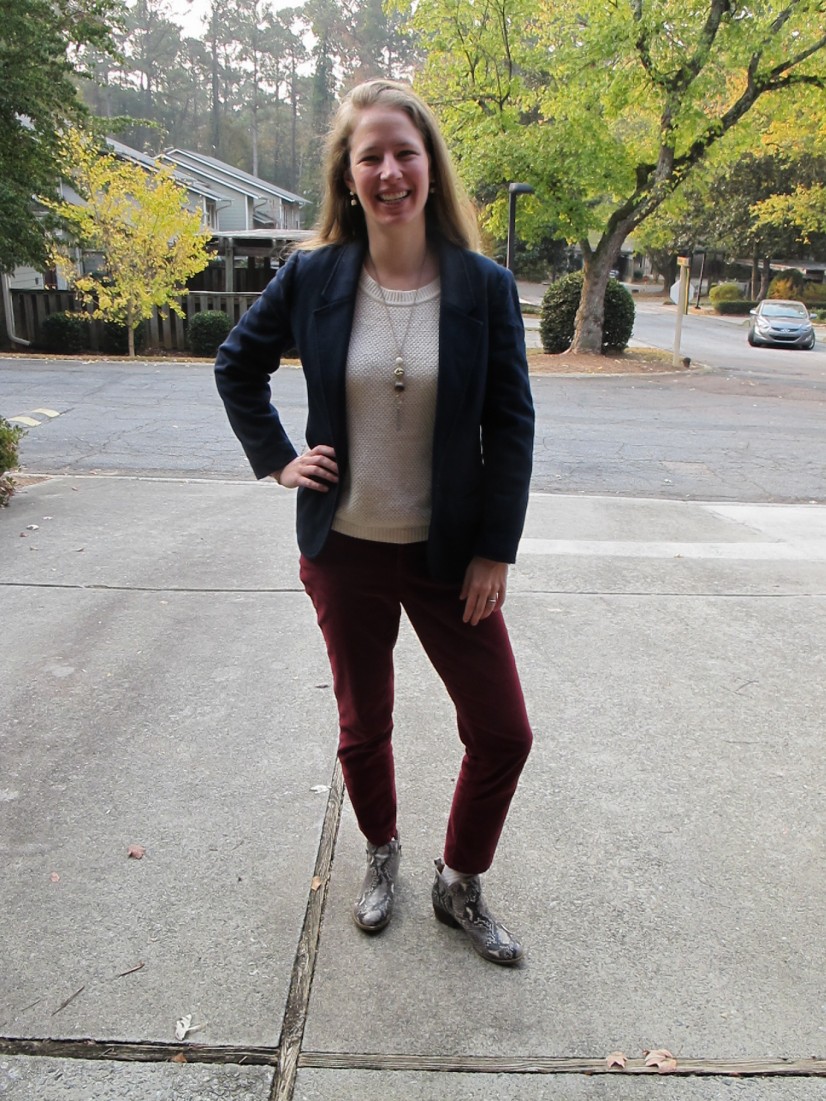 Sweater: French Connetion, thrifted
Pants: Style & Co., thrifted and tailored
Boots: Lucky Brand, gift from my sister
Necklace: DIY from Goodwill parts
Blazer (blazer): Haberdashery Collection by Personal, thrifted
Jewelry: I wore cream-colored earrings to complement the sweater and boots.  Did it need a necklace?  Not necessarily, but it would dress up the soft textures a bit.  The pendant with a stylized flower fit better with stylized flower earrings than my large "stone" pendant, so that's what I chose: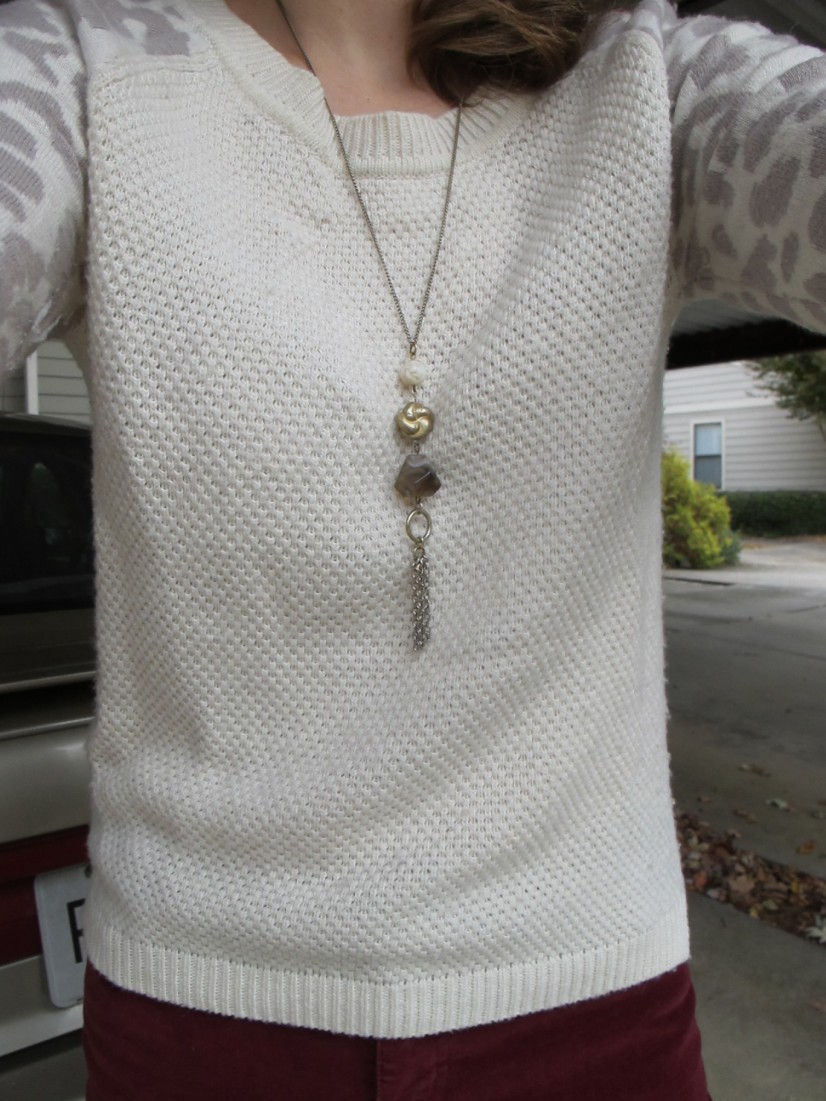 Note: This is about 20 minutes after pulling it out of the drawer where it had sat, more or less Kondo-folded, since last year.  Not bad wrinkle-wise, eh?
Socks: Since these cords went in for a trim up, they sit where they should on my waist…
…which means the short legs are now really short and expose some ankle above the top of my boots.  So I put on my thickest wool socks to give a cozy, chunky little layer there and keep my ankles warm: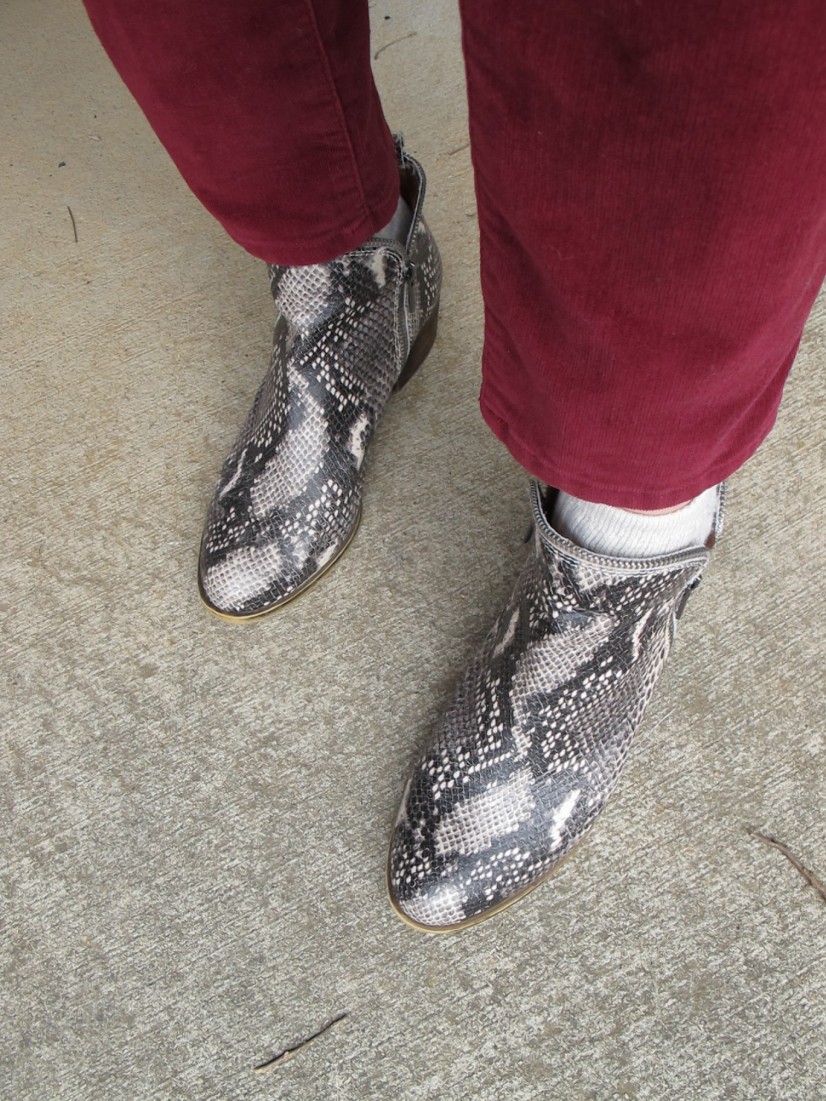 Blazer: Last but not least, I had no idea if I'd be chasing my kid outside for half the service, so I went looking for a topper.  With so much pattern going all already (including the texture of the sweater), my all-navy blazer was a nice neutral option.  Plus the saturation/temperature of the color played really well with the color of the corduroys: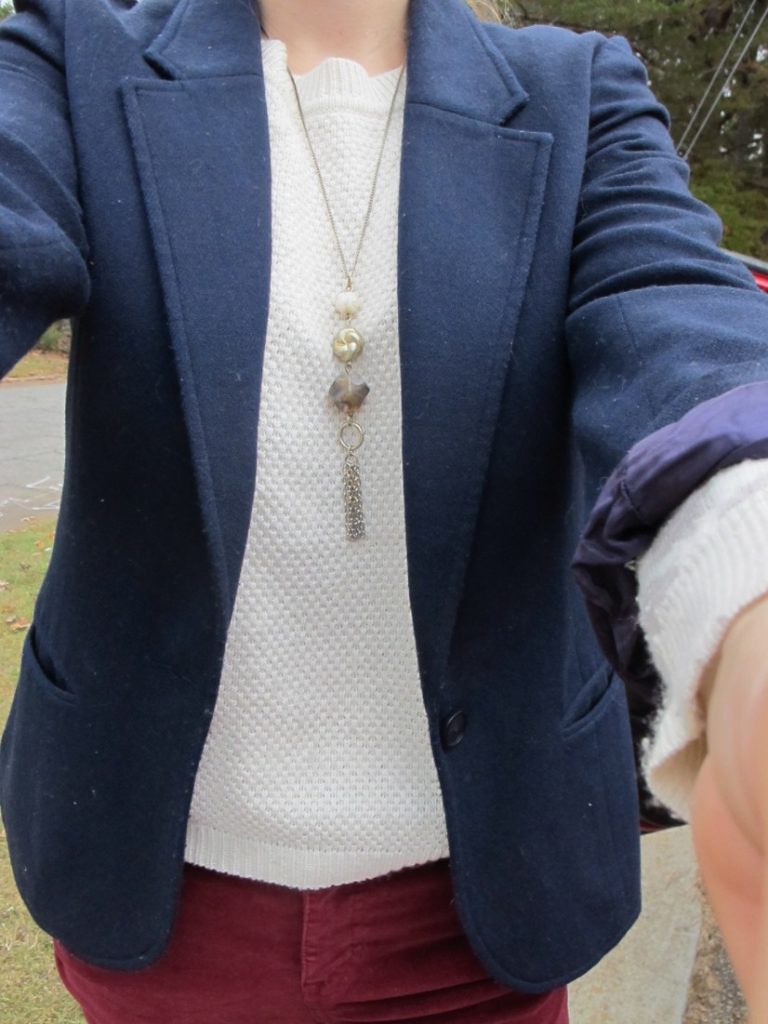 Initially I cuffed the sleeves because it gives blazers a fresh, modern look – but my sweater arms were long enough to peek out from underneath the blazer sleeves uncuffed and I liked that contrast, so I unrolled 'em.
Ta-da!
What'd y'all wear this weekend?  Do you ever redo an outfit from one day to the next when you know you'll be in a different context with a different audience?